Just because the conventional gardening season is over, doesn't mean you have to give up gardening for good during the winter months. Those delicate herbs that are not going to survive the harsh winter outdoors; micro greens and even exotic plants such as citrus and ginger root, can be grown indoors in containers. These kinds of plants actually grow very well indoors. With the following gardening tips, and as little space as a window ledge with a south facing window, even those who live in small spaces can create their own steady supply of indoor herbs and greens all year round. I usually only concentrate on a few herbs that grow well indoors such as rosemary and basil. This way I can focus on plants and herbs I will actually use, and with a five-month-old baby in tow, I simply don't have as much time to devote to plants! This lets me focus on the plants I actually need and I won't get overwhelmed trying to keep everything alive.
Herbs like basil, rosemary, thyme and even ginger root are some of my favourite windowsill garden plants to grow indoors during the Winter.  I dig them out of the vegetable garden in the late Fall and transplant them into pots suitable for a windowsill. Come Spring, these plants will be transplanted back into the garden outside. The ginger is a fresh piece of ginger root I bought at the local grocery store.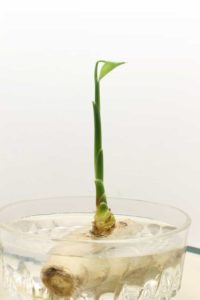 Once in a while, store bought ginger root will show signs off new growth, stubby little points that look yellow and smooth, not dark, tan, and rough like the rest of the root. These sections of root can be placed in a bowl of fresh water, and will root within one to two weeks, after which you may transplant them into soil to continue growing. Follow along on Facebook, Twitter and Instagram to see how my ginger root progresses!
5 Indoor Gardening Tips
To keep simple herbs that grow well indoors (such as basil, rosemary, thyme, parsley & oregano) and are suited to container growing, you simply need to follow a few gardening tips:
-Indoor container plants need to be kept at a constant temperature. Room temperature (about 19 to 22C) is almost ideal. You want to avoid excessively cold areas of the house and drastic temperature changes.
-Water and feed your herbs and plants regularly.
-Rotate the pots 25 degrees every two days (doesn't have to be exact) to promote even growth. This prevents one side of the plant from getting more sunshine than the other. If you feel your plants are not getting enough light you can supplement the natural sunlight by investing and setting up artificial lighting. This can be as simple as a CFL grow light bulb which can be plugged into a regular bulb socket, or set up more elaborate lighting tracks. You can find more information on artificial lighting in this post by Nutmeg Disrupted.
-Harvest your windowsill grown herbs on a regular basis (once the plant is bushy and filled out) to encourage the herbs to continue growing and putting out new shoots. Regular harvesting and pruning also discourages diseases from taking hold and killing your plant. Harvesting the mature leaves from your herbs will provide space for new growth and allow what little sunlight is available to reach the inner leaves. Pruning the herbs also increases airflow to all parts of the plant which is important for healthy growth. Harvested basil leaves are one of the main ingredients in most pesto recipes ( try this Garlic Scape Basil Pesto), and store very well packed in oil.
-Depending on the size of the container, flush the soil with fresh water every 3 to 4 months (once a winter). This reduces the build up of naturally occurring salts left behind from watering and feeding. Run fresh water into the pot and let it "flush" out the bottom for a good minute or so. Let the water drain properly to avoid water logged roots. I tend to flush my pots on a day I would have watered them anyway to avoid breaking my routine.
The most important of these gardening tips in my experience is to water and feed your indoor herbs regularly. Since the herbs are growing in a container of limited size the root system will quickly eat up all the nutrients that were present in the soil when you first re-potted or planted the herbs into their indoor containers. This means fresh 'food' has to come from somewhere. The easiest way to keep your herbs happy and healthy is to use a run of the mill vegetable fertiliser diluted heavily with water. Read the label and make sure to properly dilute the fertilizer to avoid burning the plant roots. In this situation, less is more!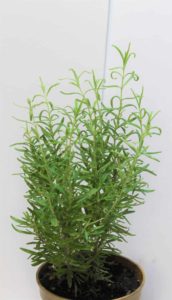 How do you know when and how often to water your windowsill herb garden though!? This can vary depending on how dry the air in your home is and how warm you keep it as well. Besides the herbs sucking up water through the roots, roughly half will also evaporate into the air. My rule of thumb is to water my herbs when I stick a finger into the soil and it's dry up to an inch down. If you live in the city, try to avoid using tap water if possible as it most likely contains chlorine and fluoride which can kill the delicate herbs in the long run. I keep two 16L buckets ( obtained from a local restaurant)  filled with rain water in my basement to water my house plants. If no rain is forecast or available I fill the buckets with snow and use the meltwater. Either way, before watering I amend the water with a little bit of fertilizer. I use Neptunes Harvest(affiliate) brand of organic fertilizers.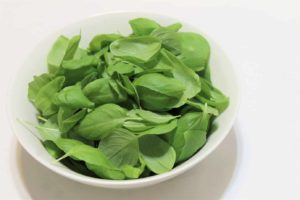 Larger plants can also gently be wiped or spritzed with fresh water as indoor air is generally drier than the outdoors and helps keep the plant fresh and healthy. Any herbs that are harvested can be used in cooking, for salad dressing, or dried using an indoor herb dryer for later use. Fresh herbs can also be used to make flavoured oils such as this super simple Chive Oil or directly in recipes that call for any dried herbs. Keep in mind dried herbs are usually more potent so if you are using fresh herbs start with half the called for amount. Try adding some fresh basil leaves to your microgreen mix to spice up your salads for example!
I hope that these gardening tips are able to help you keep your indoor herbs going all year round. What herbs are you growing in your indoor herb garden? Let me know in the comments below or tag Earth, Food and Fire on Facebook , Twitter or Instagram.
Amazon affiliate links help Earth, Food, and Fire stay online by providing a small commission (at no extra cost to you) should a purchase be made. 
© 2017, Markus Mueller | Earth, Food, and Fire. All rights reserved. Please contact Earth, Food, and Fire, if you wish to use any media or other content contained on this site.