If you're looking for a quick, healthy, yet easy salad to make, then I have the recipe for you! This shredded beet, carrot, and apple salad is super simple with only a handful of ingredients and limited prep.
The best part about all of this is that this salad can be made ahead and kept in the fridge for up to 4 days! That's almost a weeks worth of salad, in fact, you will find that much like this Kale Slaw, the flavor only gets better as this shredded beet salad sits and marinates in it's own juices!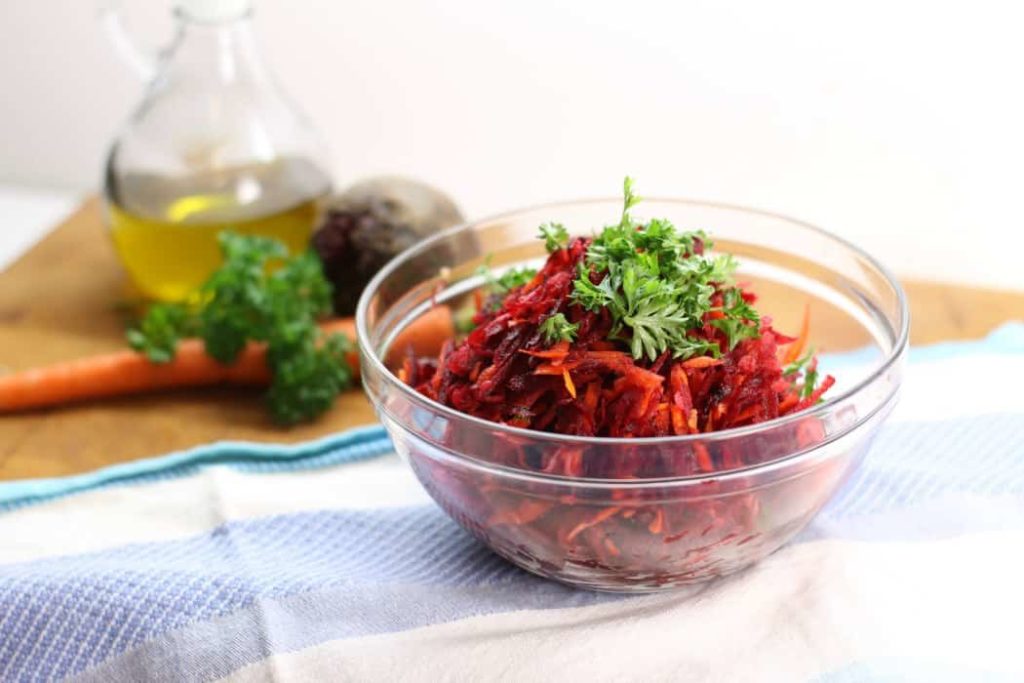 This post contains affiliate links for which we may be compensated if a purchase is made through the links provided. For more information please read our affiliate disclosure.
The Secret Behind This Shredded Beet Salad
Root vegetables are very commonly used and available throughout North Germany where the climate can be rather cold and rainy, and provide a great supply of staple vegetables.
Many root vegetables such as beets, carrots, turnips, and potatoes actually release natural sugars in cooler weather and become sweeter and more flavorful when stored in the cold. Even some green vegetables such as broccoli and kale do this.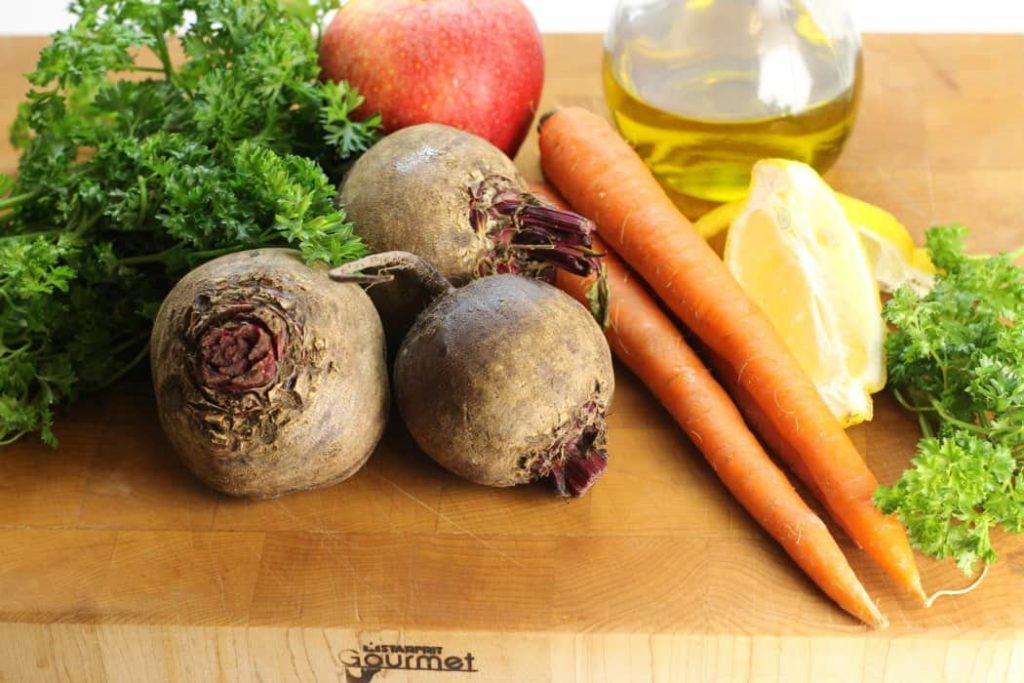 If you're into eating seasonally, this root vegetable salad is perfect for enjoying a fresh winter root vegetable without first needing to cook it. The apples are easily omitted and the parsley which is used as a garnish can be grown in an indoor herb garden.
How long does this shredded beet salad keep for?
As mentioned above, this shredded beet will easily keep in the fridge for 4 days. As long as it is properly refrigerated and not left on the counter the acid in the dressing, as well as the fact that nothing in the salad is cooked, will help keep it fresh and crisp.
Do you peel the beets before shredding?
I've had a few folks ask me if you need to peel the beets before shredding them for this salad. Technically no, you don't need to peel the raw beet before shredding, since as long as you wash the beet thoroughly, the skin is edible.
That said, it can be fairly tough, and has a slightly different texture then the raw beet flesh itself. As such I peel my beets in order to maintain a more pleasant texture in the salad.
Substitutions
If you lack a certain ingredient, or simply have another root vegetable in the fridge you can easily substitute other winter root vegetables. Carrots, celery root, and kohlrabi can all be used as as well.
Of course the flavor may change as you switch out vegetables, but this just opens up your options to an even larger variety of salads.
Beet Salad Ingredients
You'll need
1 beet shredded
1 carrot peeled and shredded
1 apple cored and shredded
1 cup chopped parsley
½ cup rough chopped walnuts
Chives as a garnish
For The Dressing
½ cup olive oil
1 tablespoon apple cider vinegar
1 lemon juiced and zested
1tbsp brown sugar or honey, even maple syrup can be used.
Salt
Pepper
Instructions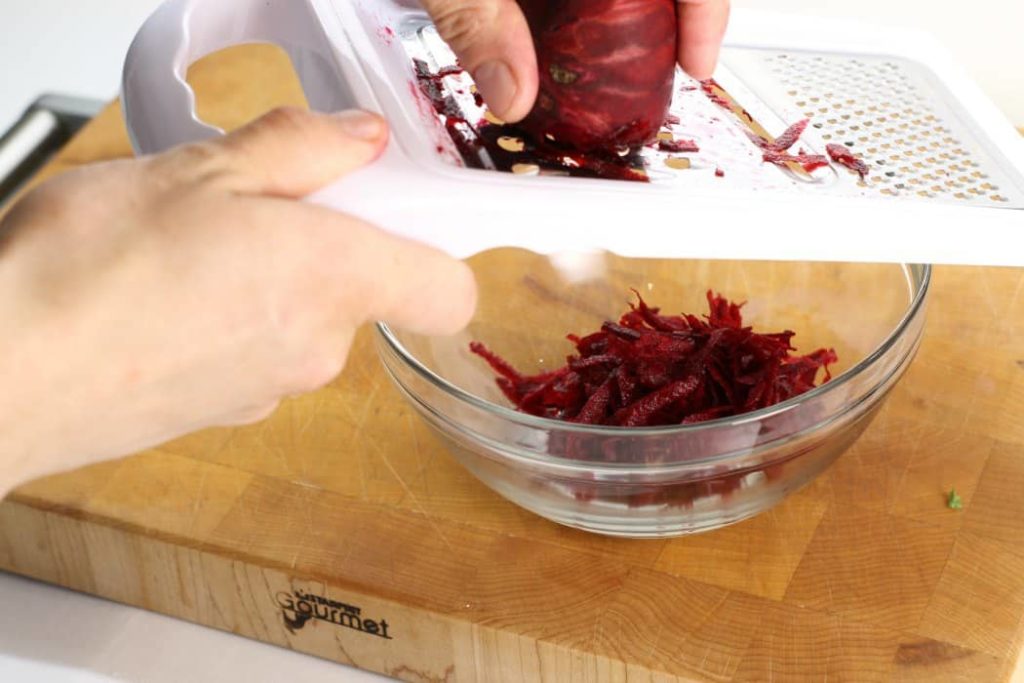 1. Start by shredding all your beets, carrots, and apples. I would personally peel the beets and carrots with a vegetable peeler, but I wouldn't bother with the apple. There's nothing wrong with using something as simple as a box grater (affiliate link) to shred the vegetables, but if you can get your hands on a food processor with a grating attachment this recipe can be made in half the time.
2. Mix the shredded vegetables in a bowl with a pinch if sea salt. The salt helps draw out some of the juices in the vegetables helping marinade the flavors.
3. In a separate bowl, mix together the oil, vinegar, lemon juice, sugar and whisk vigorously. Season this simple dressing with salt and pepper. Pour the dressing over the shredded beets, carrots, and apple. Mix well with a spoon or simply use your hands. Put the salad in the fridge and let it marinate for at least an hour.
4. Once you are ready to serve or eat some of the salad, take it out of the fridge and mix in the parsley and chopped walnuts. Sprinkle with a bit of lemon zest, fresh chopped chive, and sit back and enjoy a bowl of this super healthy, crisp shredded beet salad!
Made the recipe? Comment & Rate it below, then take a picture and tag me on Facebook & Instagram: @earthfoodandfire . For more from scratch recipes follow me on Instagram & Pinterest
Recipe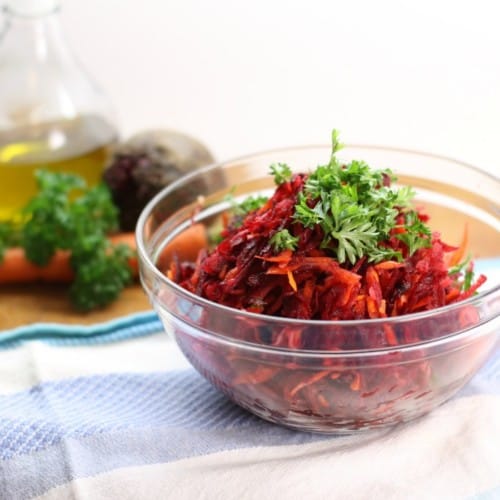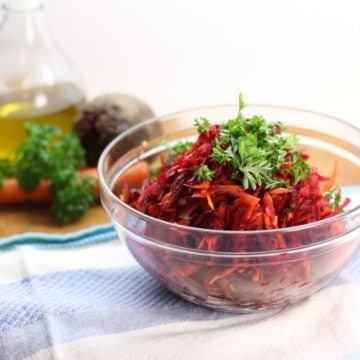 Shredded beet salad with carrot, apple, and walnuts
Using just a simple box grater, this healthy shredded beet salad with, carrots, apples, and walnuts is a great side to any meal. Perfect for anyone trying to eat clean!
Ingredients
1

whole

beet

shredded

1

medium

carrot peeled and shredded

peeled and shredded

1

whole

apple

cored and shredded

1

cup

parsley

chopped

½

cup

walnuts

roughly chopped

Chives as a garnish
For the dressing
½

cup

olive oil

1

tablespoon

apple cider vinegar

1

whole

lemon

juiced and zested

1

tablespoon

brown sugar or honey

even maple syrup can be used.

Salt

Pepper
Instructions
Wash and peel the beets and carrots, then core the apple.

Using a box grater, shred the beets, apple, and carrots into a bowl.

Mix together with a pinch of salt.

Prepare the dressing by whisking together the oil, lemon juice, vinegar, and sugar.Season to taste with salt and pepper.

Pour the dressing over the shredded vegetables and mix together, refrigerate for 1 hour.

When ready to serve mix in chopped nuts, parsley, and lemon zest. Chopped chives are optional, but add a great fresh flavor to this crisp salad!
Notes
Note that this salad gets better if it sits over night in the fridge and has a chance to "marinate".
Nutrition
Calories:
378
kcal
Carbohydrates:
8
g
Protein:
3
g
Fat:
39
g
Saturated Fat:
5
g
Polyunsaturated Fat:
10
g
Monounsaturated Fat:
22
g
Sodium:
22
mg
Potassium:
213
mg
Fiber:
2
g
Sugar:
4
g
Vitamin A:
3886
IU
Vitamin C:
22
mg
Calcium:
45
mg
Iron:
2
mg
Nutrition info is auto-generated. This information is an estimate; if you are on a special diet, please use your own calculations.