This strawberry watermelon smoothie with orange and banana, is an easy way to kick of your day. While you can easily drink this healthy watermelon smoothie for breakfast any day of the week, it also makes a refreshing summer drink to be enjoyed on a hot day.
Here in Canada, these are all very much seasonal fruits and its not uncommon to see 12 dollar watermelons the size of a cantaloupe. Especially if it's not summer. Now that's an expensive (and small) watermelon! Once summer hits, watermelons are cheap, strawberries are in season, (or growing in my backyard), its a good time to load up and eat as much of this healthy fruit as possible.
This post contains affiliate links for which I may be compensated if a purchase is made through the links provided. For more information please read my affiliate disclosure.
Can You Use Frozen Watermelon For Smoothies!?
This is a question that I've heard a surprising number of people ask, and the answer is yes!
I actually recommend freezing the watermelon for this smoothie. This allows you to leave out the ice, (which most smoothies use to cool the drink), while at the same adding that icy freshness to the smoothie without loss of flavor.
Frozen strawberries can also be used, though if you have fresh ones growing in your backyard garden or growing in pots, obviously use those first!
How To Freeze Watermelon
I have never seen frozen watermelon for sale...why? Who knows. But this means you need to freeze your own.
It's easy though!
Quarter the watermelon
Then run your knife through the flesh to cut it into slices
Run your knife perpendicular to the pervious cuts to create cubes.
Run the knife along the peel to remove the cubed sections of watermelon.
Lay these watermelon chunks on a parchment lines sheet pan or cookie tray and put them in the freezer.
The watermelon cubes take about 20 minutes to freeze solid, at which point they are ready to be used in smoothies!
If you don't have a freezer don't worry, just use fresh watermelon, the smoothie just wont be as 'icy' and thick.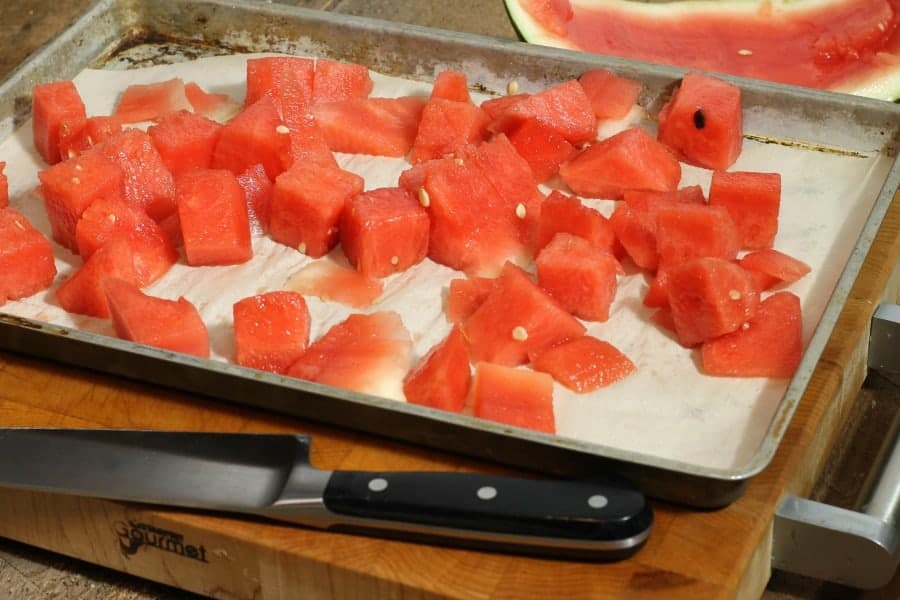 Making A Creamy Strawberry Watermelon Smoothie
This creamy strawberry watermelon smoothie will quickly give you a boost of energy and easily fill your daily requirement of fruits. The yogurt, chia, and milk provide protein and dairy, and the orange a healthy dose of vitamin C. A great breakfast smoothie especially on a hot summers day.
You'll need;
1 cup frozen diced watermelon
5-6 ripe strawberries
¼ cup fresh orange juice
Half a banana- chopped
1 large spoonful greek yogurt
½ cup milk or kefir( almond milk may also be used)
1 tablespoon chia seeds
Simply add all the ingredients to a blender and blitz it up! I use a Ninja Bullet blender for mu smoothies because I find the large cup to be the perfect size to create one really big smoothie, or two normal sized drinks. Perfect if you are whipping up a smoothie for breakfast or as an afternoon snack. The Ninja Bullet is also much more affordable then say a Vitamix, and is easily packed up if going on vacation or on a road trip.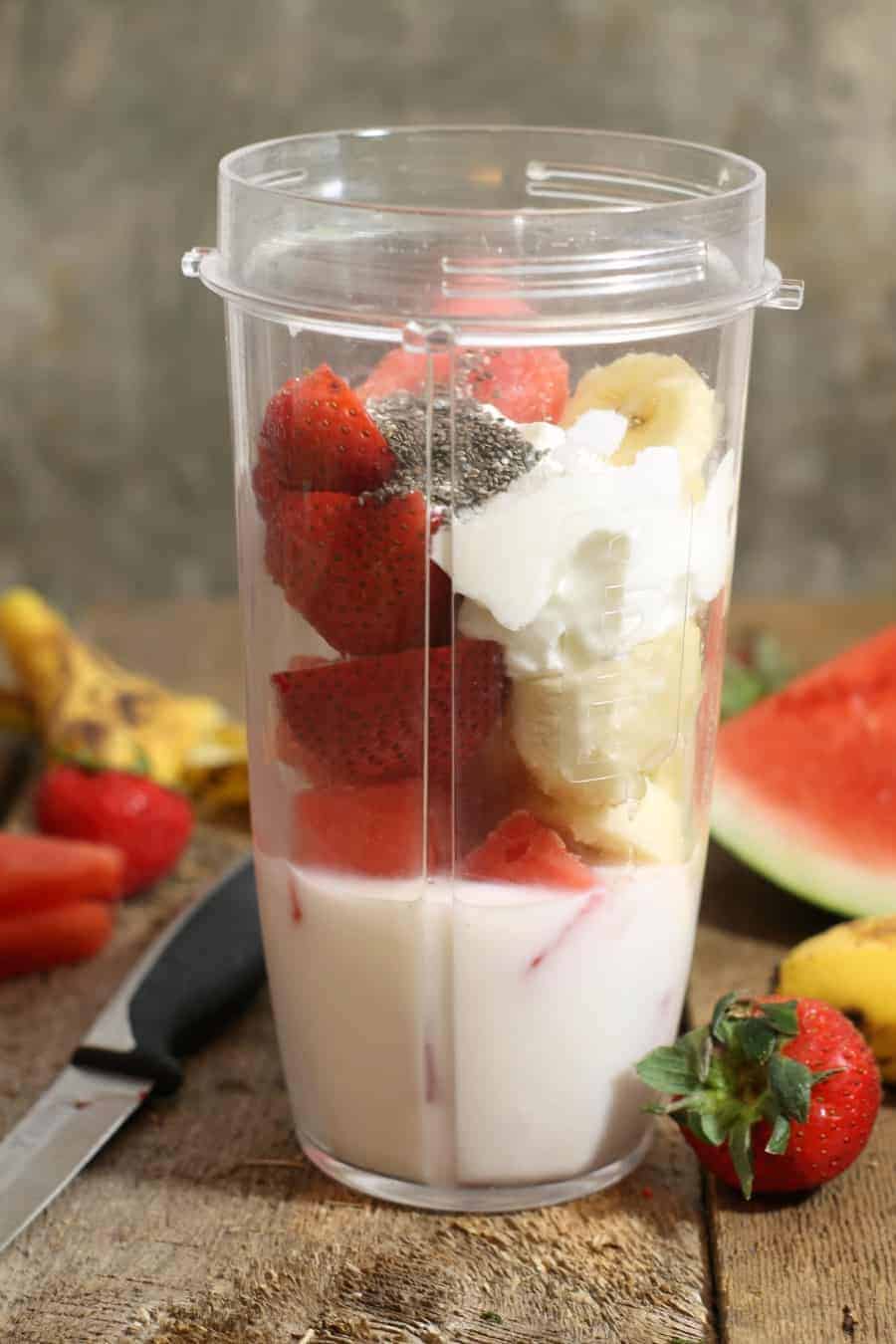 Easy peasy!
If you want a chunkier smoothie add some more watermelon to mix. Adding in another half banana or more yogurt will increase its smooth creamy-nes, and adding more orange juice or milk will thin it out.
What Other Fruit Goes Well With Watermelon In A Smoothie?
This is completely up to you of course. That said a few fruits and even vegetables pair quite well with the sweet melon.
Lemons and limes are a great match and provide a nice balance of flavor to the sweet melon.
Raspberries either fresh or frozen are another great way to add tartness to a smoothie. Try adding mint and raspberries to a watermelon smoothie for a refreshing summer drink!
Blueberries add a punch of flavor and also boast antioxidants.
Kiwi is another good option as it adds sweetness as well as some fiber which can help bulk up the smoothie and make it thicker.
The great thing about smoothies is that you can experiment with varying fruits( and even vegetables) to create endless variations.
Made the recipe? Comment & Rate it below, then take a picture and tag me on Facebook & Instagram: @earthfoodandfire . For more from scratch recipes follow me on Instagram & Pinterest
Recipe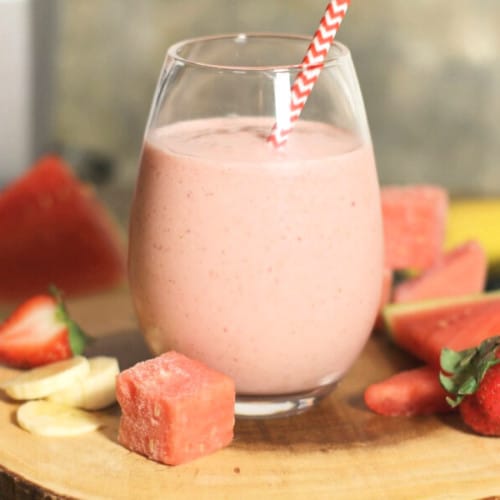 Creamy Strawberry Watermelon Smoothie
A refreshing fruit smoothie, this strawberry watermelon smoothie mixed with banana, greek yogurt, and chia, is full of healthy goodies.
Ingredients
1

cup

frozen diced watermelon

5-6

ripe strawberries

¼

cup

fresh orange juice

½

banana- chopped

1

large

large spoonful Greek yogurt

½

cup

milk or kefir

Optional: almond milk may also be used

1

tablespoon

chia seeds
Instructions
Mix all the ingredients together in a Ninja Bullet or other blender until smooth.
Nutrition
Nutrition info is auto-generated. This information is an estimate; if you are on a special diet, please use your own calculations.