We are quickly approaching the time to shop for the holidays, you may not always know what you want to get everyone on your list, but you know you want to get them the best Christmas gifts possible!
We have the Top 12 Christmas gift ideas for the gardeners on your shopping list this season! From the new gardener just starting out to the seasoned grower we have the perfect gifts to give this season!
This post contains affiliate links for which we may be compensated if a purchase is made through the links provided. For more information please read our affiliate disclosure.
1. Mason Bee Houses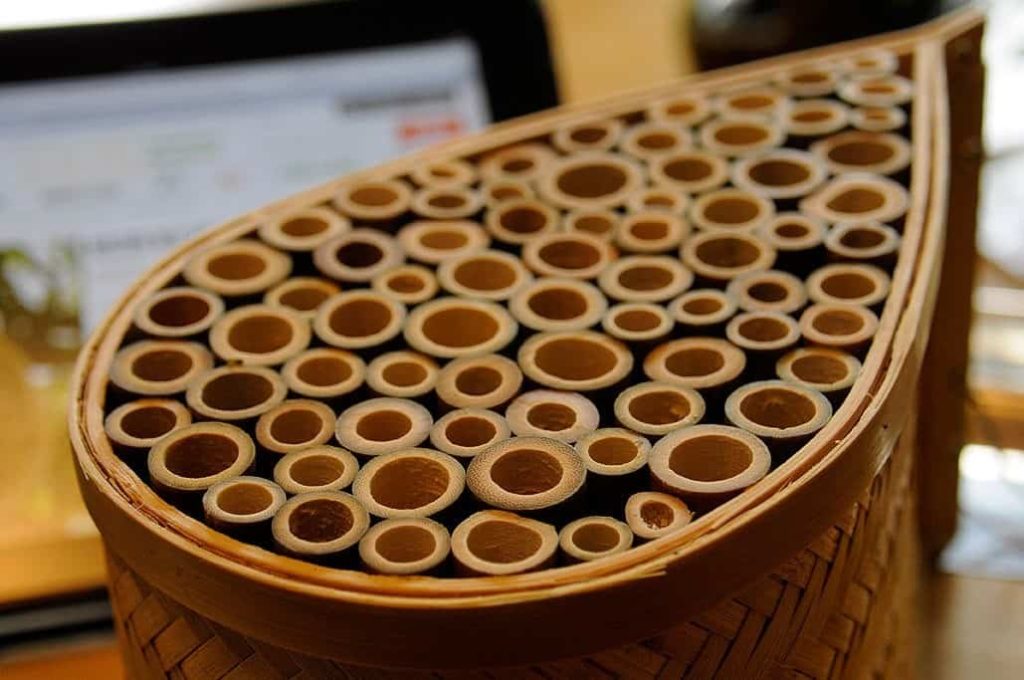 Perfect for the backyard to attract and house Mason bees that work tirelessly to pollinate. Mason bees do not produce honey, live in colonies or have a queen. Their main job is to pollinate the plants all around us from fruits and vegetables we grow to the crops grown by farmers.
The activity from one solitary bee is equivalent to up to 120 worker honeybees in the pollination it provides. Now that is a powerhouse pollinator that you want to attract to your yard!
2. Nesting Tubes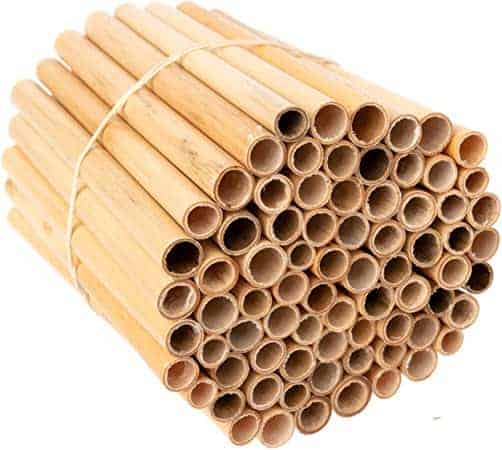 Perfect if you love the Mason Bee House idea and are shopping for someone highly creative. Nesting Tubes can be purchased to create your own Mason Bee Houses. Packages of tubes are available in various sizes to create Mason Bee Houses in signature designs to give your garden a personal touch!
Available in garden centers as well as online through Amazon.
3. Paper Pot Maker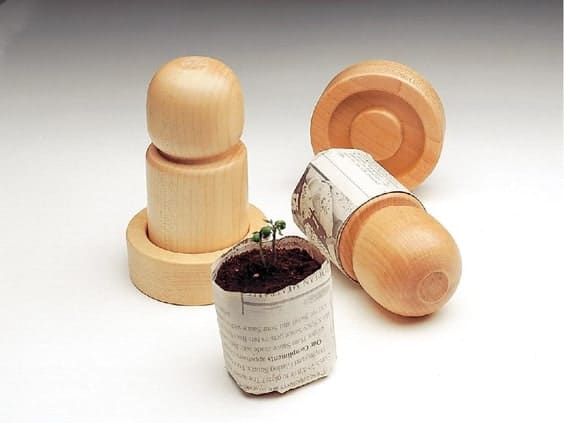 This handy tool turns newspaper into inexpensive pots for starting seeds. Pots made from newspaper eliminate the need for disposable plastic pots, are inexpensive and are environmentally friendly. The perfect project for winter, they are even easy enough for kids to join in the fun! These easy to make pots are 100% biodegradable and can be planted directly into the garden in spring.
Paper Pot Making Kits are available in garden centers, online gardening stores as well as on Amazon, though they sell out fast!
4. Pruning Shears
There is something to be said for a high quality set of pruning shears. These are a must have for every gardener! They make cutting a breeze from trimming branches on trees and shrubs, trimming raspberry canes to chopping up amendments for the compost pile or any task that requires cutting. A good set of sharp shears make the job quick and super easy.
Available online or anywhere you can purchase garden tools.
5. Hori Hori Knife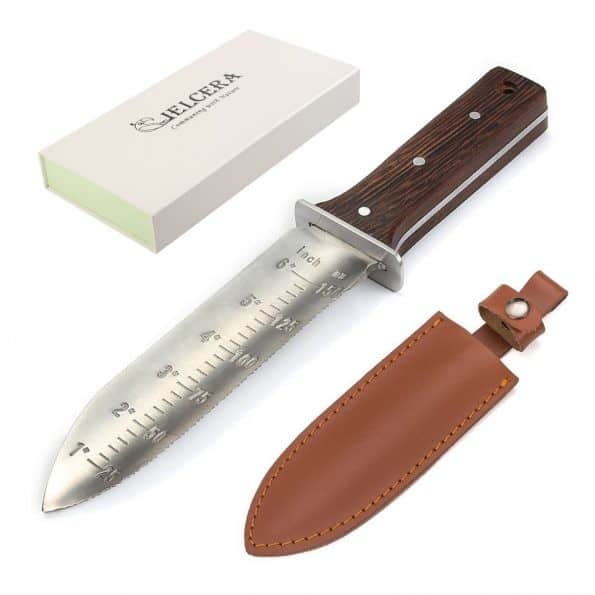 Hori-Hori knives are a heavy serrated multi-purpose steel blade for gardening jobs such as digging or cutting. The blade is sharp on both sides and comes to a semi-sharp point at the end. Easily cut through sod, roots or hard compacted soil. A handy tool for many tasks in the garden and around the yard.
Available in garden and hardware stores and as well online.
6. Watson Gloves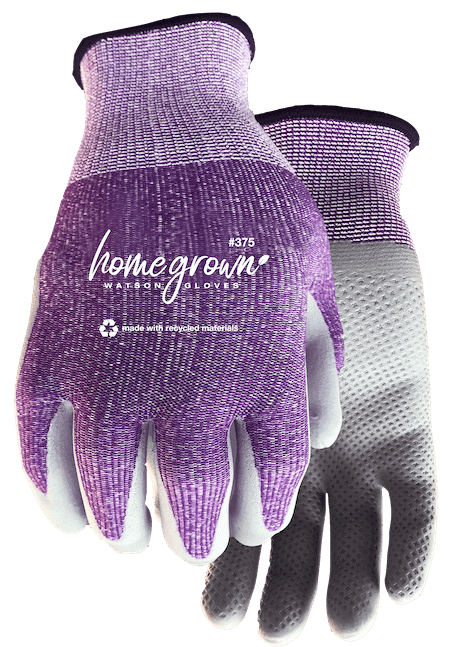 There should be a pair of Watson Gloves in the stocking of every gardener this Christmas! The pair shown here are the 375 Karmas and were made with a recycled 500ml plastic bottle! Strong, durable and extremely comfortable it is the first garden glove I have been able to work in and enjoy. I found my searching for them for every trip into the garden and missed them when I didn't have them. Definitely my best find of the year! I will never garden without them again.
With gloves made for men and women for many industries, this British Columbian company's mission is to elevate the glove industry with innovative and sustainable hand protection.
Their Garden and Landscape gloves are made with a trademarked polyester knit made from 25% (+/- 2%) recycled post consumer PET bottles, they are keeping millions of plastic bottles out of the landfill.
Spec sheets are available for all of their products on their website.
The spec sheet for the 375 gloves above can be seen here - 375 Karma spec sheet
You can find Watson Gloves in farm and garden centers across Canada or at Watson Gloves online.
7. Portable Greenhouses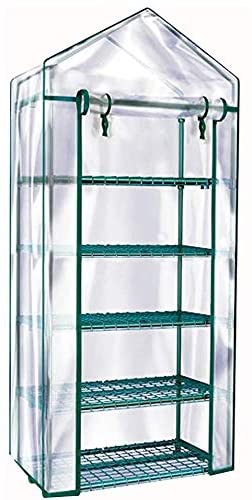 Perfect for apartment dwellers, gardeners who start their own seeds or anyone who needs a dedicated space for growing plants. Portable greenhouses come in various sizes and price ranges to fit everyone's budget. From small units to grow plants indoors or on a balcony to full sized walk in houses, the options are endless.
Great for starting seeds, extending the garden season, transitioning seedlings to the outdoors or creating the perfect microclimate, portable greenhouses are the ultimate gift for every gardener.
8. Mushroom Kits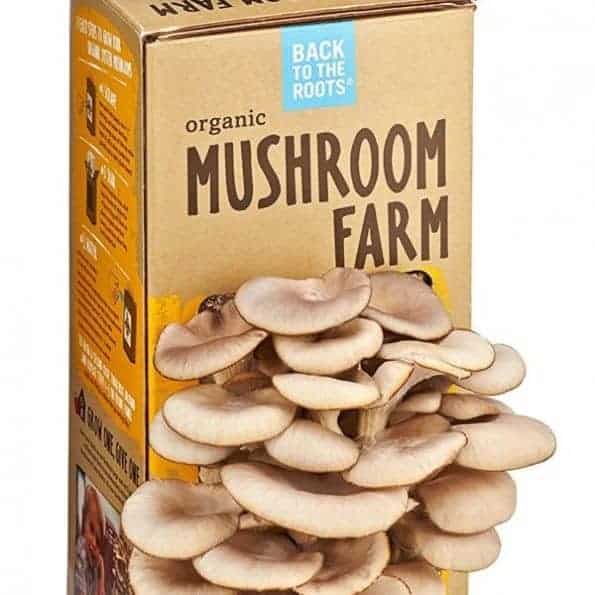 A must have gift for all mushroom lovers! In as quickly as 10 days you can grow and harvest a variety of fresh mushrooms right in the comfort of your own kitchen. They are very easy to care for and is amazing watching your crop of mushrooms come in!
These easy to grow mushroom kits are a must have for any mushroom lover. With various types to choose from you can be growing a beautiful assortment of spectacular mushrooms by the New year!
Canadian Suppliers of mushroom kits can be found by searching Mushroom Kits Canada or purchasing one through Amazon.
9. Suet Ball Feeders
Suet balls provide much needed high calorie food to insulate wild birds from winter cold. Feeders can accommodate multiple suet balls at a time, with a simple locking cap it is a good option where squirrels have been a problem.
They can be found anywhere that sells gardening supplies, online seed and garden suppliers as well as on Amazon.
10. Wreath Peanut Feeders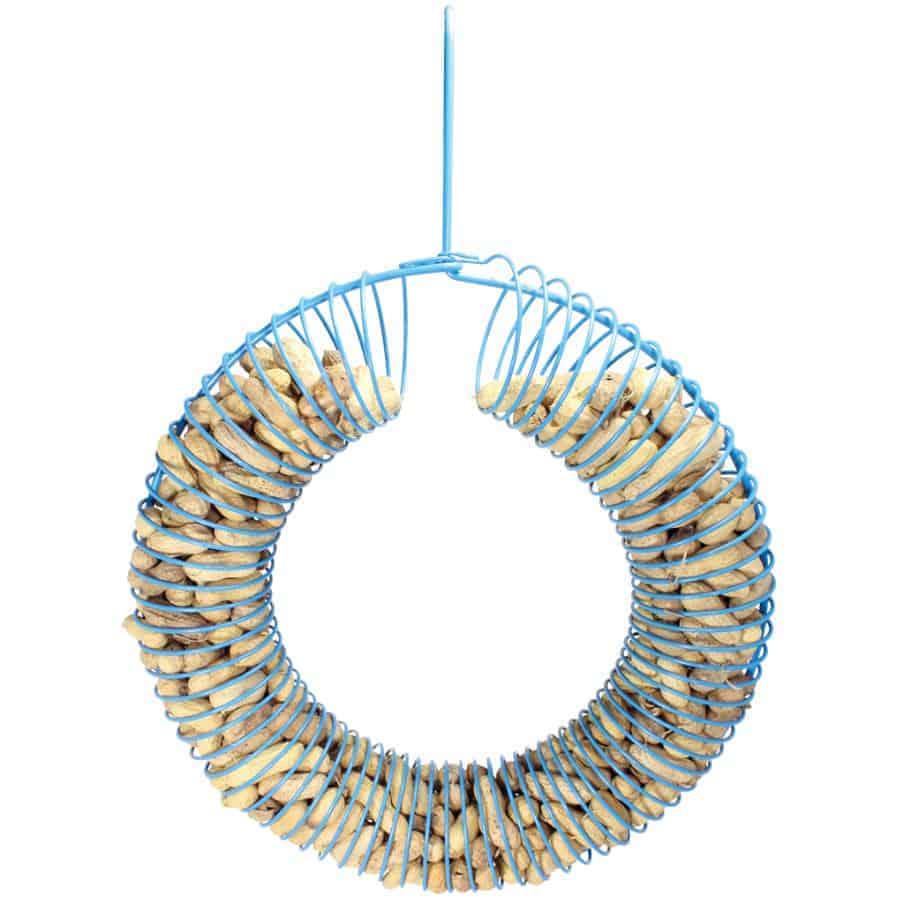 Wreath Peanut Feeders hold just over one pound of peanuts and are easy to clean and fill. Hang from strong tree branches or use a tall Shepherds hook meant for hanging baskets. Whole unsalted peanuts in the shell should be used and will be enjoyed by jays, woodpeckers as well as various other birds.
Available in garden centers and online.
11. The Complete Guide To Saving Seeds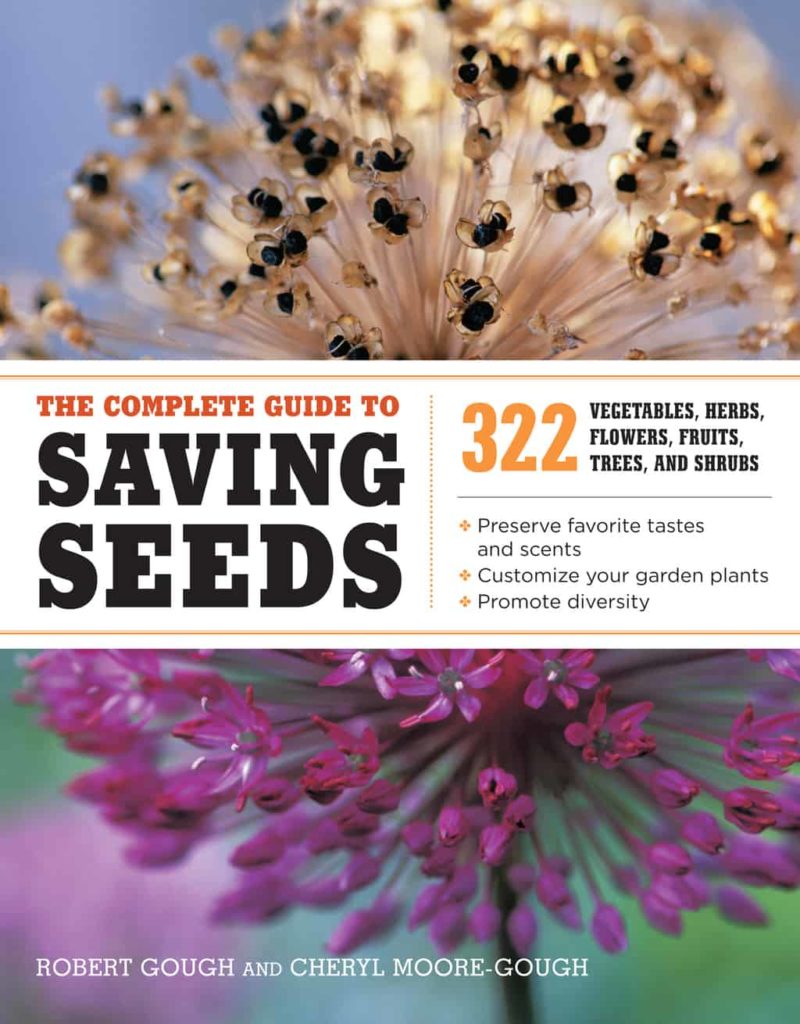 Perfect for any gardener who wants to grow and harvest their own seeds, this knowledge packed book will be cherished by any gardener.
Enjoy your favorite varieties of garden plants year after year with this comprehensive guide to gathering, preparing, and planting seeds. Gardeners of any experience level will find all the information they need to preserve genetic diversity, cut costs, and extend the life of their favorite plants to the next generation and beyond.
Available online through Indigo or Amazon
12. Gift Certificates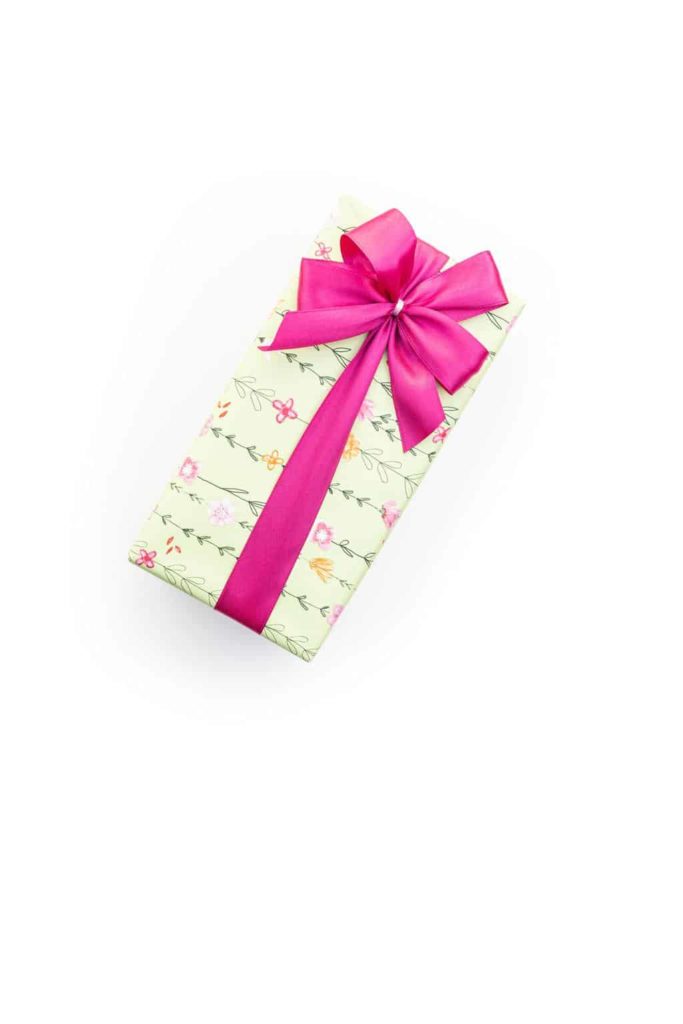 To round out our top 12 is a gift certificate to a greenhouse. Because of the cold weather of winter the giving the gift of plants is not really an option. With a gift certificate for their favorite greenhouse they can pick the perfect plants and seeds at the start of the season.
We hope you found some great ideas for the gardeners you are shopping for or even a few ideas to put on your own wish list!