Traditionally very similar to a fluffy baked meringue, topped with whipped cream and fresh fruit, pavlova makes a wonderfully light summer dessert. This blueberry pavlova recipe uses the original pavlova recipe with a ton of fresh, wild blueberries, and a blueberry syrup for an exceptionally eye catching look.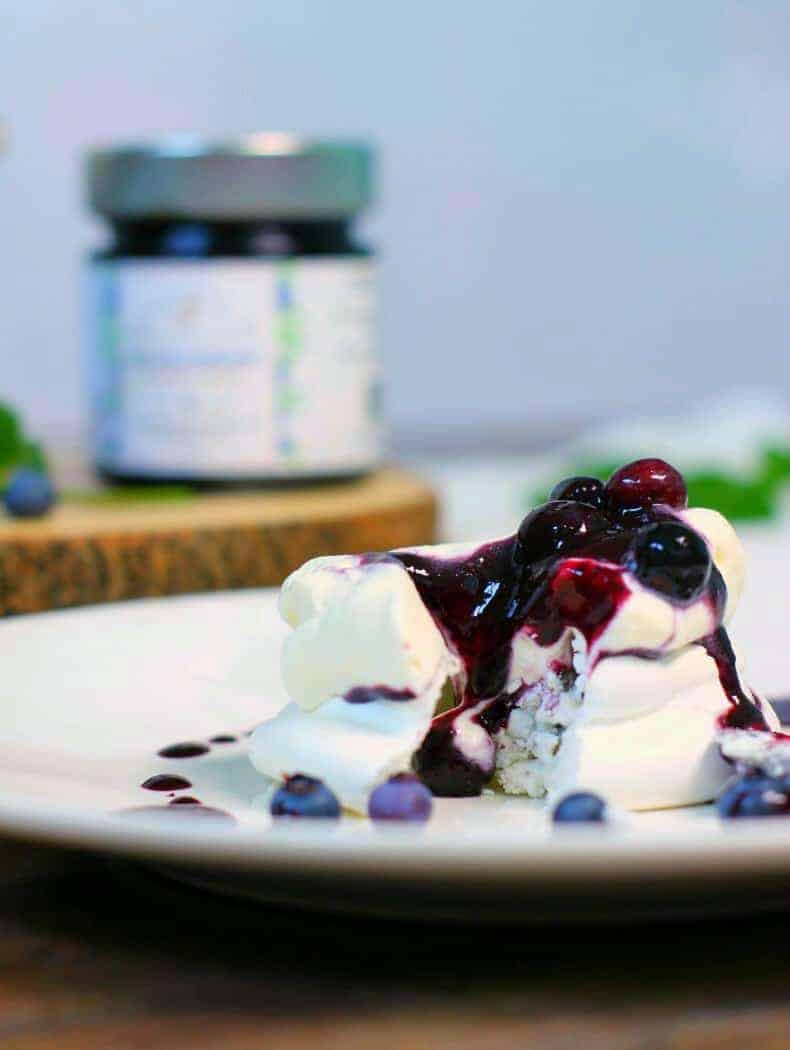 Pavlova is a very classical dessert first popularized in New Zealand and Australia in the early 1900's, and is actually considered their National Dessert. While the exact date and inventor will probably remain a mystery, it's generally accepted to have been created in tribute to Anna Pavlova a Russian ballerina, after one of her tours in 1920.
This post contains affiliate links for which I may be compensated if a purchase is made through the links provided. For more information please read my affiliate disclosure.
This recipe can be made as either one large traditional pavlova or little individual pavlovas, perfect for sit down meals. Please note the different baking times in the recipe below and that a stand mixer such as a Kitchen Aid (affiliate) is highly recommended for whipping the whites. - Chef Markus
Meringue vs Pavlova
So what is the difference between meringue and pavlova recipes?
There are three types of meringue, each differing in how they are prepared, and how they are used in the finished product (read the full explanation on French, Italian, and Swiss Meringues)
Essentially, a meringue is made by whipping egg whites with sugar until either medium, or hard peaks form. The stiff egg whites are then either piped or spooned onto various desserts as a topping, (such as on these lemon meringue tart-letts) or onto a sheet pan to create meringue cookies. Meringues are usually baked (with the exception of Swiss Meringue) to set the egg whites and make them safe to eat.
A Pavlova recipe on the other hand, while very similar to meringue includes a starch and vinegar in the mix of egg whites and sugar. This helps stabilize the egg whites and creates a soft marshmallow-y center once baked.
How To Store Meringues & Pavlova
Both meringues and pavlova are very moisture sensitive. Ideally they should be consumed very shortly after being prepared as they go soft and loose their crispness as they absorb moisture from the air.
If you plan on storing these pavlova (or any meringues) for any length of time, make sure they are stored in an airtight container and kept in a dry, cool area.
Lets get to the recipe!
Foolproof Blueberry Pavlova Recipe
Despite this blueberry pavlova's extravagant look it is quite simple to make if you carefully follow these instructions and set aside enough time to make them. Don't try and rush especially if you have never made meringue or pavlova before. Most pavlova's fail because they are rushed, and are not baked properly.
They require patience, and a little bit of faith that they will turn out properly!
Before starting this recipe you should:
Pre-heat your oven to 250F and measure out all the ingredients.
Line a sheet pan with parchment paper, and using a glass as a stencil, draw circles on the paper as an outline for your blueberry pavlova's. Flip the paper over to avoid leaving lines on the base of your finished product.
Meringue Base Recipe
6 room temperature egg whites
1 ½ cups granulated sugar
¾ tablespoon corn or potato starch ( sifted)
1 ¼ teaspoon white vinegar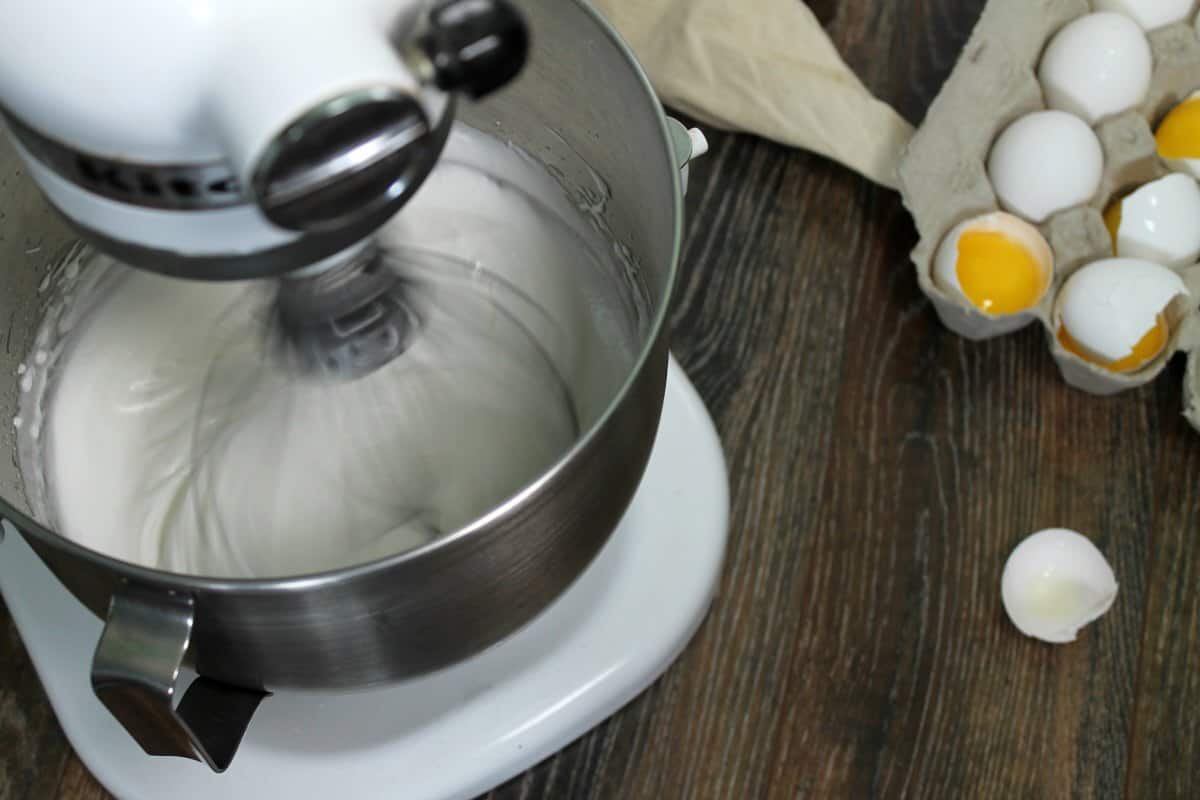 Meringue Base Instructions
In order to make a foolproof pavlova at home follow these simple steps to make your meringue.
Start with egg whites which are room temperature. This helps stabilize the whites, and lessons the temperature shock when going into the oven. Mix the sugar and starch together. It's best to use a sifted starch, to avoid lumps, but mixing it with the sugar should help break it up as well. You wouldn't want your elegant looking pavlova to have lumps!
Whip the egg whites in a stand mixer until frothy, and then add the sugar/starch mixture one spoon full at a time. If you add all the sugar to fast, you run the risk of the egg whites failing to stiffen properly. You'll notice the mixture start to turn an opaque white, and become shiny. Keep whipping!
When the egg whites start to form "ribbons" in the bowl as they are whipping, slowly pour in the vinegar. The vinegar helps firm up and stabilize the pavlova, and increases volume. Keep whipping the egg white until stiff peaks form. They should be nice and firm, and not flop or droop!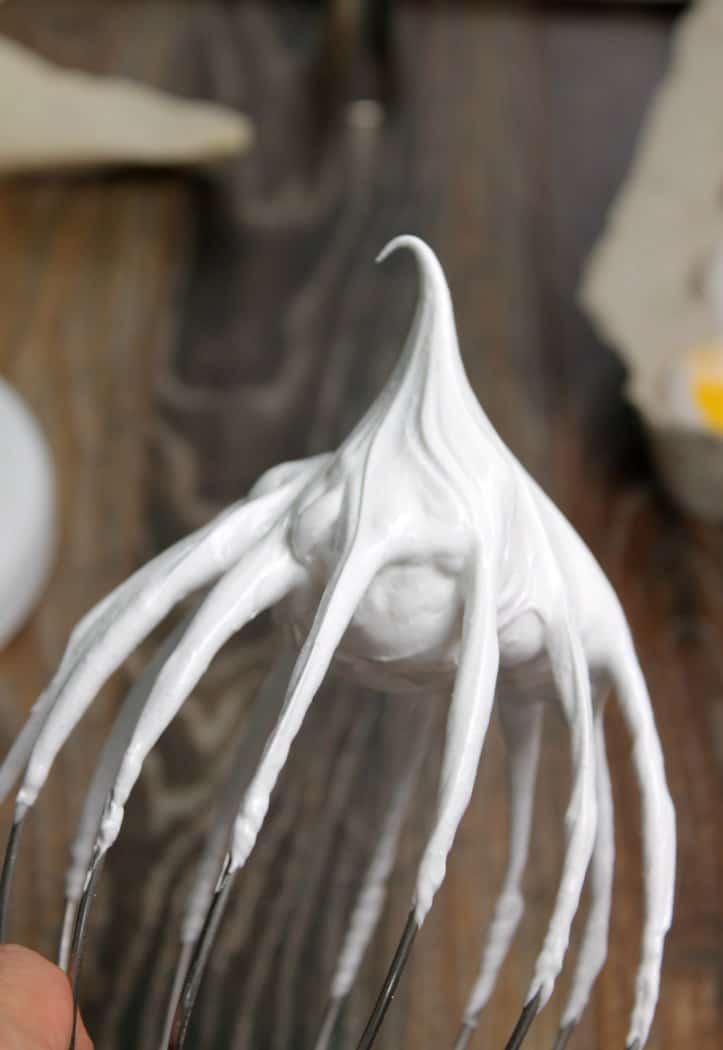 The amount of time required to whip the egg whites can vary depending on room temperature and moisture, but generally 6 to 8 minutes is normal.
Using a piping bag, pipe even circles of the pavlova mix onto the pre-lined sheet pan. Without a piping bag, you can also spoon dollops onto the sheet pan. The fluffier you make them, the more impressive the blueberry pavlova will look! Place the formed pavlovas into the pre-heated oven, and immediately drop the temperature to 225F and bake for 60 minutes.
Now this is the hard part! Do Not open the oven door for any reason! Even after the hour is up keep the door closed until the oven has cooled completely.
Keeping the oven closed the entire time the pavlova is baking in the oven. Opening the door and peeking causes a temperature drop, which may result in these perfectly smooth desserts to crack or collapse. Let the plain pavlova bases cool fully before opening the door!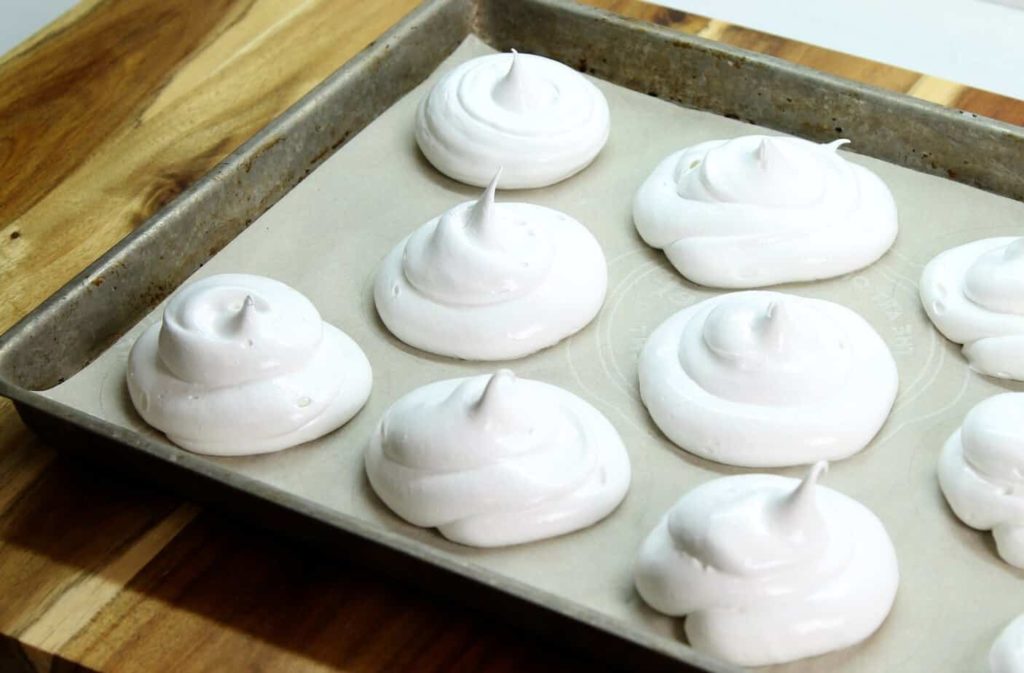 Blueberry Sauce Recipe
500ml Blueberry fruit puree or juice
½ cup sugar
1 teaspoon lemon juice
¼ cup fresh blueberries (optional)
This is the "easy" part. Simply combine the fruit juice/puree with the sugar and lemon juice. Simmer on the stove top until the sauce starts to thicken and coats a spoon. Cool the sauce before using as a garnish!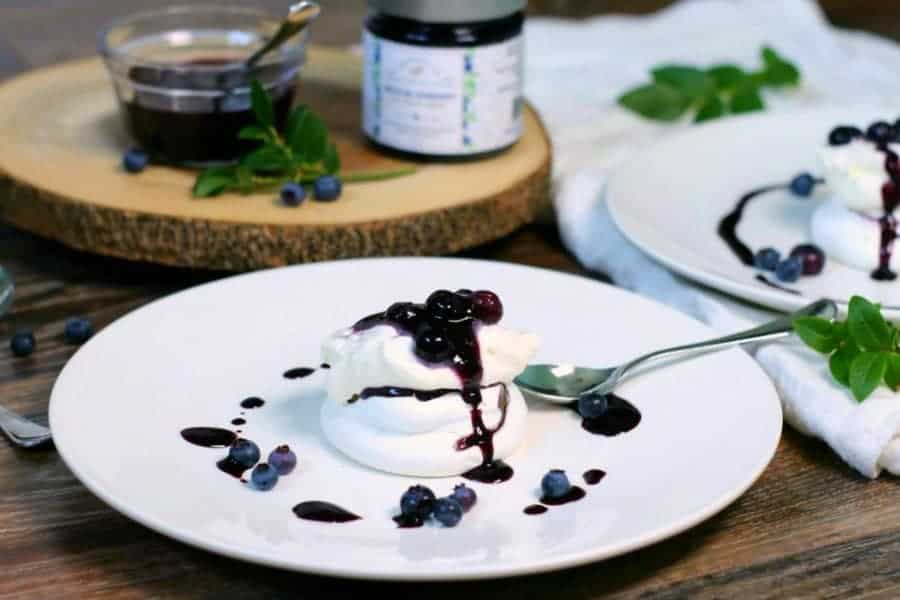 Made the recipe? Comment & Rate it below, then take a picture and tag me on Facebook & Instagram: @earthfoodandfire . For more from scratch recipes follow me on Instagram & Pinterest
Recipe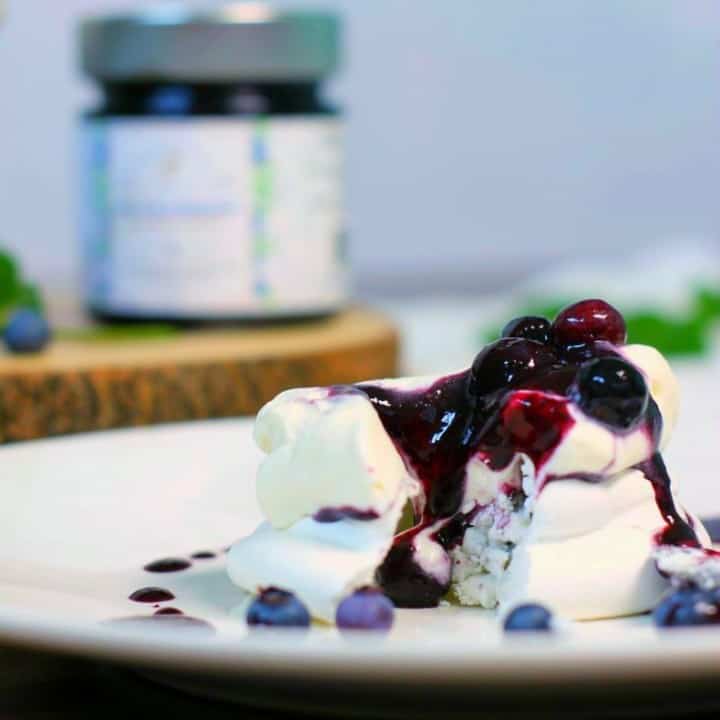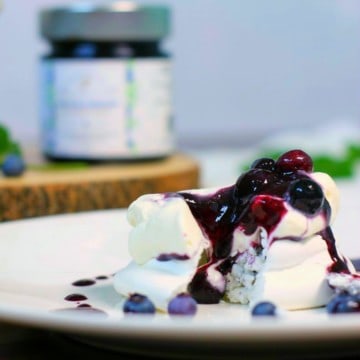 Blueberry Pavlova – A Simple & Elegant Dessert
An elegant looking, yet simple to make blueberry pavlova recipe. The ideal summer dessert to enjoy with friends, or to impress with on a special occasion.
Ingredients
Pavlova Base Recipe
6

room temperature egg whites

1 ½

cups

granulated sugar

¾

tablespoon

corn or potato starch

sifted

1 ¼

teaspoon

white vinegar
Blueberry Sauce and Garnish
500

ml

Blueberry fruit puree or juice

½

cup

sugar

1

teaspoon

lemon juice

¼

cup

fresh blueberries

1

cup

35% cream- whipped
Instructions
Foolproof Pavlova
Pre-heat oven to 250F. Line a sheetpan with parchment paper and draw outlines for your pavlova with a round glass.

Mix the sugar and starch, then pre-measure the vinegar.

Whip the room temperature egg whites until frothy, and then slowly add the sugar and starch mixture.

Continue whipping the whites until smooth and shiny, add the vinegar.

Whip the pavlova mixture until stiff peaks form. Spoon, or pipe the pavlova onto the pre-lined sheet pan.

Place in the pre-heated oven and immediately drop temperature to 225F. Bake for 1 hour.

Let the plain pavlova bases cool in the oven without opening the door to prevent cracking.
For the Blueberry Sauce & Garnish
Mix the fruit juice, sugar, and lemon in a sauce pot, and simmer until the sauce coats a spoon.

Whip the cream until thick and fluffy.
To Garnish the Blueberry Pavlova's
Spoon the whip cream onto the pavlova bases, and drizzle with the blueberry sauce. Garnish with fresh berries and serve!
Notes
If making the pavlova ahead of time, try to do it the night before serving and then simply keep them in the oven after turning of the heat. This should keep them crisp and avoid moisture getting at them.
One serving has 227.7 calories.
Nutrition
Nutrition info is auto-generated. This information is an estimate; if you are on a special diet, please use your own calculations.
This post contains affiliate links for which I may be compensated if a purchase is made through the links provided. For more information please read my affiliate disclosure.