These gluten free Swedish meatballs are sponsored by Burnbrae Farms. Find more information in our Affiliate Disclosure. All opinions are my own.
Swedish meatballs have always been a favorite meal of mine. Most often served with rice or noodles and a crisp green salad in our home, meatballs are an easy weeknight meal to prep ahead of time. Making a large batch of meatballs takes no more effort than a 'regular' batch, and because of their relatively small size, meatballs cook surprisingly quick even from frozen (these take just 30 minutes at 400F)! This makes these freezer friendly gluten free Swedish meatballs the ideal meal prep recipe. Easy to make from scratch, and full of flavor, using only lean meats, spices, and egg whites as a binder.
All meatball recipes include a basic set of ingredients. Ground meat is a given, but they also include various seasonings and binding ingredients which dictate what kind of meatball it ends up being. Swedish meatballs are usually made with a mixture of ground beef, pork, chopped onion, allspice, white pepper, milk soaked breadcrumbs, and egg as a binder. Once cooked, the Swedish meatballs are then served in a creamy sauce.
I wanted to make these meatballs a healthier and lighter meal option after the sugar and fat filled holidays we just put behind us. To that end, I used only lean ground meats, left out the traditional bread crumbs, and opted for using egg whites only instead of whole egg, to further reduce the calories and fat.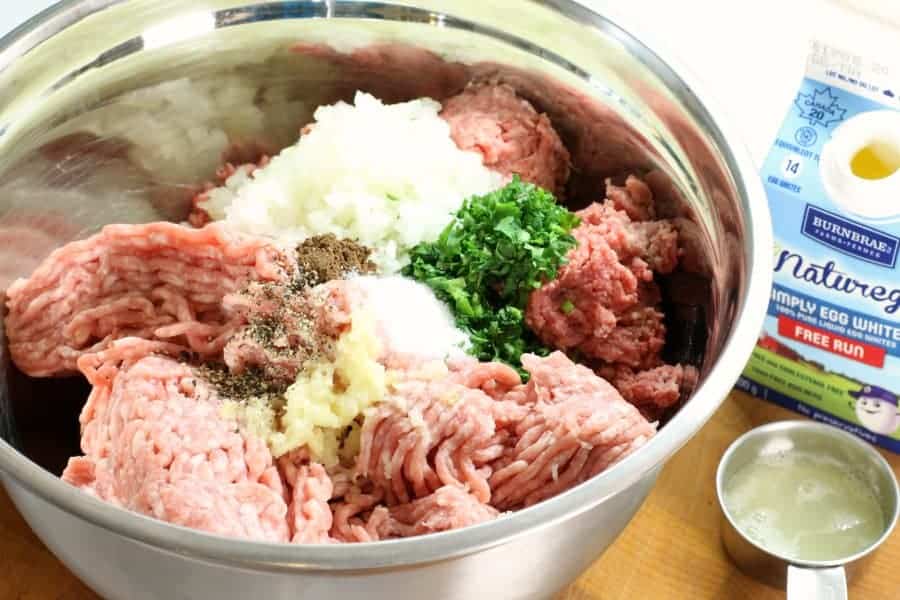 Gluten Free Swedish Meatballs In A Light Creamy Sauce
When making meatballs at home, the one problem I consistently run into is what to do with the leftover egg yolk when using whole eggs in the recipe. While whole eggs are perfectly healthy, using just the egg whites helps cut out some calories and fat found in the yolk. It's definitely a great way to eat healthier, especially after the holidays!
When making a large batch of meatballs you need more then just one egg and I find it a waste to throw out the yolk. I found Burnbrae Farms Naturegg Simply Egg Whites to be the perfect solution to having no left over yolks sitting in the fridge or heading into the compost! Burnbrae Farms Naturegg Simply Egg Whites are real, pasteurized egg whites, Burnbrae cracks and separates the eggs for you – creating a simple and convenient product to help get back on track from the holidays.
The best part is their liquid egg whites are preservative free containing only pure egg whites. They come in convenient sized packages and last an amazing 7 weeks in the fridge! You can even freeze the egg white to achieve a longer shelf life!
For these freezer friendly Swedish Meatballs you'll need:
Gluten Free Swedish Meatball Recipe
2 lbs lean ground beef
2 lbs ground pork
3 cloves fresh garlic chopped
1 Spanish onion small diced
½ cup of Burnbrae's Naturegg Simply Egg Whites - Just shake and pour, Burnbrae does the cracking and separating to avoid waste and mess. Use only what you need!
2 teaspoon allspice
1 teaspoon ground black pepper
1.5 teaspoon salt
1 tablespoon chopped parsley
Swedish Meatball Sauce
2 cups beef broth - (I prefer to use my homemade beef stock)
1 cup milk
1 tablespoon corn starch
1 teaspoon Worcestershire sauce
Mix all the ground meat in a large stainless steal bowl with the chopped Spanish onion, garlic, and spices. Pour in the liquid egg white and mix it in thoroughly with your hands. Don't be afraid to get your hands dirty, you can always wash them after!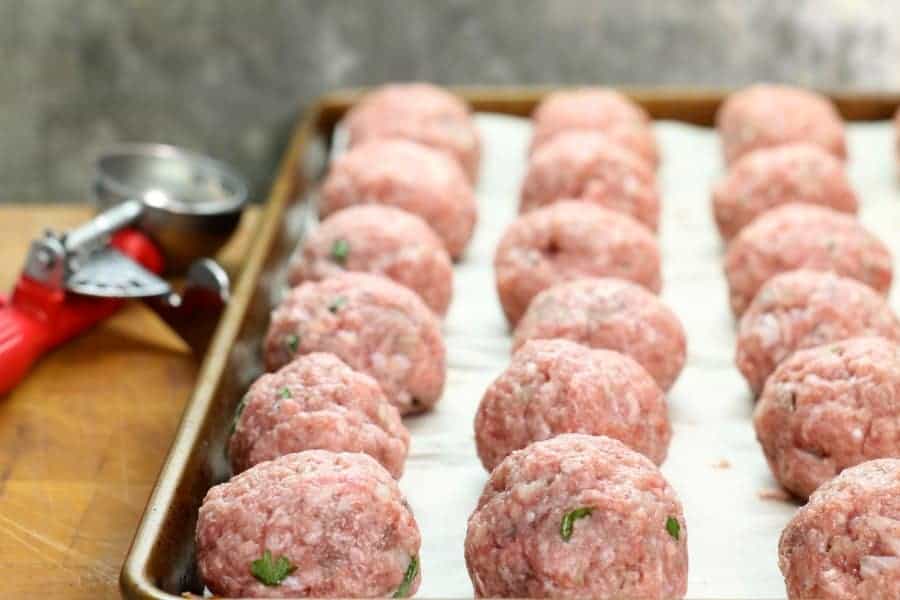 Use a portion scoop to scoop out equally sized portions of the Swedish meatball mixture. An ice cream scoop is ideal for this as it already partially molds the meat for you! Scoop the ground meat onto a parchment lined baking sheet and then form into round meatballs. This batch of gluten free Swedish meatballs (using four pounds of ground meat) yielded about four dozen meatballs.
At this point you can choose to freeze the meatballs, and once frozen transfer them into ziploc bags for storage, or you can cook the meatballs while fresh. I generally tend to make these on the weekend, reserve enough for supper that night and then freeze the rest for later! A great way to meal prep for a busy work week!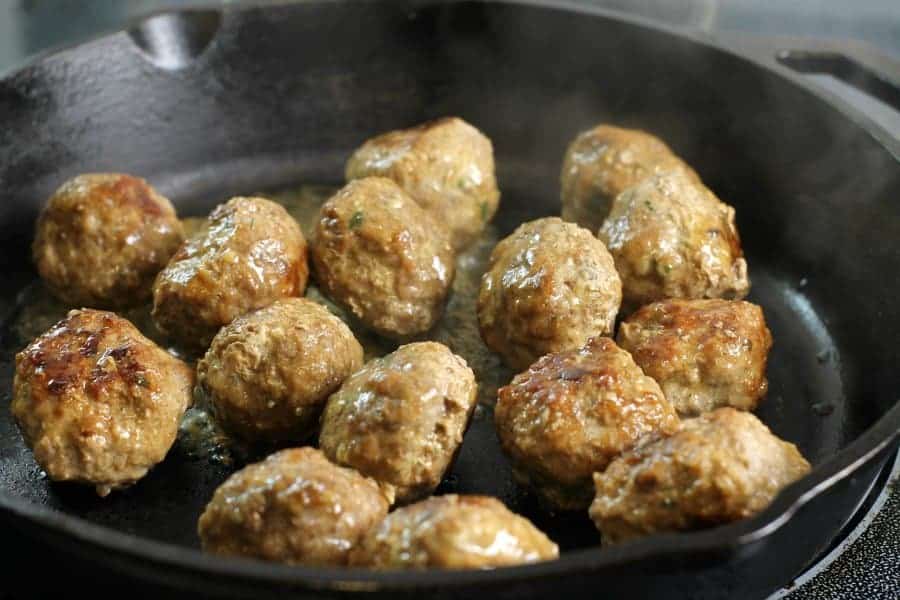 If cooking the meatballs from frozen I would suggest baking them in a 400F oven for 30 minutes. This way you can prepare the sauce as they bake. If cooking the freshly formed meatballs, simply sauté them in a pan until golden brown on all sides. This does require you to watch the pan to prevent burnt sides, which is another reason I opt for baking my meatballs!
The Swedish meatball sauce only takes a few minutes to prepare and is easily finished while the meatballs are cooking. In a small pot on the stove, heat the 1 cup of beef broth and milk until hot. As the liquid heats, make a slurry with the remaining beef broth and cornstarch, (mix the broth and cornstarch together). Once the broth/milk mixture is simmering, whisk in the cornstarch slurry.
The sauce will thicken quite rapidly, so be sure to stir it to avoid scorching. Once the Swedish meatballs are fully cooked (to an internal temperature of 165F, you can check this by using a food grade thermometer), simply add the meatballs and any juice in the pan to the thickened sauce. Add the Worcestershire sauce and re-season with a little salt and pepper!
Make sure to check out all the other healthy recipes you can create with Burnbrae's Liquid Egg Whites!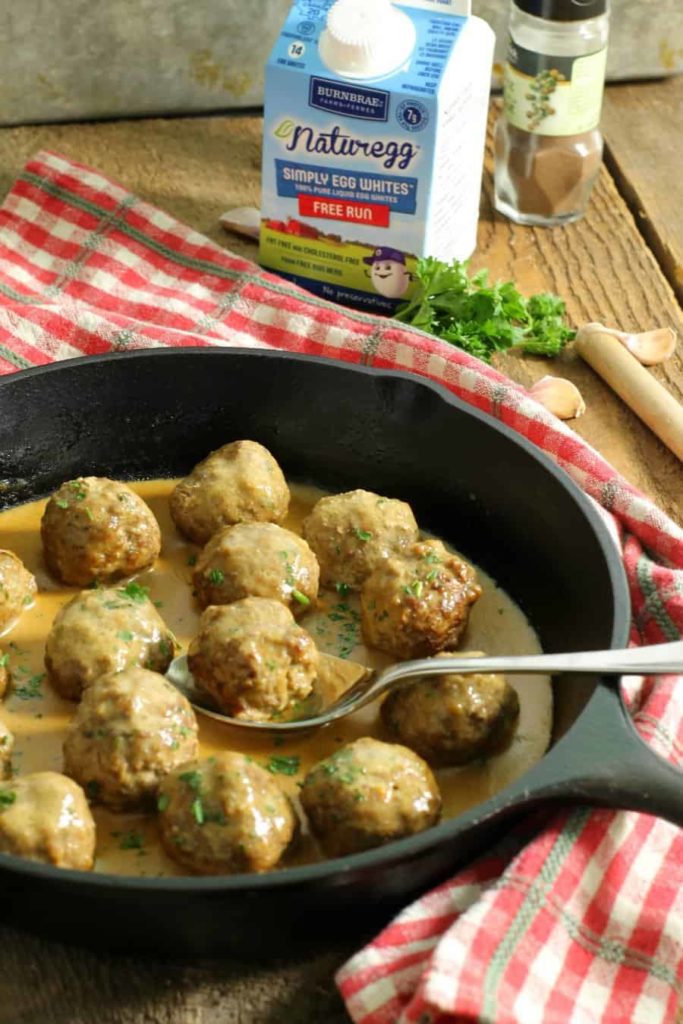 Tried the recipe? Rate the Recipe below, and take a picture and tag me on Facebook & Instagram: @earthfoodandfire . For more from scratch recipes follow me on Instagram & Pinterest
Recipe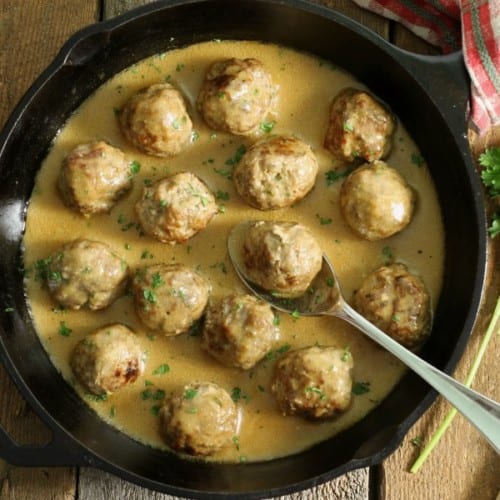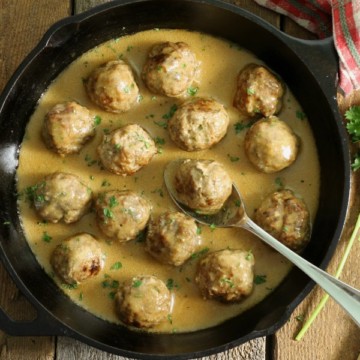 Freezer Friendly Gluten Free Swedish Meatballs
Freezer friendly Swedish meatballs (Gluten Free) made with Burnbrae Farms Naturegg Simply Egg Whites. Stock your freezer with this healthy meal option ready in just 30 minutes!
Ingredients
Swedish Meatball Recipe
2

lbs

ground lean beef

2

lbs

ground pork

3

cloves

fresh garlic

1

spanish onion small diced

½

cup

of Burnbrae's Naturegg Simply Egg Whites

Just shake and pour Burnbrae does the cracking and separating to avoid waste and mess. Use only what you need!

2

teaspoon

allspice

1

teaspoon

ground black pepper

1.5

teaspoon

salt

1

tablespoon

chopped parsley
Milk Sauce
2

cups

beef broth -

I prefer to use my homemade beef stock

1

cup

milk

1

tablespoon

corn starch

1

teaspoon

Worcestershire sauce
Instructions
Line a baking sheet with parchment paper.

Finely dice the spanish onion and garlic.

In a large bowl, mix the ground meats, onion, garlic, herb and spices with Burnbrae's Naturegg Simply Eggwhites.

Use a portion scoop or spoon to scoop evenly sized portions of meatball mixture onto the parchment lined baking sheet.

Use your hands to roll and form the individual meatballs.If making the recipe for mealprep, freeze the meatballs and then store in freezer-proof bags.
Cooking The Swedish Meatballs & Making The Sauce
To cook the meatballs from frozen, simply pop them in the oven in a pan or baking sheet for 30 minutes in a 400F oven,

As the Swedish Meatballs bake, mix 1 cup of the beef broth and the milk in a pot on the stove and bring to a simmer.

Make a slurry with the remaining broth and cornstarch. Whisk the slurry into the simmering broth/milk mixture and stir until thickened.

Once the Swedish Meatballs are fully cooked, add them to the thickened sauce and season with worcestershire sauce and salt and pepper. Garnish with fresh chopped parsley.
Notes
This recipe is ideal for meal prep, simply freeze half the batch and save for later This batch recipe makes about 48 meatballs (4 dozen) and about 8 servings! The meatballs cook in 30 minutes from frozen at 400F.
If cooking the meatballs without freezing, bake them in the oven for 15 minutes at 400F then toss in a hot oiled frying pan and continue making the sauce in the same pan.
Nutrition
Nutrition info is auto-generated. This information is an estimate; if you are on a special diet, please use your own calculations.