Stocks and broths form the basis of many dishes in any kitchen. Although in today's world of fast-paced and pre-fab meals, many home cooks have forgotten how useful a good stock can be. Learning how to make high quality beef stocks and broths at home isn't hard. A simple recipe full of health benefits, stock is used in soups, sauces, and many other recipes.
It's what makes stock so wonderful. The ideal tool to enhance your cooking by using up any leftover scraps from chicken, beef, lamb, fish etc. Beef stock and chicken stock are the most commonly used stocks, either in soups, as a base for sauces or to add some extra flavor and nutrition when cooking rice. The possibilities are endless and I want to show you just how easy making stock at home can be.
This post contains affiliate links for which I may be compensated if a purchase is made through the links provided. For more information please read my affiliate disclosure.
Health Benefits of Stocks & Broths
Stocks and broths, are packed with nutrition. Due to their high gelatin content, stocks, especially beef stock are an exceptional addition to anyone's diet who suffers from joint problems. Joints and muscles in both animals and humans are held together by what's called connective tissues ( Collagen & Elastin).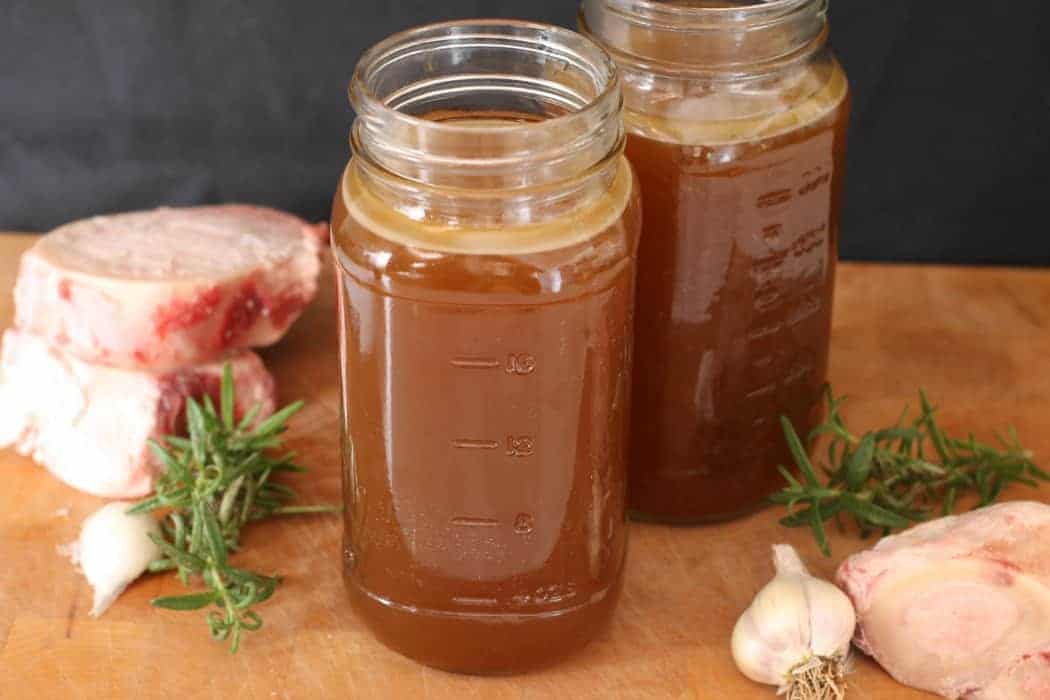 These tissues are essentially the glue that hold our muscles and joints together.
Collagen is a connective tissue that breaks down into gelatin in water, and is crucial to our joints proper functioning. When simmered in water the bones and tissues break down and release many important minerals that our bodies need to work.
Glucosamine
Chondroitin Sulphate
Magnesium
Calcium
Various Amino Acids
These are just some of the elements present in stocks and broths. These minerals help reduce inflammation in our joints, boost digestion in our gut flora, strengthen our immune system, and benefit the metabolism. Unfortunately, store-bought stocks and broths, don't contain many of these elements and are packed full of salt and MSG. No, to get the health benefits of stock you need to make this staple yourself. But like I said it's actually very easy!
Making Beef stock at home
The easiest way to make beef stock at home, is to simply start buying cuts of beef that still have bone attached. While the best bones for making stock come from the knuckles, shank and bones with a lot of joint tissue, any bones will do the trick. Just like when you are making chicken stock, simply save and freeze the bones after removing the meat you want to use. When you have enough bones saved to fill your largest pot, you are ready to go.
You'll need:
About 5lbs of bones (the more the merrier)
8 litres cold water
Mirepoix ( Vegetable mix with a ratio of 2:1:1, onion, carrot and celery)
bay leaf
peppercorns
herbs such as rosemary and thyme (optional)
tomato paste (optional)
Instructions
You can make a white stock (primarily used in soups and making veloute), by using the raw bones and not roasting them first. Otherwise to make a dark, richly flavored stock, roast the bones until they are a dark golden color.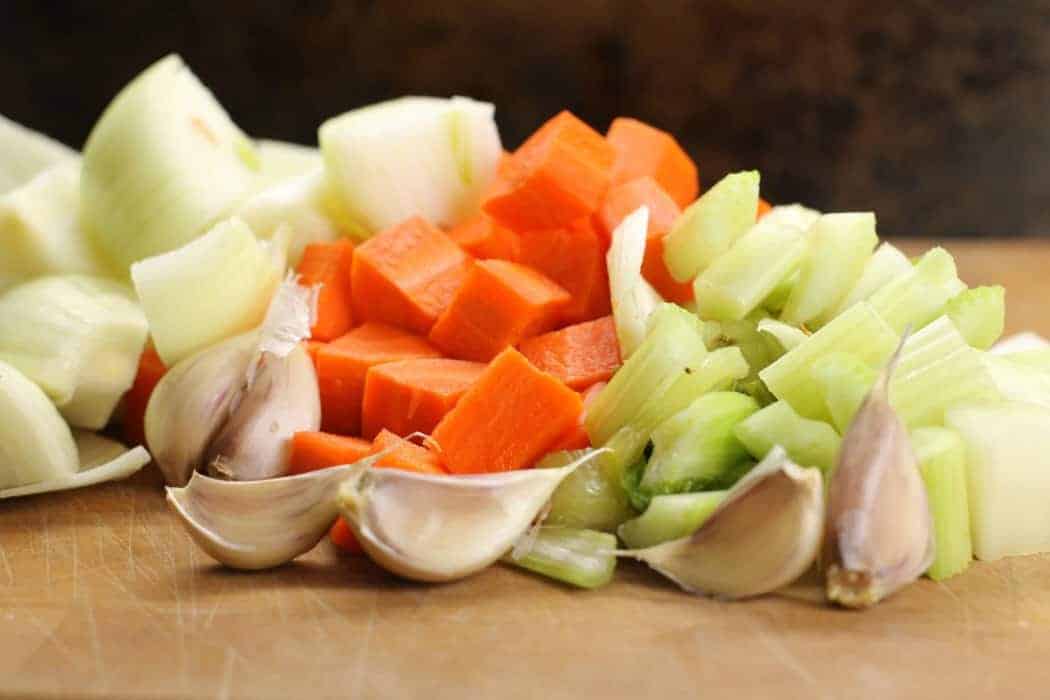 Using a roasting pan, roast the bones in the oven at 375F for at least 45 minutes. As I mentioned the bones and all the meaty bits should be a nice dark brown color. Make sure to strain and save any fat in the bottom of the pan!
While not as popular as it used to be, this pure beef fat (also known as lard) can be used to cook with and is especially great when frying at high temperatures. Ideal if you are on a paleo diet and not using vegetable oils.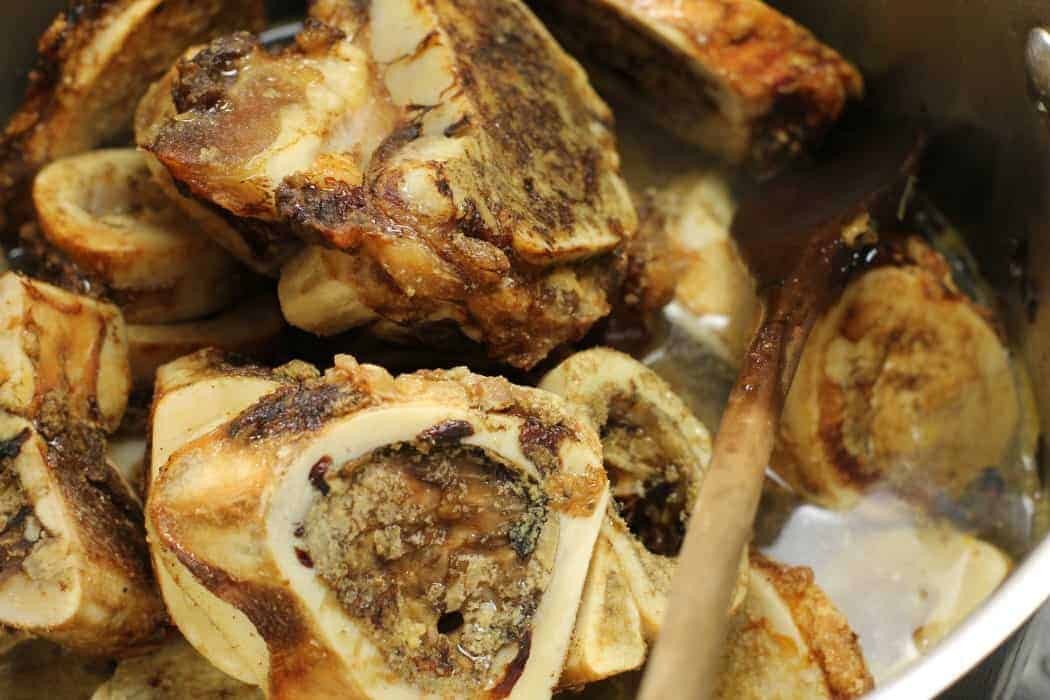 Place the roasted bones in your stock pot (or any other pot) and add the vegetables to the mix. Most recipes will tell you to roast the vegetables along with the bones, but I find they often burn and add a bitter flavour. If you like they can be added to the roasting pan in the last 15 minutes of roasting to brown them up just a little. The same goes for the tomato paste, I add it right to the pot, and don't roast it to avoid bitter flavours.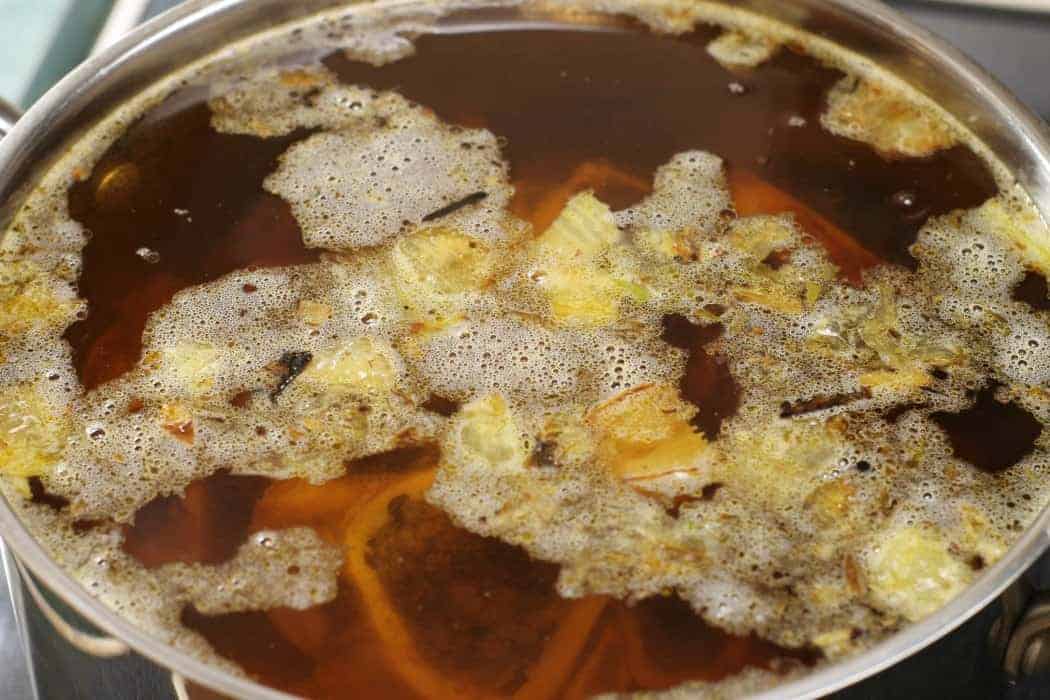 Once you have the roasted bones, vegetables and the rest of the seasonings added to the pot, cover everything with cold water. The recipe calls for 8 litres but you want to make sure you have at least 2 inches of water above the bones. Turn on the heat, and bring the beef stock to a simmer.
Be careful not to boil the stock (though it will not hurt it!) to avoid the stock from becoming cloudy. Now for the easy part. Simmer the stock for 6 to 8 hours. Yes, you read that correct. This is an all day event, so set your timer and forget about it for the next few hours! Every time you happen to walk by just skim of that foam that rises to the top. I have even set the stock on and let it simmer over night.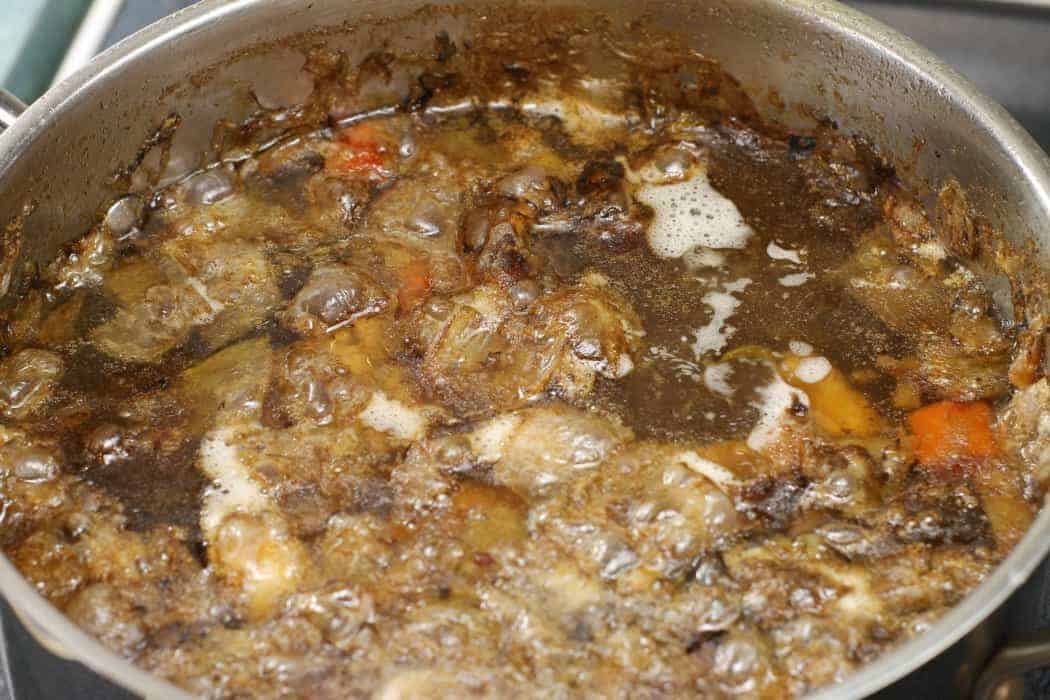 Strain the beef stock through a fine mesh strainer(affiliate link) or cheesecloth and let it cool in the fridge. Fat will rise to the top creating a natural airtight seal, helping to keep the stock fresh. You can also pour the stock into ice cube trays once cooled, and freeze it for easy access and use in future recipes.
Beef stock is great when used to make hearty soups, (such as my German Goulash) and is essential for making a good Espagnole Sauce and other gravies.
Made the recipe? Comment & Rate it below, then take a picture and tag me on Facebook & Instagram: @earthfoodandfire . For more from scratch recipes follow me on Instagram & Pinterest
Recipe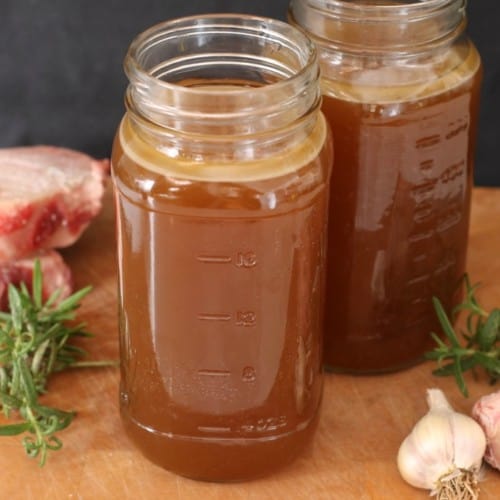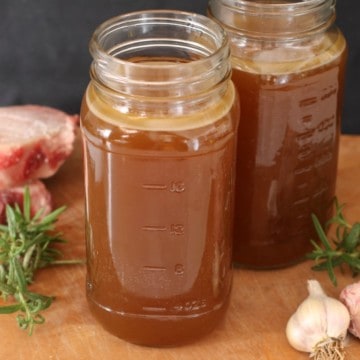 Making High Quality Beef Stock At Home
Making high quality beef stocks and broths at home isn't hard. A simple recipe and full of health benefits, stock is used in soups, sauces, and many other recipes.
Ingredients
3

lbs

Beef Bones

the more the merrier

6

liters

Cold water

2

cups

Mirepoix

Vegetable mix with a ratio of 2:1:1, onion, carrot and celery

1

bay leaf

5

peppercorns

1

sprig

herbs such as rosemary and thyme

optional

1

tablespoon

tomato paste

optional
Instructions
Roast the beef bones in a pre-heated 375F oven for 40 minutes or until dark golden brown.

While the bones are roasting, prepare your stock pot, and caramelize the mirepoix until nice and dark.

Add the roasted bones to the mirepoix in the pot and add any herbs, spices or specific seasonings you desire.

Cover the contents of the stock pot with water making sure there is about 2 inches of water (at least) covering the bones.

Simmer the beef stock for 6-8 hours, skimming of any foam that rises to the surface.

Ladle the simmered beef stock through a fine mesh strainer or cheesecloth, and cool for use in other recipes.
Notes
To make a white stock, skip roasting the bones and caramelizing the vegetables. simple put everything in the stock pot raw and proceed as normal.
Nutrition
Nutrition info is auto-generated. This information is an estimate; if you are on a special diet, please use your own calculations.
Some of the links in this post lead to affiliate sites through which Earth, Food, and Fire may earn a small commission (at no increased cost to you) should you make a purchase. This allows us to stay online and keep creating awesome content! For more info check the Affiliate Disclaimer. All recipes, and opinions are 100% my own.