Tender, and full of Mediterranean inspired flavours, these oven-baked chicken thighs are so easy to make, you can make them any day of the week! Marinated in Greek yogurt, lemon, fresh garlic, and our homemade Italian seasoning, this recipe will quickly become a favourite.
This post contains affiliate links for which we may be compensated if a purchase is made through the links provided. For more information please read our affiliate disclosure.
Do You Have To Use Chicken Thighs?
With chicken being such a popular protein in North America, it's easy to get stuck using only chicken breasts. While they are a very popular, and healthy cut of poultry, we easily forget about all the other tasty chicken parts we can use.
Drumsticks, breasts, and even whole legs can all be used in this recipe. You could even use pork chops with this marinade if you wanted to! Just remember that cooking times will vary if using different cuts of chicken.
Boneless/Skinless vs Bone-In
When using chicken thighs, should you opt for bone-in or boneless/skinless thighs?
It's true that the bone-in thighs with skin on will likely become a little crispier in the oven, and may even stay a little more tender than their boneless counterpart. They may even be slightly cheaper!
We've opted for the boneless variety here simply for the ease of eating them with toddlers at home! No picking around a bone required! Another bonus is the boneless thighs will cook faster!
How long do chicken thighs take to cook?
The cooking time will depend on which type of thigh you do opt for, or if you choose another cut of meat altogether. The temperatures listed here are meant as a guideline when using bone-less/ skinless chicken thighs. If you are unsure, you can always use a digital meat thermometer to make sure the meat has reached 165F.
| | |
| --- | --- |
| 350°F (175°C) | 35 to 40 minutes |
| 375°F (190°C) | 25 to 30 minutes |
| 400°F (205°C) | 20 to 25 minutes |
| 425°F (218°C) | 15 to 20 minutes |
The Marinade
When making supper, regardless of which day of the week it is, cooking a delicious meal shouldn't be hard. This Greek-inspired recipe is made to be easy to pull off for even the most inexperienced cook.
Used extensively in Greek cuisine both as a side and as an ingredient, yogurt is used in this marinade to help tenderize the chicken thighs, which can be naturally tough.
You can choose to make your own homemade Italian seasoning or simply use a store-bought blend (though trust me, homemade spice blends are so much better!).
Either way, all you need to do is mix all the marinade ingredients together in a bowl, and then toss in the chicken. Let the chicken thighs marinate for at least 15 minutes..... though longer is better. You can even marinate them overnight!
Once you are ready to cook, pre-heat your oven, and bake the thighs on a parchment-lined sheet tray using the suggested times and temperatures above.
Voila! You have a super delicious and easy to make meal ready to go with very minimal work. Any leftovers can be reheated in the microwave, or heated in a 350F oven with a little water splashed on top to prevent the chicken from drying out.
Serve These Baked Chicken Thighs With:
While these oven-baked chicken thighs will go well with just about anything, here are a few simple suggestions.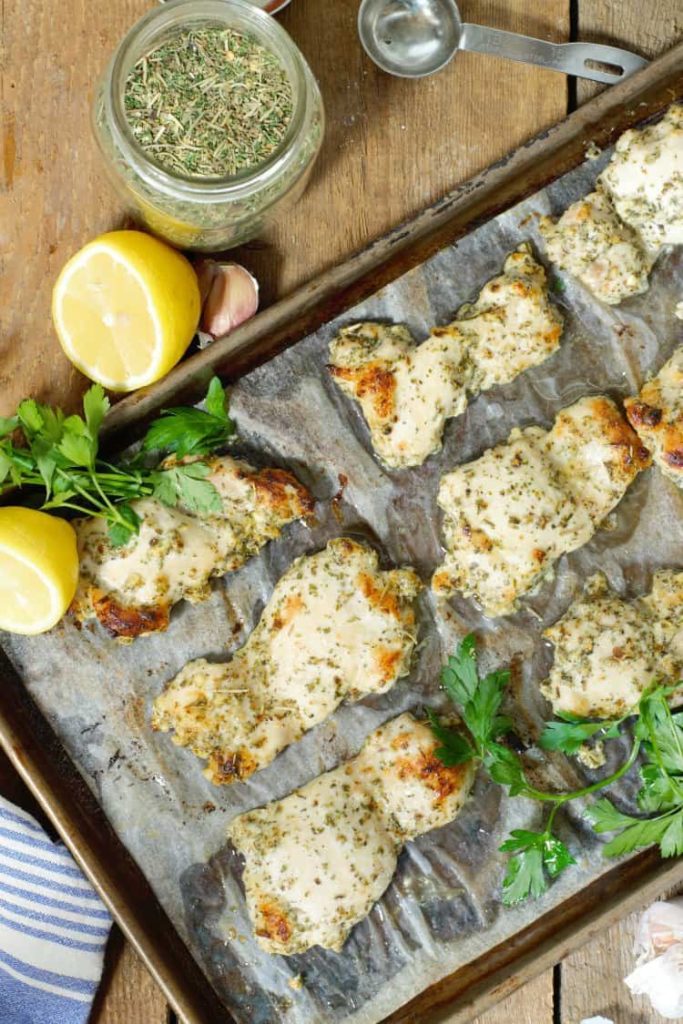 Made the recipe? Comment & Rate it below, then take a picture and tag me on Facebook & Instagram: @earthfoodandfire . For more from scratch recipes follow me on Instagram & Pinterest
Recipe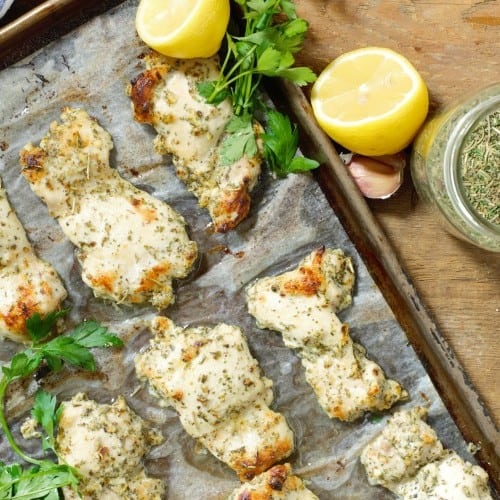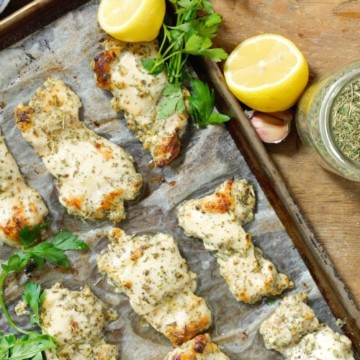 Greek Marinated Chicken Thighs
Tender, and full Mediterranean inspired flavours, these oven-baked chicken thighs are so easy to make, you can make them any day of the week!
Ingredients
1.5

lb

boneless, skinless chicken thighs

about 12 pieces

2

tablespoon

freshly chopped parsley

½

whole

lemon

juiced
For The Greek Marinade
¾

cup

Greek yogurt

½

cup

olive oil

¼

cup

water

2

tablespoon

Italian seasoning

3

cloves

fresh garlic

minced

½

whole

lemon

juiced and zested

½

teaspoon

cracked black pepper

½

teaspoon

sea salt

only use salt if your Italian seasoning is unsalted!
Instructions
Mixing The Marinade
Measure out and mix all the marinade ingredients in a large bowl. Add the chicken thighs and make sure they are evenly coated. Cover the bowl and place it in the fridge to marinate for at least 15 minutes.
Baking The Chicken Thighs
Pre-heat your oven to 400F. Remove the chicken thighs from the marinade and place them, evenly spaced, on a parchment-lined sheet tray.

Bake the chicken thighs for 25-30 minutes or until the edges start to turn golden brown. Garnish the Greek chicken thighs with the freshly chopped parsley and a squeeze of lemon.
Nutrition
Nutrition info is auto-generated. This information is an estimate; if you are on a special diet, please use your own calculations.