Hot cocoa or Hot Chocolate? Regardless of what you call it this comforting drink has been enjoyed by generations around the world. Originating in South America, chocolate itself was first consumed by the Mayan, and Aztec cultures who ground cocoa beans with various other ingredients, (such as chili, cornmeal, and vanilla) to create a bitter and spicy beverage which could be consumed either hot or cold. Possibly the very first incarnation of the drink we enjoy today! After cocoa was introduced to Europe by the Spanish, it quickly gained popularity among the population who began experimenting with various recipes and ingredients to create the sweet hot chocolate drinks we are familiar with today. It is a drink easily altered with various ingredients to suit personal preferences and tastes, (as I did with this homemade hazelnut hot cocoa recipe) and a wonderfully comforting drink to enjoy on a cold day.
Is it Hot Cocoa or Hot Chocolate
Hot cocoa is typically the thinner variation of the drink, usually made with cocoa powder, milk, sugar, and various flavorings. Hot cocoa is what most of us in North America would refer to as hot chocolate, and is nowadays often made by adding hot water to a pre-made powder mixture. The hot cocoa is then topped with marshmallows, whipped cream, and various sweet sauces. These pre-made drink mixes are a far cry from a good quality homemade recipe though, and don't even come close to it's rich European version.
Hot chocolate on the other hand is traditionally just that. Melted chocolate thinned out with a little milk. It is a very thick and creamy beverage, popular in Spain, Italy, and Germany as a breakfast beverage. It is most commonly made by melting good quality milk chocolate and sometimes thinning it out (very barely!) with some milk or cream to make it pour-able. Nutella and whipped cream are popular additions to flavor the drink.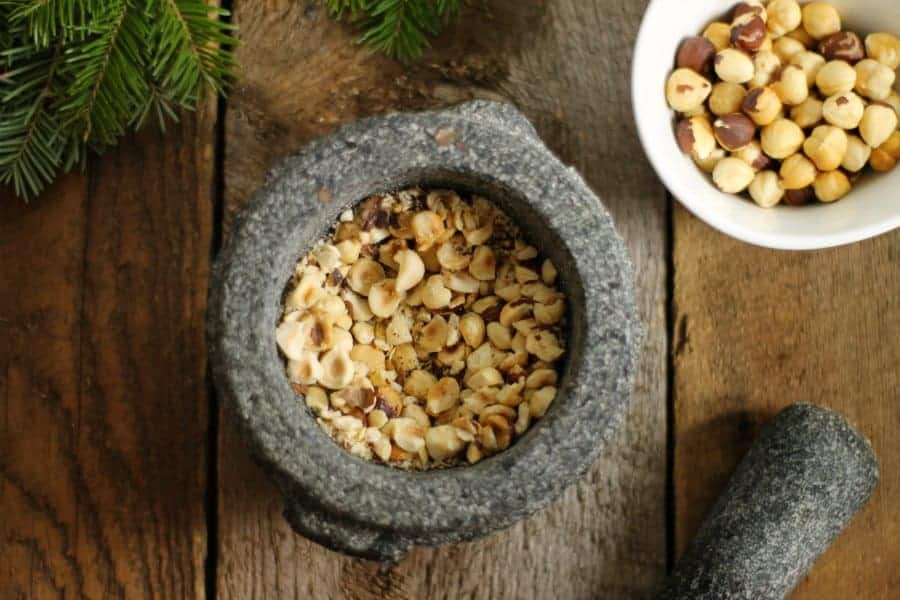 This post contains affiliate links for which I may be compensated if a purchase is made through the links provided. For more information please read my affiliate disclosure.
Homemade Hazelnut Vanilla Infused Hot Cocoa
I grew up with my parents making hot cocoa at home with milk, sugar, and cocoa powder. We would always drink it fresh, right after coming in from skating on the lake, shoveling snow, or during the holiday season just for fun! I loved adding Nutella to mine to make it even more chocolaty and add a slight nutty flavor. I recently thought to myself, why not create a recipe myself which is rich and nutty, yet still somewhat healthy, (ie:. no nutella and added sugar!)?
This recipe is kind of a mash up between hot cocoa and hot chocolate. Rich and slightly creamier then true hot cocoa, yet flavored and thinner then European hot chocolate. It is an easy recipe to make at home, especially if you have a basic stocked pantry with items such as milk, sugar, and cocoa powder.
You'll need:
1 1/2 cup toasted crushed hazelnuts
6 cups milk
2 oz bakers chocolate
1/2 cup dutch cocoa powder
2/3 cup vanilla sugar
1/2 cup warm foamed milk (Optional as Garnish)
Hazelnut Infused Milk
The first thing we need to do is infuse the hazelnut flavor into the milk. If you can get your hands on some roasted whole hazelnuts that's fantastic! Otherwise, simply toast some whole, shelled hazelnuts on a baking sheet in the oven for five or six minutes at 375F. Let the nuts cool, and then rub the toasted hazelnuts with a dish cloth to remove the flaky skin. Remove as much as you can because it can be hard to strain out the skin afterwards and it makes for an un-pleasant mouth feel.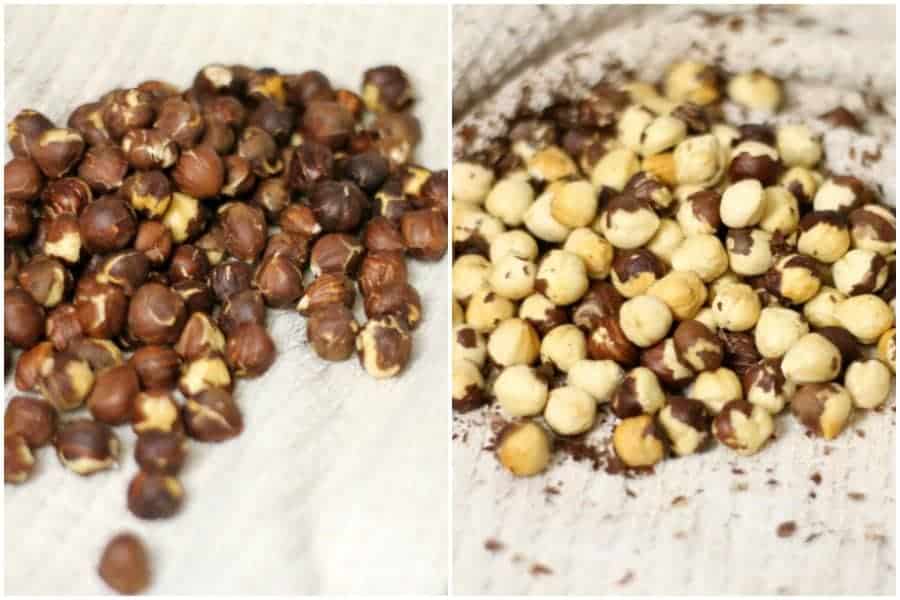 Simmer the toasted nuts in the milk for about 10 minutes, making sure not boil or burn the milk. This is best done by using a thick bottomed pot, which helps to prevent scorching. Stirring the milk as it heats also helps prevent the milk solids from settling to the bottom and burning. Once the milk is sufficiently infused with the flavor of hazelnuts, it's time to add the rest of the ingredients.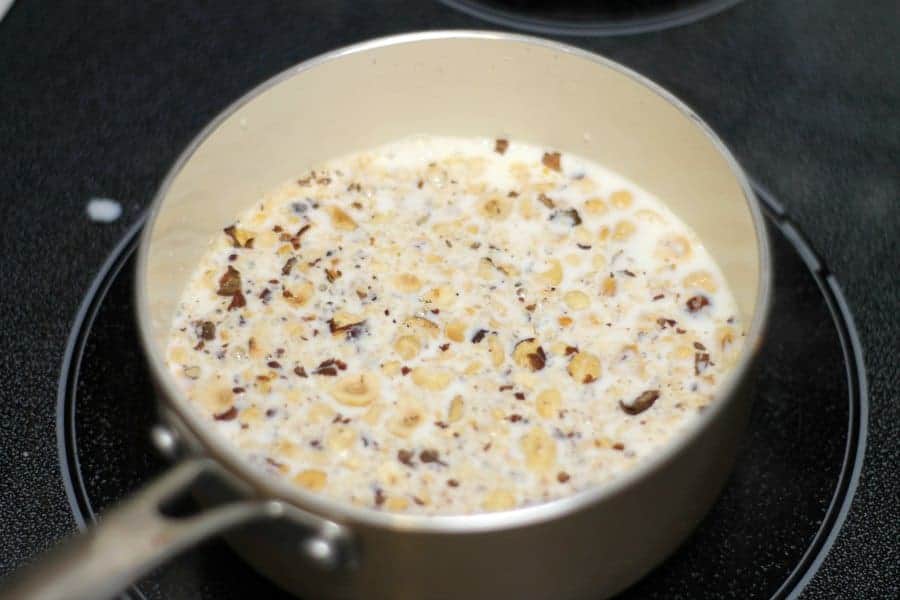 Hazelnut Vanilla Hot Cocoa
Add the sugar, bakers chocolate, and cocoa powder to the hazelnut milk, and stir until everything is mixed together. The sugar and bakers chocolate will melt, and create a rich chocolaty texture then using just cocoa powder would. Leaving the toasted hazelnuts in the hot cocoa mixture will also help infuse more nut flavor into the drink if you prefer a stronger nut flavor.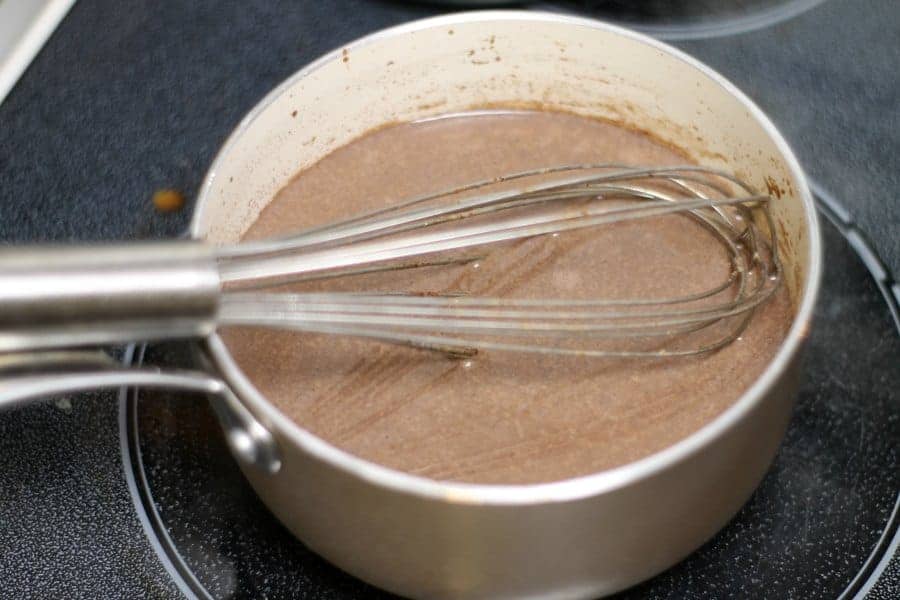 This is the easiest part of the recipe, as all you need to do is ensure the bakers chocolate melts and the cocoa powder and sugar are properly dissolved. The easiest way to do this is to use a whisk and periodically stir the milk as the chocolate melts. Once melted, serve the hazelnut vanilla hot cocoa immediately! I love drinking my hot cocoa topped with some warm foamed milk, though whip cream and marshmallows will easily do in a pinch!
To make your own foamed milk at home simply slightly warm the milk and then foam it using a hand held milk foamer. (affilaite link)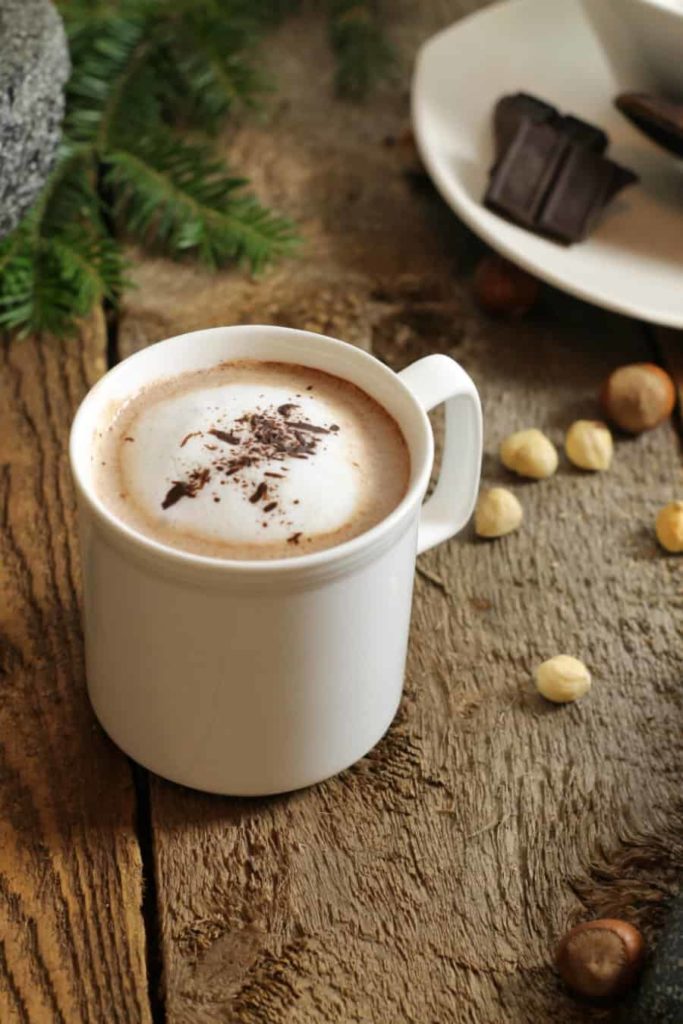 Tried the recipe? Take a picture and tag me on Facebook & Instagram: @earthfoodandfire . For more from scratch recipes follow me on Instagram & Pinterest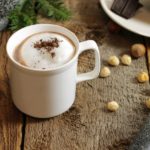 Print
Homemade Hazelnut Vanilla Hot Cocoa
A perfectly nutty and comforting drink to enjoy on a cold day, homemade hazelnut hot cocoa is easy to make and enjoyed by the whole family. Great after a day outside skating or sitting around a campfire! #hotchocolate #chocolate #hotcocoa #cocoa #drinks #winter
Ingredients
1 1/2

cup

toasted crushed hazelnuts

6

cups

milk

2

oz

bakers chocolate

1/2

cup

dutch cocoa powder

2/3

cup

vanilla sugar

1/2

cup

warm foamed milk

Optional as Garnish
Instructions
Hazelnut Infused Milk
If using raw hazelnuts, toast them whole in the oven at 375F for 12 minutes until they start to brown. While hot, rub the nuts in a dish towel to remove the skins. Crush the toasted hazelnuts in a mortar and pestle.

Simmer the crushed toasted hazelnuts in the milk for 10 minutes. Strain out the hazelnuts or use a high power blender to create a smooth hazelnut milk.
Hazelnut Vanilla Hot Cocoa
Add the sugar,vanilla, bakers chocolate, and cocoa powder to the hazelnut milk and heat until completely incorporated.

Serve the hazelnut hot cocoa hot with some warm foamed milk and shaved chocolate as garnish!
This post contains affiliate links for which I may be compensated if a purchase is made through the links provided. For more information please read my affiliate disclosure.
© 2017 – 2018, Markus Mueller | Earth, Food, and Fire. All rights reserved. Please contact Earth, Food, and Fire, if you wish to use any media or other content contained on this site.