With just a few basic spices you can make any kind of seasoning, and even create your own spice blends at home! This homemade fajita seasoning is a great recipe to start experimenting making your own spice mixes with.
Making your own spice seasonings from scratch at home is fun and easy! A great way to learn about different spices and cuisines, homemade spice mixes only require you to have a well-stocked spice rack.
This post contains affiliate links for which we may be compensated if a purchase is made through the links provided. For more information please read our affiliate disclosure.
What Is Fajita?
'Fajita' refers to marinated and grilled meat cut into strips and served as a taco on corn tortillas, and is associated with a particular flavour profile that stems from Mexican cuisine.
The term most likely originated in the 1930's as ranch hands marinated and cooked leftover cuts of meat over the fire. Skirt steak is the traditional cut of meat that was used, but nowadays even chicken, shrimp, and vegetables can all be seasoned and called fajita.
This homemade fajita seasoning takes those flavours and packs them into an easy to use spice mix you can use in your everyday cooking.
What's the difference between fajita and taco flavours?
Fajita and taco seasonings are actually very similar in both flavour and ingredients. While both seasoning mixes utilize chilli, onion, garlic, and cumin, the real big difference is the addition of acid or tart flavours in fajita seasonings.
This stems from the use of lime juice used in traditional fajita marinade recipes and this tartness is now most often achieved by adding tomato powder or citric acid to commercial fajita spice blends.
Can You Use Fajita Seasoning And Taco Seasonings Interchangeably?
Most often yes. If you have taco seasoning at home and want to make fajitas go ahead and use that. The same goes the other way around.
Why Do Some Other Fajita Seasoning Recipe Include Cornstarch?
Cornstarch can be added to the spice mix to act as a thickening agent when a saucier dish is preferred.
For example, you could saute steak strips, add the seasoning that includes cornstarch, and then add water to the pan. The starch would slightly thicken the liquid and coat the meat in a glaze-like sauce.
Recipe That Use Fajita Seasoning
Once you've made this tasty little spice blend, use it to make:
Made the recipe? Comment & Rate it below, then take a picture and tag me on Facebook & Instagram: @earthfoodandfire . For more from scratch recipes follow me on Instagram & Pinterest
Recipe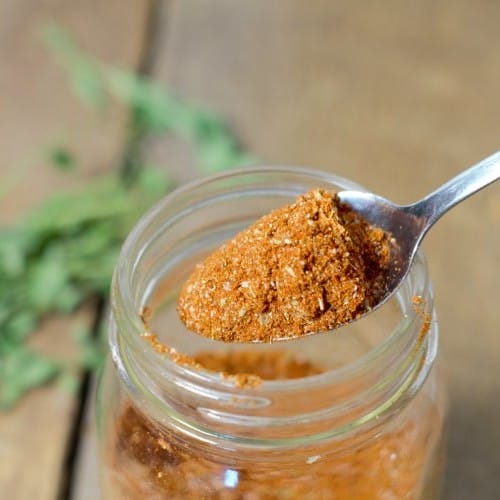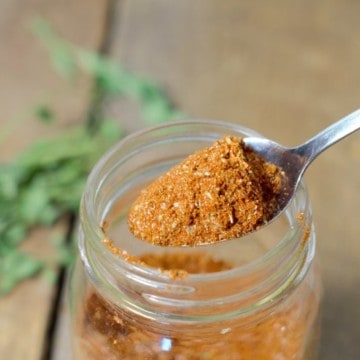 Homemade Fajita Seasoning
An easy homemade fajita seasoning mix to add to your pantry! Delicious when used to season chicken, beef, vegetables and more!
Ingredients
4

tablespoon

Chili powder

3

teaspoon

Cumin

1

teaspoon

Onion powder

2

teaspoon

Garlic Powder

2

tablespoon

Paprika

2

tablespoon

Oregano

2

teaspoon

Salt

1

teaspoon

Black pepper
Instructions
Measure out all the spices and mix them together in a large bowl. Store the spice mixture in an airtight container such as a mason jar.
Notes
Double the recipe to easily make a large batch of spice you can easily store in your pantry.
Nutrition
Nutrition info is auto-generated. This information is an estimate; if you are on a special diet, please use your own calculations.