Apple Cider is one of those drinks that's only available seasonally (at least the fresh kind anyway), and when it is available it's always so expensive. Spending five or six dollars for a litre or two, seems like a horrendous waste of money especially since you can make your own for about half that price. This homemade mulled apple cider can be made using fresh apples or sweet raw cider bought at an orchard.
Hard Cider vs. Sweet Cider
Apple cider is a traditional North American drink that originated in Europe and was popular in various cultures, including the Roman Empire. The modern variations we know really took off in Canada and the United States in the 18th Century when water always came with the possibility of bacteria and disease, and fermented drinks like beer and apple cider were deemed safer to consume.
Apple Cider itself has a shorter shelf life than beer, which is perhaps why beer became more popular, but the sweet flavor of freshly brewed apple cider is like no other! Of course you can make Alcoholic cider (Hard Apple Cider) or Sweet ( Non-Alcoholic) Apple Cider. Both are delicious and have their own advantageous and disadvantages in making at home.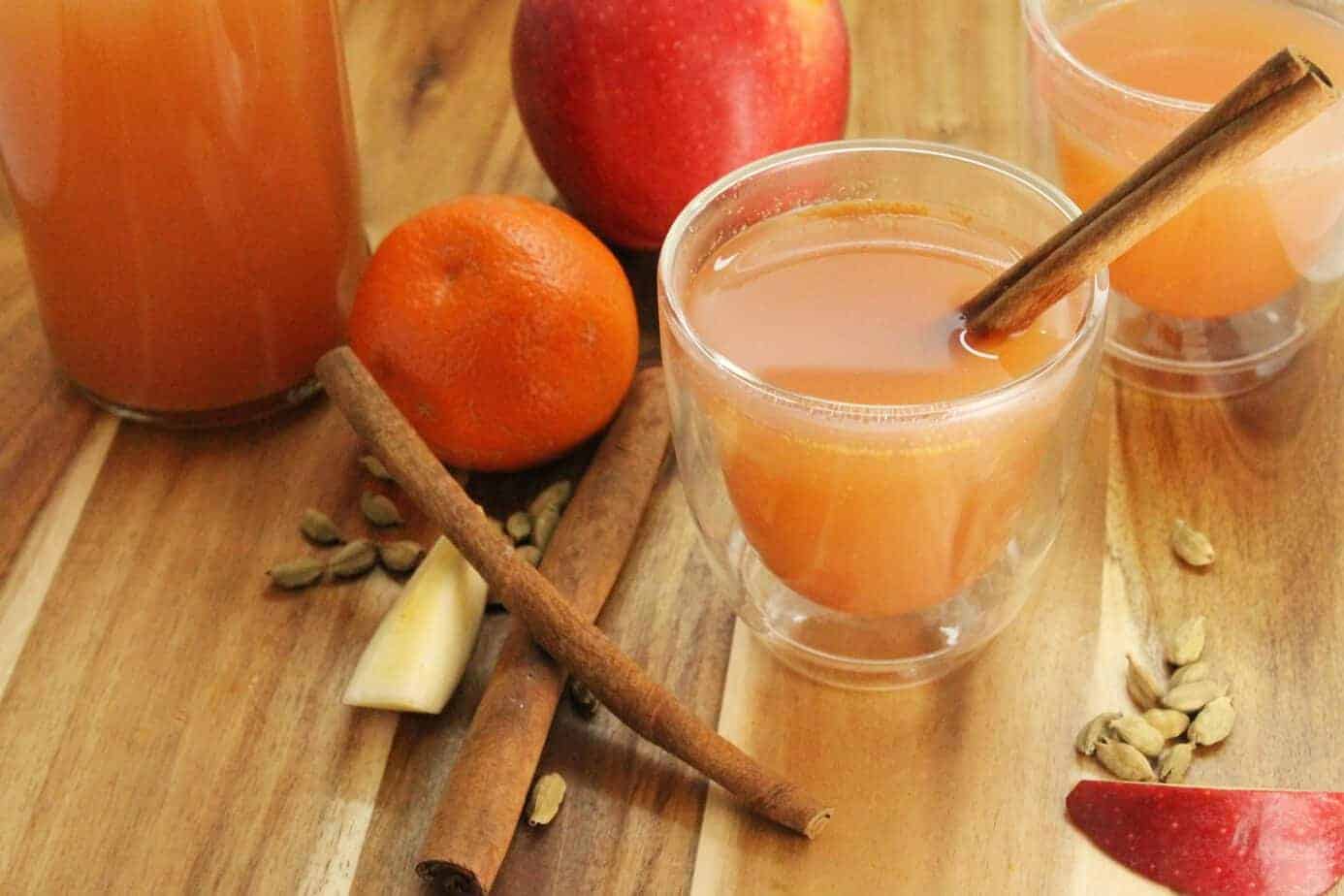 Hard Cider has the added bonus of being just that...alcoholic, but this may not be everyone's cup of tea(or cider) so to speak, which is where sweet apple cider comes into play.
In Canada, simply 'Apple Cider' refers to the sweet variation, which is essentially apple juice pressed right at the orchard with(traditionally) the windfall or surplus apples. It is also the kind you will most likely see for sale at farmers markets and grocery stores in the mid to late fall as the apple start to ripen.
Homemade Mulled Apple Cider
But why not make your own apple cider? It really can't be that hard I thought, so I decided why not give it a try! I am fortunate enough to a have a juicer at home which I received from a friend's a few years ago, and while it's not the best of its kind it sure does the trick!
What Kind Of Apples Should You Use?
If you have an old apple tree in your backyard, those will probably do just fine! Remember the sweeter the apple the sweeter the apple cider will be!
Lacking a backyard apple tree, you could always opt to go to an apple U-pick and purchase apples in bulk. A much more economical way of purchasing apples then at the grocery store.
Do you need to use a juicer?
Since sweet apple cider is essentially just raw apple juice, juicing the apples and extracting the juice that way is probably the fastest and easiest way to make cider.
If you don't have a juicer though you can simmer the apples whole with enough water to cover the apples by 2 inches for about an hour. This softens the apples enough to easily crush and extract all the juice through a strainer.
Once the apples are cooked and softened, pour the whole mix through a mesh strainer, squeezing out as much juice as you can. Repeat this process again through a strainer lined with cheesecloth to ensure a clear apple cider. Since this takes more work and I have a juicer, I'll be using the juicer.
Ingredients You'll Need:
To make just a simple apple cider, you'll only need the apples on this list. If you wish to mull the cider as I will be doing, make sure you have all ingredients on hand first!
25 lbs Fresh Apples - Juiced or 8 liters of fresh apple cider
3 sticks of cinnamon
1 Tbsp Whole Cardamom
⅔ cup Brown Sugar
½ Orange
Instructions
Begin by juicing roughly 25 lbs of your favourite apple. I am using Gravenstein apples and will make about 1 gallon of cider. As always make sure you wash the fruit first and discard any that have holes from worms or any other diseased pieces.
Juice the apples whole (do it core and all) to get all the flavour of the apples. As you are juicing the apples strain the juice through a fine mesh strainer to remove any pieces of pulp that may escape the juicer.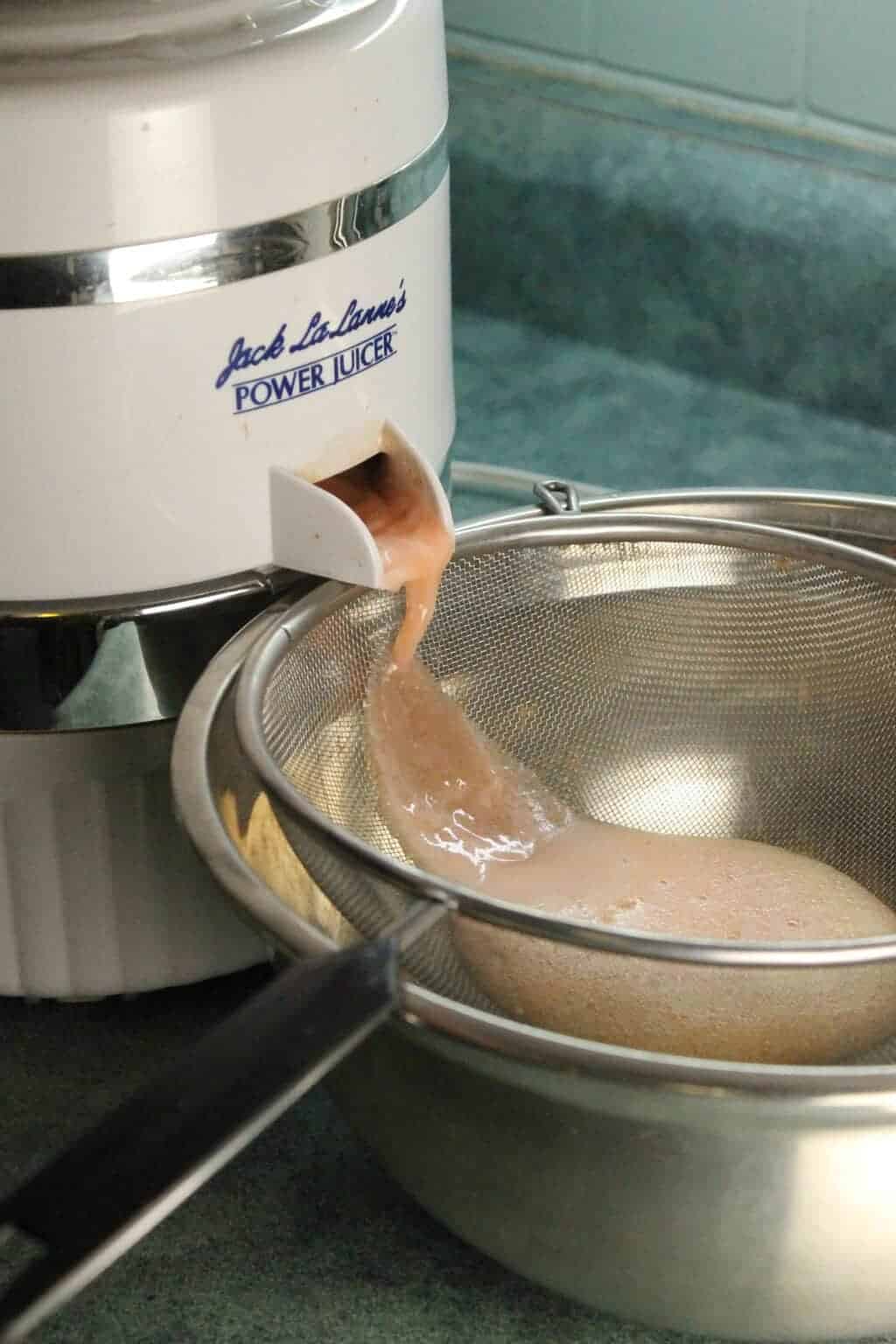 The juice will appear cloudy and slightly foamy. This is normal and the foam is just air that is introduced during the juicing process. The raw apple cider will clear if you let it sit for about an hour. After settling, you can syphon it into bottles and refrigerate. This raw unprocessed apple cider will last for about 2 weeks.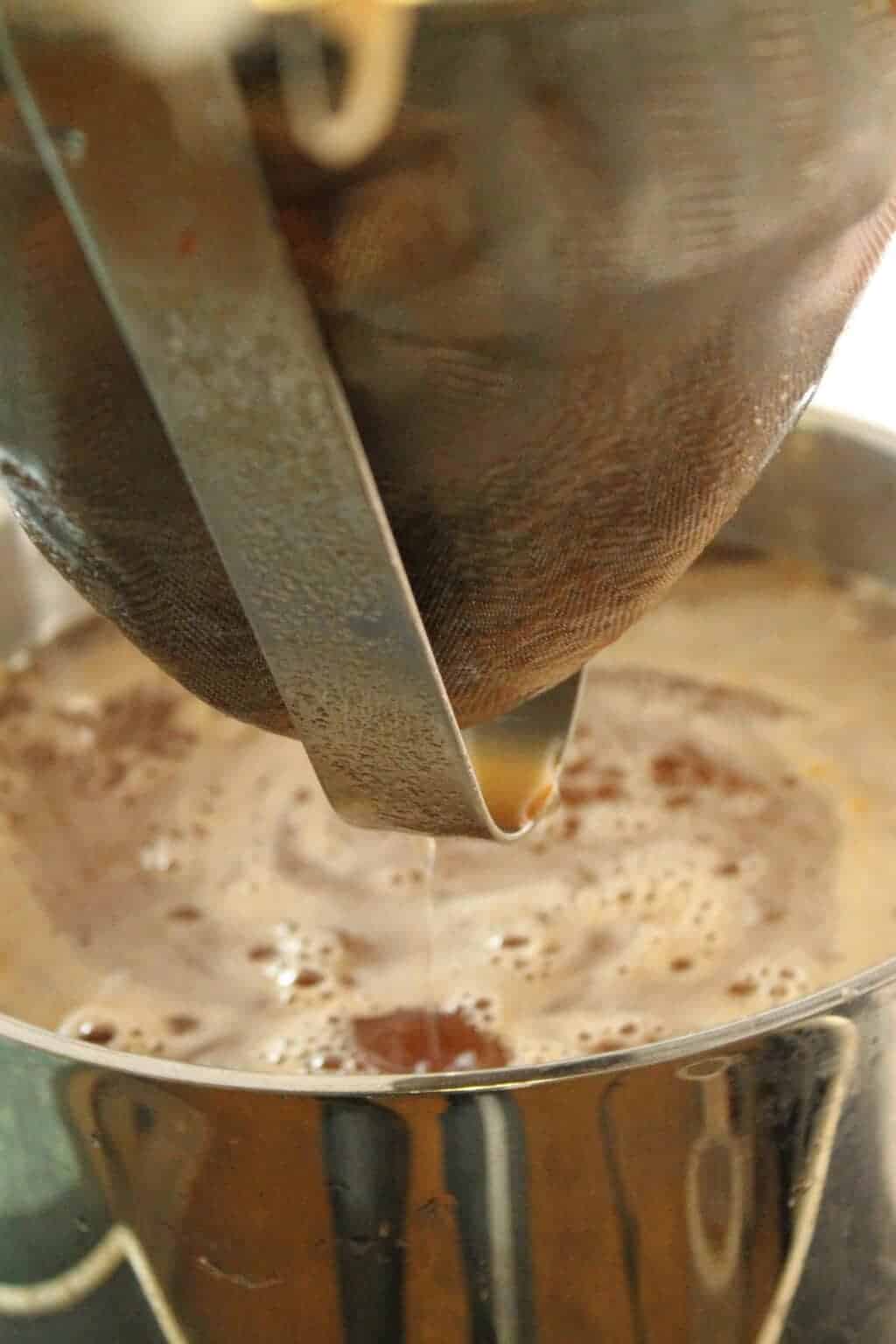 Mulling Your Homemade Cider
If you want to jazz up the flavor a little you can now mull the apple cider. Pour the raw strained apple cider into a large pot. Add the 1 cup of brown sugar, the whole cinnamon, half an orange and a few whole pods of cardamom if you like. The cardamom will add a light floral aroma and flavor to the mulled cider which goes very well with the sweet spiciness of the cinnamon.
Simmer this on the stove top for 30 to 45 minutes, making sure the cider does not come to a full rolling boil. You just want to infuse the flavors into the cider. Taste the mulled apple cider once in a while to make sure it is tasty and you like the flavour.
Once the cider has simmered and the flavor is sweet and slightly spicy, the mulled cider is ready to be served. You can serve it hot which is great for dreary fall days
when it's raining or even on cold winter days.
Storing Your Mulled Cider
To store the mulled cider, syphon the fully cooled cider into glass pop top bottles and refrigerate them for future enjoyment. Unpasteurized, the cider will last for 2 weeks refrigerated.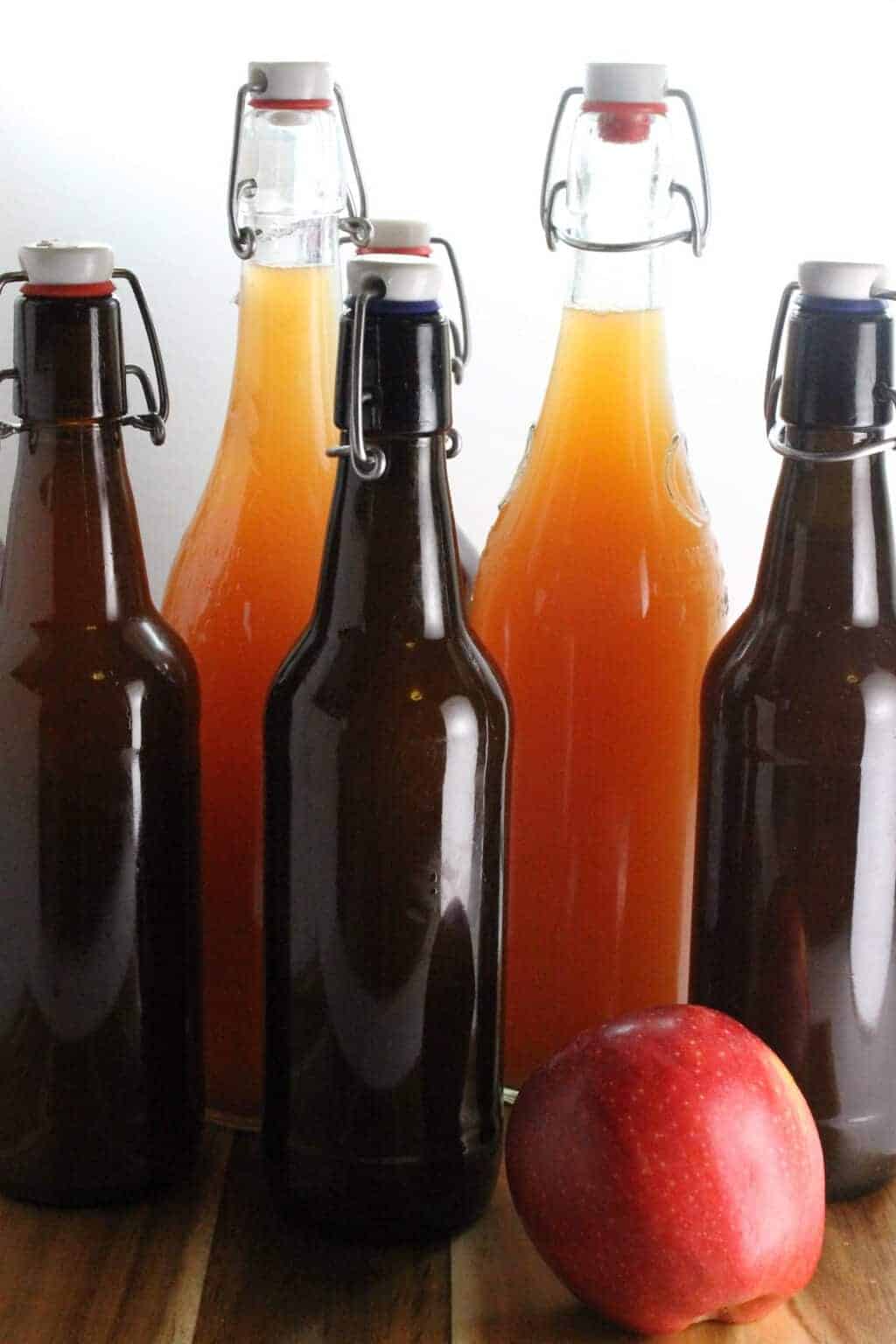 For more cooking tips, tricks and recipes be sure to follow me on Facebook, Twitter, Instagram, and Pinterest. New blog posts go up every Wednesday!
Recipe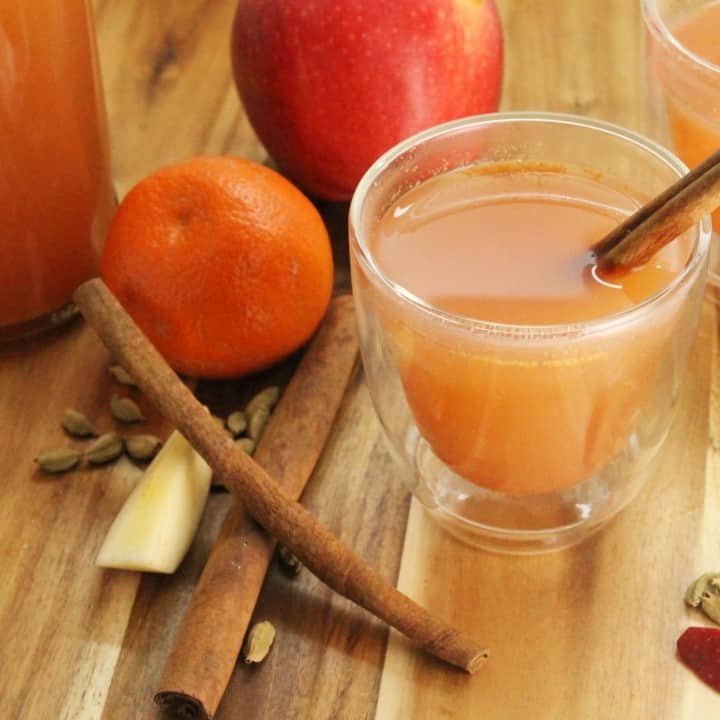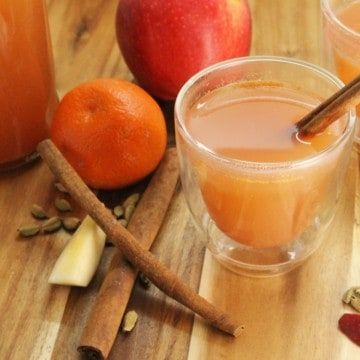 Homemade Mulled Apple Cider
Mulled Apple Cider is easy to make a great for any occasion on a cool Fall day
Ingredients
25

lbs

Fresh Apples - Juiced

or 8 liters of fresh apple cider

3

sticks of cinnamon

1

tablespoon

Whole Cardamom

⅔

cup

Brown Sugar

½

Orange
Instructions
Juice the apples and strain them juice through a fine mesh strainer to create raw apple cider.

Simmer the raw apple cider with the fruit, sugar, and spices until you can taste the cinnamon and cardamom. About 30-45 minutes.

Skim off any sediment that may rise to the top during this process. Make sure the cider does not boil to ensure the sediment separates out properly.
Nutrition
Nutrition info is auto-generated. This information is an estimate; if you are on a special diet, please use your own calculations.