I was lucky enough to have acquired three bushels worth of overripe pears. So what do you do when you have that many overripe pears fall into your lap!? Why make pear preserves of course!
Essentially a chunky jam, pear preserves are perfect served for breakfast or brunch, paired with ice cream, used to make thumbprint cookies, or served alongside cheese on a charcuterie platter!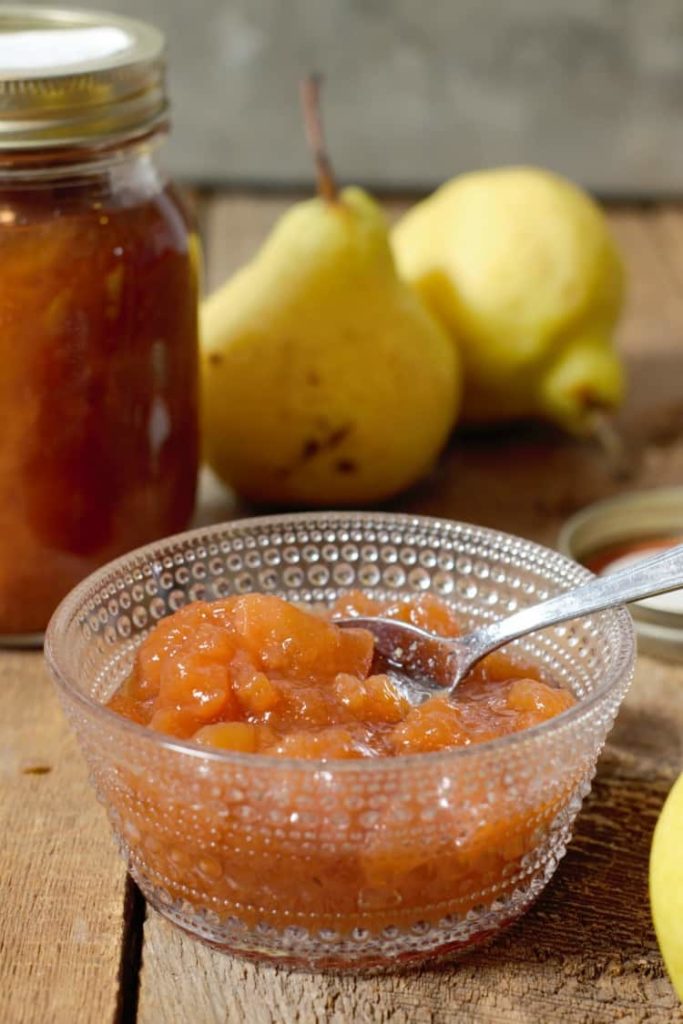 This post contains affiliate links for which we may be compensated if a purchase is made through the links provided. For more information please read our affiliate disclosure.
What's The Difference Between A Preserve And A Jam?
A preserve is basically chopped fruit cooked and 'preserved' in sugar syrup.
A jam is also made with fruit and sugar, but is cooked longer and has a smoother consistency and is generally more spreadable than a preserve.
While the fruit does break down a bit when making preserves, the texture difference between a jam and preserve is quite noticeable.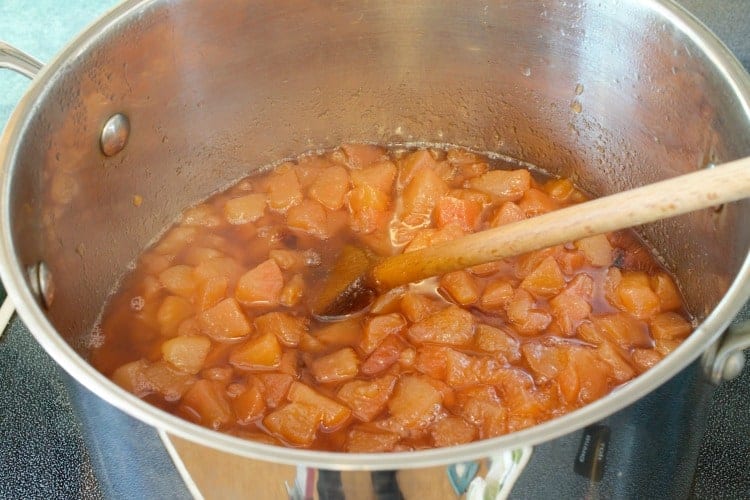 How Long Do Preserves Last?
If properly canned in sterilized jars and a hot water bath, canned preserves can last from 1 - 2 years if stored unopened in a cool and dry pantry.
If left uncanned or the jar is opened preserves can easily last up to 2 months in the refrigerator.
Processing pear preserves
To process the pear presereve for long term storage in a pantry, fill the cooked and still hot preserve into sterilized mason jars with about a quarter to half-inch of headspace.
Wipe clean the rim of each jar, and then place the lids on the jars. Screw the lids finger tight. Place the jars into a boiling canner, making sure the jars or fully submerged. Process for at least ten minutes.
Remove the jars from the canner being careful not to burn yourself and let fully cool on the counter.
Can you freeze the pear preserve?
If you don't want to 'can', or 'process' your pear preserves and feel like you won't be able to eat all of it within 3 months, you can always freeze the preserve.
Preserves are best frozen in food-grade plastic bags with as much air removed as possible. It's important to note that freezing jams and preserves may change their texture once the product is thawed.
Homemade Pear Preserve
A fantastic way to preserve excess pears in preparation for winter or simply to make for fun, this pear preserve is very easy to make and requires no special equipment unless you decide to process the preserve.
Made the recipe? Comment & Rate it below, then take a picture and tag me on Facebook & Instagram: @earthfoodandfire . For more from scratch recipes follow me on Instagram & Pinterest
Recipe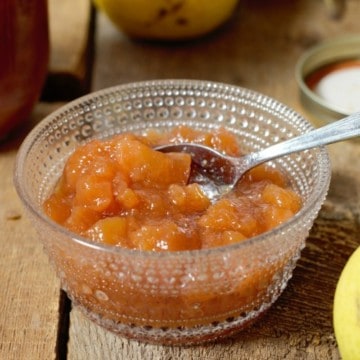 Homemade Pear Preserves
A fantastic way to preserve excess pears in preparation for winter or simply a tasty treat to make for fun, pear preserves are easy to make and require no special skills or equipment.
Ingredients
3

lb

pears

about 16 cups peeled, cored, and diced

1

cup

brown sugar

4

cups

white sugar

1

whole

Lemon

juiced

2

cups

Water

½

whole

Vanilla bean

seeds scraped out
Instructions
Cooking The Pear Preserve
Combine all the ingredients in a large thick-bottomed pot. Bring the pear mixture to a boil, and then turn the heat down to medium-low heat.

Stir the pears periodically to prevent scorching. Using a thick bottom pot will help prevent this as well.

Cook the pears for 1.5-2 hours until the pears are starting to break down, are soft, and the syrup has thickened slightly.
Heat Processing The Pear Preserve
Prepare a large. deep pot of water for a canner if you plan on canning the pear preserve.

Fill 6 500ml sterilized mason jars to within a half-inch of the rim. Remove any air bubbles in the jar and wipe the rims clean, Place the lids on the jars and close until just barely tight.

Gently submerge the jars of pear preserve in the boiling water and process for 10-12 minutes.
Nutrition
Nutrition info is auto-generated. This information is an estimate; if you are on a special diet, please use your own calculations.