A great way to cool down when hot weather hits, this old fashioned lemonade recipe is refreshing, lemony, slightly sweet, and best of all easy to make. For this old school recipe, all you'll need are some fresh lemons, water, sugar, and ice!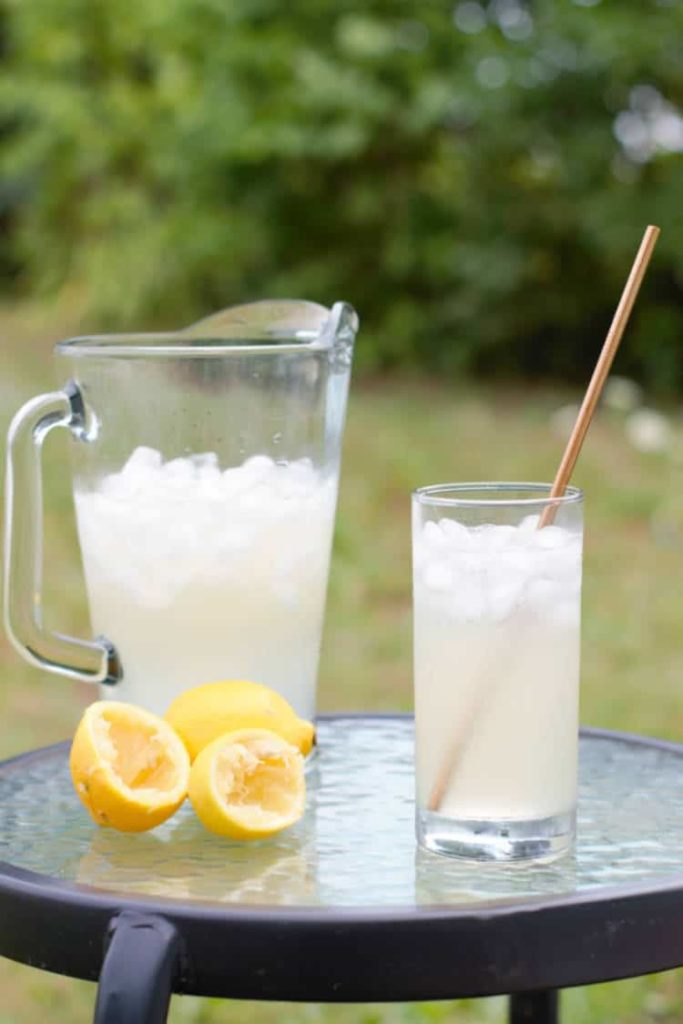 This post contains affiliate links for which we may be compensated if a purchase is made through the links provided. For more information please read our affiliate disclosure.
Good homemade lemonade isn't all that hard to make, but it can be hard to find a recipe you love. Here in Prince Edward Island, there are plenty of restaurants that serve fresh lemonade. For me, lemonade is always either to sweet or too tart though, so I decided to create my own lemonade recipe!
I call this old fashioned lemonade because it is as simple as it can be using only simple ingredients. Just like those available when lemonade was first made years ago, which surprisingly dates back all the way to Ancient Egypt!
Generally speaking, there are two types of lemonade, clear and cloudy lemonade:
Cloudy lemonade is what most folks in North America will be familiar with and is made with fresh-squeezed lemon juice, water, and some type of sugar.
Clear lemonade is popular in the UK and Australia and is most often made with carbonated water, lemon juice or extract, and sugar. Very similar to Sprite or 7 Up.
So How Do You Make Lemonade From Scratch?
Sure in theory it's very easy to make your own homemade lemonade. Squeeze some fresh lemons, add some sugar, and dilute it with water until you have the correct balance of lemon and sugar.
The secret to a great lemonade lies in the correct ratio of all the ingredients. To much water and the lemonade becomes watery. Not enough sugar and it becomes to tart.
I've made it easy for you though and have done all the testing myself so all you need to do is make the recipe!
Our Sugar Syrup Base
We found that making a simple sugar syrup with ½ cup white sugar and 1 cup water was the perfect amount of sweetness to add to our recipe. We make this syrup ahead of time in a large batch and refrigerate it for later use.
Our Old Fashioned Lemonade Ratio
These ingredients listed here in this post will make 1 serving of lemonade, (see the recipe card for a larger batch). The reason for including this small batch is to make this recipe as scaleable as possible. Simply multiply this base recipe by how many servings you need, to make the proper amount.
Note: We used millilitres in the recipe as it is much more accurate than the cup measurement. To make things easy, use a glass measuring cup that indicates both cups and ml.
You'll need:
12 oz of ice (cubes)
60 ml of fresh lemon juice (about the juice of 1 large lemon)
200 ml of our sugar syrup (as listed above)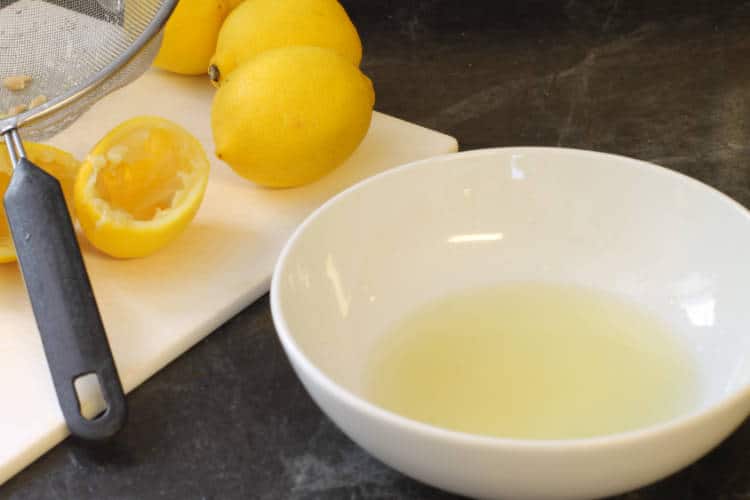 To mix the lemonade, simply scoop out the 12 ounces of ice in a cup, pour the fresh squeezed lemon juice over the ice, and then add the 200 ml of sugar syrup!.
To make larger batches simply squeeze more lemons, and adjust the amount of ice and syrup used accordingly!
Made the recipe? Comment & Rate it below, then take a picture and tag me on Facebook & Instagram: @earthfoodandfire . For more from scratch recipes follow me on Instagram & Pinterest
Recipe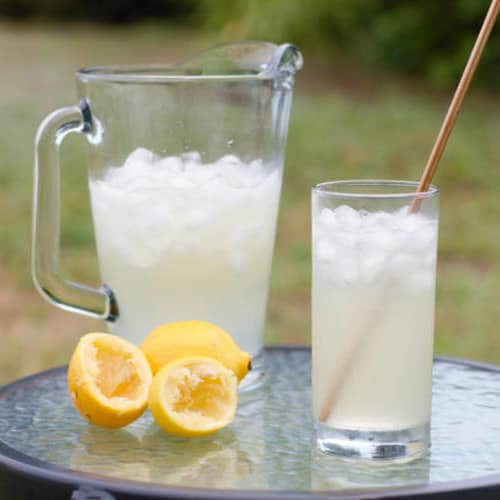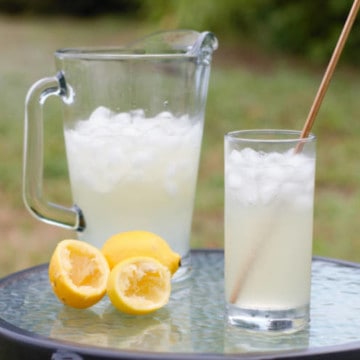 Old Fashioned Lemonade (Made From Scratch)
A simple old fashioned lemonade recipe made with only fresh squeezed lemons, sugar, and water. Our secret? The sugar syrup base! It ensure the proper sugar ratio in relation to lemon every time!
Ingredients
Sugar Syrup Base
2

cup

white sugar

4

cups

water
Lemonade Recipe
48

oz

ice cubes

about 6 cups

240

ml

freshly squeezed lemon juice

about 1 cup of juice or 4 lemons

800

ml

sugar syrup base

about 3.3 cups
Instructions
Sugar Syrup Base
Measure out the 2 cups sugar and 4 cups water in a small pot.

Bring the sugar and water to a boil. Then remove the syrup from the stove and cool the sugar syrup base in the fridge before using.
Old Fashioned Lemonade
Cut 4 fresh lemons in half, and squeeze as much juice as possible from each one. You should get about 240ml or 1 cup.

Measure out the 6 cups of ice and pour the fresh lemon juice over top. Top up the lemonade with 800ml of sugar syrup base.

Stir the freshly made lemonade, then serve immediatly.
Nutrition
Nutrition info is auto-generated. This information is an estimate; if you are on a special diet, please use your own calculations.