Between my time working as a cook and spending time with my family, it at times seems daunting to try and manage a garden at home, and actually put to use all the goodies I've worked so hard for all Spring and Summer. That's why I love quick and simple recipes which preserve those fresh flavors (and hard work) for the long winter months ahead. Flavored oils such as this green chive oil, are perfect for this.
They take almost no time to make and can add such a wide range of flavors and colors to the food we cook. Today I'll show you how to make a simple vibrant chive oil. This recipe takes barely any effort to make, and will last for several months adding a fresh burst of chive flavor to your vinaigrette's and marinades. These type of flavored oils also make fantastic garnishes in soups or as a splash of color on a plate.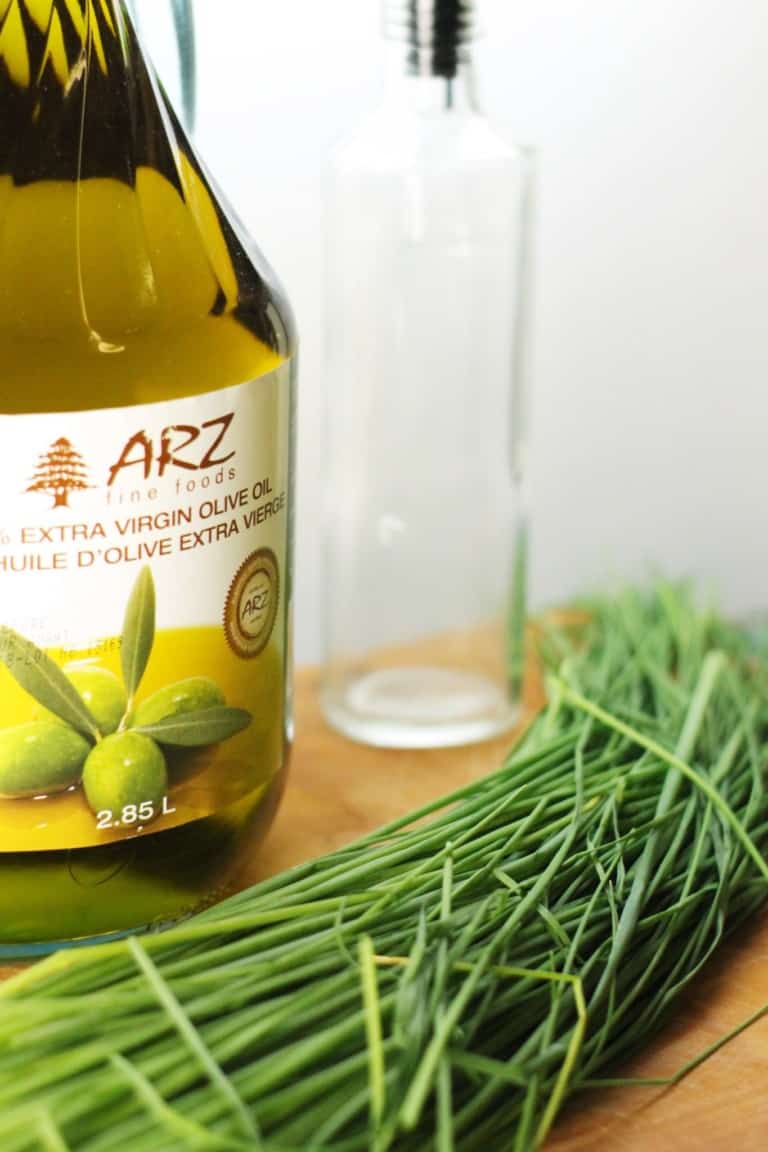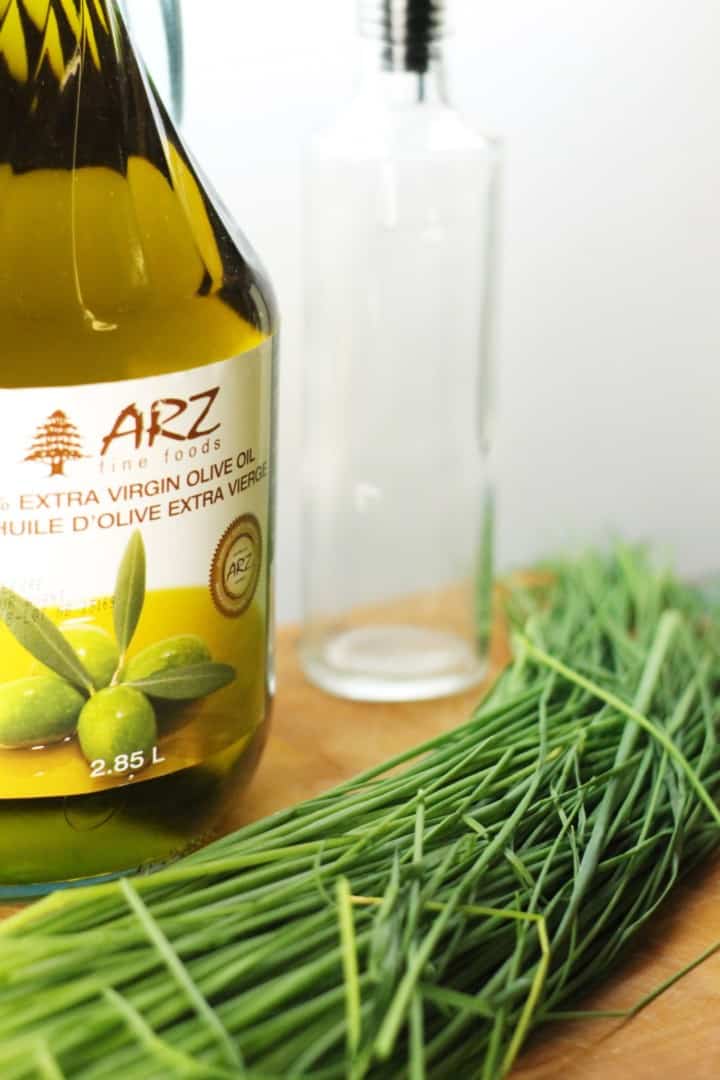 This post contains affiliate links for which I may be compensated if a purchase is made through the links provided. For more information please read my affiliate disclosure.
Simple Homemade Green Chive Oil
To make this chive oil at home, start by harvesting your chives with a sharp knife. If you don't grow your own, you can learn how, or simply pick some up at the store. You will need quite a large amount though, probably three or four bunches worth for a liter of oil, which makes this green chive oil great for using up chives before they die back in Winter.
Cut the chives an inch above the base of the plant, don't worry about harvesting a lot, the plant will re-grow as long as you leave at least half the plant intact. Wash and dry the herb to ensure you don't get any bugs or dirt in your flavored oil. Get as much of the water of the chives as you can, otherwise the water will need to be removed later when straining the chive oil. A small amount of water will naturally appear when breaking down the chives, but the less you add into the oil the better.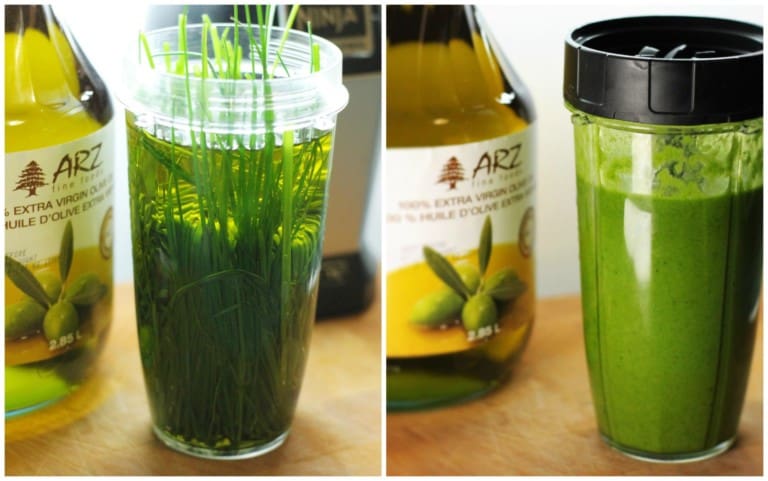 You could let the washed chives air dry, or pat them dry with a clean linen cloth.
Pack the washed chives into 1 litre of oil. It doesn't really matter if you use olive oil, canola oil, or another vegetable oil. The flavor may be slightly impacted, but other then that the color should still be nice and bright green.
If using olive oil, (especially Extra Virgin) in salad dressings, flavored oils and other condiments, take note that it will solidify when refrigerated. This is normal, and an indication of good quality olive oil. It will liquefy at room temperature again. - Chef Markus Mueller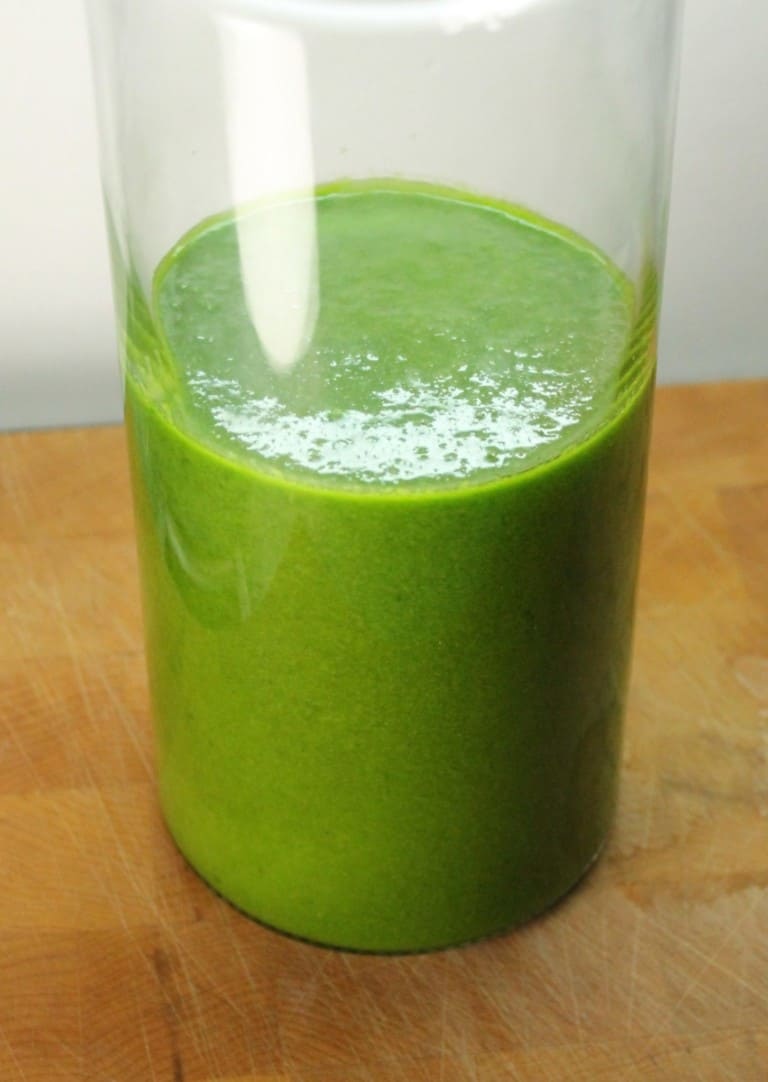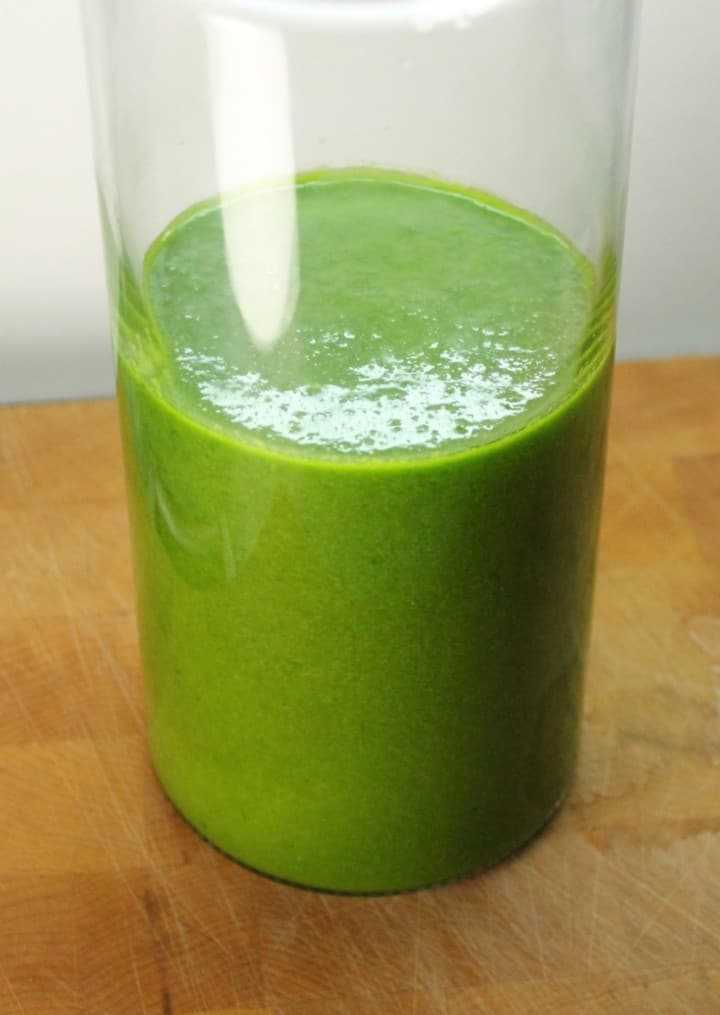 Blend the chives and oil until completely smooth, and until the oil has started to turn a bright green. Store the blended chive oil mixture in a glass or food grade plastic storage container. If you use a clear container you will be able to see the oil, water , and plant material slowly separate over the course of the next 2 or 3 days.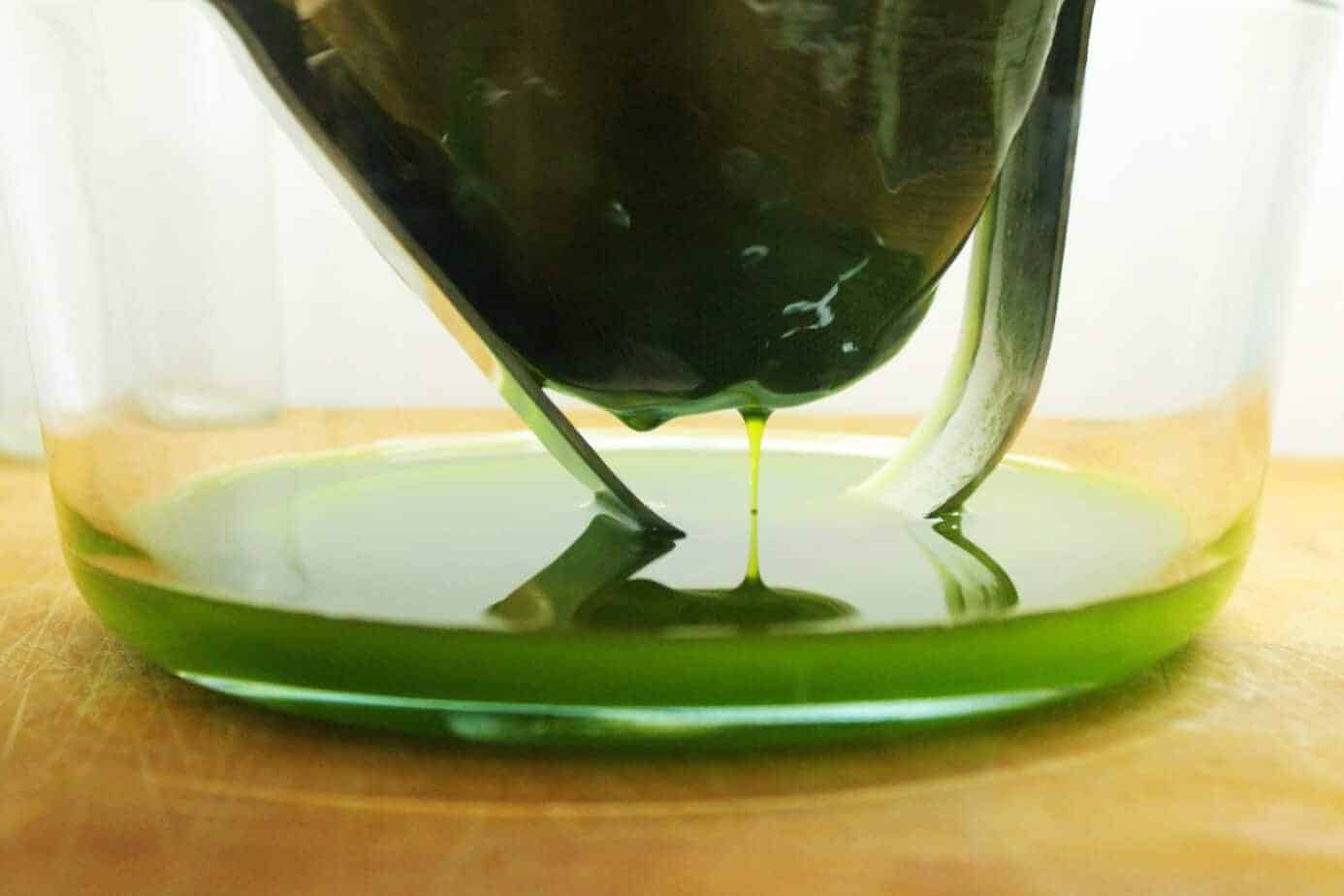 After two days, you'll see the oil, plant matter, and naturally present water start to separate into three different layers. When the oil has mostly separated, strain off the oil being careful not to get any of the water in the strained oil. I like using a combination of cheese cloth and a fine mesh metal strainer called a Chinois. I have the model shown below, and can attest to it's durability and straining abilities. It's the one you will find in professional kitchens.
This ensures that only the oil and no vegetable sediment leaks into your oil. Let the pureed vegetable matter sit in the strainer until all the flavored chive oil has dripped out of it..this may take a few hours, but let gravity do the work!
Do not squeeze the vegetable matter, this will result in a cloudy end product, as you'll be forcing water remaining in the plant cells back into the oil. Once completely strained store the vibrant green chive oil either in the fridge or a cool dark area in your kitchen. Use as desired in dressing and marinades or as a garnish on soups!
This post contains affiliate links for which I may be compensated if a purchase is made through the links provided. For more information please read my affiliate disclosure.
Tried the recipe? Rate the Recipe below, and take a picture and tag me on Facebook & Instagram: @earthfoodandfire . For more from scratch recipes follow me on Instagram & Pinterest .
Recipe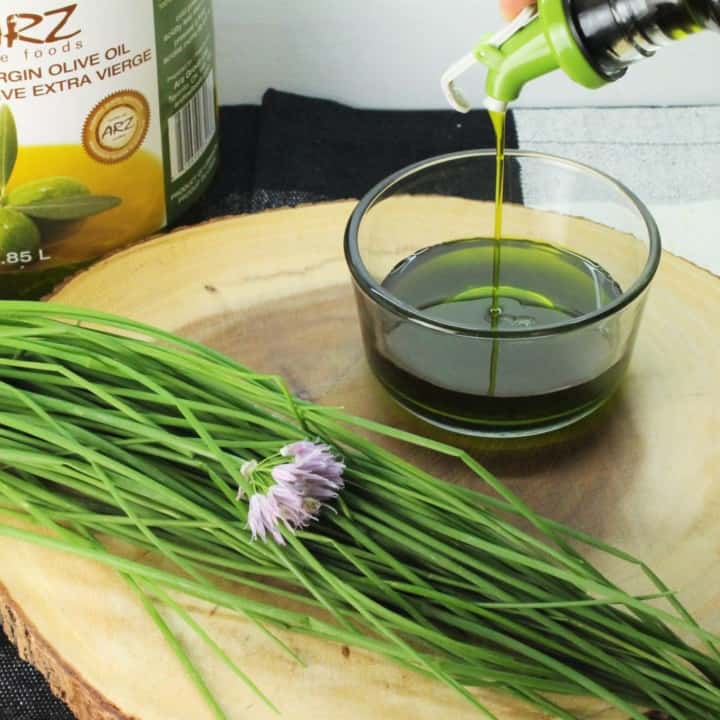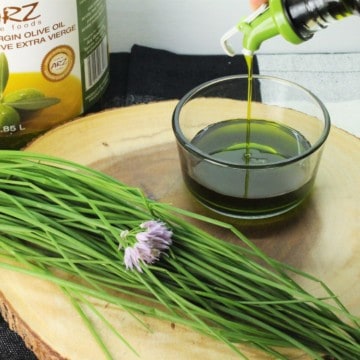 Vibrant Green Chive Oil
A quick recipe for flavored chive oil. Preserve your herbs for the Fall and Winter seasons, this chive oil is great in marinades and vinaigrette's.
Ingredients
1

Litre

Vegetable oil

4

bunches

Fresh Chives
Instructions
Wash the chives and pat them dry to remove excess moisture.

Pack the chives into the oil, and puree them using a blender such as a vitamix or nutri ninja.

Let the pureed chive oil sit in a glass container or other nonreactive jar for 2 to 3 days in the fridge.

Strain the green chive oil through a fine mesh strainer such as a chinois, to extract only the colored oil.

Store the oil in a airtight container for up to 1 month.
Nutrition
Nutrition info is auto-generated. This information is an estimate; if you are on a special diet, please use your own calculations.