Homemade watermelon slushies are a great way to cool down on a hot summer day, enjoy fresh watermelon, and at the same time, avoid the chemical and sugar laden store bought variety! Freezing leftover watermelon is probably the easiest way to keep a watermelon for long periods once its cut open, and a watermelon slushie is a quick yet healthy way to enjoy a sweet summer drink.
Kids love slushies too! Whether it's their brain freezing abilities, the surge of sugary fruit flavor, or the bright colors, these sweet icy drinks are a great way to cool off, and always a hit during the hot summer months. Unfortunately, store bought slushies often contain little fruit and are mostly made up of sugar and chemical flavorings. The best alternative? Homemade slushies!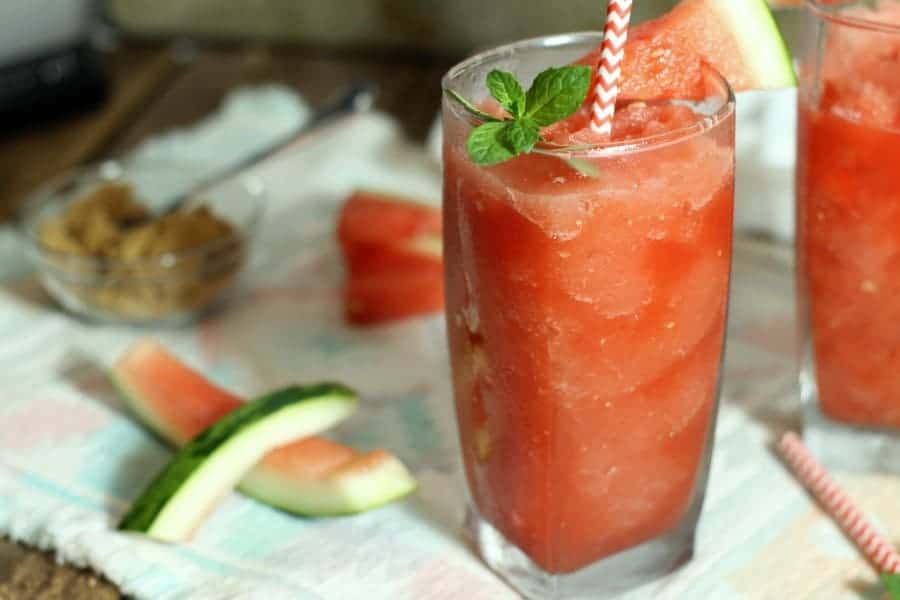 This post contains affiliate links for which I may be compensated if a purchase is made through the links provided. For more information please read my affiliate disclosure.
Do I Have To Use Frozen Watermelon?
No. You don't really have to use frozen watermelon, and honestly fresh watermelon will probably be easier to blend up for most lower end kitchen blenders. This is good news if you have a fresh watermelon you're about to cut into. On the other hand, using frozen watermelon creates a creamier slushie, and also provides a use for frozen watermelon. I used a Nutri Ninja Bullet blender to make my watermelon slushie, and my only complaint is that it only makes two drinks at a time!
Freezing watermelon is a great way to keep a cut melon from going bad, if you can't eat it all in one sitting, or simply have to much of it! Since frozen watermelon doesn't really thaw out well, (it goes mushy and gross as the water melts out), it's best to use frozen watermelon in smoothies and drinks such as this one.
How to freeze watermelon.
Freezing watermelon is super easy and only takes a few steps.
Cut the melon in half with a large chefs knife, and then again into quarters.
Remove the red flesh from the rind by running the knife along the white pith.
Dice up the ripe watermelon, and spread it out on a parchment lined tray.
Place the diced watermelon in the freezer to freeze, about 20 minutes.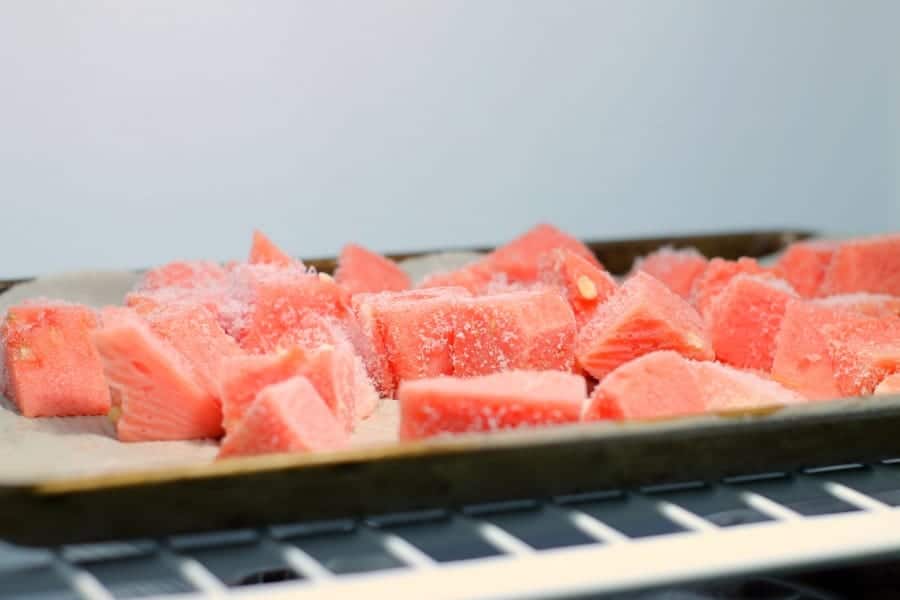 Make Your Own Healthy Fruit Slushies This Summer
You can easily enjoy healthy fruit slushies all summer long. The trick is to make them yourself of course!
Luckily almost all slushies, including this watermelon slushie, are easily made in under five minutes with only two or three ingredients. The type of fruit used is really up to you, but watermelon is perfect for slushies since frozen watermelon doesn't thaw well, and it is naturally sweet. This means less added sugar, if any!
You'll need:
2 cups fresh or frozen watermelon
½ cup crushed ice
½ cold water
1 tablespoon brown sugar
1 lemon wedge
Mix all the ingredients together in a blender and presto! You made a slushie! Serve immediately or drink it yourself!
Adults can add a splash of rum, tequila, or vodka to the blender for a little extra kick! - Chef Markus
The sugar and lemon are of course optional in the recipe above, but the lemon adds just a little bit of tartness that makes the slushie really pop with flavor. If the watermelon you have is naturally very sweet, you can consider leaving out the sugar, but its summer, a little bit of sweetness never hurt anybody!
If you are having trouble blending the slushie, and it seems to thick or icy, add some water to thin it out and let the blender do it's job. There should be no large chunks and the blender should be able to smoothly blend all of the watermelon and ice chunks.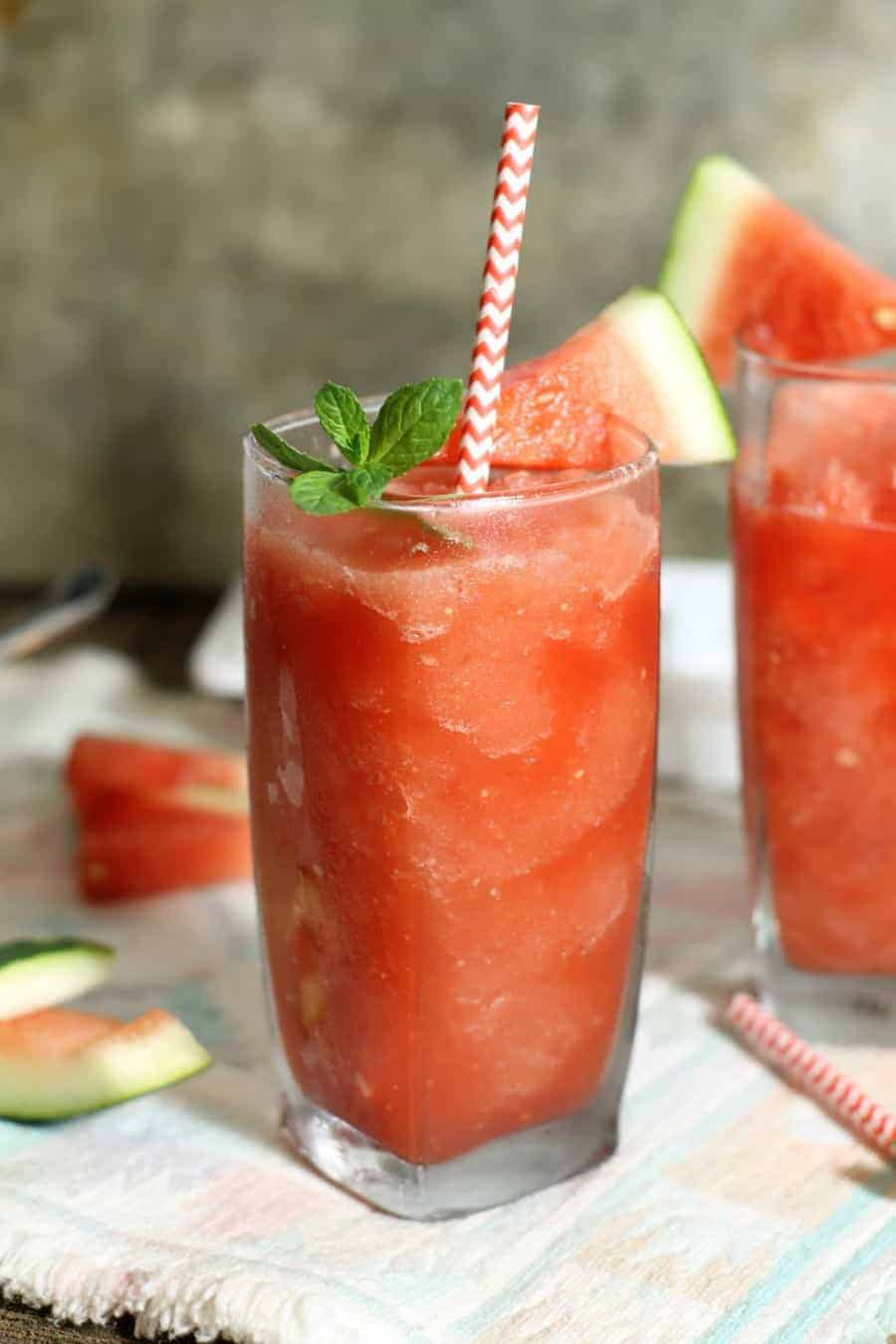 Serve these slushies on a hot summer day, at a BBQ or when you(or your kids), are craving something sweet.
Made the recipe? Comment & Rate it below, then take a picture and tag me on Facebook & Instagram: @earthfoodandfire . For more from scratch recipes follow me on Instagram & Pinterest
Recipe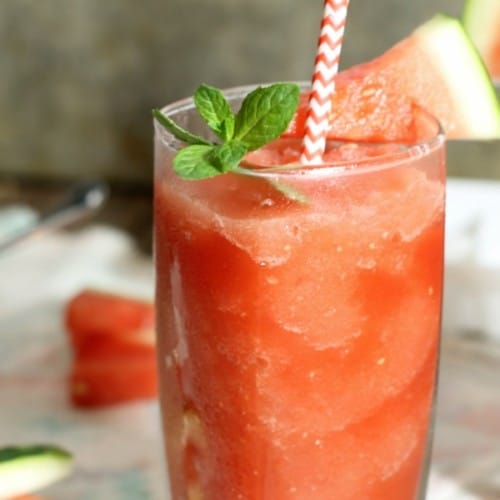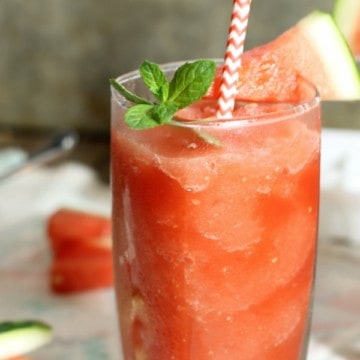 Watermelon Slushie
Cool down this summer with an icy watermelon slushie. Made in less then five minutes with only four ingredients!
Ingredients
2

cups

fresh or frozen watermelon

½

cup

crushed ice

½

cup

cold water

1

tablespoon

brown sugar

1

lemon wedge
Instructions
Mix all the ingredients together in a blender and presto! You made a slushie!
Notes
If the slushie is very thick, and icy, and the blender is having a hard time blending, add a splash of water to help it out. The blender should be able to blend all of the slushie with no large chunks remaining.
Nutrition
Nutrition info is auto-generated. This information is an estimate; if you are on a special diet, please use your own calculations.