A sweet twist on the classic baked potato, these baked sweet potatoes are the ultimate Fall comfort food. Loaded with vitamin A, vitamin B6, and vitamin C, sweet potatoes are an easy way to get a healthy veggie into your weekly meal plan, (plus kids love them as they are slightly sweet!)
Simply top these baked sweet potatoes with a pat of butter, sour cream and chives, or load them up with bacon bits, herbs, and cheese to keep this simple side dish interesting all week long.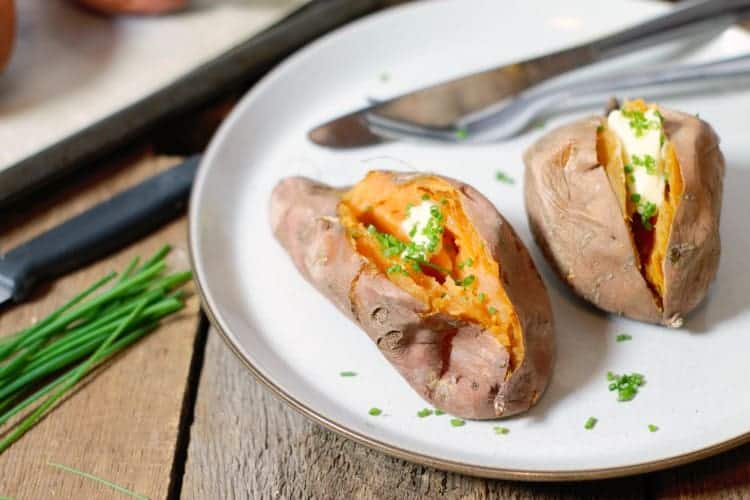 This post contains affiliate links for which we may be compensated if a purchase is made through the links provided. For more information please read our affiliate disclosure.
Sweet Potato vs Yams
Did you know that sweet potatoes and yams are not technically the same vegetable? Sweet potatoes are not even technically a potato! Instead, sweet potatoes belong to the morning glory family, ( Convolvulaceae ).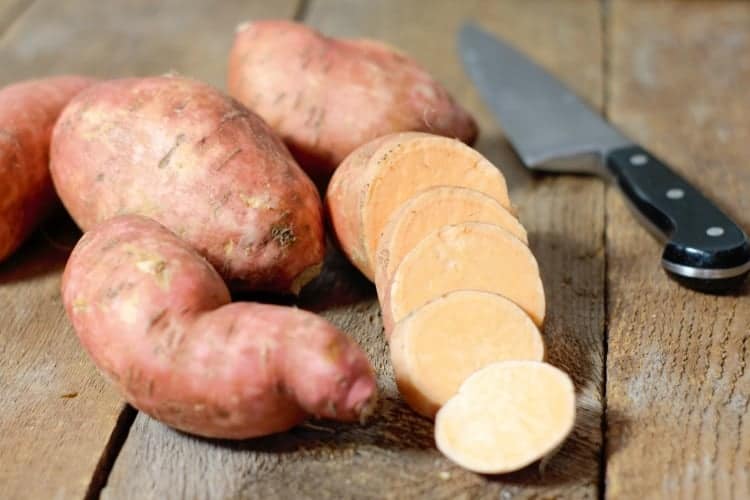 Yams belong to an entirely different plant family, ( Dioscoreaceae ), and are a starchy, usually white, tuberous vegetables sold in various parts of the world.
The confusion comes in because sweet potatoes are often sold as 'yams' or 'sweet potato yams' in North American grocery stores.
You can learn more about the differences between yams and sweet potatoes here.
Can you eat the skin of baked sweet potatoes?
Yes! While sweet potatoes are often peeled when making sweet potato mash, roasted sweet potatoes, or sweet potato hash, this is most often due to personal preference. Because the skin stays tough when cooked, (as opposed to the flesh which becomes creamy and soft) most people don't choose to eat the skin.
That said, eating the skin will provide you with even more nutrients than eating just the sweet potato flesh.
How long do you bake sweet potatoes?
Much like regular potatoes, sweet potatoes are best when baked for at least 50-60 minutes depending on the size. This ensures a nice soft sweet potato.
The best way to check if sweet potato is fully cooked though is to stick a knife or fork in it. If the knife easily goes all the way through the flesh, the sweet potato is done.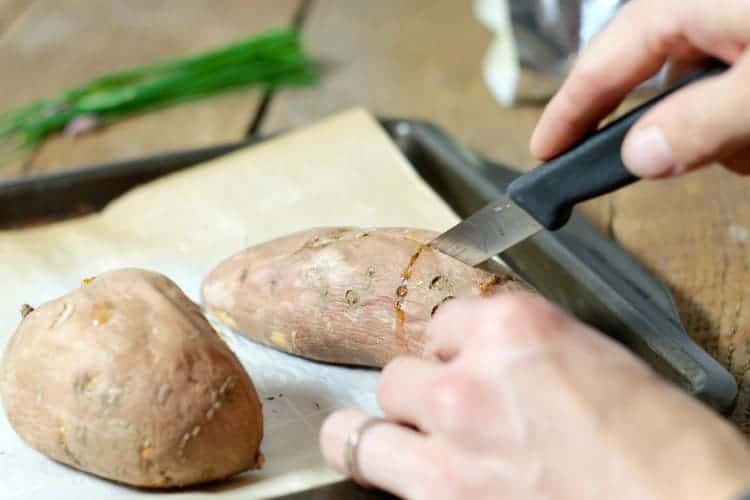 Whole Baked Sweet Potato Tips & Tricks
Here are a few tips and tricks to help you in the kitchen:
Wash the sweet potatoes before baking to remove any dirt or potential pesticides, especially if you plan on eating the skin.
Choose smaller sweet potatoes as they are sweeter and creamier than the larger more mature potatoes which tend to be very starchy.
Poke the sweet potatoes with a knife or fork before baking to allow moisture in the potato to escape, and prevent it from splitting open.
Coating the sweet potatoes in oil prior to cooking is not required, though you may do so to help seasonings stick to the skin if you choose to season them with salt and pepper.
If you are running short on time, you can choose to microwave the whole sweet potato. Prick the potato just as if you are baking it and microwave for 5 minutes in 30-second intervals.
Leftover baked sweet potatoes can be refrigerated and then cut up and used to make sweet potato hash or used in salads, and wraps.
Cooled, fully cooked sweet potatoes can be mashed with a fork or pureed and served as baby food and to toddlers!
Made the recipe? Comment & Rate it below, then take a picture and tag me on Facebook & Instagram: @earthfoodandfire . For more from scratch recipes follow me on Instagram & Pinterest
Recipe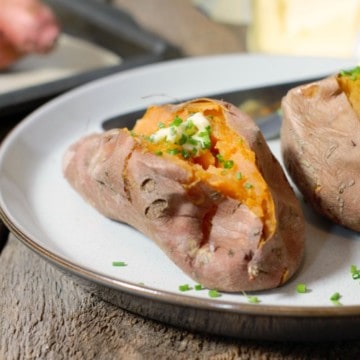 Whole Baked Sweet Potato
A simple, healthy side dish, whole baked sweet potatoes are easy to make, warm and comforting, and best of all, versatile!
Ingredients
Optional
2

tablespoon

butter

1

pinch

salt

1

pinch

pepper

½

cup

sourcream

¼

cup

chopped chives

¼

cup

bacon bits
Instructions
Pre-heat your oven to 425F. Select fist-sized sweet potatoes, that are hard, without any soft spots. Wash the sweet potatoes and remove any dirt or hair.

Poke the washed sweet potatoes with a knife or fork. Place the sweet potatoes on a parchment-lined sheet pan.

Bake the sweet potatoes for 50-60 minutes, or until a kife/fork can easily go right through the flesh.

Remove the baked sweet potatoes from the oven and gently cut a slit into the top with a sharp paring knife. Carefully squeeze the ends of the potato inwards to open the slit.
Optional Garnishes
If you wish to garnish the sweet potatoe do so now. Top with butter, sour cream, chives, bacon, cheese, or any other suitable topping. Serve immediately.
Notes
Nutritional information does not include optional garnishes.
Nutrition
Nutrition info is auto-generated. This information is an estimate; if you are on a special diet, please use your own calculations.