Sweet potatoes are a nutritious root vegetable, originating in Central America, and now cultivated around the world. They can be prepared in any number of ways, and this post will hopefully teach you a little something about this tasty vegetable, and inspire you to cook more with it at home!
This post contains affiliate links for which we may be compensated if a purchase is made through the links provided. For more information please read our affiliate disclosure.
What Are Sweet Potatoes?
Let's start with the basics. Did you know that sweet potato is not technically a potato at all? They actually belong to the morning glory family, ( Convolvulaceae ), of which there are over 1000 different species!
Ipomoea batatas is the variety that is most commonly cultivated for agricultural purposes, though there are now other cultivars that can be more easily grown at home, even in colder climates! You can learn more about growing your own sweet potatoes here.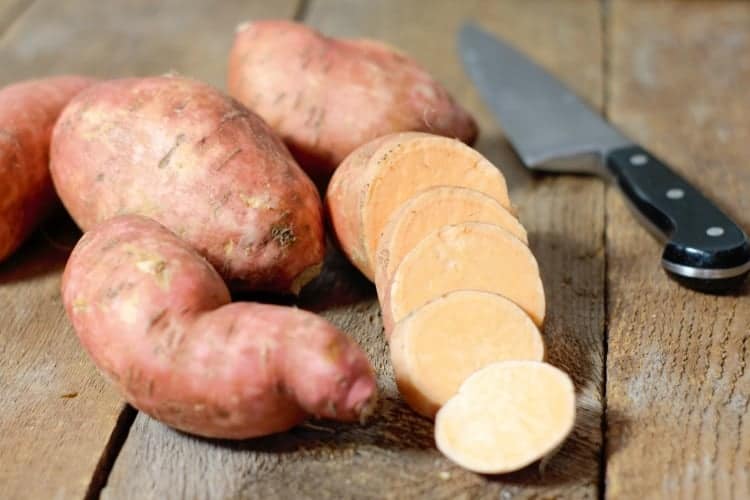 Loaded with vitamin A, vitamin B6, and vitamin C, and various minerals sweet potatoes are an easy way to add a healthy veggie into your weekly meal plan. Plus they are paleo friendly!
Are Yams & Sweet Potato The Same Thing?
This is where it can get confusing. The technical answer here is NO. Yams belong to an entirely different plant family, ( Dioscoreaceae ), and are a starchy, usually white, tuberous vegetables sold in various parts of the world.
The confusion comes in because sweet potatoes are often sold as 'yams' or 'sweet potato yams' in North American grocery stores.
You can learn more about the differences between yams and sweet potatoes here.
So What Can You Make With Sweet Potatoes?
This is the easy part really. You can cook sweet potato in any number of ways. They can be baked, fried, boiled, roasted, and even steamed! The options are endless. You can even add cooked sweet potato to things like salads, wraps, and casseroles!
Do you have to peel sweet potatoes?
While the skin is edible, most recipes call for peeling the sweet potato first since the skin becomes tough and leathery when cooked. It does contain a lot of nutrients though, so if you really wanted to you could leave the skin on.
A good example of a simple 'skin on' sweet potato recipe is my simple baked sweet potato!
More Sweet Potato Recipes
To get you started cooking with sweet potatoes here is a collection of recipes showcasing different ways to prepare and cook sweet potatoes at home! Ranging from breakfast to dessert, you can incorporate sweet potatoes into any meal!
What's your favourite way to eat and prepare sweet potatoes? Let us know in the comments below and tag us on social media! (@earthfoodandfire)