Muffins have always been a staple in my family whenever we decide to go camping or go an extended trip of some kind. Growing up in a family with three boys, I image it was quite a daunting task for my mother to keep us well fed when we ventured into the woods with my father.
My mother would always bake these delicious muffins to take along, flavored with whatever happened to be in season. They are the perfect snack, trudging through the woods or while drinking some hot tea in front of a fire for breakfast. Since my wife and I are away on a little trip to Halifax this week, I though that these Buttermilk Cranberry Muffins would be the perfect snack to bring along for the car ride.
Tip & Tricks To Make Perfect Bakery Style Muffins
When baking muffins there are a few tips and tricks that will make your life easier and produce tastier muffins.
For one, try and avoid using muffin pan liners. Yes, they are convenient and are great for storing or selling muffins but they also have the tendency to make the bottom of the muffins go soggy and reduce the amount your muffins will rise in the pan. Instead liberally butter the inside of the muffin pan to produce a crisp bottom and prevent the muffins from sticking.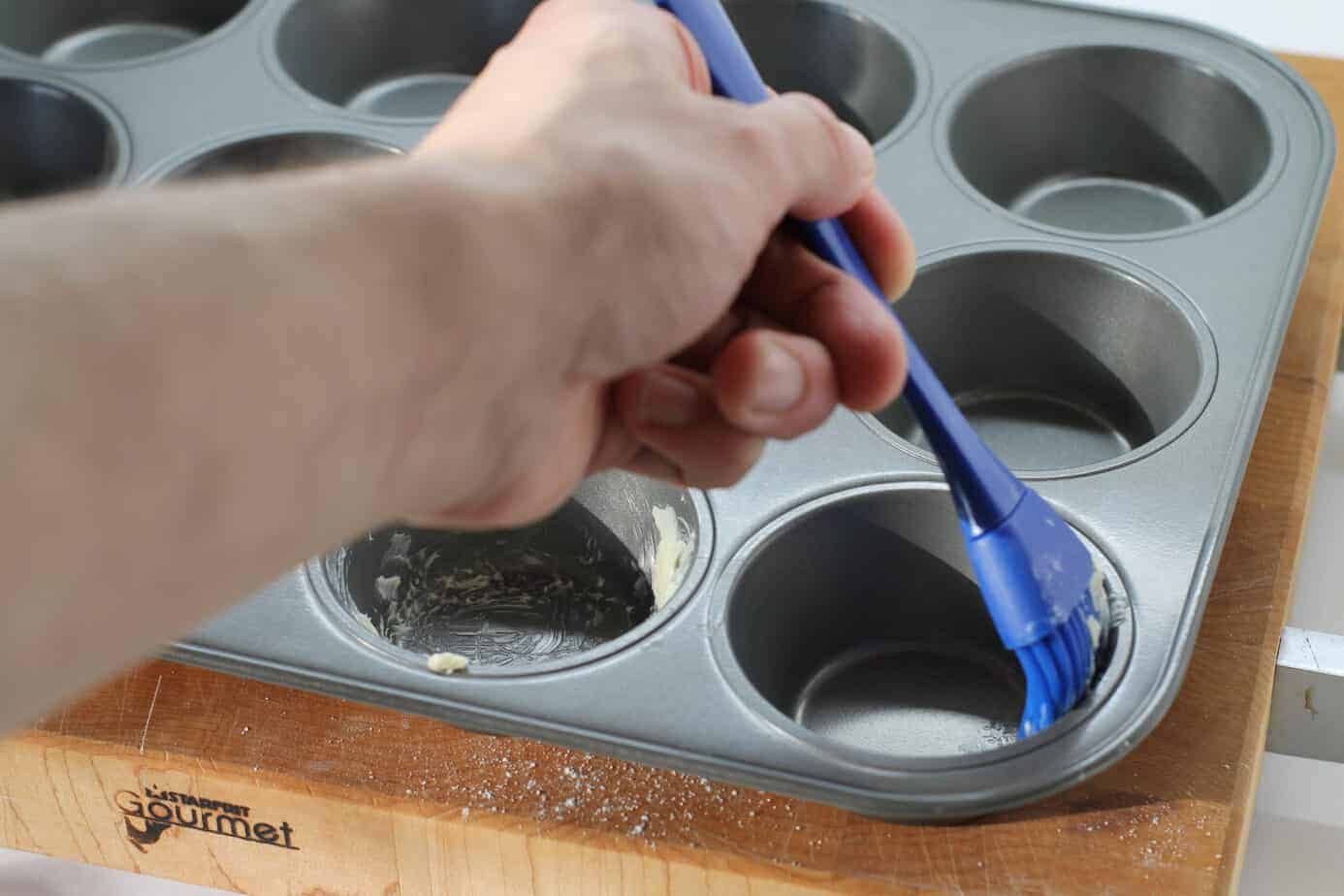 Second I always use buttermilk in my muffin batters. Buttermilk will produce a lighter, moister muffin and the sourness will balance well with sweet fruit flavors for an even tastier treat. If a recipe calls for milk or some other liquid I usually substitute half of it with buttermilk.
Third, it is important to no matter how much you want to speed things along never use an electric mixer. Muffin batters need to be mixed the old-fashioned way, by hand with a wooden spoon or spurdle.
Over mixing the batter will create a hard and dense end product due to the gluten strands being developed (much like in bread or pizza dough) creating a tougher chewier dough.
That being said don't be afraid to properly mix the batter. If it looks dry and lumpy and not at all like batter, mix it a little longer to get it to come together. Maybe add a splash of water to it.
Finally always top your muffins with some kind of Streusel or other garnish. It can be as simple as butter, brown sugar and flour mixed together or some loose oats or chocolate chips. Garnishes will add that extra pop to make your muffins stand out from the rest.
Buttermilk & Cranberry Muffin Recipe
If you have never made muffins at home before, don't fret! Baking bakery style muffins at home is easy! Before you begin, make sure you have:
Dry Ingredients
3 ½ cups All Purpose Flour
5 tsp baking powder
1 ¼ cups sugar
¾ tsp salt
Wet Ingredients
⅓ cup melted un-salted butter
1 ¾ cups buttermilk
4 whole eggs
Flavorings
2 cups frozen cranberries or other fruit nuts or chocolate chips
Instructions
All muffin recipes follow the same method (steps) and these buttermilk cranberry muffins are no different. Before you begin mixing ingredients, get out your muffin pan and grease it really well with softened butter or oil, and pre-heat your oven to 350F.
Begin by mixing all of your dry ingredients in a bowl and sift them with a mesh strainer or sifter if you have one.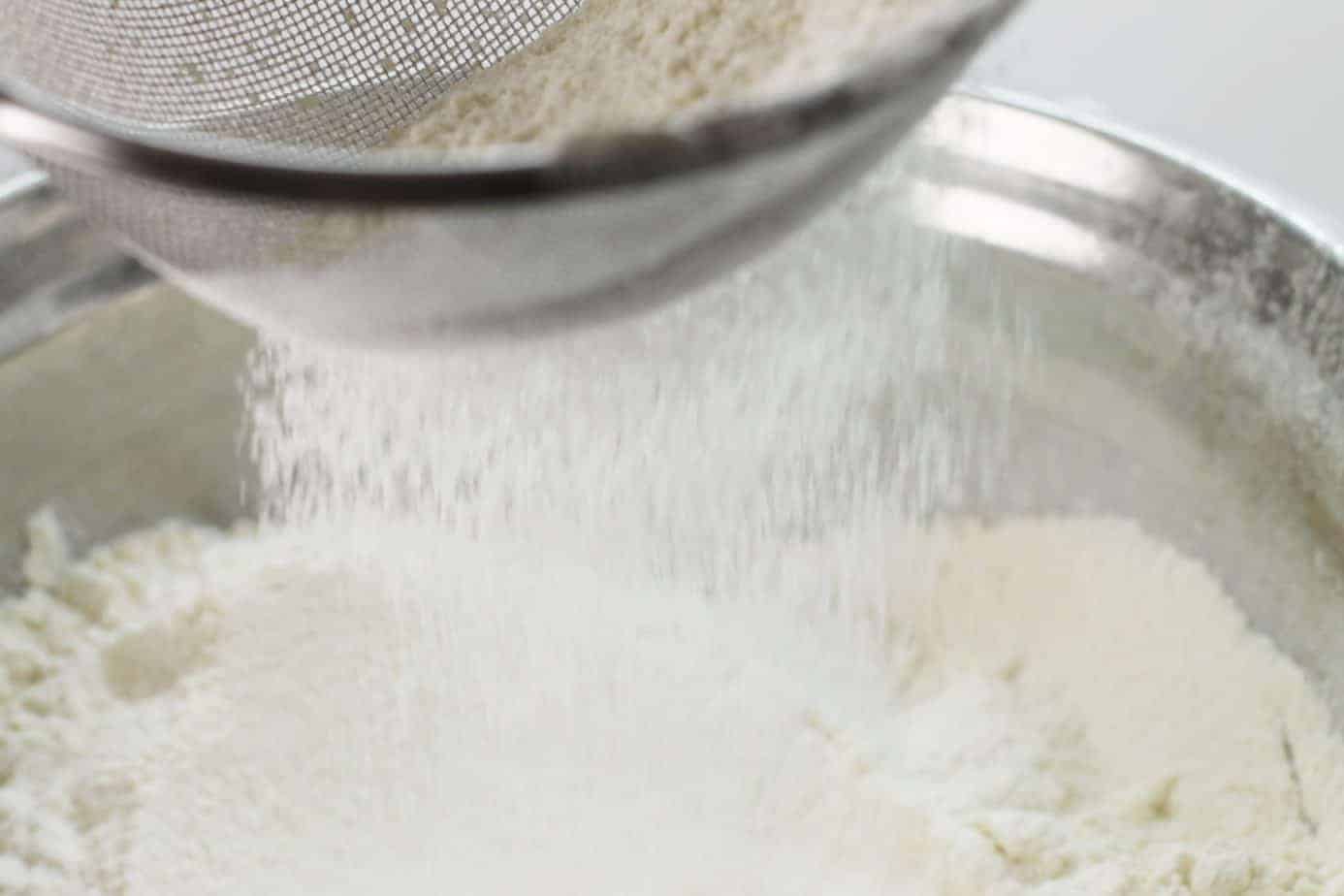 Sifting the dry ingredients will ensure that all the parts are mixed evenly and there are no lumps of flour or baking powder.
In a separate bowl mix your liquids (this includes the butter, which should be melted), and stir them together.
Add the liquid mixed ingredients to the dry ingredients, and using a wooden spoon or spurdle mix them together until they reach one even consistency. After the dry and liquid ingredients have been mixed gently fold in the frozen cranberries (or other fruit, chocolate chips etc.), until they are just evenly dispersed.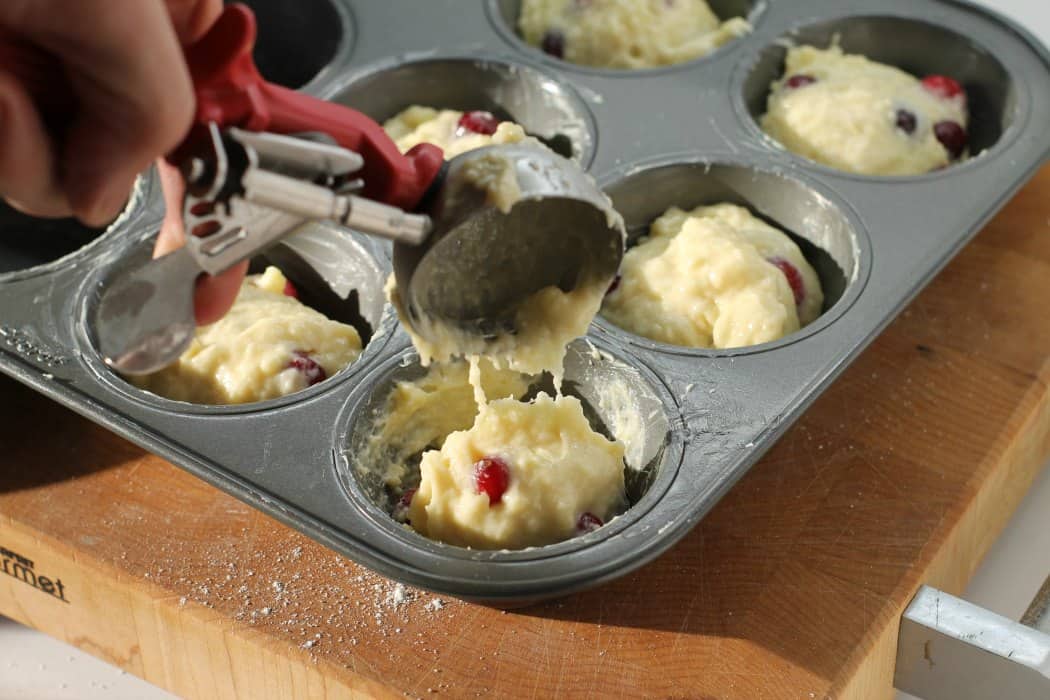 Using a portion scoop to keep the cranberry muffins the same size (and ensure even cooking), scoop the buttermilk cranberry muffin batter into the pans, filling them to about ¾ full.
Top the muffins with the streusel or other garnish and bake in the pre-heated oven for 20-25 minutes. Don't be tempted to open the oven door to peek at the muffins until at least 80% through the baking time, as this can cause the muffins to "fall" or collapse. In the last 5 or 8 minutes of baking you can open the door and turn the pans around to evenly brown the muffins on top.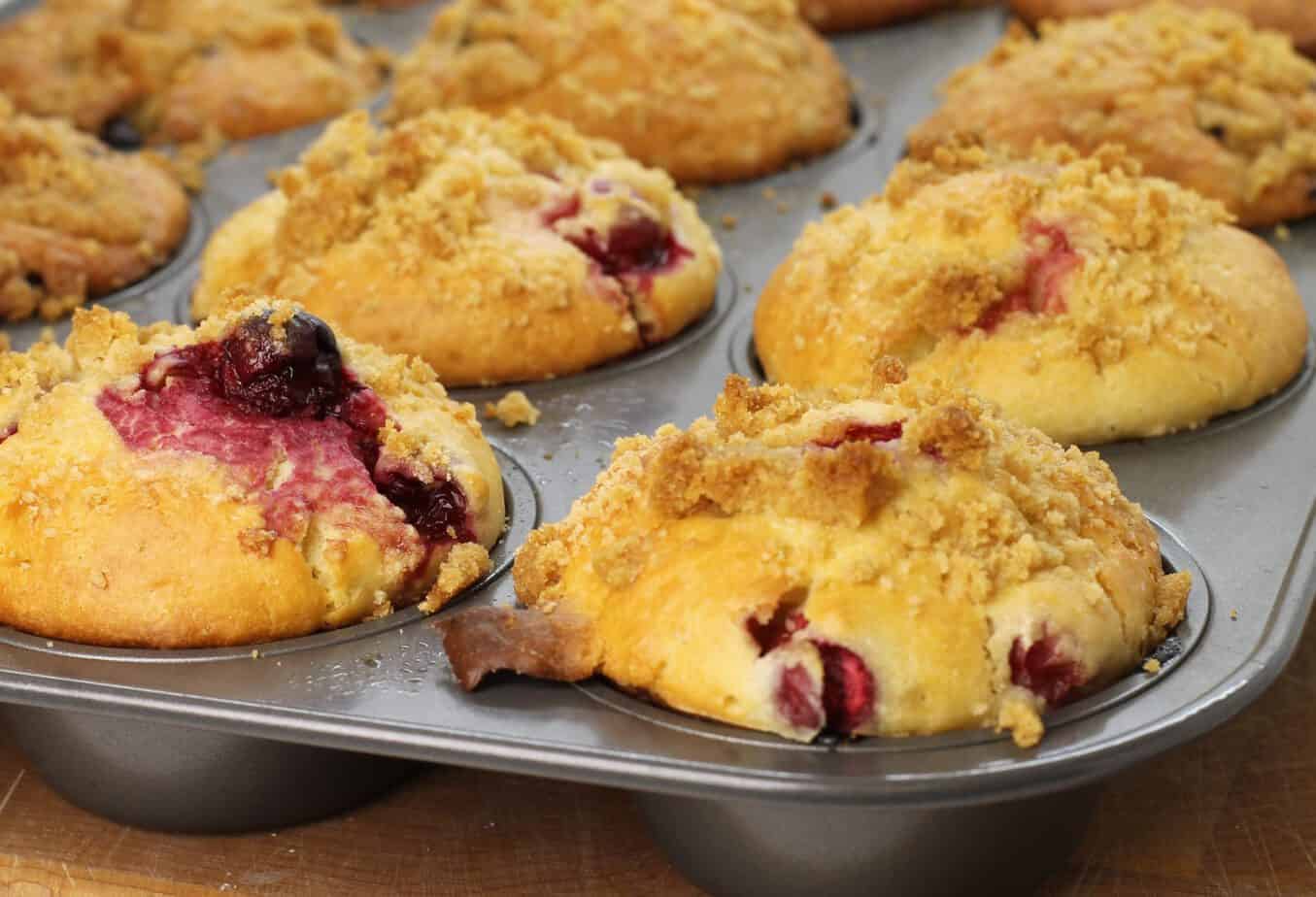 Remove the pan of freahly baked cranberry muffins from the oven, and once slightly cooled remove the fresh muffins from the pan. Cool them on a wire rack to prevent the bottoms getting soggy! These cranberry muffins are best served the day of, but will keep for up to 3 days at room temperature if covered and a week in the fridge. You can also freeze these muffins by individually wrapping them and then freezing in a large ziploc bag.
Let me know how these buttermilk cranberry muffins turn out for you, or if you decided to flavour them with other fruit or chocolate! Make sure to follow me on Facebook, Instagram and Twitter, to catch next week's blog post and get inspired with new and exciting food ideas on Pinterest!
Recipe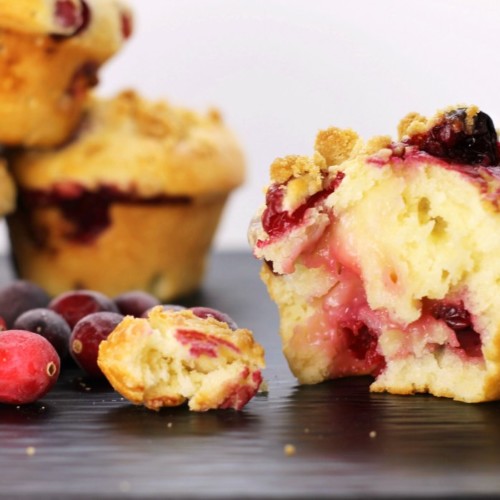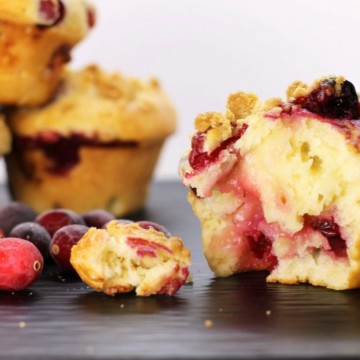 Buttermilk Cranberry Muffins
These Buttermilk Cranberry Muffins make the perfect snack to take on a hike or other family excursion.
Ingredients
Dry Ingredients
3 ½

cups

All Purpose Flour

5

teaspoon

baking powder

1 ¼

cups

sugar

¾

teaspoon

salt
Wet Ingredients
⅓

cup

melted un-salted butter

1 ¾

cups

buttermilk

4

whole eggs
Flavorings
2

cups

frozen cranberries or other fruit

nuts or chocolate chips
Instructions
Pre-heat your oven to 375F and grease a 12 x muffin pan with softened butter. Sift together all the measured dry ingredients.

Melt the ⅓ cup of butter and remeasure to ensure proper amount.

Mix all the wet ingredients together (including butter).

Mix together the wet and dry ingredients, making sure not to over mix the batter. Fold in the frozen cranberries.

Garnish with streusel or other appropriate garnish such as nuts or chocolate chips.

Bake the buttermilk cranberry muffins at 375F for 20 - 25 minutes or until golden brown on top.
Nutrition
Nutrition info is auto-generated. This information is an estimate; if you are on a special diet, please use your own calculations.