Chimichurri is one of the easiest ways you can add flavor to your steak, chicken, and pork. Fantastic when spooned over grilled or BBQ meats, this authentic chimichurri can also be used to marinade chicken, or served as a condiment on the side for various skewers or a grilled steak.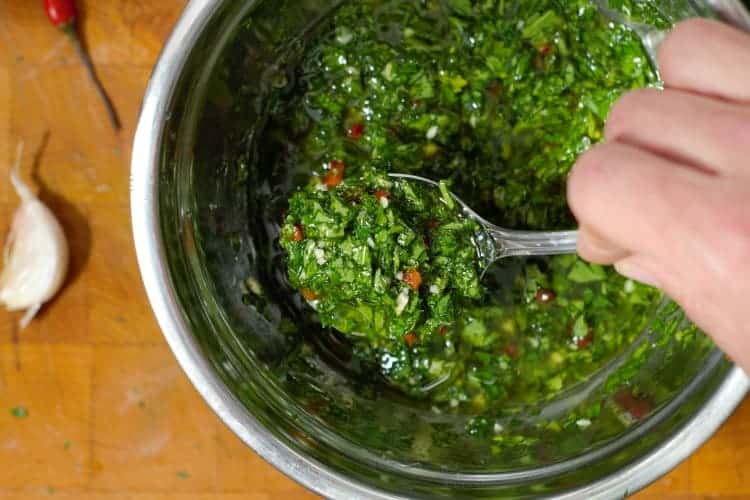 This post contains affiliate links for which we may be compensated if a purchase is made through the links provided. For more information please read our affiliate disclosure.
What Is Chimichurri?
A herb based sauced or condiment, chimichurri is a traditional Latin American recipe (originating in Argentina and Uruguay ), and comes in two variations.
Green chimichurri, made by finely chopping fresh herbs, (generally parsley and oregano), garlic, chili, olive oil, and white wine vinegar,
and
Red chimichurri, made by mixing chopped herbs, tomato, red bell pepper, garlic, olive oil and red wine vinegar.
Perfect served alongside or used to season grilled meats, chimichurri imparts a fresh herb and garlic flavor to anything its added to.
How Do You Use Chimichurri?
Traditional chimichurri is used to season grilled meats. The chimichurri is basted or ladeled onto the meat as it cooked on a grill, or it is spooned over the meat right before serving, more like a condiment or dipping sauce.
You can also use chimichurri to marinade meats though, and the acid in this tasty little herb sauce does a fine job of helping infuse flavor into bland meats. Pork chops and chicken breasts are ideal for this!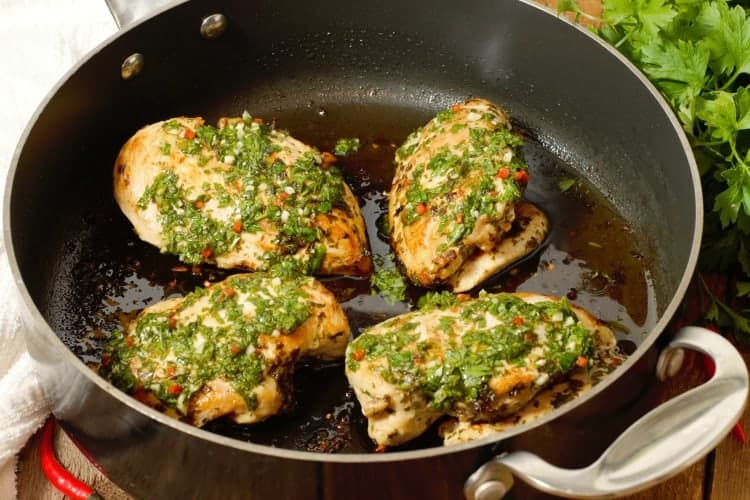 Authentic Chimichurri Recipe
The key to making authentic chimichurri, is to use good quality ingredients. That means fresh Italian parsley, (preferably grown and picked in your garden), oregano, chili peppers, garlic, and white wine vinegar
Luckily making chimichurri at home is incredibly easy as long as you have access to fresh parsley. If you have a green thumb, you can easily grow your own, otherwise pick up a few bunches before attempting this recipe.
To make this Argentinian chimichurri you'll need:
1.5 cups chopped fresh Italian parsley
1/2 cup fresh chopped oregano
2 cloves fresh garlic
1 cup olive oil
pinch salt
1 tsp chopped red chili
1 tbsp white wine vinegar or 1/2 lemon squeezed
1. Wash the fresh parsley and dry really well by first shaking out all the eater and then patting it dry. This is important to remove any dirt or sand.
2. Pick the leaves off of the stems, and using a chefs knife chop the Parsley and oregano until it is evenly chopped.
3. Mince the garlic and chili pepper, and mix it in with the chopped herbs, oil, and remaining seasonings.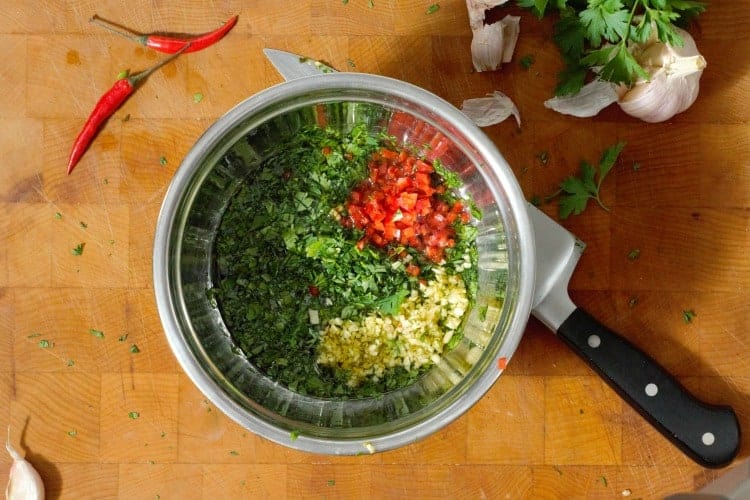 4. Chill the chimichurri in the fridge for at least 30 minutes to properly infuse all the flavors into the oil.
5. Use the finished chimichurri to marinate meats, season grilled meats, and add flavor to vegetable dishes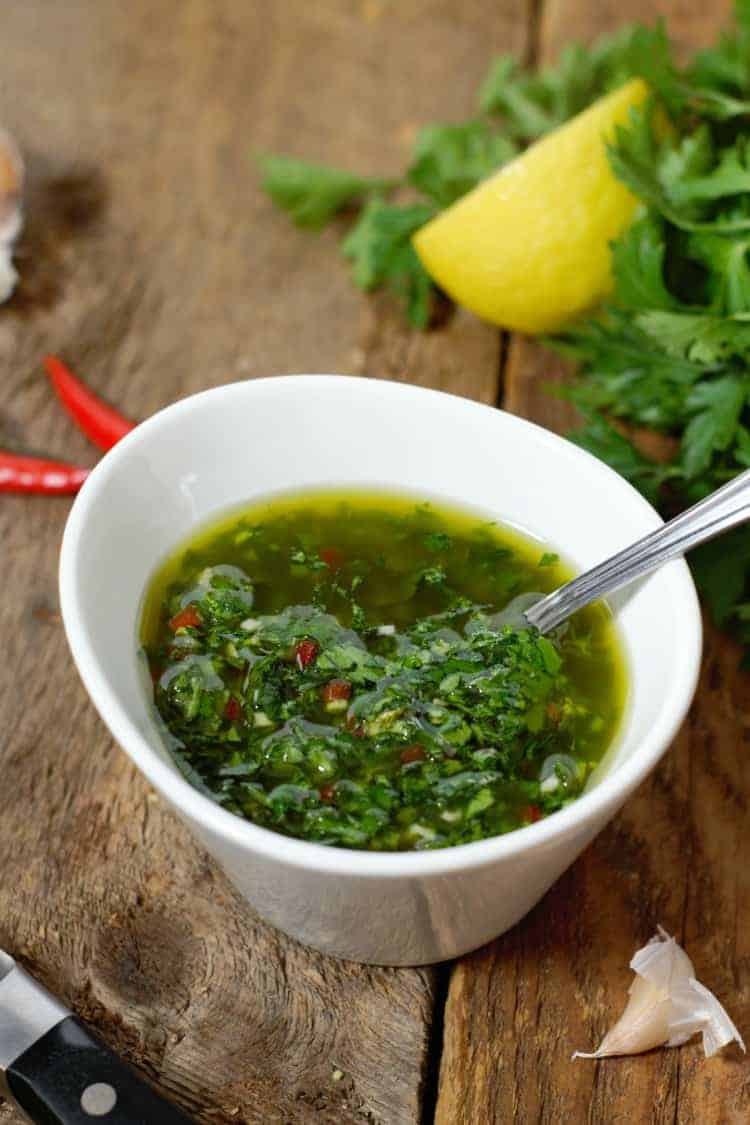 Once refrigerated, note that good quality olive oil will solidify. Simply remove the chimichurri from the fridge and allow it to come to room temperature before using.
How Long Will Chimichurri Last?
Once mixed and refrigerated, this chimichurri should last 3 – 4 days before the acid will start to turn the herbs brown.
This in itself won't make the chimichurri sauce go bad, the color will simply be affected, and the herbs may start to go mushy as they break down.
Made the recipe? Comment & Rate it below, then take a picture and tag me on Facebook & Instagram: @earthfoodandfire . For more from scratch recipes follow me on Instagram & Pinterest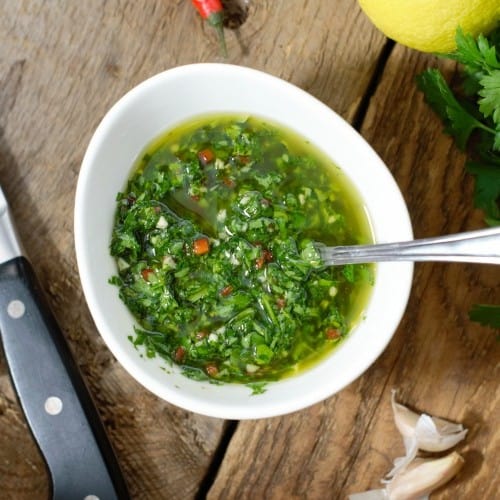 South American Chimichurri
A South American condiment perfect for accompanying grilled meats, chimichurri is loaded with fresh herbs, garlic, chili, and lemon. A simple way to add a burst of flavor to many dishes.
Ingredients
1.5

cups

chopped fresh Italian parsley

1/2

cup

fresh chopped oregano

2

cloves

fresh garlic

1

cup

olive oil

pinch

salt

1

tsp

chopped red chili

1/2 tsp dried chili flakes may be used instead

1

tbsp

white wine vinegar

1/2 lemon squeezed may be used instead
Instructions
Wash the fresh parsley and dry really well by first shaking out all the eater and then patting it dry. This is important to remove any dirt or sand.

Pick the leaves off of the stems, and using a chefs knife chop the Parsley and oregano until it is evenly chopped.

Mince the garlic and chili pepper, and mix it in with the chopped herbs, oil, and remaining seasonings.

Chill the chimichurri in the fridge for at least 30 minutes to properly infuse all the flavors into the oil.

Use the finished chimichurri to marinate meats, season grilled meats, and add flavor to vegetable dishes