Fresh squeezed orange juice is a wonderful treat. A far cry from what passes as orange juice at the grocery store, the real deal is incredibly fruity, sweet, and is loaded with Vitamin C.
Unless you have an orange tree in the backyard, drinking fresh-squeezed OJ may not be the most cost-effective beverage, but it sure is wonderful treating yourself (or someone else) to a glass for brunch, Mother's Day, or simply on a hot summers day.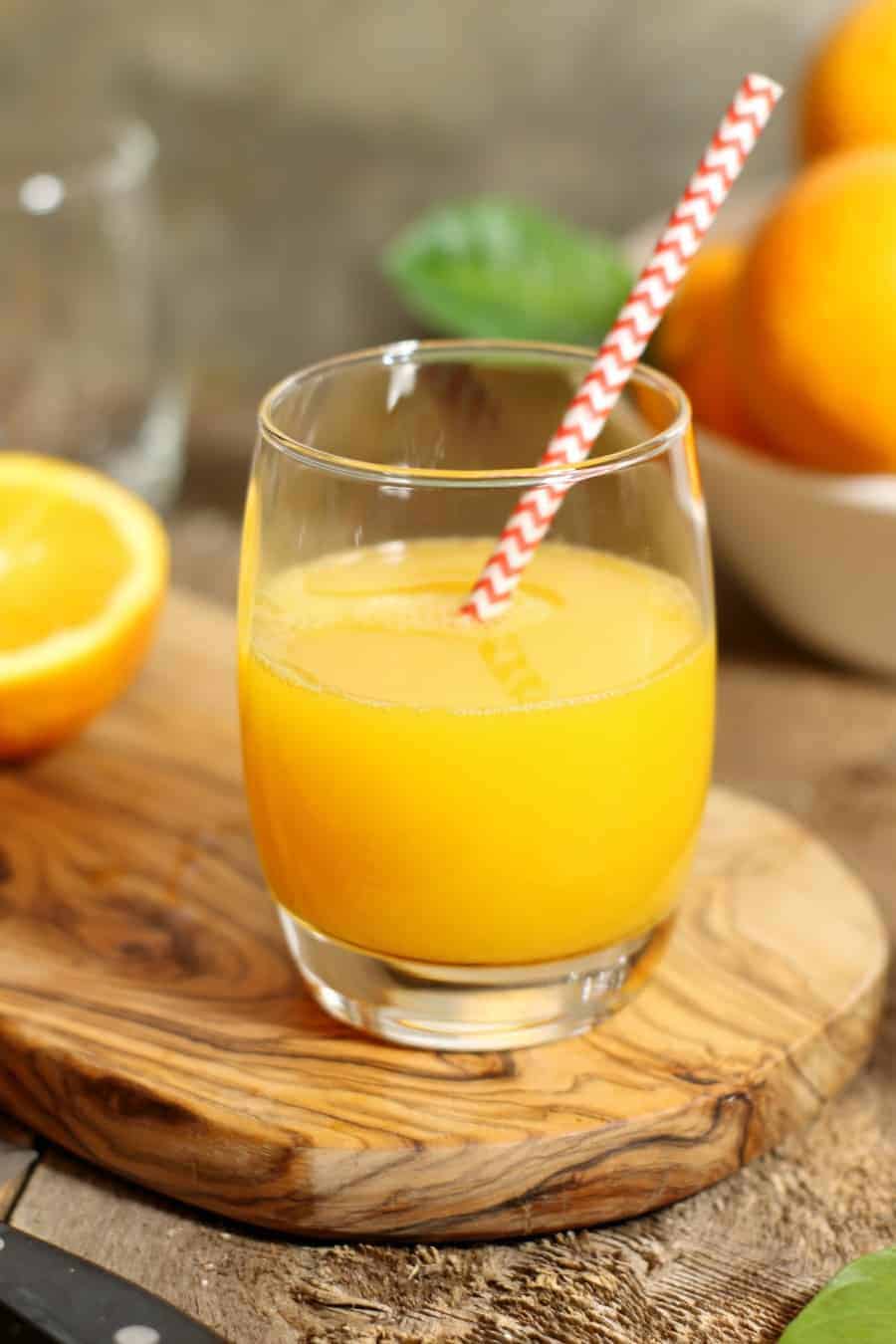 This post contains affiliate links for which I may be compensated if a purchase is made through the links provided. For more information please read my affiliate disclosure.
Health Benefits Of Fresh Squeezed Orange Juice
Everyone knows that oranges are a great source of Vitamin C. What you may not know is that fresh orange juice is also fairly high in Thiamine (B1), Folate (B9), and potassium, among others.
Drinking fresh orange juice can boost your immune system, aid in blood circulation, and even help detoxify your body! There's really no reason not to drink it!
Fresh Squeezed vs Store Bought OJ
Store-bought orange juice is not actually as healthy for you as you might think. It contains a lot of extra added sugar, and the vitamin C actually starts to degrade as soon as the fresh juice is squeezed. This means that all the 'healthy goodies' need to be added back into the juice to make it 'healthy' again. Doesn't sound right to me!
Commercially available orange juice has so many flavors, additives, and other preservatives added back to into it, that fresh squeezed orange juice is by far the healthier option.
Removing the pulp (which most commercial brands do), removes many of the vitamins and minerals which you would get from squeezing your own orange juice at home.
Different Varieties Of Oranges.
It really doesn't matter what type of oranges you use to make your fresh squeezed juice. Sweet Oranges include varieties such as Valencia, and Navel Oranges, but Blood Oranges, Clementines, Mineolas, and Tangerines can all be used to make homemade orange juice as well!
Of course the variety of orange will effect the flavor and natural sweetness of the finished product, but this basically comes down to personal preference!
My friend Sean has a great guide to citrus and oranges in particular on his blog Diversiovre. Check it out to learn more about different varieties and how you can use them in your cooking!
Squeeze Your Own Orange Juice!
The best part about squeezing your own orange juice is that it's easy!!
Simply wash, cut, and squeeze the juice to enjoy this healthy beverage.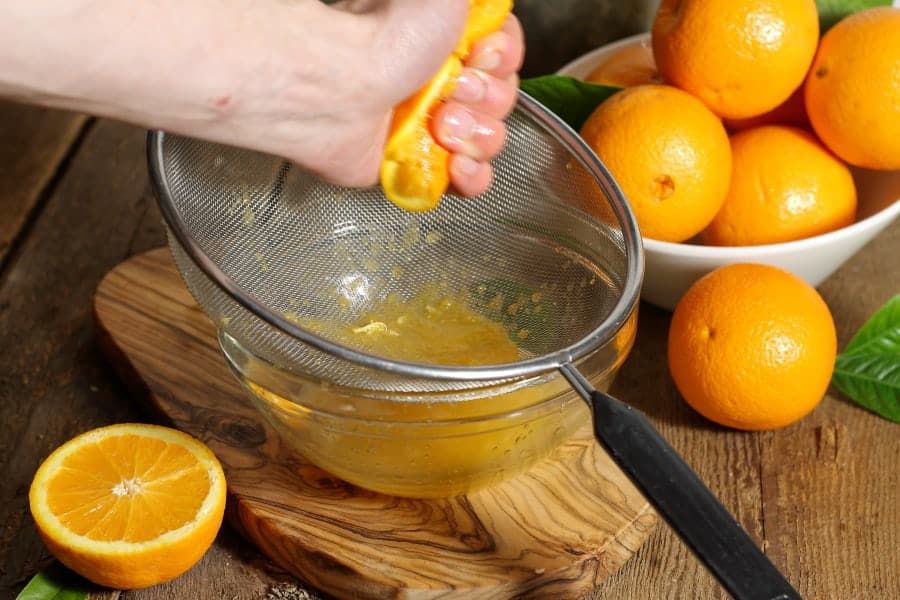 Of course there are many different tools you can use to make this process easier. If you're only making a glass or two of fresh squeezed orange juice, doing it manually isn't a problem.
If you're serving a large group though or making mimosas for a BBQ, or brunch, it may be worth using some specialized gear.
While an electric Sunkist commercial juicer (affiliate link) is a wonder to behold, (seriously this thing is a beast!) you can easily use any juice press or handheld juicer to make the job easier.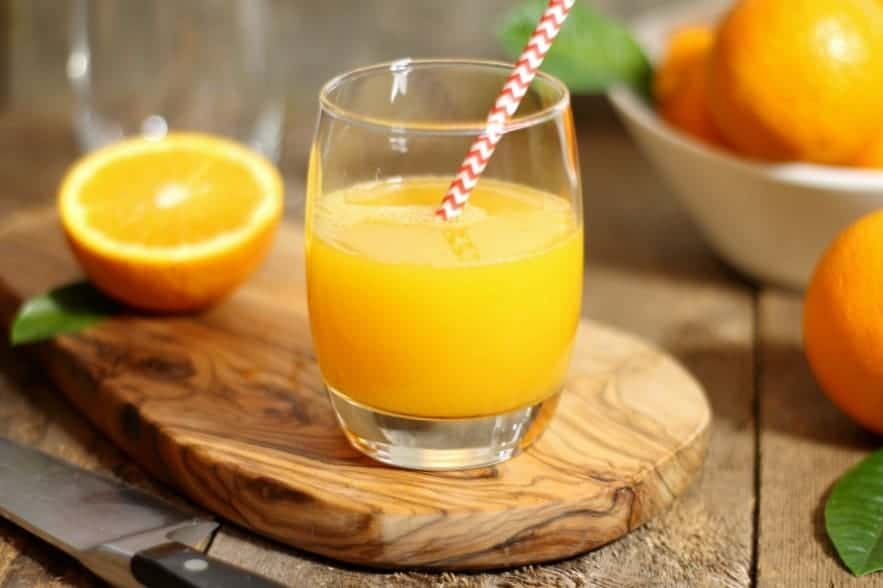 How Long Can You Keep Fresh Squeezed Orange Juice In The Fridge??
Freshly squeezed orange juice can be kept in the fridge in a non-reactive, air tight container for 2 to 3 days.
The acid in the juice will start to eat away at plastic, so using glass bottles or mason jars are the best option. Stainless steel containers or bottles will work as well, but again, the acid may react with some metals creating an off-tasting juice.
Made the recipe? Comment & Rate it below, then take a picture and tag me on Facebook & Instagram: @earthfoodandfire . For more from scratch recipes follow me on Instagram & Pinterest
Recipe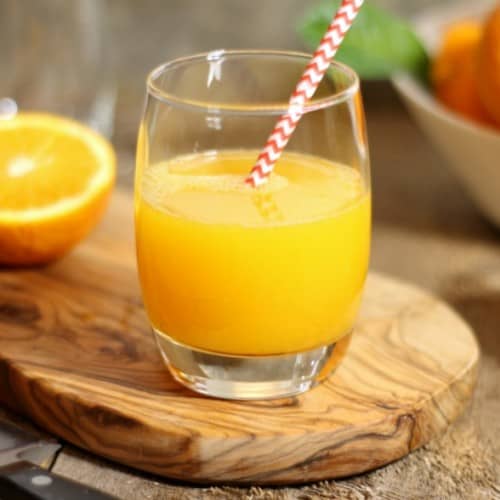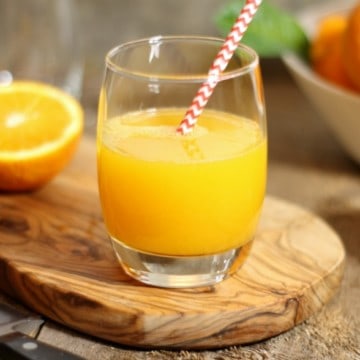 Fresh Squeezed Orange Juice
Nothing beats a glass of fresh squeezed orange juice. Make your own to serve at brunch, Mothers Day, in a Mimosa, or just because!
Instructions
Wash the oranges to remove any potential pesticide residue.

Cut the oranges in half with a sharp knife. Using a hand held citrus reamer, (or an electric juicer), twist the flesh of the oranges on the reamer to extract the juice and pulp.

Pour the freshly squeezed orange juice into a glass and enjoy!
Notes
Pro Tips:
If the oranges are very firm, roll them on the countertop with your palm while applying downward pressure. This helps break up the individual segments and juice-filled vesicles. releasing more juice.

If you prefer pulp-free orange juice, use a strainer to remove the pulp before serving the orange juice.
Nutrition
Nutrition info is auto-generated. This information is an estimate; if you are on a special diet, please use your own calculations.