Making homemade pie dough from scratch is probably one of the easiest baking skills you can learn, and it will improve the quality of your pies, tarts, quiches, etc. This pie dough recipe literally only takes 5-10 minutes to make, and it only goes faster the more you do it and become comfortable with the steps.
It would take longer to go to the store, simply to buy a frozen pie shell, then it does to make it from scratch at home. Yes you will have to chill the dough before using it, but the solution here is to make the dough before you go to bed the night before you plan on baking. Voilia! The pie dough is ready to use by morning.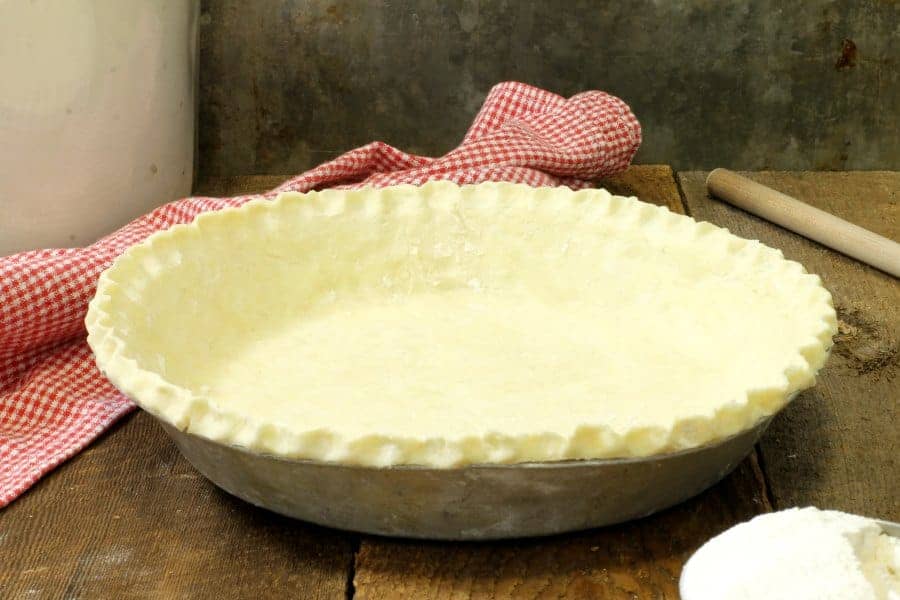 This post contains affiliate links for which I may be compensated if a purchase is made through the links provided. For more information please read my affiliate disclosure.
Jump to:
Why you should make your own pie dough.
Homemade pie dough is flakier, richer, and not to mention healthier then the store bought variety since it contains no preservatives. All you will need is flour, sugar, salt, butter (or shortening) and water. Butter will give your homemade pie crust more flavor, and create a nice flaky product, though shortening will create a flakier crust.
Please, please, please never use margarine when your baking! You simply will not get the same end result.
This pie dough recipe makes enough dough to fill one 9" pie pan. If you want to make a lattice or need a cover for your pie, (such as in this classic apple pie recipe) double the pie crust recipe and you will have more then enough to work with. Any leftovers can be saved and refrigerated for up to a week, (or frozen for up to 3 months), just make sure to thaw it under refrigeration completely before using.
What Makes A Pie Crust Flaky?
There are two key steps to making a flaky pie crust.
The first is using cold butter, and leaving the butter in pea sized chunk when crumbling it in.
The second is not over kneading the pie dough. The longer you knead the pie dough, the more you will develop the gluten in the flour making it stretchier, and less flaky.
Gluten is what gives dough its stretchy ability. Think of pizza dough, which is very stretchy and is kneaded for about 20 minutes. The long kneading time results in a soft (and with the addition of yeast of course) fluffy dough.
With pie dough though, you only want knead so long until you get a smooth ball. This prevents the gluten strands from properly developing, and ensures a nice flaky and crisp crust.
Refrigerating the pie dough after forming for at least 30 minutes to an hour, allows the butter to harden again. This helps prevent the butter from melting out of your dough when it goes in the oven, and simultaneously prevents the dough from shrinking.
What Ingredients You'll Needed To Make Pie Dough
Any pie dough recipe will only require a few basic ingredients that most folks will already have in their pantry. You'll need:
1 ¼ cup All purpose flour
½ Tbsp sugar
½ tsp salt
½ cup(¼ lb) cold butter or shortening cut into small cubes.
7 Tbsp ice cold water
Step-By-Step Guide To Making Pie Dough
It is important to note, that the butter really should be cold and not melted or room temperature. The bigger your butter flakes stay in the dough before you add water, the flakier the crust will be. If you mix the butter in until the whole mix is one powdery mixture you will get a tougher and denser crust.
Measure out your flour, sugar, and salt and mix them together in a bowl.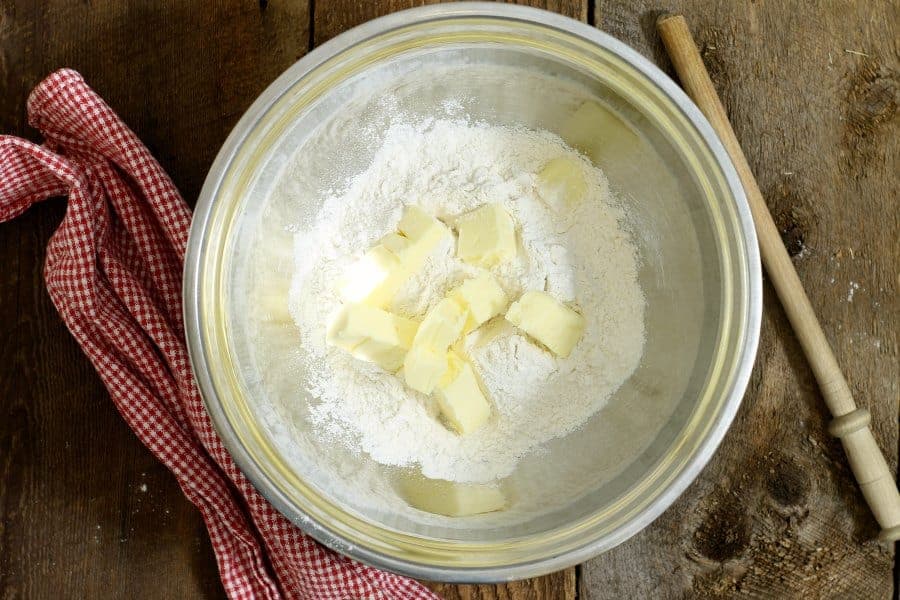 Add your cold diced butter or shortening to this mix, and using your hands, break the butter up, into little flakes. Make sure to keep coating the butter chunks with the flour so that they break up and don't stick together. You are aiming for flakes of butter the size of peas(roughly).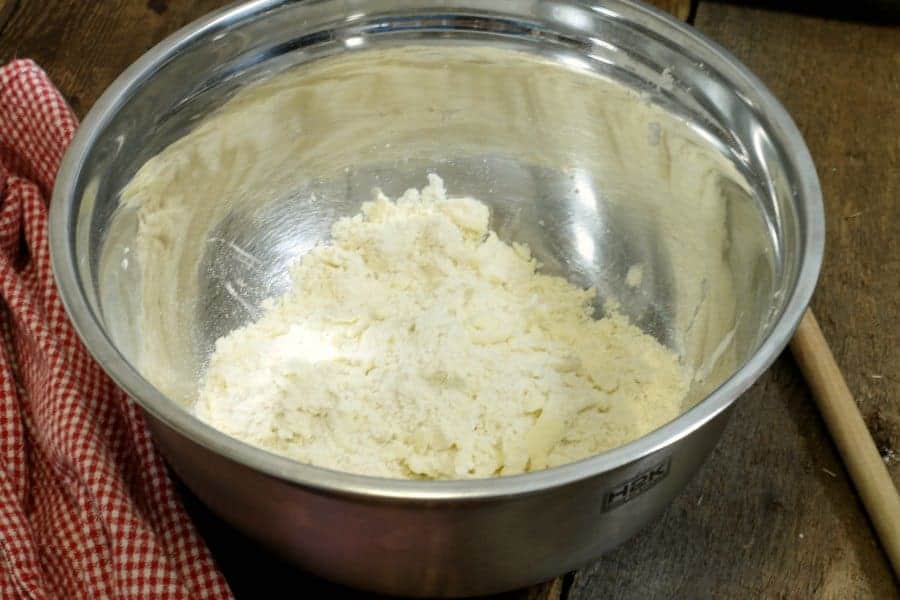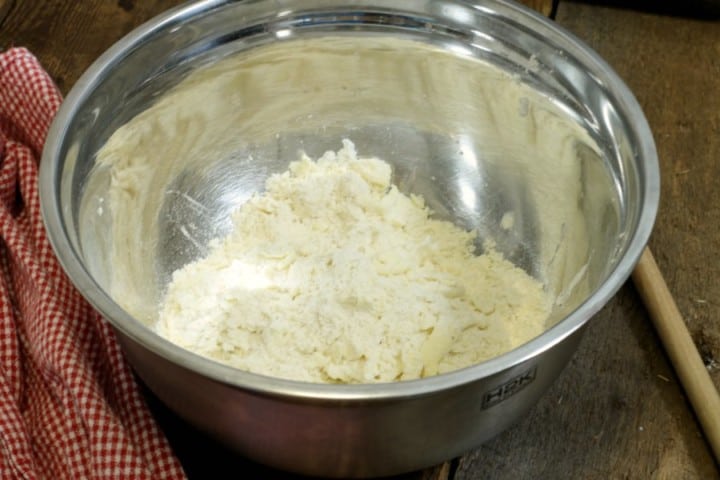 Mix in the cold water, and mix the pie dough with a spoon or your hands until it just starts to clump into one mass. Then using your hands knead the dough once or twice to get the pie dough to form a smooth ball.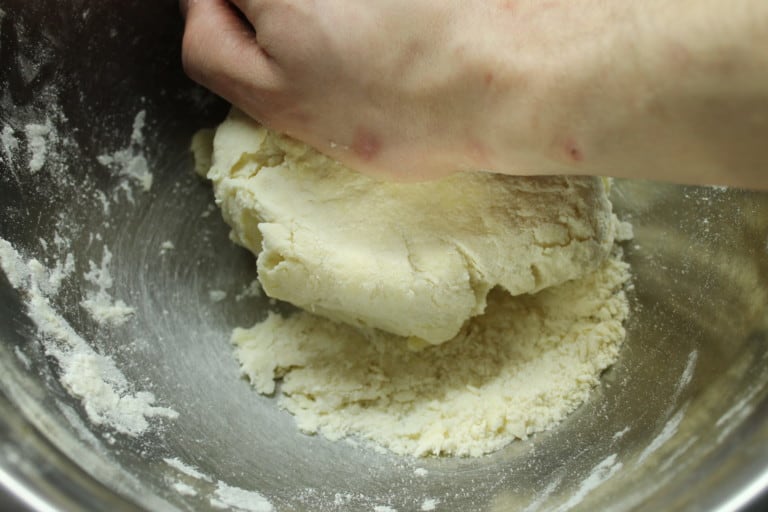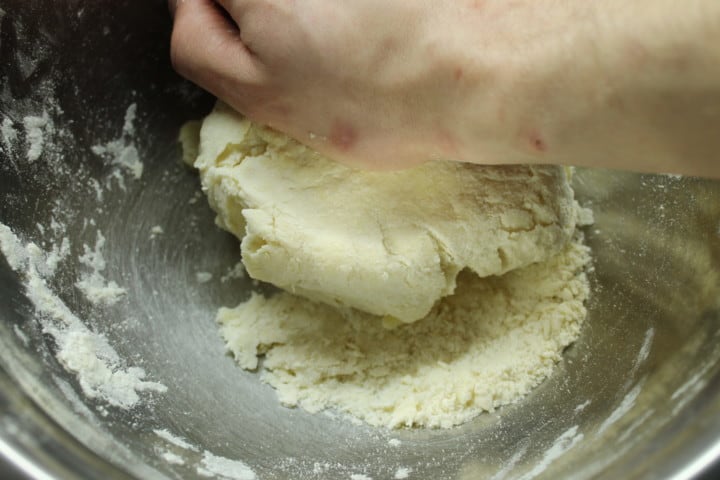 Flatten the pie dough into a disk shape, wrap it in plastic wrap or a beeswax cloth wrap, and refrigerate the dough. Refrigerating, helps re-chill the butter, and firms the dough back up.
How To Roll Out Pie Dough & Move It To A Pie Pan
Once the dough has chilled for a minimum of 30 minutes, flour a clean surface or counter top. Using a rolling pin, roll out the pie dough into a large circle, roughly ½ cm thick.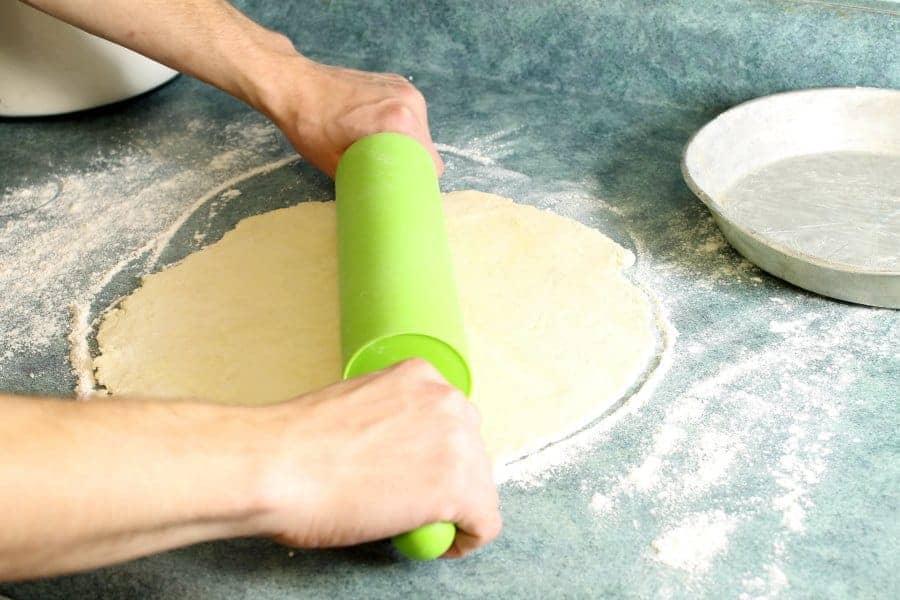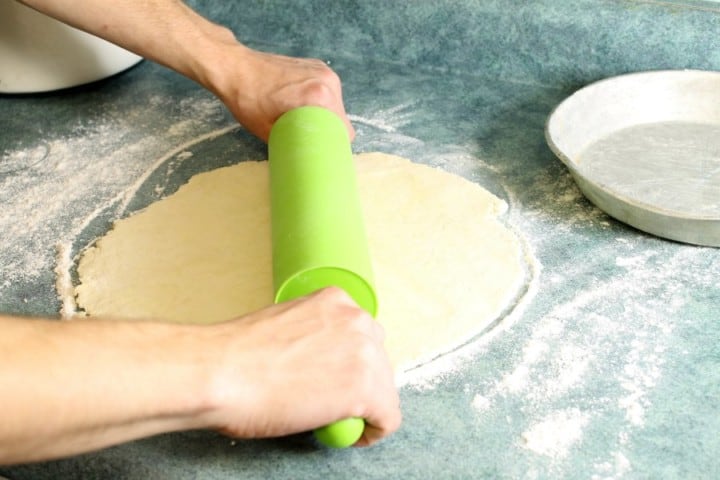 Transfer the rolled out pie dough to a greased pie pan. This can be done by rolling the pie dough up on a rolling pin,or by folding it into quarters and then quickly moving it over.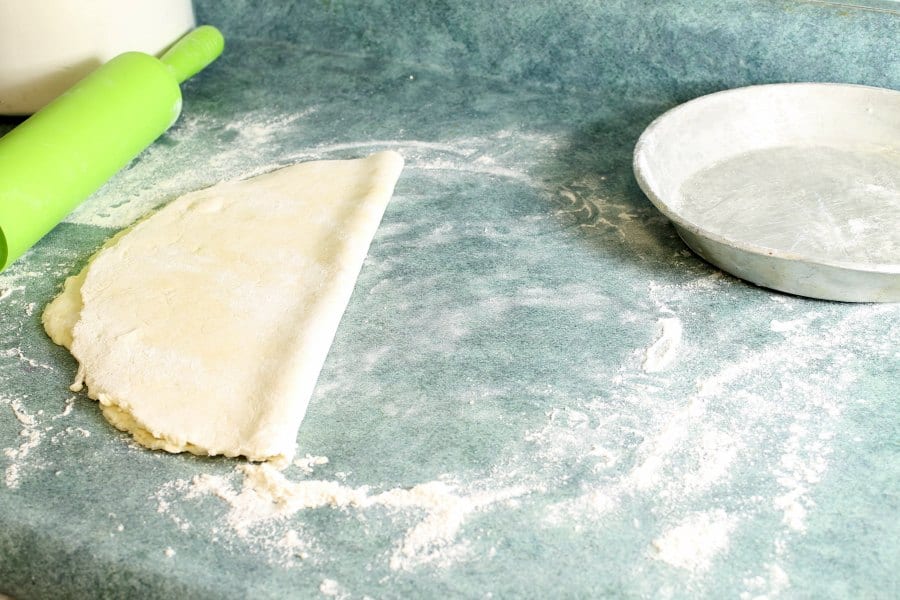 Once the pie dough has been moved to the pie pan, gently press the dough into all the corners of the pan to make sure there are no air pockets anywhere. Crimp the edges with a fork, or your fingers.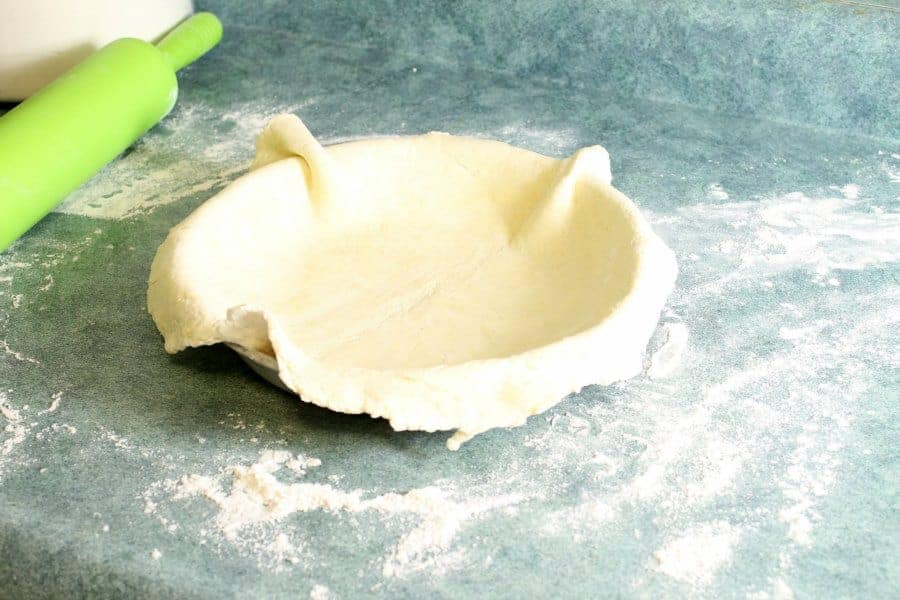 Once the edges have been crimped, you can trim off any excess dough with a sharp paring knife. I like to refrigerate the pie crust at this point, to re-chill the butter which has been warmed up through rolling out etc. If you are refrigerating the pie crust over night, make sure to cover it, or wrap it to prevent the crust from drying out.
If you need to blind bake the pie crust for your pie recipe, do so now.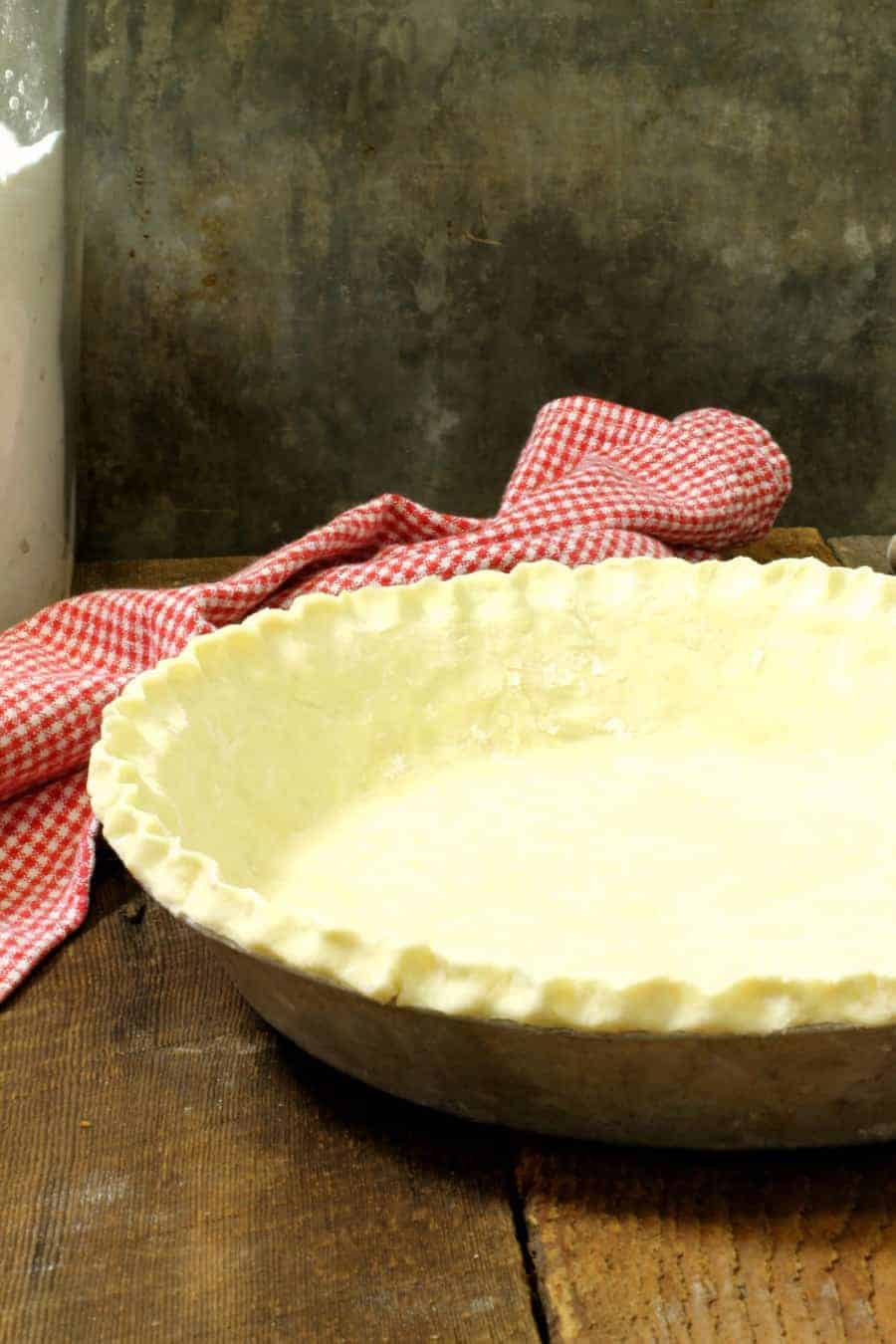 Use This Pie Dough To Make:
Perfect for use in homemade pies, tarts and other desserts that require a crust, you'll be glad you took the five minutes to make this recipe.
Tried the recipe? Take a picture and tag me on Facebook & Instagram: @earthfoodandfire . For more from scratch recipes follow me on Instagram & Pinterest
Recipe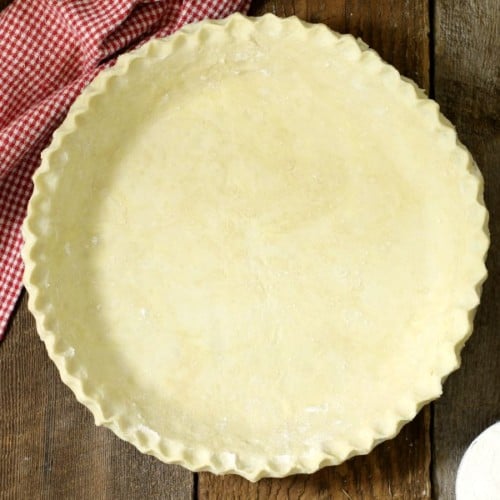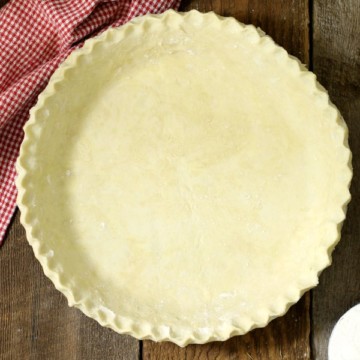 Old Fashioned Pie Dough Recipe
A basic baking skill everyone should have, making homemade pie dough is easy! Simple step-by-step instructions make this a simple task for anyone.
Ingredients
1 ¼

cups

All Purpose Flour

½

tablespoon

Sugar

¼

teaspoon

Salt

¼

lb

Cold Butter

cut into cubes

7

tablespoon

Ice cold water
Instructions
Mix the flour with the sugar and the salt.

Dice your cold butter, add it to the flour, and using your hand break up the butter until you have small pea sized pieces or flakes.

Add your 7 tablespoon ice cold water and stir it in with a wooden spoon or spurdle. Once the dough start to clump together, use your hands to knead it into a ball. Stop kneading as soon as it forms a smooth dough.

Flatten the ball and wrap with plastic wrap. Refrigerate for at least 1 hour or overnight.

Roll out the pie dough and use as directed in your recipe.
Nutrition
Calories:
624
kcal
Carbohydrates:
132
g
Protein:
17
g
Fat:
2
g
Saturated Fat:
0.3
g
Polyunsaturated Fat:
1
g
Monounsaturated Fat:
0.1
g
Sodium:
593
mg
Potassium:
177
mg
Fiber:
4
g
Sugar:
7
g
Calcium:
25
mg
Iron:
8
mg
Nutrition info is auto-generated. This information is an estimate; if you are on a special diet, please use your own calculations.