Sweet and crunchy, what's not to like!? This super easy recipe for maple candied walnuts is ideal as an addition to salads, a dessert garnish, an occasional sweet treat, or even as a holiday food gift.
While there are several different ways to candy nuts, we used the oven-baked method here for its ease of use and to prevent any chance of scorching the nuts.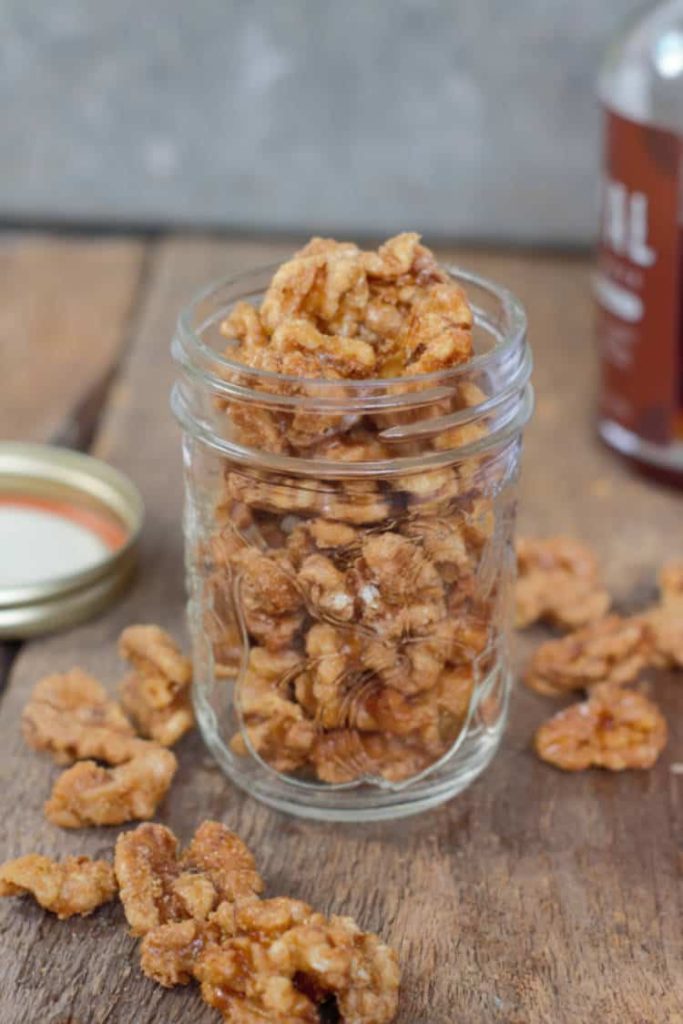 What Kind Of Maple Syrup Should You Use?
Different classes of maple syrup are characterized by the percentage of light that can pass through it. Lighter syrups are produced early on in the maple sugaring season and are sweet and delicate in flavour. The late-season 'Amber' or 'Dark' syrups are more robust and rich in flavour, perfect for cooking and baking with.
If you are looking for a darker, more caramelly flavour, search out an 'Amber', or 'Dark', style syrup. These are richer and more robust in flavour, then the classic 'Golden' or 'Light' varieties.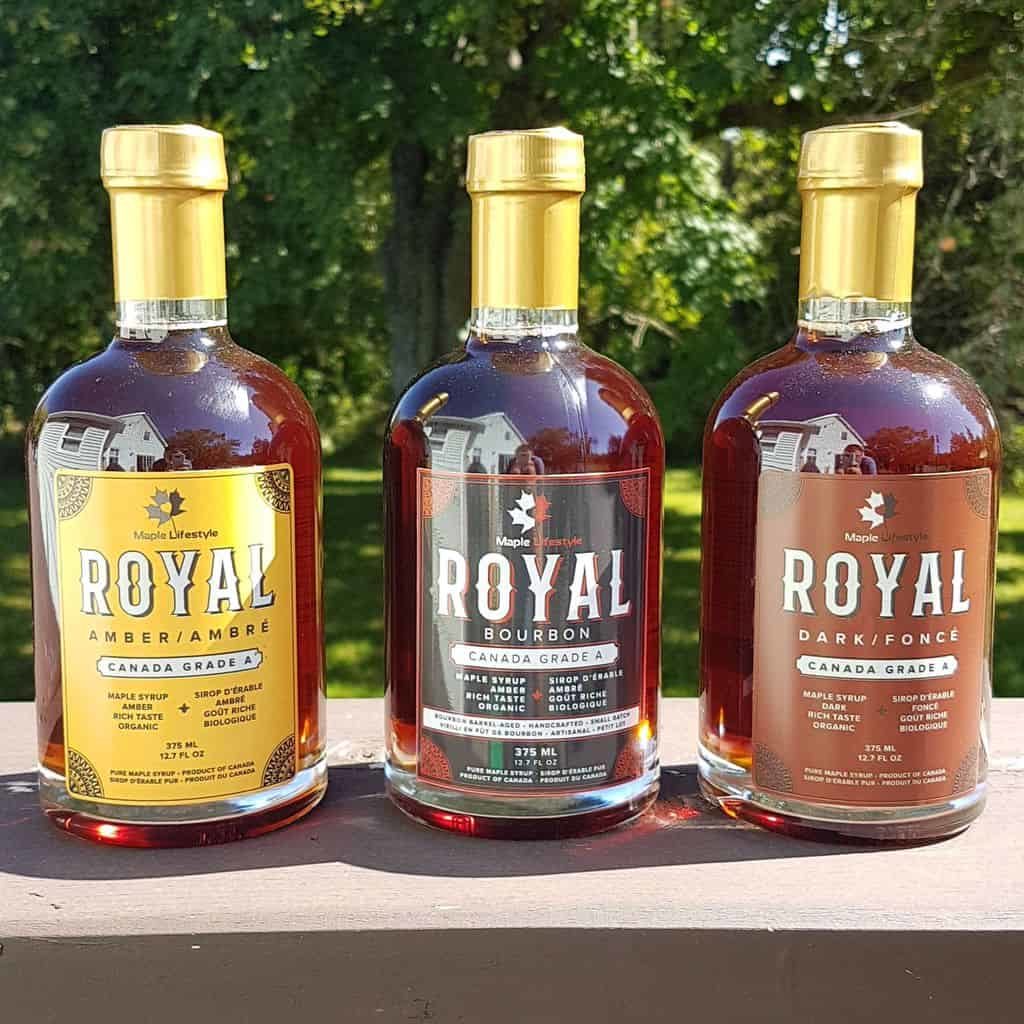 This post contains affiliate links for which we may be compensated if a purchase is made through the links provided. For more information please read our affiliate disclosure.
While you can technically use any kind of maple syrup to make this recipe, we highly suggest going for the real thing and using true Canadian Maple Syrup.
We were sent a couple of free samples from Maple Lifestyle and decided to use their Bourbon Aged Maple Syrup in this recipe. It was a great choice of syrup. The walnuts ended up being glazed in a crackly coating of caramelly and maple flavoured deliciousness! Simply irresistible to say the least!
So How Do You Make These Delicious Candied Nuts?
It's really quite simple, and you only need a few basic ingredients.
Maple Syrup, and Walnuts.
Yup, that's it. Though....of course, you'll still need a small bowl to mix the nuts and syrup is, as well as parchment paper and a sheet pan or other baking dish in which to bake the nuts.
Once you have all that ready, you really just need to mix the nuts and maple syrup together in a small bowl. Mix them quite well in order to ensure the maple syrup gets in all the little cracks and crevices.
Pre-heat the oven to 325F and line your baking sheet or baking dish with a sheet of parchment paper. Spread the maple soaked nuts on the baking sheet, and pop it in the oven for 10 minutes.
Once the ten minutes are up, take the nuts out, stir them with a small spoon, (careful here, hot sugar burns are no fun!), and then put them back in the oven for 3-5 minutes.
You'll see the maple syrup start to really bubble up as the water evaporates from the syrup. Once it starts to almost begin 'foaming', remove the whole pan from the oven to cool. Remember, the sugar will still be very hot so no snacking yet!
How Do Best Store Candied Nuts?
Once fully cooled, the maple candied walnuts are best stored in an air tight glass container. Mason jars work wonders for this, (and also make cool little food gifts!)
If kept dry, the nuts should stay crispy and last for at least a week at room temperature. You can extend that shelf life by refrigerating the nuts, (again, in an airtight container), or by freezing them.
What Can You Use The Candied Walnuts In?
As previously mentioned, maple candied walnuts make excellent holiday food gifts. Besides giving these tasty little treats away (and of course snacking on them), you can also enjoy them on a variety of leafy salads. You could use them as a dessert garnish, or as a topping for yogurt and even ice cream!
More Candied Nut Recipes
Made the recipe? Comment & Rate it below, then take a picture and tag me on Facebook & Instagram: @earthfoodandfire . For more from scratch recipes follow me on Instagram & Pinterest
Recipe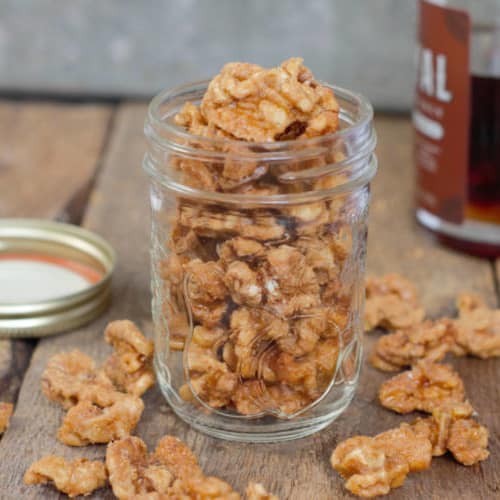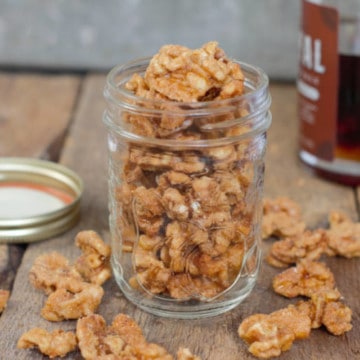 Maple Candied Walnuts
Sweet, crunchy, and so easy to make, the maple candied walnuts are perfect on salads, added to desserts, or enjoyed as a snack.
Ingredients
2

cups

walnuts

½

cup

Canadian Maple Syrup
Instructions
Pre-heat your oven to 325F and line a baking sheet with parchment paper.

Mix the walnuts and maple syrup in a small bowl.

Spread the maple coated nuts on the parchment paper and bake in the pre-heated oven for 10 minutes.

Once the 10 minutes are up, stir the nuts with a wooden spoon. Return to the oven and bake for another 3-5 minutes.

Once the maple syrup starts to lightly 'foam' remove the entire sheet from the oven and cool on a wire rack until the nuts can be easily handled and broken apart.

Store the maple candied walnuts in a glass mason jar or other air tight container for best results.
Notes
Note: Sugar gets VERY HOT when heated to high temperatures and can cause severe burns.
Nutrition
Nutrition info is auto-generated. This information is an estimate; if you are on a special diet, please use your own calculations.