Try something new with these delicious moose meat burgers! Rich, full of flavour, and topped with applewood smoked cheddar, these game meat burgers are sure to be a hit at your next BBQ! Perfect for those adventurous enough to try a new type of meat!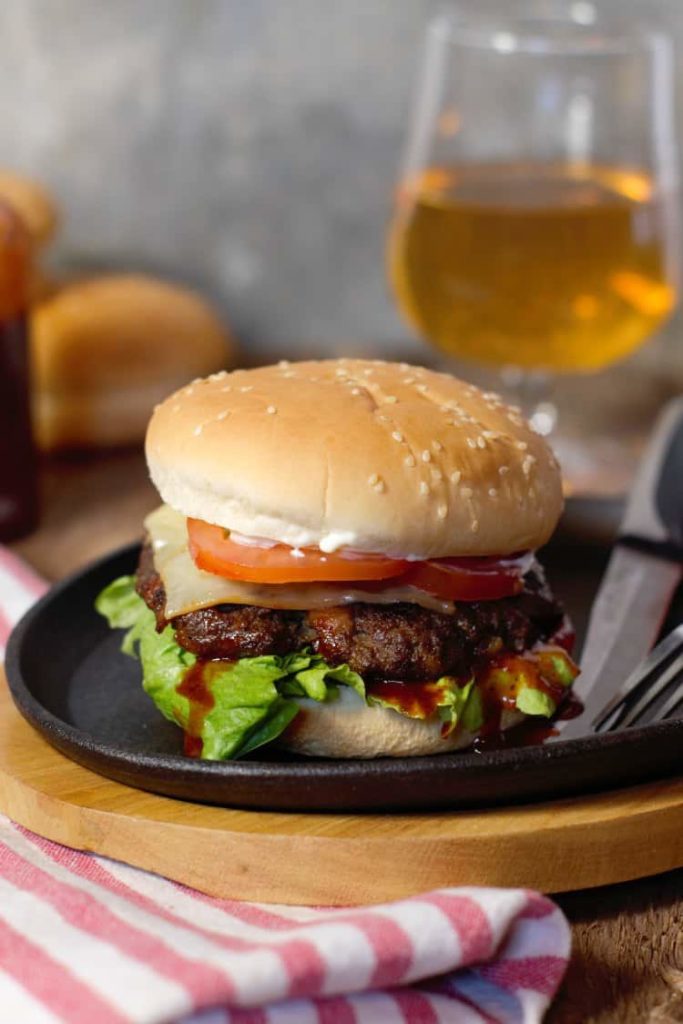 Since moose meat is very lean due to its low-fat content, moose meat is ideal for grinding up and use in burgers and meatballs! If you don't hunt yourself, get in touch with a local hunter or order some game meat online to try this delicious recipe!
This post contains affiliate links for which we may be compensated if a purchase is made through the links provided. For more information please read our affiliate disclosure.
What Does Moose Meat Taste Like?
Moose meat is rather lean due to most of the fat being located right under the hide off the animal to help keep it warm. This makes moose meat fairly dense and tough in comparison to well-marbled beef most folks are used to. Perfect for grinding up into burger meat!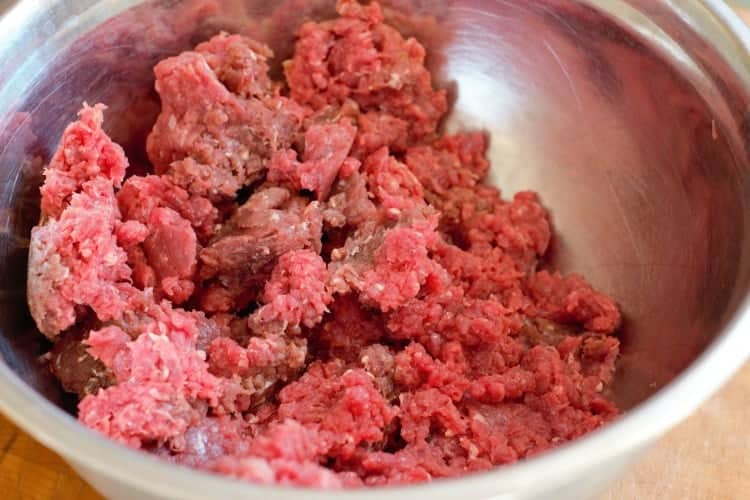 Moose can be quite 'gamey' in flavour, though the intensity of this is also dependant on the age and gender of the animal the meat comes from. Younger cows (female moose) will have more tender meat than the older bulls (male moose), though be sure to always follow local hunting regulations when selecting an animal to hunt.
Since moose meat is quite strong in flavour, burgers are the perfect way to mask some of that 'gamey-ness' with other ingredients such as the bacon and caramelized onions in this recipe.
What If You Cant Find Moose Meat?
If you can't find any moose meat to purchase online, or don't have any local hunters you can approach about acquiring some moose meat, you can always use a different type of game meat, or if all else fails simply use beef.
Venison, bison, and wild boar meat are all excellent choices when making game meat burgers, though do note that their flavours will vary!
What You'll Need:
Since moose meat is so lean, this burger recipe calls for some finely diced, partially cooked bacon to help add some fat into the burger meat. This will help make the moose burgers a little more tender, while also adding some flavour to the mix.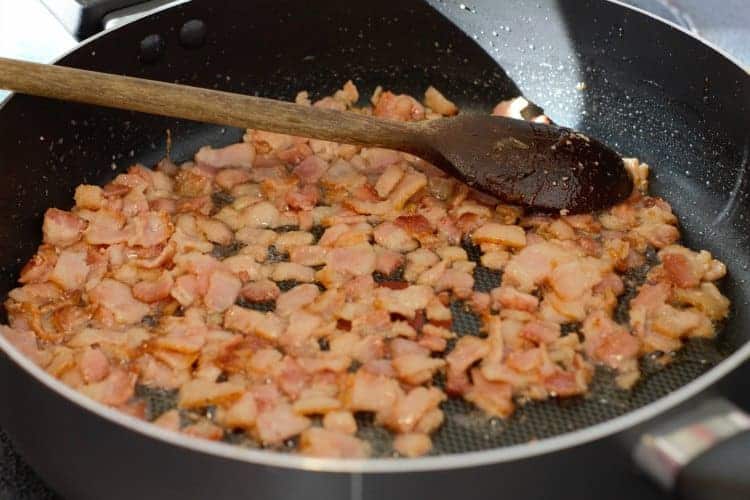 You'll also need some caramelized onions. These are added to the moose meat mixture to help add some depth of flavour and tone down the 'gamey-ness'.
Ingredients
2 lbs ground moose meat
½ lb smoked bacon
2 cloves fresh garlic - minced
2 Spanish onions - caramelized
1 egg yolk
1 teaspoon sea salt
1 teaspoon ground pepper
Burger Toppings
Of course, you'll want to top these tasty burgers with more ingredients. What you end up using is ultimately up to you. We decided to go with a few classic ingredients (and tried to use Canadian or local PEI products!):
Sesame seed buns
iceberg lettuce
freshly sliced tomato
Can You Freeze These Moose Burgers?
Looking for a way to fill up the freezer? Make a double batch of these burger patties and then freeze them!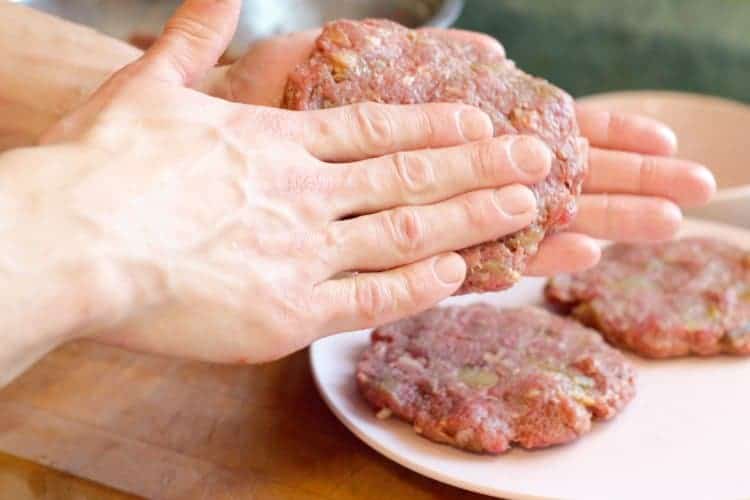 The best way to do this is to form the burger patties and then freeze them in between pieces of parchment paper, or lay them out flat on a sheet tray until frozen and then store them in a freezer bag.
Once frozen, the moose burgers will keep up to 3 months. To cook simply thaw the burgers in the fridge and then cook immediately.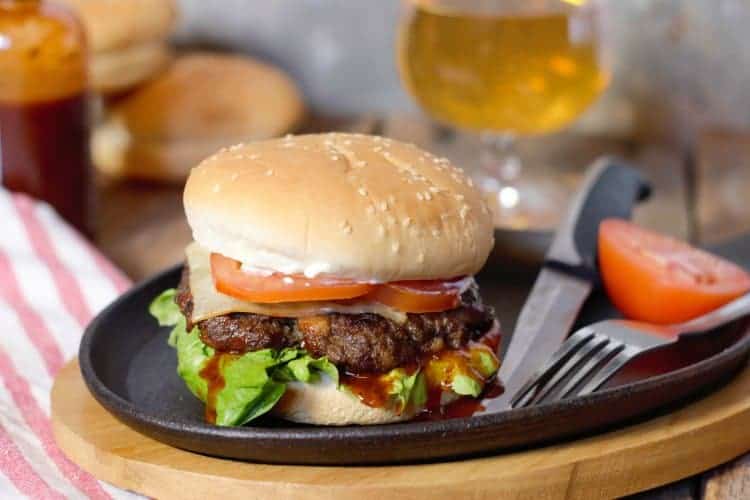 Made the recipe? Comment & Rate it below, then take a picture and tag me on Facebook & Instagram: @earthfoodandfire . For more from scratch recipes follow me on Instagram & Pinterest
Recipe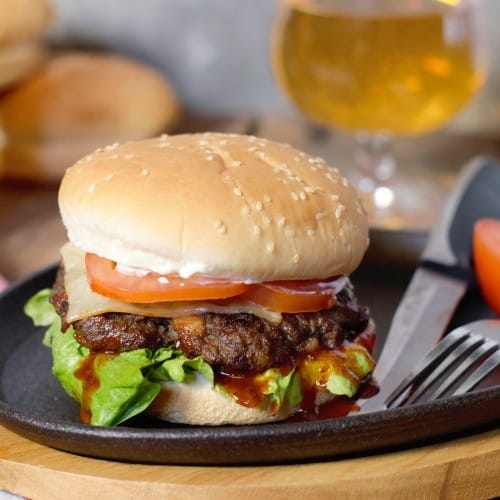 Moose Meat Burgers (Game Meat Burgers)
Try something new with these delicious moose meat burgers! Rich, full of flavour, and topped with applewood smoked cheddar, these game meat burgers are sure to be a hit at your next BBQ!
Ingredients
Moose Burger Mix
2

lbs

ground moose meat

½

lb

smoked bacon

diced and partially cooked

2

cloves

fresh garlic

minced

2

whole

Spanish onions

caramelized

1

each

egg yolk

1

teaspoon

sea salt

1

teaspoon

ground pepper
Burger Toppings
10

each

Sesame seed buns

10

each

iceberg lettuce leaves

2

whole

tomatoes

thinly sliced

1

bottle

Smoke Show lightly smoked jalapeno BBQ sauce

1

block

Cows appletree smoked cheddar

sliced
Instructions
Moose Burger Patties
Peel and slice the Spanish onion. Caramelize the sliced onions in a pan with a little oil until dark golden brown. Once dark golden brown, remove from the heat and set aside.

As the onions caramelize, dice the smoked bacon, and half cook it in a second pan. The bacon should be cooked but not crispy. Once cooked set aside along with the bacon fat.

Mix the ground moose meat with the caramelized onion, partially cooked bacon, egg yolk, garlic, salt, and pepper. Form the moose meat mixture into 10 burger patties by forming balls and then flattening them.

Cook the moose meat burger patties on a bbq grill or pan fry them on the stove. Cook on each side for about 5 minutes or until they reach an internal temperature of 165F.
Assemble The Burgers
Before assembling the moose burgers, make sure you have sliced the tomatoes, cheese, lettuce etc. This is best done while the burger patties are cooking.

Assemble the moose burgers and serve immediately.
Nutrition
Nutrition info is auto-generated. This information is an estimate; if you are on a special diet, please use your own calculations.