Learn how to caramelize onions at home to turn them into a rich, sweet ingredient you can use in a variety of recipes, or simply enjoy on their own. By very slowly cooking raw onion in a little bit of oil, you caramelize the natural sugars present in the onion, very similar to what happens when roasting garlic.
The best-caramelized onions are very sweet, rich, and dark brown. This is achieved by cooking the onions very slowly over a long period of time. Use these caramelized onions in soup, (French onion soup anyone?!), as a topping for burgers or steak, in quiches and onion tarts, and more!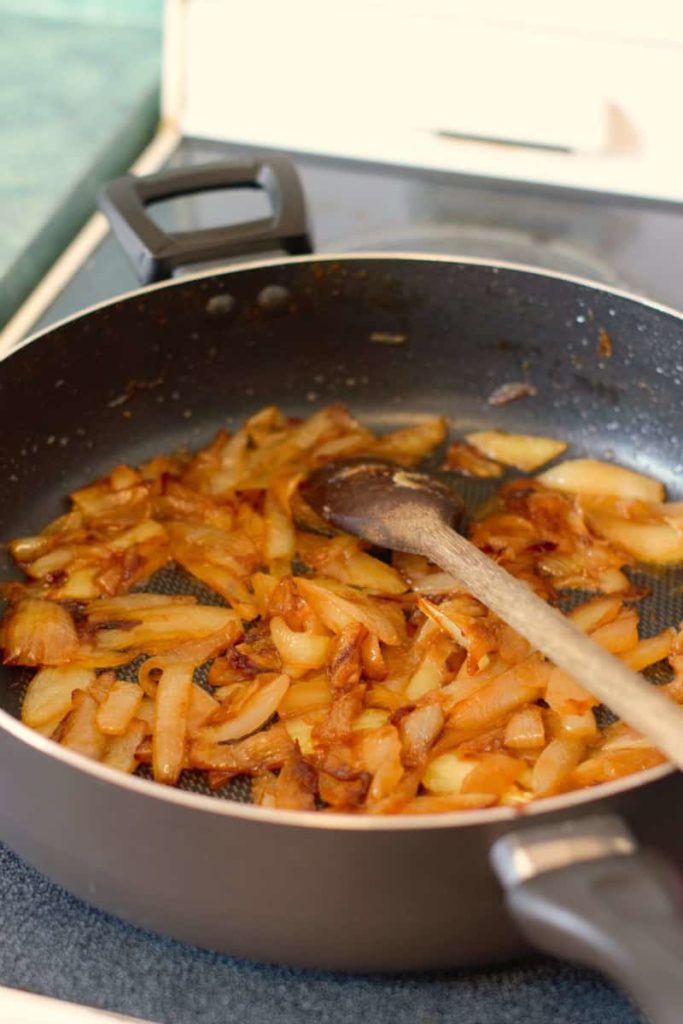 This post contains affiliate links for which we may be compensated if a purchase is made through the links provided. For more information please read our affiliate disclosure.
What Are The Best Onions To Caramelize?
Yellow onions, (such as Spanish onions) are perfect for caramelizing because they are naturally sweeter than white onions. Because of their higher sugar content, they caramelize easier, then white onions.
Red onions can also be caramelized and result in a very dark, almost deep red wine colour when finished.
Even shallots can be caramelized, though they burn quite easily so it's important to keep an eye on them as they cook!
How To Caramelize Onions Without Burning Them
The most common problem I see when people try to caramelize onions is that they try and rush the process. This results in charred onion pieces and bitter flavours throughout the finished product. Charring can also result due to not stirring often enough or cooking the onions over too high of a heat.
When you first start to cook the onions they will start to release moisture, and only when most of this moisture is gone will the sugars start to caramelize. Once the moisture has been cooked out though, the onions can burn very quickly.
Will covering the onions as they cook prevent burning?
Some cooks like to cover the pan as they caramelize their onions. There is nothing wrong with this and can help prevent burning. This is because the moisture will evaporate a lot slower. This also means it will take longer to caramelize the onions though.
That said, even when covered, the onions can still burn if not stirred occasionally or cooked over too high of a heat.
Don't Cut The Onions To Small!
Another easy way to burn caramelized onions is by cutting the onions to small. While small cut onions can be caramelized, they cook very quickly so you need to pay close attention and stir often!
Caramelized onions will also shrink quite a bit during the cooking process. Three Spanish onions sliced and caramelized will give you about one cup of caramelized onion.
It's best to cut the onions into a thick julienne to make cooking caramelized onions at home easier.
What Recipes Can You Use Caramelized Onions In?
You can use caramelized onions in any recipe that calls for onion to give it a sweeter, richer flavour. Here are a few of my favourite recipes that use them:
Made the recipe? Comment & Rate it below, then take a picture and tag me on Facebook & Instagram: @earthfoodandfire . For more from scratch recipes follow me on Instagram & Pinterest
Recipe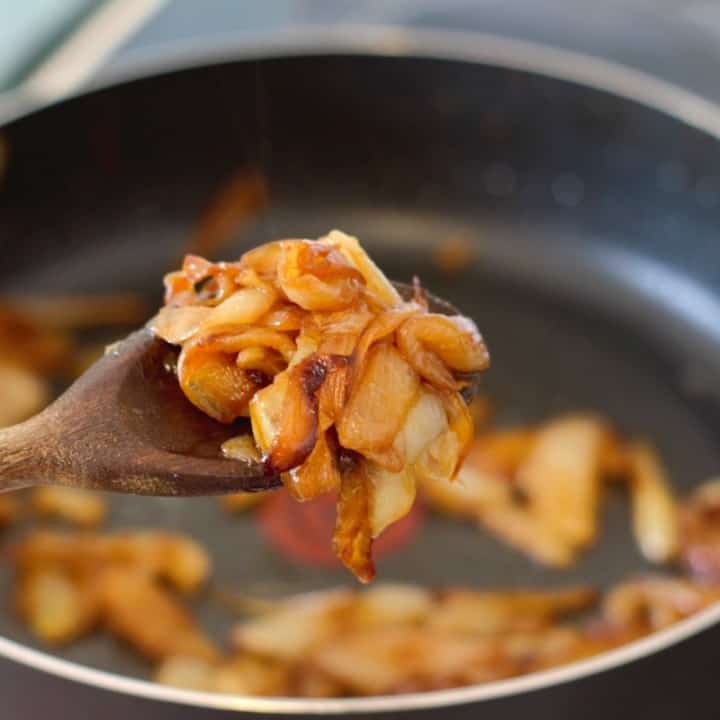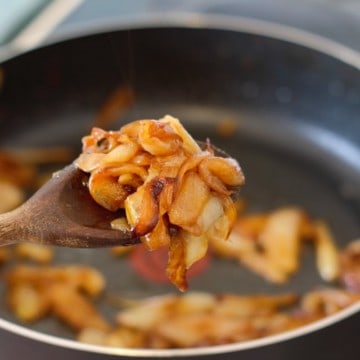 Caramelized Onions
Learn how to caramelize onions at home with this simple step by step guide. Soft. sweet. and incredibly rich, caramelized onions are perfect served with steak, sandwiches, in soups, and more!
Ingredients
3

large

Spanish Onions

1

teaspoon

olive oil
Instructions
Trim the ends of the Spanish onion. Cut the onions in half and remove the tough outer skin. Lay the onion flat its cut side, and slice the onion into 1cm thick slices.

Add the oil to a large pan and add the sliced onion. Heat the onions over medium high heat until they start to sizzle about 5 minutes. Stir the onions often to prevent them from scorching and turn the heat down to medium-low. Continue to cook the onions over medium-low heat until they are fully caramelized and golden brown about 30-40 minutes.

Once the onions are a deep golden brown, soft, and sweet, they are finished. remove from the heat and set aside for use in other recipes or enjoy on top of steaks, burgers etc.
Nutrition
Nutrition info is auto-generated. This information is an estimate; if you are on a special diet, please use your own calculations.