Simple. Easy. Perfect for meal prep. Oven baked chicken breasts are the perfect make ahead protein for wraps, sandwiches, salads, and quick weeknight dinners. All you need are a few basic spices, some oil, and of course the chicken breasts to cook a healthy, and super tasty piece of chicken.
What gets me every time I talk to people that don't cook on a regular basis, is how uncomfortable they are with cooking chicken. They aren't sure what temperature to cook it at (or for how long), how to season chicken breasts to make them taste good, and how to tell if it's actually done.
I get why people are afraid to cook it themselves though. No one wants to get food poisoning from an under cooked piece of meat, and I want to prove to you how easy cooking chicken really is with this simple recipe.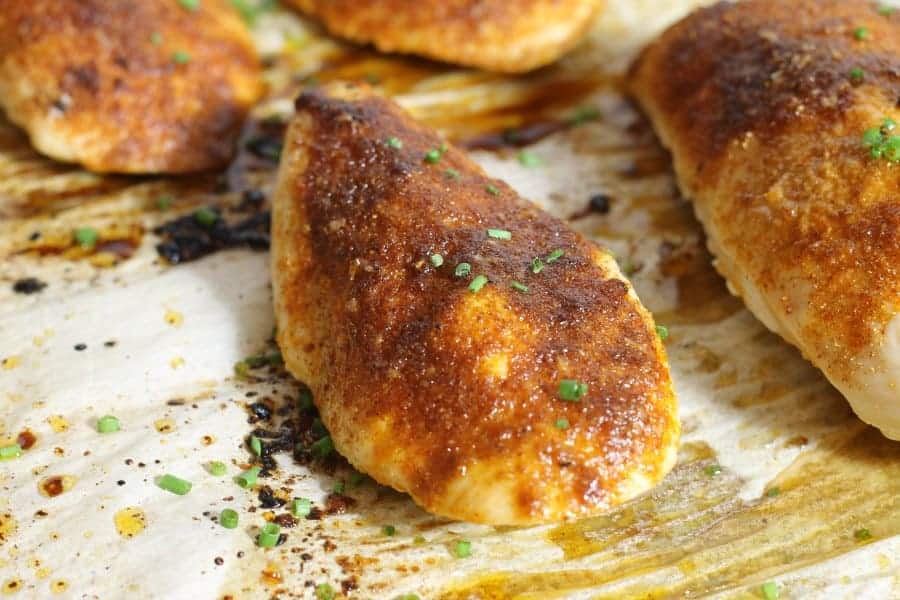 Some of the links in this post lead to affiliate sites through which Earth, Food, and Fire may earn a small commission (at no increased cost to you) should you make a purchase. For more info check the Affiliate Disclaimer.
A Few Tips Before We Start
Before we dive into the recipe, I just wanted to touch on a few basics about cooking chicken. Yes , you can get sick from eating improperly cooked chicken, but most often people get sick from improperly stored chicken. Whether it was left out to long before cooking, or left on the counter to long after cooking, as long as you follow basic food safety and store/cook/cool chicken properly you'll be just fine.
This oven baked chicken is perfect for meal prep. That said it will only keep for about 3 days after it has been cooked and cooled properly. Label and date the container to remember when you put the chicken in the fridge, to avoid eating expired chicken accidentally.
Choose bone-in chicken and save the bones once the chicken is cooked to make from scratch Instant Pot Chicken Stock or Old Fashioned Chicken Broth! – Chef Markus Mueller
How Long Do You Cook Chicken Breasts In The Oven?
When it comes to cooking chicken size does matter. Larger chicken breasts will take longer then smaller pieces or chicken fillets strips. Chicken thighs will take even longer. Most often you'll purchase 6 or 8 ounce breasts at the store.
A regular chicken breast ( 6oz- 8oz) will fully cook if baked it at 425F (218C) for 15-20 minutes.
If baking chicken breasts at 375F (190C), cook them for 20 – 30 minutes.
Chicken thighs will take between 30 – 45 minutes to bake at 375F depending on their size.
If you pre-sear chicken breasts to get one side nice and crispy, you can cut out 5 minutes from the above mentioned times. If you are unsure about how big your chicken breasts are or they just seem abnormally large, cut the chicken in half horizontally to make two thinner 'chicken breasts' which will easily cook in the recommended times.
How To Tell If Chicken Is Cooked
To be considered safe to eat chicken needs to be cooked to an internal temperature of 165F for 15 seconds to destroy any bacteria that may make you sick. While this sounds really science-y, it's not really hard to tell if chicken is cooked enough. You can purchase a food thermometer to get the exact temperature of your chicken, and is what I recommend if you are a first time cook, or very nervous about cooking chicken.

If you are a seasoned at-home cook though, a simple poke with a knife may do the trick. If the juice runs out clear and not cloudy or pink, the chicken is fully cooked.
Seasoning Oven Baked Chicken Breasts
This is my favorite part! Seasoning the chicken. It also seems to be the part people have the most trouble with.
A little to much spice, is better then not enough. – Chef Markus Mueller
I don't mean 'heat' spice here, but spices such as onion powder, garlic powder, paprika, herbs. Spices that will add flavor to the meat. Obviously don't take this to the extreme and drown your chicken in spice, but if you're using a pinch of each spice to season 4 chicken breasts, its safe to say you can dramatically increase your seasoning amounts. It's easy to under season any meat, but most of the time, using just a little bit more won' t hurt.
What spices should you use? That is entirely up to you of course. I love using a little sugar, garlic, onion, and paprika along with salt and pepper to season my 'run of the mill' meal prep chicken. You could easily use Cajun Spice though, or a Curry Spice. Keeping it simple and using only garlic and onion powder is also always better then just cooking a plain piece of chicken. Experiment and see what flavors you like, maybe try something exotic such as cinnamon or allspice!
To make these oven baked chicken breasts you'll need:
4 boneless skinless chicken breasts
2 tbsps oil
1 tbsp paprika
1 tbsp brown sugar
3/4 tsp garlic powder
3/4 tsp onion powder
1/2 tsp salt
1/4 tsp black pepper
You'll also need a sheet pan (cookie tray) and some parchment paper. O prefer using Paperchef parchment paper because it is a professional quality product, and can be heated to very high temperatures. Perfect for recipes such as this one.


Step-by-step Instructions
Start by lining a 9 x 12 sheet pan with parchment paper, and pre-heating your oven to 425F. Next remove any packaging from the chicken, and place them breasts evenly spaced on the sheet pan, and drizzle the oil over the meat. The oil will help the spices stick to the chicken as it bakes.
Mix together all the spices in a little dish, and then liberally sprinkle the seasoning mix on the chicken breasts. You can choose to toss the spice mix with the chicken and oil in a bowl, but this means you have one extra dish to wash!
Place the parchment lined sheet pan with the seasoned chicken breasts in the oven, and bake for fifteen minutes.
After the 15 minutes are up, check the temperature of the baked breasts with a digital food thermometer. If the temperature reads 165F and higher, the chicken is finished.
Remove the chicken from the oven and let it cool if using for meal prep, or serve it right away, perhaps with some basmati rice and a salad for a full meal!
Have you tried the recipe? Leave a comment and rating below, then take a picture and tag me on Facebook & Instagram: @earthfoodandfire. For more from scratch recipes follow me on Instagram & Pinterest