I just finished bringing in the last of my tomato harvest, and not a moment too soon, since we had a large wind and rain storm over the weekend. This gives me the perfect opportunity to make this delicious Oven Roasted Tomato Soup. Roasting the tomatoes helps bring out some of their natural sweetness and creates a more robust flavour.
Roasting all the soup ingredients also makes this a very easy soup to make, since you simply have to roast all the vegetables until dark golden brown, then place them in a pot with some chicken stock, herbs and wine, simmer and puree! It's a great soup to make ahead and freeze, either in vacuum sealed bags or other containers and then enjoy on a cold fall or winter's evening when you don't necessarily feel like cooking a big meal.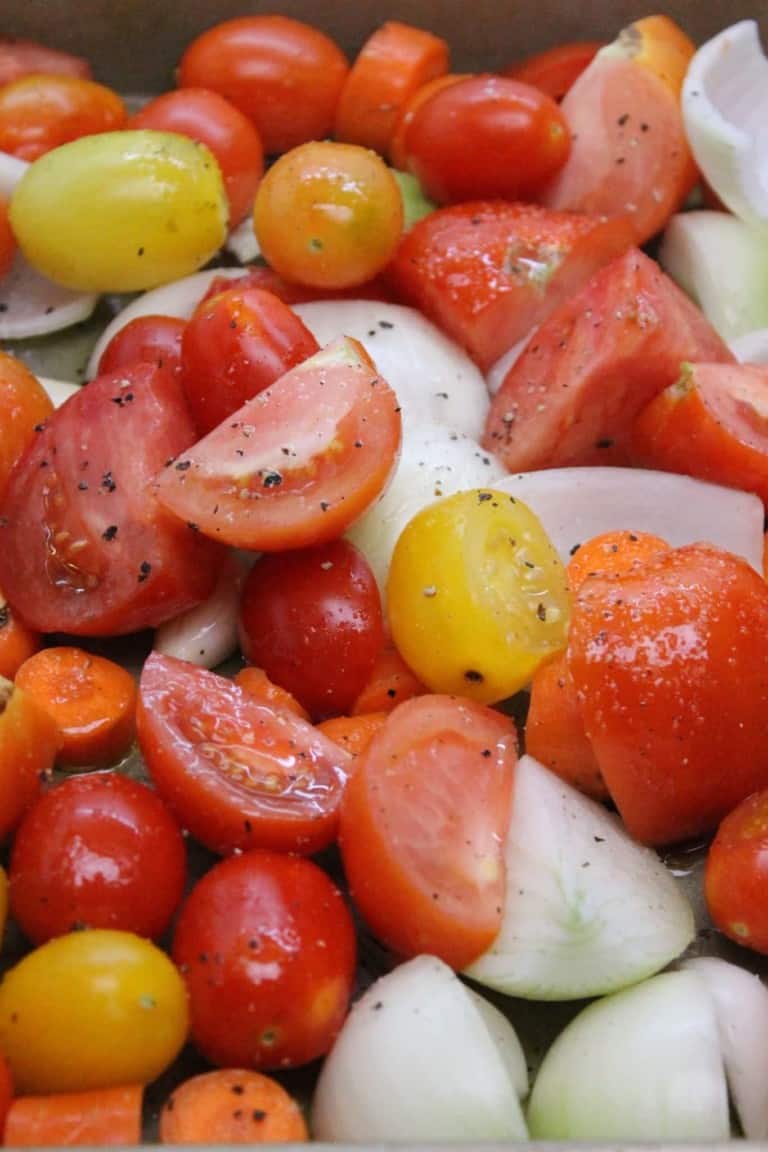 This Oven Roasted Tomato soup also pairs well with grilled cheese for a quick hearty lunch! – Chef Markus Mueller
Oven Roasted Tomato Soup
For this recipe you will need :
4-6lb Fresh Tomatoes
8 Garlic cloves
3 Carrots
3 Medium Onions
1 cup Chicken stock
2 Tbsp Honey
1 bunch Lemon thyme
Salt and pepper
Olive oil
A splash of 35% Cream
To start, wash the fresh garden tomatoes in cool water to rinse off any small insects and dirt that might be hiding in any crevasses. I simply run mine under cold water and rinse by hand. Peel the onions and garlic and along with the washed tomatoes rough chopped these to help evenly roast them. They don't have to be very small pieces. Two or 3 inches in diameter, you don't want the tomatoes to disintegrate as they roast. As long as everything is about the same size, the vegetables will roast evenly.
Place all the chopped vegetables in a roasting pan, drizzle with olive oil and season with salt and pepper. It is important when making soups (and any other dish really), to season as you go. Adding salt and pepper at various stages of cooking will help develop the flavours of what you are cooking and lower the chance of over seasoning at the end.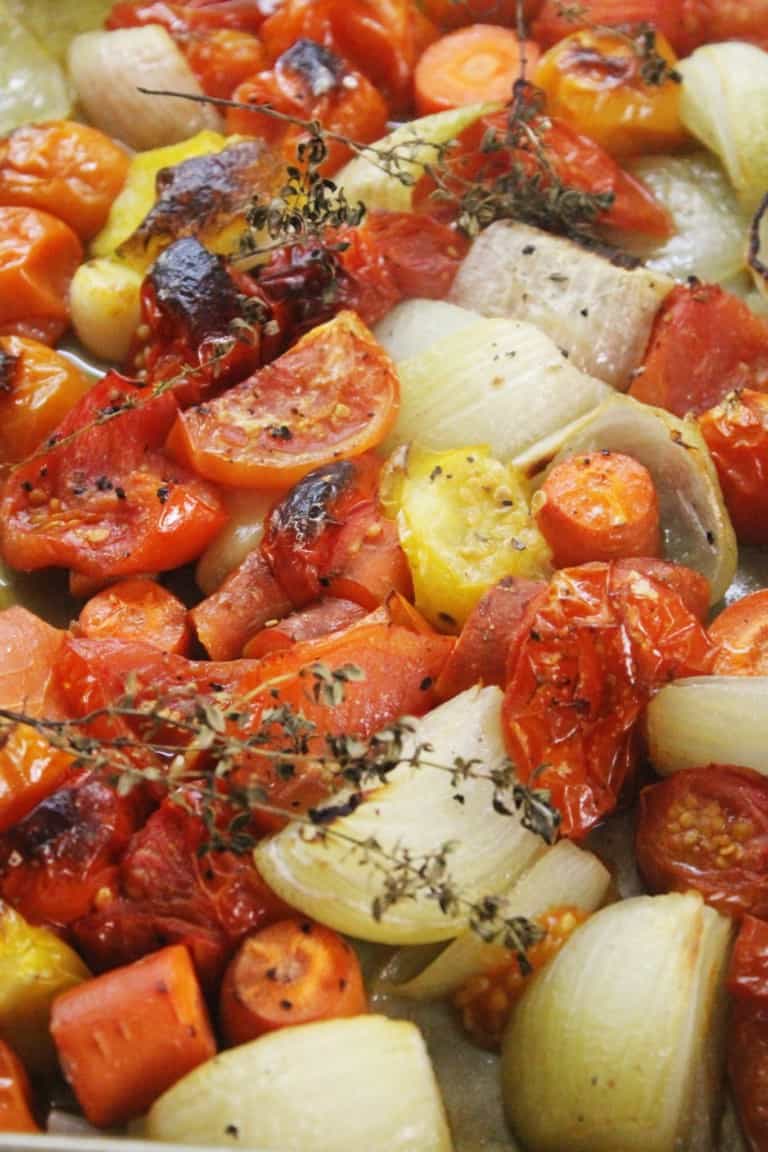 Roast the vegetable mix at 375F until everything is starting to turn golden brown. The oven roasted tomatoes will give off quite a bit of juice as they
roast, which I simply poured into my soup pot for added flavour. Dump the roasted vegetables into a regular pot, add the sprigs of lemon thyme, honey, wine, and stock and let it come up to a boil. Lemon thyme is available in the spring at some nurseries. Plant it early enough and it will be well established by the winter to give you a decent harvest the following year.
Turn the heat down and let simmer for 30 to 40 minutes uncovered. Once the soup has simmered, taste the broth to see what the general flavour is like. Can you taste a hint of the thyme? Is the oven roasted tomato too acidic, if so add some more sugar or honey. If the flavour is a little underwhelming, add a little more salt and pepper.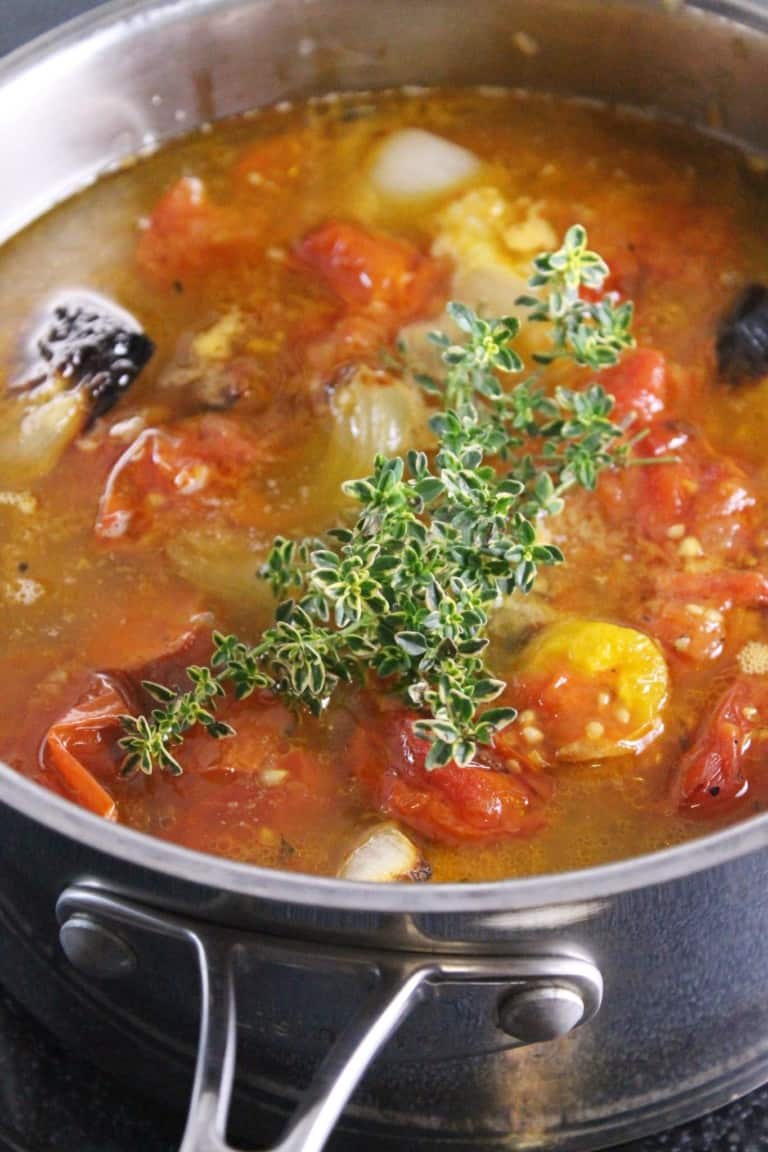 Puree the soup, using either an immersion blender or other piece of equipment suitable for this. I am using a nutri-bullet style blender and puree ingredients in batches. You should be able to get the soup to a completely smooth texture, though you can leave it slightly chunky for a more rustic look and feel. If you are puree ingredients until completely smooth, I would recommend adding a cup of 35% whipping cream to the soup, it will add a velvety mouth feel to the soup and cut any acidity the tomatoes may have given to the soup (tomatoes are naturally acidic). To ensure 100% smoothness you can also strain the soup through a chinois or fine mesh strainer to remove any little flakes of tomato skin that may not have been pureed.
Return the oven roasted tomato soup to the pot (making sure to rinse it first to avoid reintroducing chunky particles of food), and bring to a boil. Turn the pot off and season the soup to your liking.
To serve the soup I recommend garnishing with a little dollop of creme fraiche, which can be made at home or store-bought and drizzled with a colourful oil such as this green chive oil or some balsamic vinegar. You can also use tomato blossoms in summer to garnish the soup or other edible flowers if you like.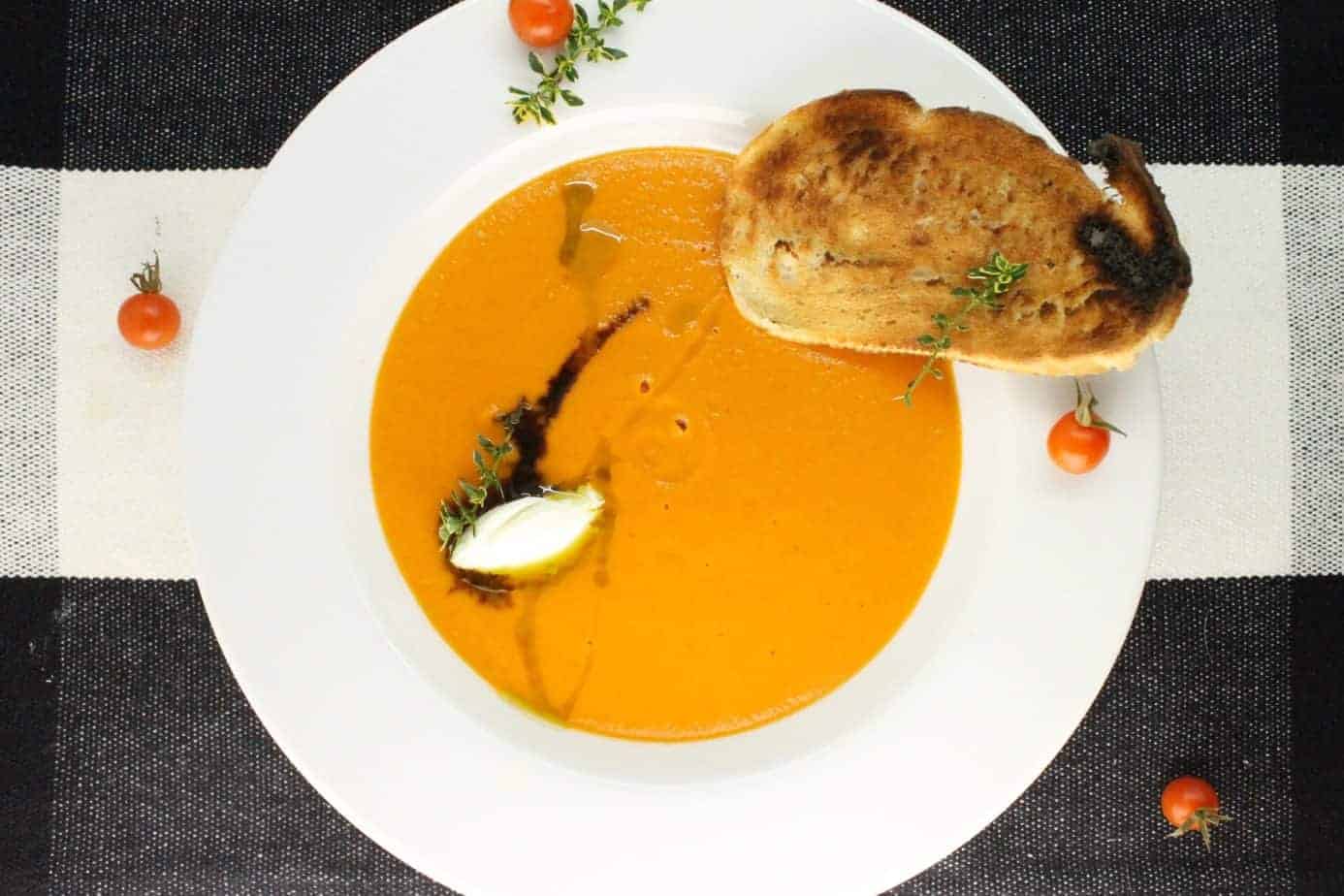 If you made this recipe and loved it , let me know on Facebook or by yumming the recipe on Yummly! You can always find me on Twitter, Pinterest and lately Instagram as well! Happy cooking!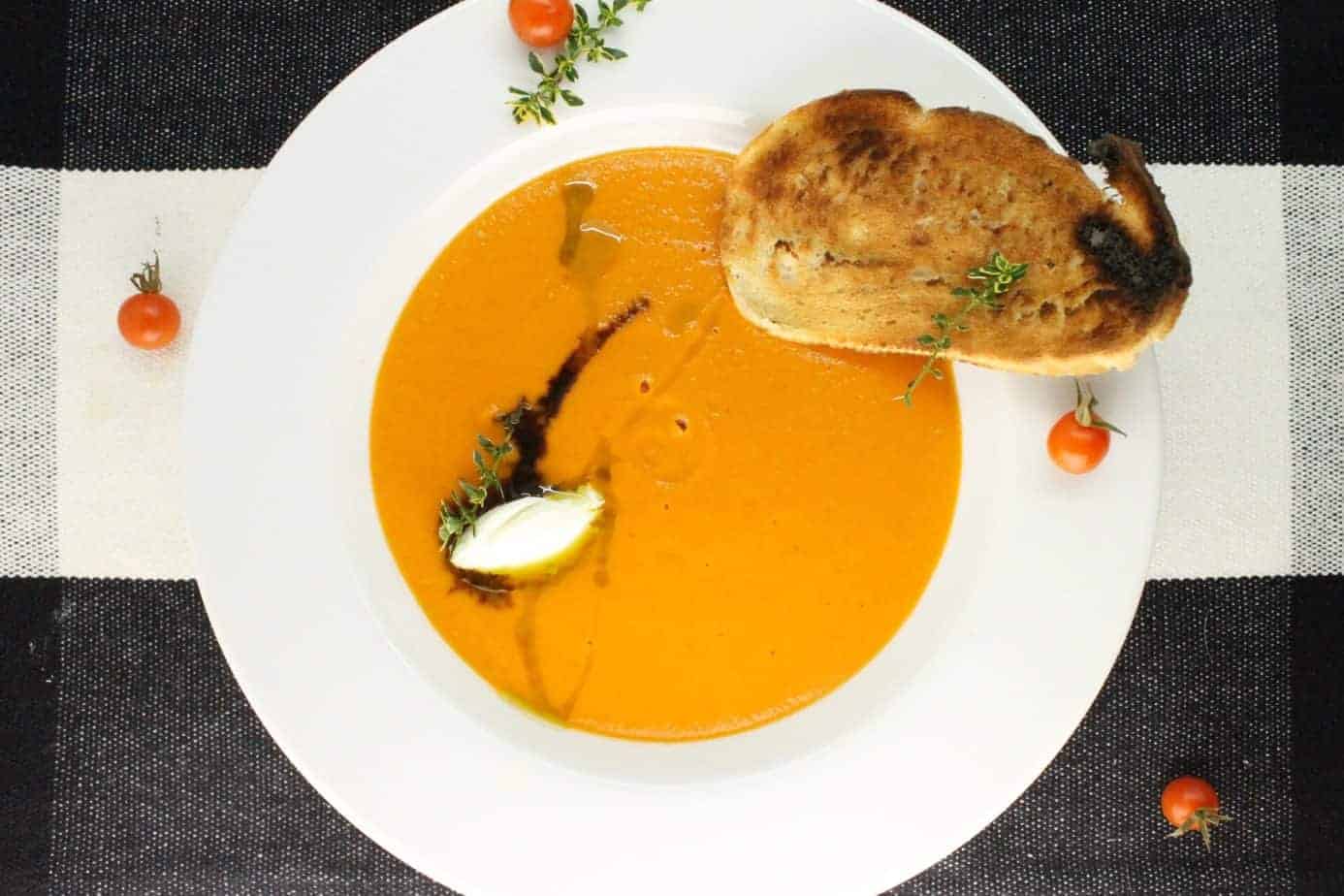 Oven Roasted Tomato Soup
This Oven Roasted Tomato Soup takes the classic recipe to a new level. Slightly sweet and packed with tomato, this soup makes a great appetizer or lunch.
Ingredients
4-6

lb

Fresh Tomatoes

8

whole

Garlic cloves

3

small

Carrots

3

medium

Spanish Onions

1

cup

Chicken stock

2

Tbsp

Honey

1

bunch

Lemon thyme

1

pinch

Salt and pepper

2

tbsp

Olive oil

1

splash

35% Cream
Instructions
Wash then rough chop all the vegetables.

Spread the vegetables out in a roasting pan and drizzle with olive oil and salt and pepper.

Roast at 375F until the tomato's start to give off liquid. Pour this liquid into your soup pot, and keep oven roasting the tomatoes until they start to turn colour and brown.

Once the vegetables are roasted and nicely browned, add them to the soup pot with the tomato liquid, honey, stock, and thyme. Simmer for 30 to 40 minutes.

Puree and strain the roasted tomato soup. Add the cream, and re-season with salt, pepper and a pinch of sugar or more honey.