Stuffed mushroom caps are one of those appetizers that are always cleaned out at buffets, dinner parties, or holiday get-togethers. A classic finger-food that is easy to prepare, mushrooms can easily be stuffed with basically anything you want, and look fancy enough for any event.
From lobster and crab, to spinach, artichoke, and bacon, the options really are endless. I opted for a roasted garlic and herb goat cheese stuffing for this variation of a classic hors d'oeuvres that can also be served as an appetizer.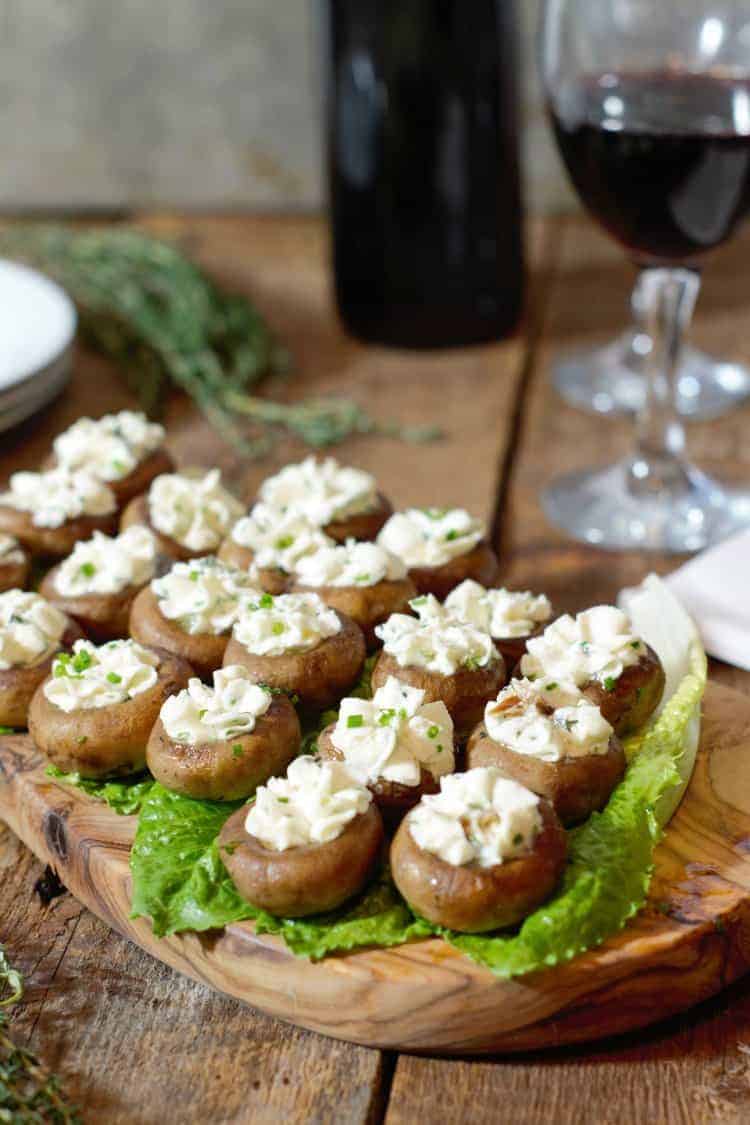 This post contains affiliate links for which we may be compensated if a purchase is made through the links provided. For more information please read our affiliate disclosure.
What kind of mushrooms are best for stuffed mushrooms caps?
Button mushrooms, (also called white or champignon mushrooms) are ideal for this recipe, as they are just large enough to stuff with a filling, yet stay within the 1-2 bite-size range.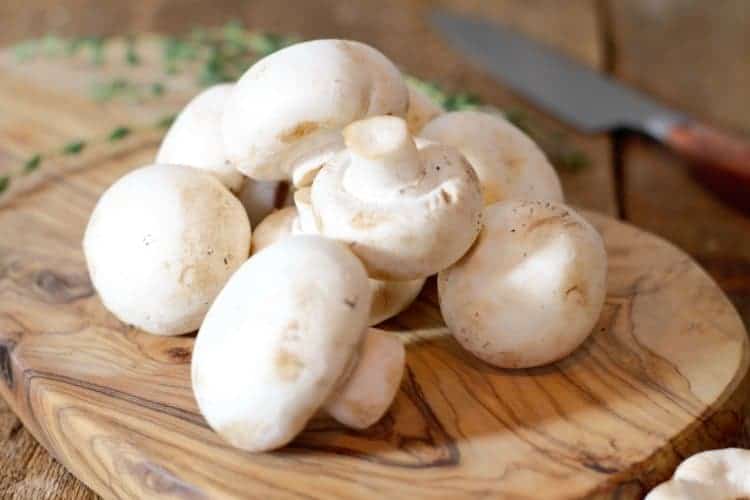 Crimini mushrooms are also a good option, and virtually identical to button mushrooms except that they are dark brown in colour, providing some added colour to your appetizer.
Regardless of what mushroom you pick, make sure they are bite-sized, but not too small! About 1 inch in diameter prior to cooking is good. Don't forget that the mushrooms will shrink as they cook!
Tips for making and filling stuffed mushrooms.
When making the filling for these stuffed mushroom caps there are a few things to keep in mind.
The first thing is, whether or not you will cook the mushrooms after the filling has been added to the mushrooms or if the filling needs to be ready to eat.
This is important, because if you are making a filling with seafood, or bacon you want to ensure that the filling is safe to eat and contains no raw meat. To get around this issue, I always make my filling so it can be eaten regardless of if it's cooked in the mushrooms or added afterwards.
The second thing to remember is that since these stuffed mushroom caps are meant as a finger food and are eaten in one to two bites, the filling needs to have some kind of binder to keep it from falling apart when you bite into it.
The binder is most often an egg, or some kind of cheese, (in this case we are using goat cheese), and is mixed in with the filling prior to stuffing the mushrooms.
Can you make stuffed mushrooms ahead of time?
You can yes! This makes stuffed mushroom caps perfect as a party food because you can prepare the filling and mushrooms separately a day ahead, then simply fill, and heat them in the oven prior to serving.
Keep in mind that fillings with shellfish or bacon will require extra careful handling and proper refrigeration in order to prevent any contamination or foodborne illness!
Ideally, you would partially cook the mushrooms and prepare the filling ahead of time, then fill and bake the stuffed mushrooms right before serving in order to serve them warm.
Do stuffed mushroom caps freeze well?
While you can freeze stuffed mushroom caps, and re-heat them in theory, they are noticeably less fresh after freezing. This is mostly due to the fact that the goat cheese filling becomes crumbly and less 'creamy' after freezing. The mushrooms themselves also become a little soggy and limp looking.
As such I would recommend against freezing, and serve the goat cheese stuffed mushrooms as soon as possible after making them.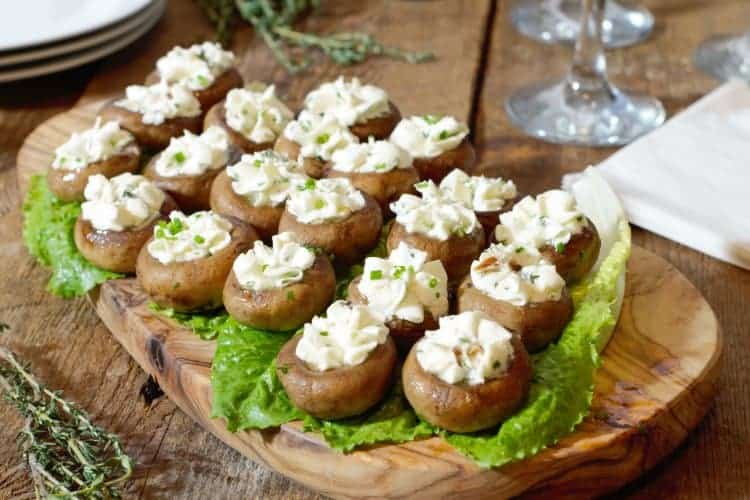 More Party Food Ideas:
Made the recipe? Comment & Rate it below, then take a picture and tag me on Facebook & Instagram: @earthfoodandfire . For more from scratch recipes follow me on Instagram & Pinterest
Recipe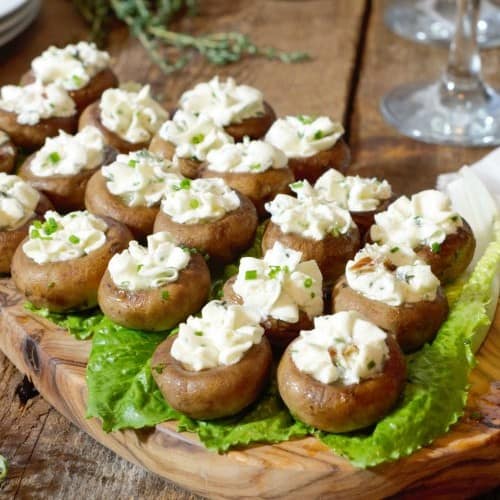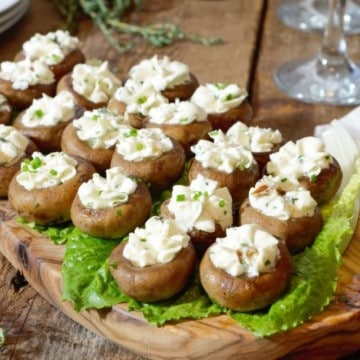 Roasted Garlic & Goat Cheese Stuffed Mushroom Caps
A delicious and easy to make finger food, stuffed mushrooms are the perfect as a holiday hors d'oeuvres or a simple appetizer.
Ingredients
48

individual

button mushrooms

choose mushrooms about 1 inch in diameter

2

tablespoon

olive oil
Goat Cheese Filling
350

grams

goat cheese

1

bulb

roasted garlic

about 6-8 cloves of roasted garlic

2

tablespoon

garlic-infused oil

use the oil leftover from roasting the garlic

2

tablespoon

chives

finely chopped

1

teaspoon

thyme

finely chopped

1

teaspoon

salt

2

teaspoon

freshly cracked black pepper
Instructions
Pre-heat your oven to 375F. Clean the button mushrooms by brushing and washing off any dirt that may be clinging to them. Dry the mushrooms well. Remove the stems of the mushrooms and discard or save for vegetable stock or soup.

Toss the cleaned mushroom caps in a bowl with 2 tablespoon oil and salt and pepper. Place the seasoned mushrooms on a baking sheet and roast in the oven for 15-20 minutes, or until tender. The mushrooms will release liquid as they roast, discard this.

Place the whole bulb of garlic in a pan with a splash of oil, cover the pan with tin foil, and roast for 15-20 minutes. This can be done simultaneously as the mushrooms roast.

Once the garlic has roasted, remove the bulb from the oil, and when cool enough to handle, squeeze the softened cloves directly into a bowl with the goat cheese, herbs, salt, and pepper. Add the roasted garlic oil, then mix until the filling is smooth and creamy.

Pipe the flavoured goat cheese filling into the roasted mushroom caps, and serve as soon as possible.
Nutrition
Nutrition info is auto-generated. This information is an estimate; if you are on a special diet, please use your own calculations.