Strawberries, coffee, dark chocolate shavings, and a fluffy creamy filling? What's not to like? This strawberry tiramisu presents a fruity twist on the classic Italian dessert. While traditional Tiramisu is more of a cake-y texture, variations (such as this one) which contain fresh fruit would not be considered a true tiramisu and are closer to a trifle in nature. You could also call this a strawberry tiramisu trifle if you wanted to. Tiramisu is usually a cocoa and coffee flavored cake, made with only a handful of ingredients.
espresso
lady fingers
mascarpone cheese
cocoa powder
sugar
eggs
The end result is then sprinkled with more cocoa powder and is quite a rich and heavy dessert. I wanted to lighten it up a little though, and thought what better way to do that then to add a whack of fresh sliced strawberries! Granted you won't find this recipe on any "health food" check list, but we do get to treat our selves once in a while right? A lot of these recipes also tend to include liquor and raw whipped eggs whites (to create an even fluffier cream).
I am foregoing both of these to make this an easy make-ahead dessert which can be enjoyed by the whole family. Though adding some booze is always fun if only serving to adults. This makes it a great dessert for entertaining as it can be made the day before and chilled before serving. If folding whipped raw egg whites into the cream, the dessert needs to be served the day of, to prevent the chance of food poisoning.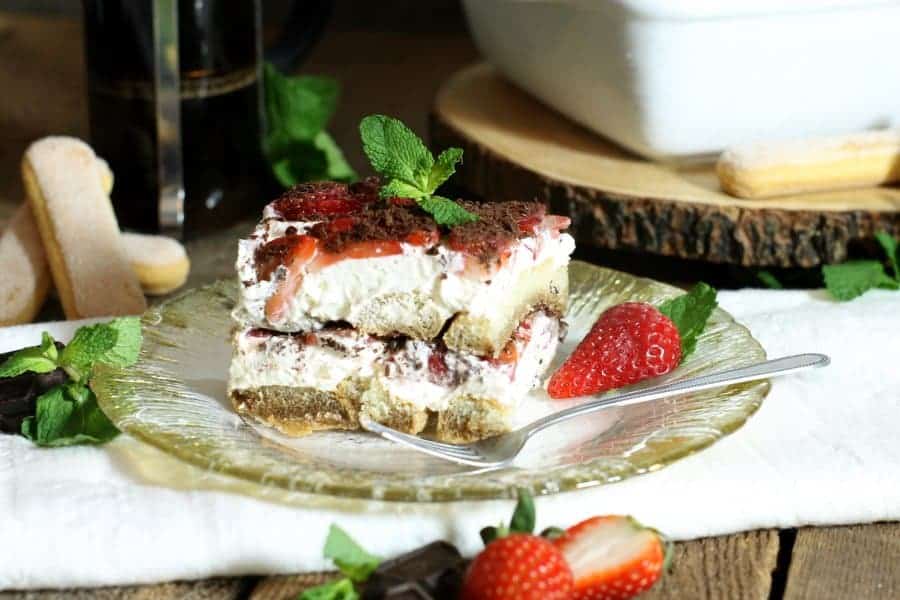 This post contains affiliate links for which I may be compensated if a purchase is made through the links provided. For more information please read my affiliate disclosure.
Preparing No Bake Strawberry Tiramisu
Any type of fresh fruit can be used in this recipe, strawberries are my favorite though, and just look fantastic, contrasting perfectly with the dark chocolate and pale white cream filling.
Before you start making this dessert, ensure you have a 8 x 12 inch baking dish and:
2 lbs or 4 cups fresh strawberries hulled and sliced
1x 400 gram package good quality lady fingers
2 cup freshly brewed strong coffee (chilled) or espresso
6 oz dark bakers chocolate
Fresh Mint to garnish
For the Cream Filling
16 oz mascarpone cheese
750 ml heavy(35%) whipping cream
6 tablespoon sugar
Since this is a no bake dessert, it is a fairly quick recipe to assemble as long as you have the individual 'parts' ready to go.
To make life easier, wash and clean (also known as hulling) the strawberries first, then slice them with a sharp knife. I prefer to macerate my fruit for this recipe, as it draw out some of the moisture, and the natural juice can be used to flavour the cream filling. Brew a pot of coffee or espresso and set both the berries and coffee aside and then continue with the cream filling.
Macerating (in the case of fresh berries) means 'marinating' the fruit in a bit of sugar, and sometimes liquor to soften the berries, bring out more flavor, and make them easier to digest. - Chef Markus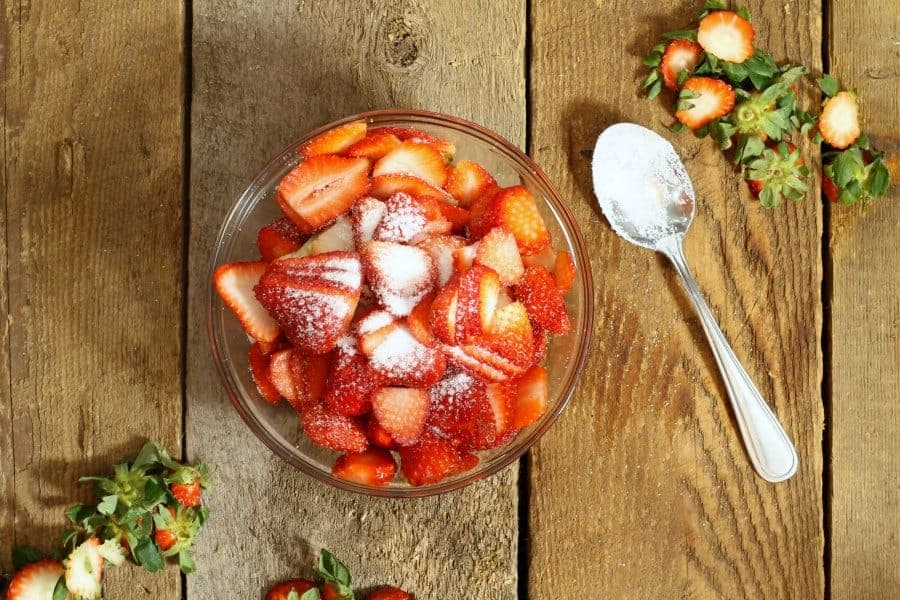 Using a handheld mixer or stand mixer , whip the heavy cream with the sugar until light and fluffy. You do want it to stand up a little on its own (soft peaks), but you don't want to whip it until it is very very stiff. Next, in a separate bowl, whip the mascarpone cheese until fluffy. If you macerated the strawberries, you can strain out the juice and add some of into the mascarpone cheese while whipping to flavor it and give it a nice pink color!
In my opinion mascarpone is one of the key ingredients to a good tiramisu, but don't worry if you can't find any. If you have trouble finding any, cream cheese can be substituted. Mascarpone is fattier, though not as tangy as cream cheese, making it better suited to this strawberry tiramisu. - Chef Markus
Fold the whipped cream into the whipped mascarpone with a spatula. This makes the cream filling nice and fluffy! We are almost ready to start assembling the strawberry tiramisu, the 'hard' part is all done, only one more step!
Grate or shred the dark chocolate!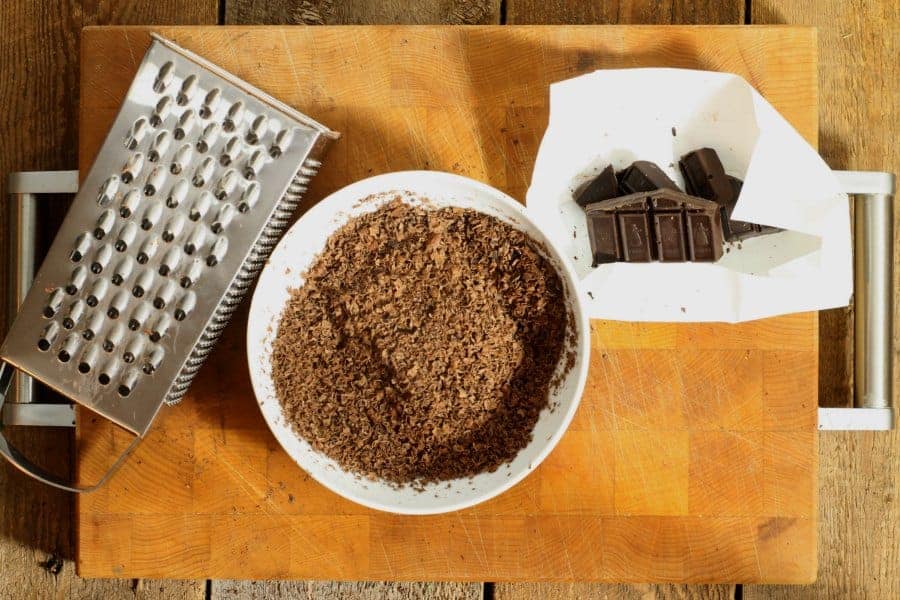 Assembling The Strawberry Tiramisu
This is the easiest part of the whole dessert:
Assembling and layering the dessert.
Pick a casserole or other deep dish, and start by dipping the lady fingers into the coffee. Place these in the dish side by side until the first layer is complete. Dip the lady fingers one at a time and don't do them all at once because they will get soggy and impossible to work with otherwise!
Next spread one half of the Mascarpone cream over the lady fingers, spreading it out evenly with a spatula.
Next spread out a layer of the macerated, sliced strawberries on top of the cream, and then sprinkle the berries with the shaved chocolate.
Repeat the top 3 steps until all the ingredients are used up. You should be able to get 2 layers if using a 8 x 12 inch dish. Garnish with more strawberries and mint!
Chill the finished strawberry tiramisu in the fridge for at least two hours. This lets the fat in the mascarpone cream firm up, allowing you to later cut the dessert without it falling apart!
Once chilled, cut the strawberry tiramisu into even sized squares, and serve! It's a dessert well paired with a fresh cup of espresso, and enjoyed any time of the year! Surprise your significant other for Valentines Day with this stunning dessert, or enjoy it with fresh local berries on a hot summers day!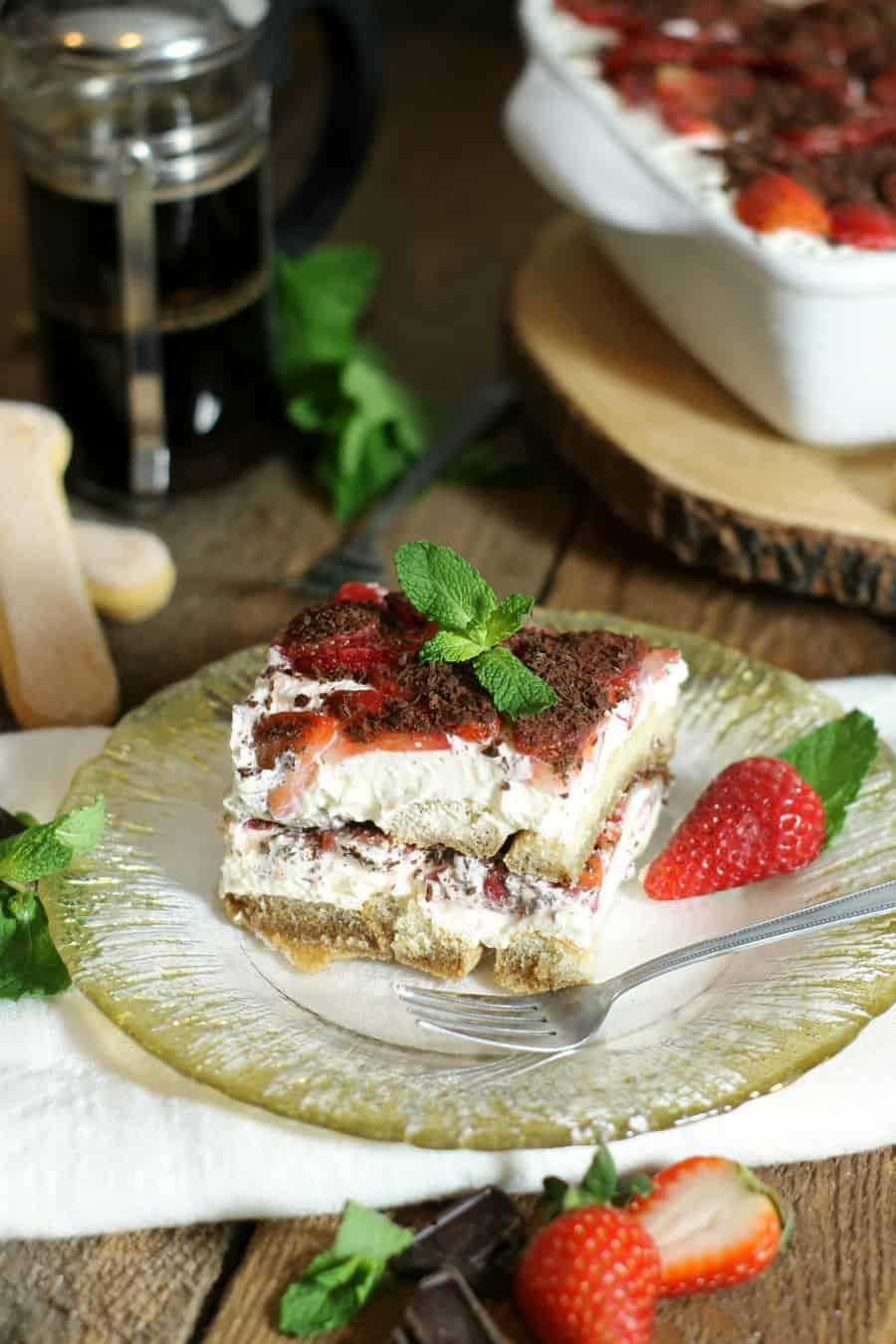 Tried the recipe? Rate the Recipe below, and take a picture and tag me on Facebook & Instagram: @earthfoodandfire . For more from scratch recipes follow me on Instagram & Pinterest
Recipe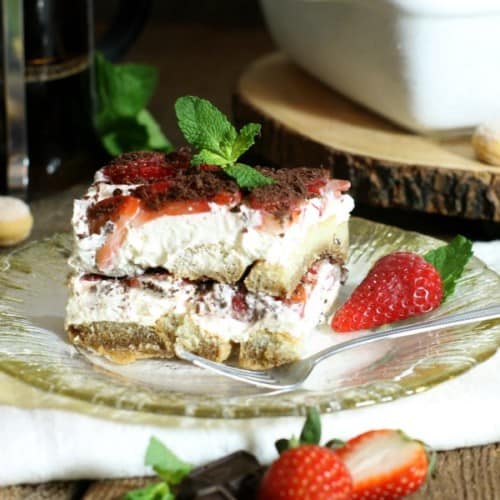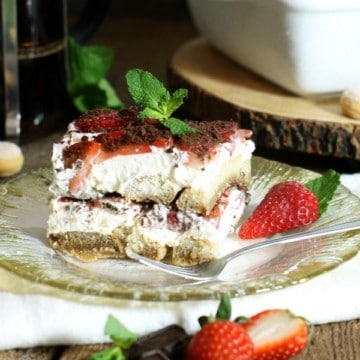 Strawberry Tiramisu with Dark Chocolate (No Bake)
A fruity twist on the classic dessert, this no bake Strawberry Tiramisu with dark chocolate is the perfectly light yet delicious treat. Great for entertaining or special occasions!
Ingredients
2

lbs

Fresh Strawberries

hulled and sliced

1

400 grams pkg

Savoiardi Lady Fingers

2

cups

Fresh brewed coffee or espresso

6

oz

Dark Bakers Chocolate

4

sprigs

Fresh Mint

2

Tbsps

White Sugar
Mascarpone Cream Filling
1

lb

Mascarpone Cheese

1.5

cups

35% Whipping cream

4

Tbsps

White Sugar
Instructions
Preparing the Tiramisu Fillings
Hull(clean) and slice the fresh strawberries. Macerate them with 2 tablespoon of sugar and set aside.

Brew 2 cups fresh coffee or espresso, and grate or shred the 6 oz dark chocolate. set both aside.

Whip the Mascarpone cheese until light and fluffy.

Whip the cream with 4 tablespoon white sugar in a separate bowl until light and fluffy. The whip cream should be firm enough to form peaks.

Optional: Strain the juice from the macerating strawberries and whip in with the cream for extra flavor.

Fold the whipped cream into the whipped mascarpone cream.
Assembling the Strawberry Tiramisu
Quickly dip the lady fingers into the coffee and layer the bottom of a 8 x 12 inch casserole dish.

Spread half the cream filling over the lady fingers with a spatula.

Spread out half the macerated strawberries over the mascarpone cream layer.

Generously sprinkle the strawberries with grated dark chocolate.

Repeat the last four steps to finish layering the strawberry tiramisu.

Cover and chill the strawberry tiramisu for at least two hours or overnight. Portion into 12 equal pieces and serve!
Notes
451.9 calories per serving. 5421.8 calories in the full recipe.
Nutrition
Nutrition info is auto-generated. This information is an estimate; if you are on a special diet, please use your own calculations.
This post contains affiliate links for which I may be compensated if a purchase is made through the links provided. For more information please read my affiliate disclosure.