When it comes to upping your cooking skills at home there are a few basic skills that everyone should have. In French Cuisine and in pretty well every culinary school in North America, cooks are taught the basic leading sauces, also known as the five mother sauces.
The five basic sauces are: Velouté, Espagnole (or Brown Sauce), Tomato, Béchamel, and Hollandaise. In the next few weeks/posts, I'll be covering these five sauces which form the basis of many modern day dishes and sauces. Today I'll teach you how to make a basic homemade tomato sauce.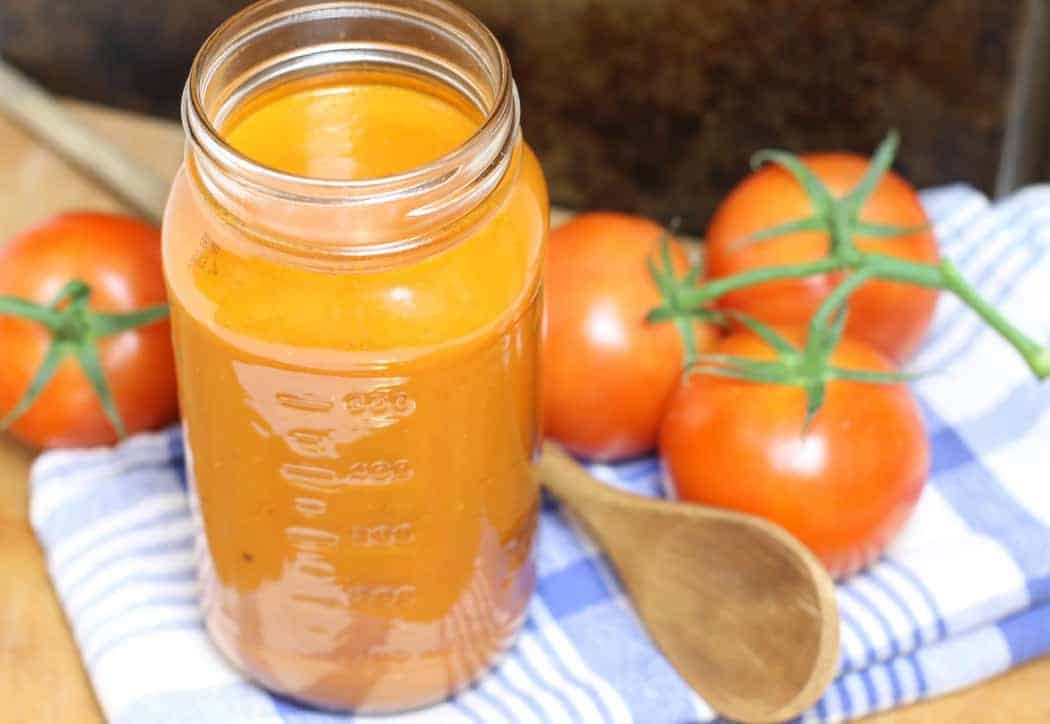 Some of the links in this post lead to affiliate sites through which Earth, Food, and Fire may earn a small commission (at no increased cost to you) should you make a purchase. This allows us to stay online and keep creating awesome content! For more info check the Affiliate Disclaimer.
Why You Should Make Your Own Tomato Sauce
Tomato sauce is one of my all time favorites. With a good homemade tomato sauce recipe, many basic dishes can be created like spaghetti, lasagna, and pizza. The benefit of making your own sauce at home is that you avoid many of the preservatives that are found in commercial products.
In many cases, homemade tomato sauce is more nutrient dense and richer in vitamins and minerals as well. Sean from Diversivore does a great job explaining some of the differences between using homemade and store bought sauces in his Sausage and Eggplant Bucatini recipe.
If you grow your own herbs and tomatoes at home, you have the benefit of making large batches of fresh tomato sauce with varying flavors such as basil and tomato or a garlicky marinara style sauce. These homemade sauces can be frozen or canned and stored for future use.
I tend to make a big batch of sauce around the end of the summer. This is great for the winter months when the price of tomatoes usually goes up. If you have never grown your own tomatoes you can always start saving tomato seeds and growing them yourself. It's a surprisingly easy and fun project to take up.
A Simple Homemade Tomato Sauce Recipe Using Fresh Tomatos
The key to a good quality and versatile tomato sauce is to keep the recipe fairly simple.
You will need:
3 cups chopped onions
3 cups chopped celery
4 cups fresh diced tomatoes or 2 cans diced tomatoes
3 cloves of garlic
1 tablespoon sugar
2 cups chicken stock or water
4 tablespoon tomato paste
Fresh herbs such as basil and thyme
2 tablespoon clarified butter or oil
Salt
Pepper
Bayleaf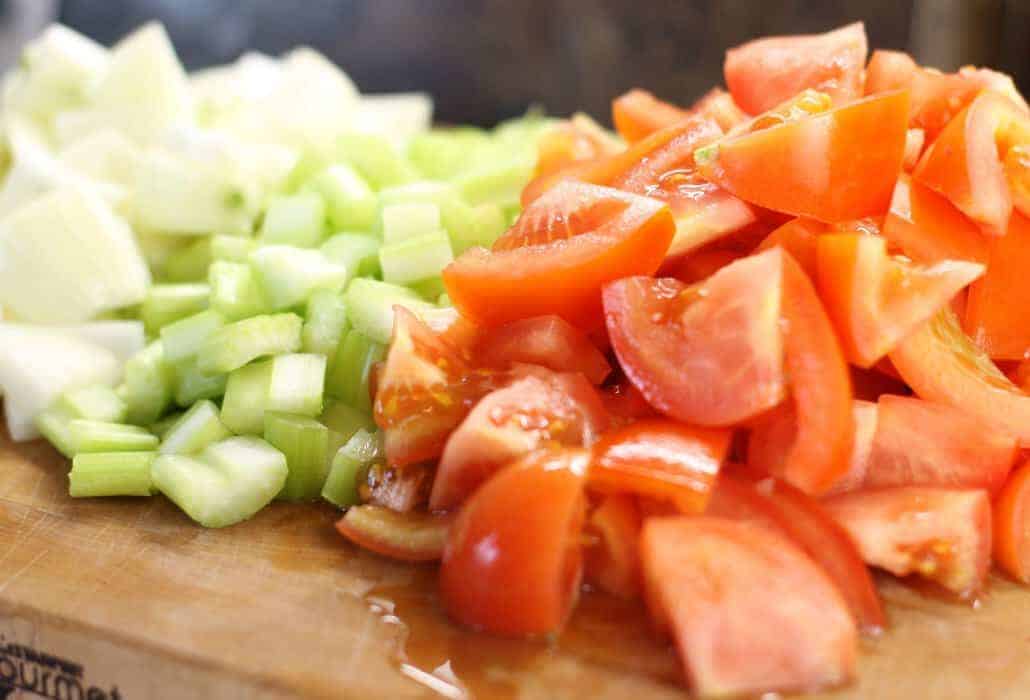 Instructions

Start by sautéing the onion, celery, and garlic cloves in the oil. Cook the vegetables over a medium heat until the onions start to turn translucent. Avoid browning the vegetables at this point if you can. This is called sweating the vegetables and releases some moisture before adding the tomatoes.

Add the diced or canned tomatoes, herbs, spices and chicken stock. Bring the pot to boil and then reduce to a low simmer. Cover the pot and let the tomato sauce cook for an hour. Periodically check the sauce and stir it to prevent any tomato pulp sticking to the bottom of the pot and scorching.
Once the tomato sauce has simmered for about an hour, all the vegetables should be nice and soft. Use an immersion blender (affiliate link) or something like a Vitamix or Nutribullet to purée the sauce. If you have a food mill, you can also use that.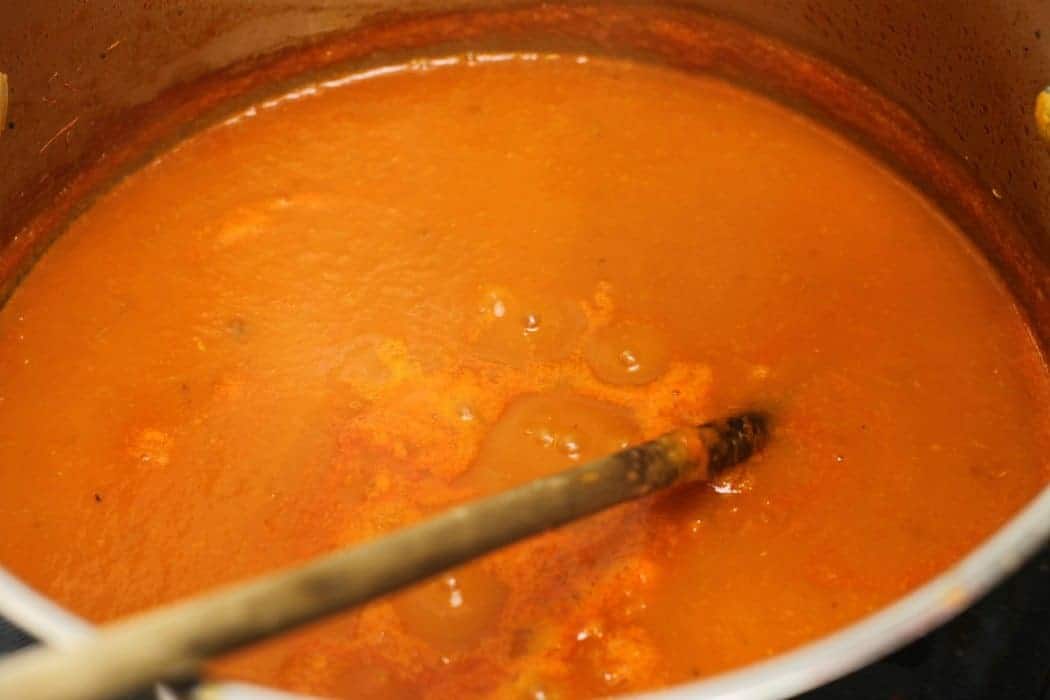 If the tomato sauce is very runny, and watery after puréeing, keep simmering the sauce to reduce it and cook off some water. As it cooks it will naturally thicken. The kind of tomatoes used, the freshness, and the quality all play a role in how watery the tomato sauce may turn out.
You can always adjust the thickness of the sauce by adding some tomato paste, or some more diced fresh or canned tomatoes. If you do add more tomato to the sauce, you will have to cook it longer, and then purée it again.
Tomato Sauce Variations
This simple homemade tomato sauce recipe can be modified to suit your own tastes. By adding more vegetables to it you can create a Primavera style pasta sauce, basil and garlic can be added, and even chillis for a spicy version. As the cook in the kitchen, you have the ultimate say in what flavor profile you wish to create.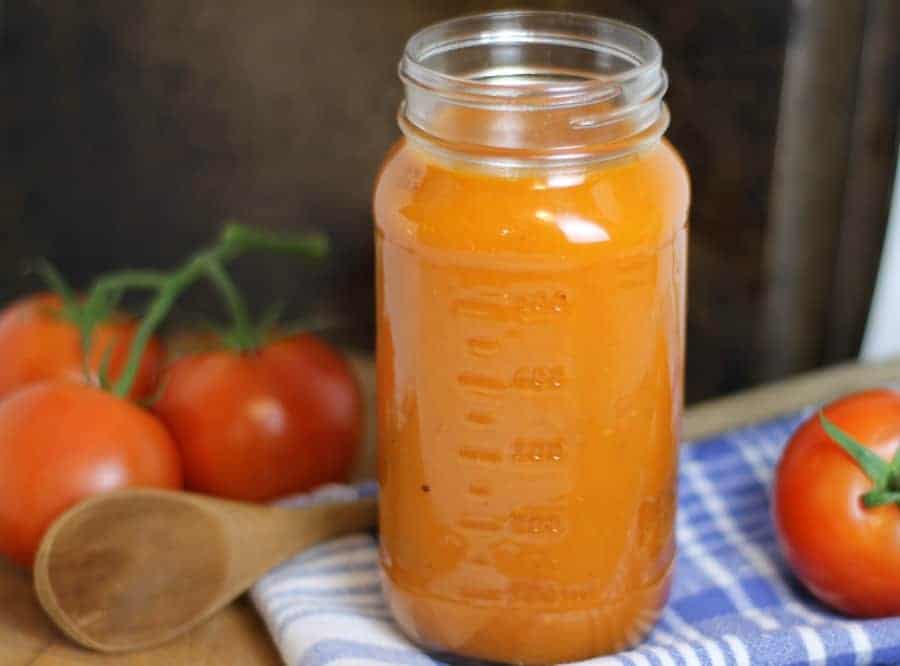 Note that homemade tomato sauce is usually more orange-y in color than store bought sauce, and that is normal. You can increase the red factor by adding more tomato paste or other tomato concentrate.
Stay tuned next week for the next recipe in this collection of Basic (or Leading) Sauces! In case you missed the first recipe of this series make sure to read up on Hollandaise!
Have you ever made your own tomato sauce?? Comment & let me know what you thought of this recipe below, then take a picture and tag me on Facebook & Instagram: @earthfoodandfire . For more from scratch recipes follow me on Instagram & Pinterest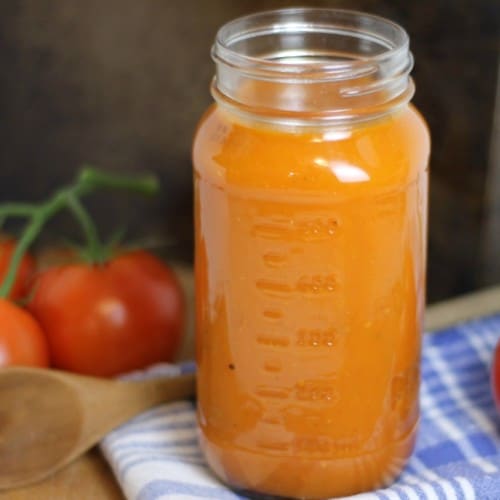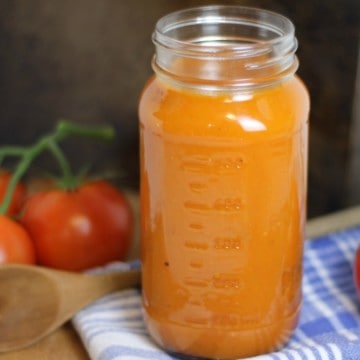 Homemade Tomato Sauce From Scratch
A good homemade tomato sauce recipe is a must in any cooks repertoire. One of the five mother sauces, tomato sauce provides a great way to preserve fresh produce and eat healthier.
Ingredients
3

cups

onions chopped

3

cups

celery chopped

4

cups

fresh tomatoes diced or 2 cans diced tomatoes

3

cloves

of garlic

1

tablespoon

sugar

2

cups

chicken stock or water

4

tablespoon

Tomato paste

Fresh herbs such as basil and thyme

2

tablespoon

clarified butter or oil

Salt

Pepper

Bayleaf
Instructions
Chop all the vegetables, and gather the rest of the ingredients.

Saute the onions, celery and garlic, until the onions turn translucent.

Add the tomatoes, spices, herbs and stock. Simmer the tomato sauce for atleast an hour on medium low.

Puree the sauce completely using an immersion blender or other mixer. If the sauce is to thin at this point, keep simmering until the tomato sauce thickens.

Season the tomato sauce with salt pepper and a dash of sugar if needed to cut the acid.
Notes
Homemade Tomato Sauce is generally more orange in color then store bought sauce. Add more tomato paste or use canned diced tomatoes instead of fresh for a redder color.
Nutrition
Nutrition info is auto-generated. This information is an estimate; if you are on a special diet, please use your own calculations.
Some of the links in this post lead to affiliate sites through which Earth, Food, and Fire may earn a small commission (at no increased cost to you) should you make a purchase. This allows us to stay online and keep creating awesome content! For more info check the Affiliate Disclaimer. All recipes, and opinions are 100% my own.