Fall is here, and that means thanksgiving is just around the corner. Cooks are in full swing searching out old family recipes and getting their pantry in order, all in pursuit of the perfect meal to prepare for the upcoming holidays.
To often though, I find home cooks will skimp on one of the easiest parts of the meal. Everyone puts all this effort into cooking a moist and flavorful turkey, serving the most fitting sides, and laboring for hours over a velvety gravy. For some reason to many opt for the store bought box of stuffing(also called dressing) instead of making it at home themselves.
I'm hoping this home-style skillet stuffing with apple and sage, changes that! It's quick and easy to make and most importantly moist, despite the apple and sage stuffing being cooked outside of the turkey!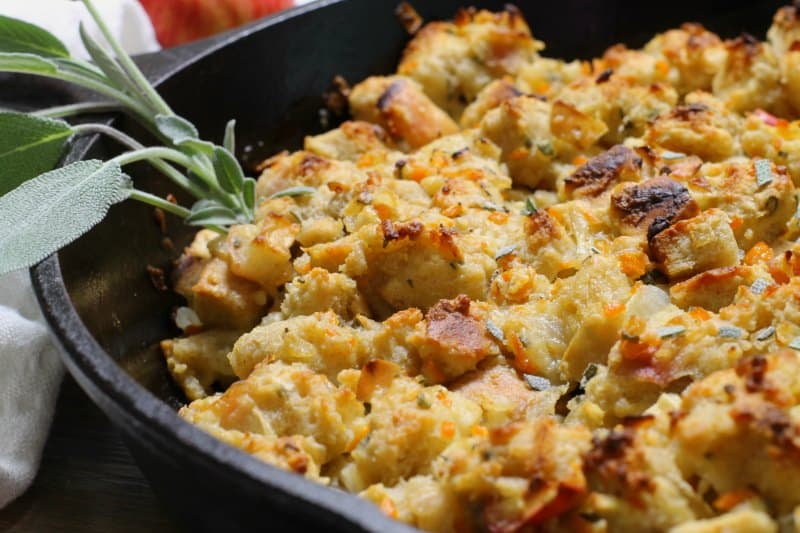 For the tastiest,(and healthiest) results, I recommend baking your own loaf of white bread a day or two before making this apple and sage stuffing. Simply slice and dice the bread for use in this recipe! Using a homemade chicken stock or broth as the liquid is also recommended. Water, or store bought broth may be used, but take note that it is usually very salty.
You can easily use bread bought at the market if in a pinch! If you regularly cook at home though you should already have these staples on hand making this skillet stuffing recipe a breeze to put together. In my books the versatility and easy of this recipe, makes it one of the best thanksgiving stuffing recipes around!
This post contains affiliate links for which I may be compensated if a purchase is made through the links provided. For more information please read my affiliate disclosure.
The Secret To A Moist Stuffing
Are you afraid to cook stuffing at home because it may not "be as good" as the store bought kind, or worried that it will be dry and under flavored?
This apple and sage skillet stuffing fixes all that. The fresh apples and chicken stock ensure that the cooked stuffing is moist, and full of flavour. Keep in mind that since stuffing is largely made up of bread, any moisture and seasoning can easily get lost in the mixture.
The bread acts very much like potatoes (sucking up moisture and salt) in this recipe. So you can rest easy knowing that you can use quite a bit of seasoning and liquid before the end result is salty, or to wet. It's much easier to end up with a dry stuffing then it is a wet one!
By using fresh fruit in the stuffing, (in this recipe it's apples) there is natural moisture present as the stuffing cooks in the cast iron pan. If you want to sub out the apples for a dried fruit, soak the fruit in hot water to re-hydrate them first. Finally, it's ok to mix the stuffing mixture a few hours before you want to cook/eat it.
Any stuffing is best served right away though. This means, having everything ready to go, (bread cubed, vegetables and fruit chopped, herbs cut, liquid and seasonings measured out) so you can simply assemble and cook the stuffing before supper is to be served.
Home Style Apple And Sage Skillet Stuffing
As I mentioned above, using homemade bread and chicken stock or broth is best. If you can't or don't have the time to make any though, simply substitute store bought versions in this recipe. Cooking this stuffing in a cast iron pan,(affiliate link) creates a unique rustic look, that anyone will love, (not to mention cast iron is awesome)! Simply follow these instructions on cleaning your cast iron pan if you haven't used it in a while!
You'll need:
½ spanish onion small diced
2 cloves garlic minced
½ carrot brunoise
2 Macintosh apples cored & diced
1 tablespoon fresh chopped sage
½ cup homemade chicken stock
1 loaf homemade white bread - cubed
1 egg
2 tablespoon Butter
½ tablespoon salt
Pepper
To make this skillet stuffing super easy, and hassle free, chop all the prep the day before!
Instructions
Pre-heat your oven to 375F and get your cast iron skillet on the stove. Chop the onion, carrots, and garlic as you melt the butter in the pan, and once melted, sweat the vegetables on medium low. Sweating the vegetables simply means cooking them at a lower temperature to slowly release the moisture, and cook the vegetables without browning.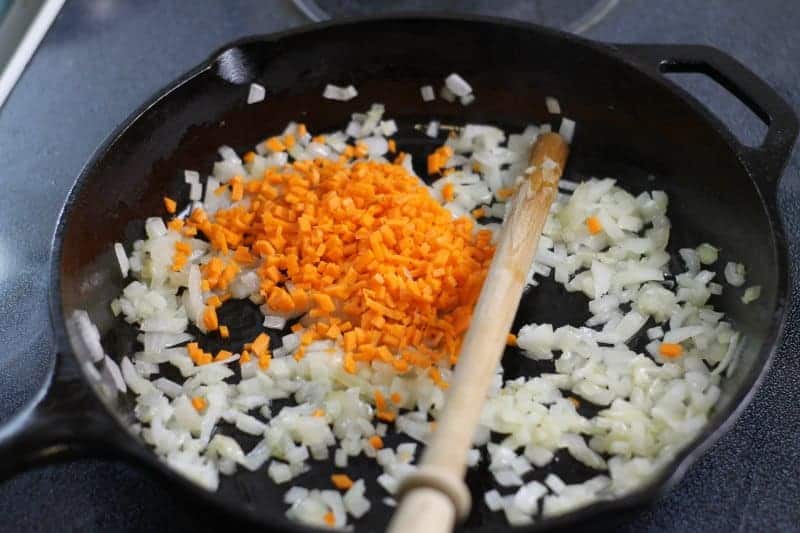 As the vegetables cook, chop and core the Macintosh apples and the fresh sage. If you don't have any fresh sage, you can substitute dried herb, but use half the stated amount as dried herbs are always more potent!
Once the apples are chopped, cube the bread. I like to cut my apples the same size as the bread cubes to make the stuffing visually appealing, but also to ensure the apples are cooked all the way through and not hard in the middle. No one likes hard chunks in their stuffing!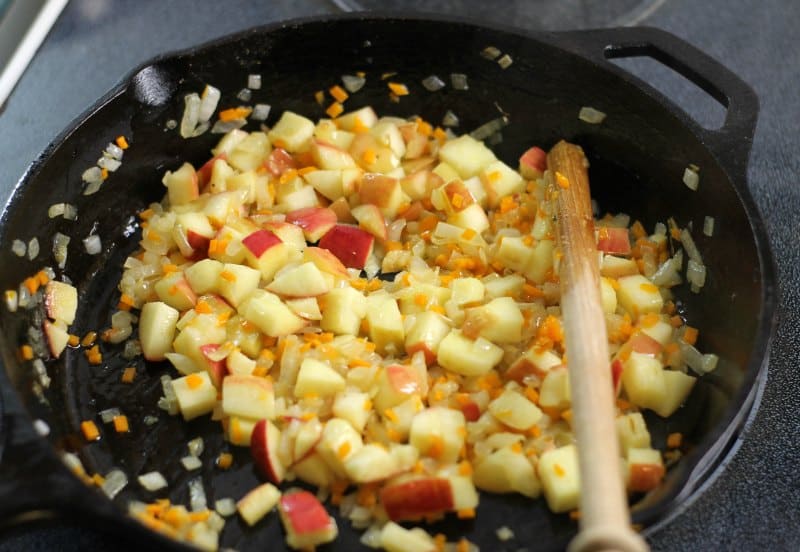 Add the apples to the skillet, and keep cooking the stuffing mixture on low, until the apples are roughly half cooked. To test this, try an apple cube! It should still have some bite left in it. Season this vegetable and fruit mixture, with some salt, pepper, and the chopped sage.
Next take a large bowl, (I like to use stainless steel for easy cleanup- simply pop in the dishwasher!), and dump all the cubed bread into it. We aren't going to mix the skillet stuffing right in the pan as it will make a mess and go all over the counter. It's much easier to use your hands (or a spoon) and properly mix the stuffing in a bowl. This way you can also get a feel for how "wet" the mixture is and if it may be to dry,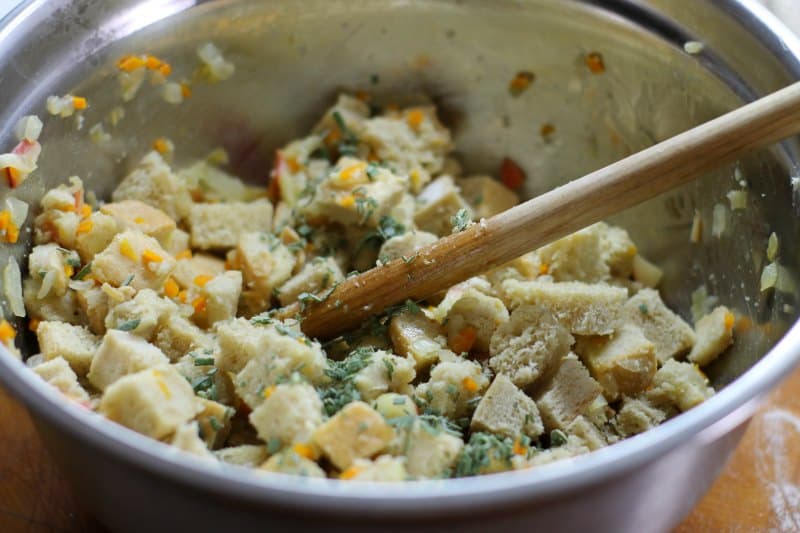 Once the fruit and vegetable mix is mixed into the bread, the stuffing should still be fairly dry and crumbly. Crack in your one whole egg, (this helps bind the stuffing) and the chicken broth. Use your hands(washed of course) and mix everything together. The stuffing mixture should be quite moist with no dry clumps.
You may even feel like the stuffing is a little too wet, but that's ok, since it will dry out some as it cooks in the oven. At this stage add some more salt, pepper, or sage if you desire.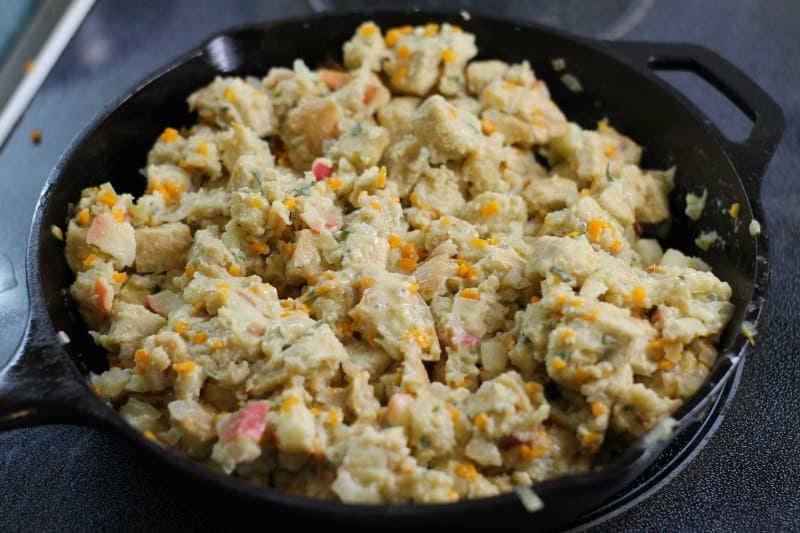 Place the mixed apple and sage stuffing back into the greased cast iron skillet, and bake in the oven for 20 - 30 minutes. The skillet stuffing will brown slightly on top, and firm up a little as the egg does it's job binding everything together.
Once browned on top remove the skillet stuffing from the oven, and serve immediately if possible! If your oven does not brown the stuffing as much as you had hoped in the 20 minutes, turn on the broil function for the last few minutes to crisp up the top!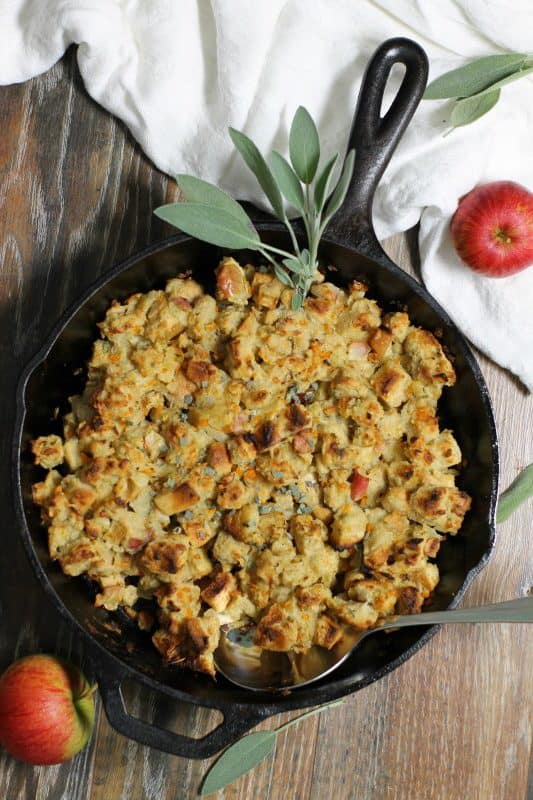 Tried the recipe? Take a picture and tag me on Facebook & Instagram: @earthfoodandfire . For more from scratch recipes follow me on Instagram & Pinterest
Recipe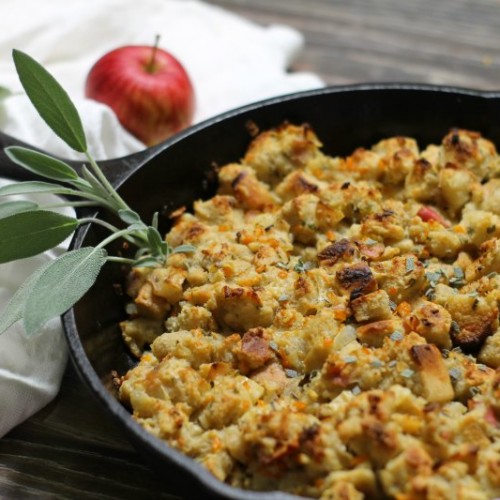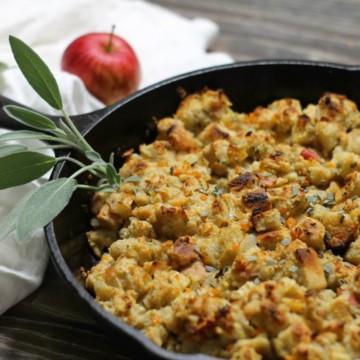 Skillet Cooked Apple and Sage Stuffing
An easy to make, moist, and flavorfull stuffing recipe perfect for thanksgiving!
Ingredients
½

spanish onion small diced

2

cloves

garlic minced

½

carrot brunoise

2

Macintosh apples cored & diced

1

tablespoon

fresh chopped sage

½

cup

homemade chicken stock

1

loaf homemade white bread - cubed

1

egg

2

tablespoon

Butter

½

tablespoon

salt

Pepper
Instructions
Pre-heat your oven to 375F and heat your cast iron skillet.

Small dice the onion, brunoise the the carrot, and mince the garlic.

With butter in the cast iron skillet, sweat the onion and garlic. Add the carrots, and cook on low until the vegetables are soft.

As the vegetable cooks, chop your apple, and dice the bread. Add the aplle to the skillet and cook until halfway done.

In a large bowl mix together the cooked vegetables, diced bread, egg, sage, and stock. Mix well and season with salt and pepper.

Return the mixed apple and sage stuffing to the skillet, and bake at 375F for 20 minutes.

Serve hot!
Notes
If using dried fruit, re hydrate it in hot water first to avoid a dry stuffing. If the stuffing has not browned sufficiently after 20 minutes, broil for the last few minutes to crisp up the top.
Nutrition
Nutrition info is auto-generated. This information is an estimate; if you are on a special diet, please use your own calculations.