Great for smaller groups, or when you just don't feel like cooking a whole turkey, this garlic and herb-roasted turkey breast is an easy meal to prepare, and more importantly...delicious.
While roasting a whole turkey is fun and a good idea when feeding large groups of people, (think 8 people or more), what do you do if you are celebrating the holidays with only a select few friends or family?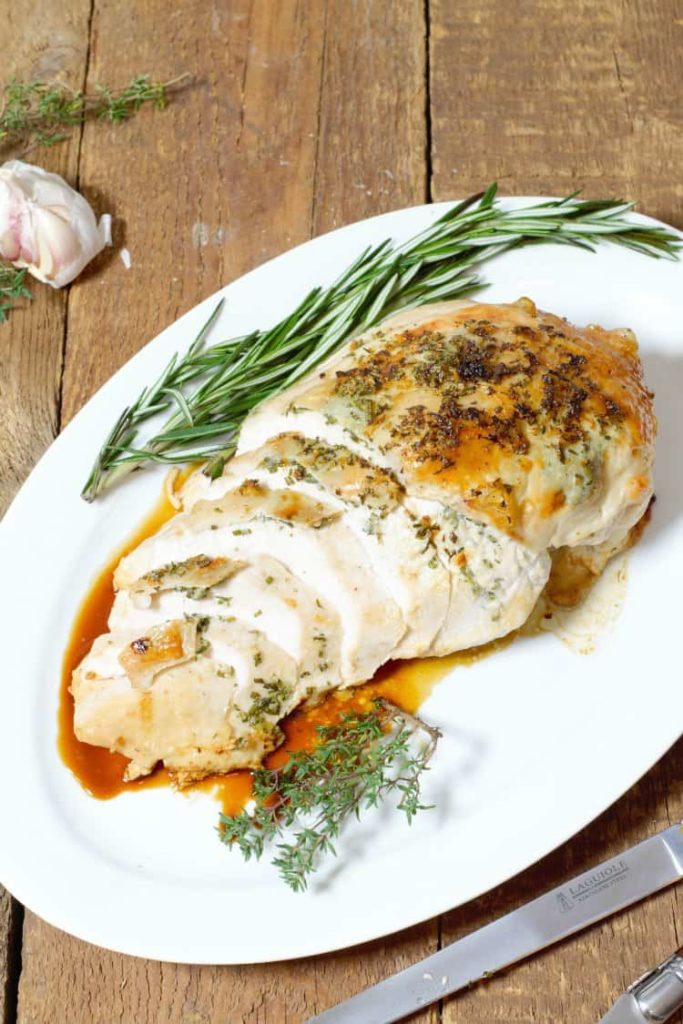 This garlic and herb-roasted turkey breast is the perfect solution. Perfect for groups of 5 people or less, you can easily prepare a delicious turkey dish without any effort.
This post contains affiliate links for which we may be compensated if a purchase is made through the links provided. For more information please read our affiliate disclosure.
Benefits Of Cooking A Turkey Breast vs A Whole Turkey
You may be wondering, "Why would I only cook a turkey breast instead of the whole bird?" There are a few reasons you may choose to go this route.
One main reason is the obviously smaller amount of meat. If you are only cooking for yourself or a small group of people, a whole turkey may just be costing you a lot of money, which may then end up going bad or unused.
Buying and roasting just the turkey breast alone is much cheaper. You can easily spend $50+ dollars on a whole turkey, whereas a breast or two is easily half that.
Cooking just the turkey breast also requires much less prep work, and cooking time. A 3-pound turkey breast will cook in about one hour as opposed to the 4 - 5 hours required for a large turkey.
How large of a turkey breast should you cook?
How big of a turkey breast should you purchase? Or should you purchase two? That depends on how much meat you want to serve and if you want to have leftovers.
An individual (half ) turkey breast can weigh anywhere from 2.5lb-4 lb depending on the size of the original turkey. A whole breast (two breasts joined at the breast bone) usually weighs between 6lbs and 8 lbs.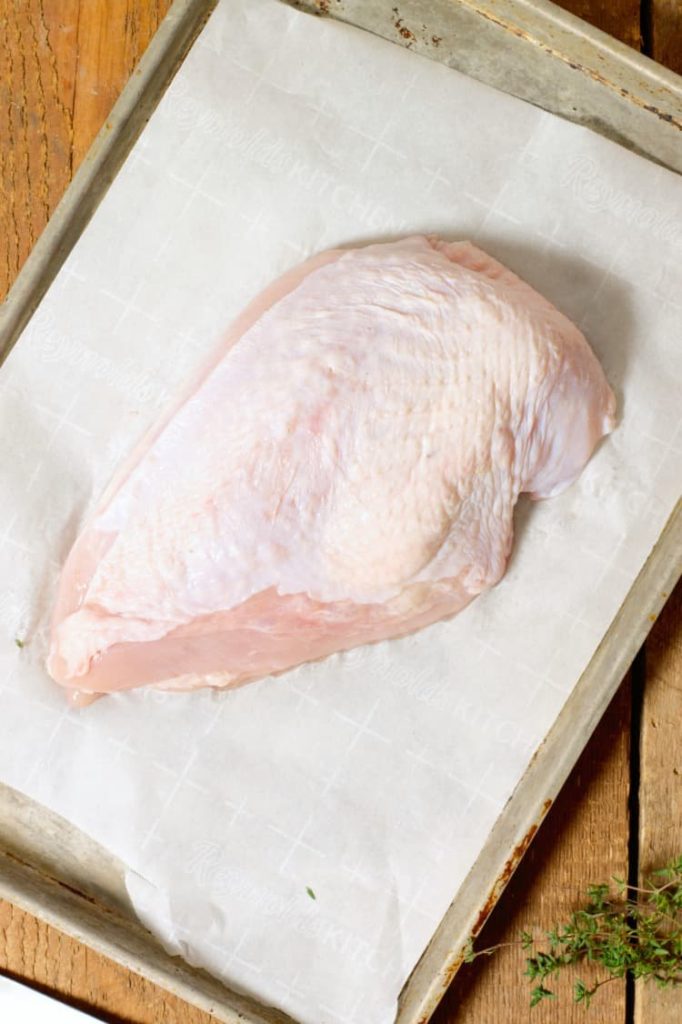 Generally speaking, you should estimate ½lb - 1lb of meat per person. If you want to have leftover meat to make leftover turkey soup, sandwiches, or casseroles plan for 1.5 pounds per person.
Should you go bone-in or boneless?
As a rule of thumb, I always opt for the bone-in if possible. This is most often sold as the breast attached to the backbone and ribs, sometimes the wing bone may still be attached as well.
The main reason for purchasing the turkey breast bone-in, is that you can then use the leftover bones to make stock!
How long does it take to roast a turkey breast?
This can be a tricky question to answer because a lot of factors come into play.
Turkey should be cook to an internal temperature of 165F according to Health Canada and the FDA . While this is a good guideline, cooking a turkey breast to this temperature in the oven will result in a dry piece of meat, as the turkey breast is so lean.
As such depending on the size of the turkey breast, whether it has a breast bone attached, is tied with twine (to make its shape uniform), or is butterflied and stuffed, cooking a turkey breast can take anywhere from 15 -20 minutes per pound.
It's a good idea to check the internal temperature of the turkey breast periodically as it cooks with a food thermometer, in order to prevent it from overcooking and drying out.
Side Dishes To Serve With Roast Turkey Breast
Once the turkey breast is roasted there are several ways it can be served. You can, of course, slice it and serve it with various sides, but you can also cool and slice the turkey breast for sandwiches meat, use the meat in soups, casseroles, or salads!
Here are a few side dishes you could serve with your roast turkey!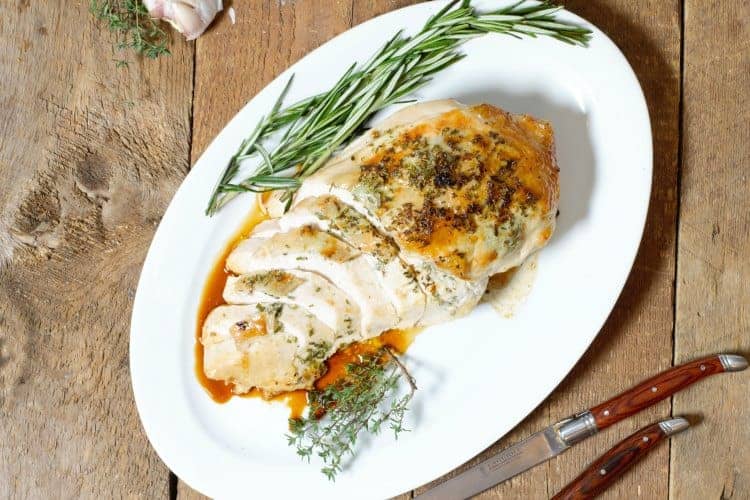 Made the recipe? Comment & Rate it below, then take a picture and tag me on Facebook & Instagram: @earthfoodandfire . For more from scratch recipes follow me on Instagram & Pinterest
Recipe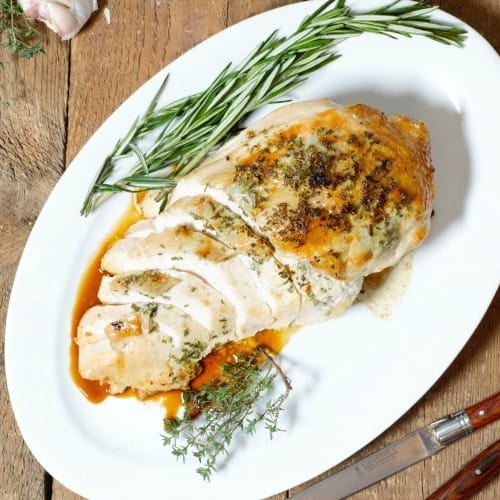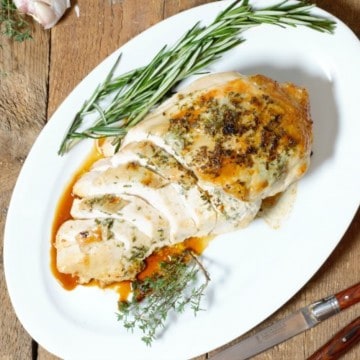 Herb & Garlic Roasted Turkey Breast
Don't want the hassle of cooking a whole turkey? Or simply feeding a smaller group of people? Learn why and how you can roast turkey breast this holiday season.
Ingredients
1

3 - 4lb

half turkey breast

4

tablespoon

room temperature butter

1

tablespoon

chopped fresh thyme

1

teaspoon

chopped fresh rosemary

2

cloves

minced garlic

1

teaspoon

salt

1

tsp

cracked black pepper

1

cup

water
Instructions
Pre-heat your oven to 350F, and line a sheet pan or roasting pan with parchment paper.

Chop the herbs and garlic, and mix them together in a bowl with the butter. Use your fingers to help soften the butter as you mix it. Liberally spread the butter mixture both under and over top of the turkey skin.

Place the butter crusted turkey breast skin side up, in the roasting pan. Optional: you can lay the breast on top of sliced onion, carrot, or celery instead of using parchment paper, and to enhance the flavour of the pan drippings.

Roast the turkey breast for 15-20 minutes per pound (about 1 hour). Check the internal temperature with a food thermometer periodically. In the last 15 minutes of roasting remove the cover/lid and turn up the heat to 400F to crisp up the skin.

Remove the breast from the oven, when it reaches 150F and let it carry overcook to 165F by letting it rest. Slice and serve immediately, or cool and use as sandwich meat.
Notes
Tips:
Turkey breast is very lean, so in order to prevent it from drying out, use a food thermometer to cook it to an internal temperature of 150F and let it carry over by resting to 165F
Adding a cup of water to the roasting pan and covering the pan with tinfoil or a lid while roasting whill help ensure a moist turkey breast. Simply remove the cover, and roast at 400F for the last 15 minutes of cooking for a crisp skin.
Use the liquid in the roasting pan to make a delicious pan gravy. Simply strain and thicken the sauce!
Instead of using parchment paper to line the roasting pan and prevent the turley breast from sticking, you can lay the breast on top of sliced onion, carrot, or celery (or a mix of those). This helps keep the turkey breast slightly elevated, as well as flavors the eventual pan drippings.
Nutrition
Nutrition info is auto-generated. This information is an estimate; if you are on a special diet, please use your own calculations.