In the last little while, I have been covering the basic or leading sauces in French Cuisine. These Mother Sauces include Tomato Sauce, Bechamel Sauce, Espagnole Sauce, Veloute Sauce, and Hollandaise Sauce.
This week I'll be finishing off the series on the French Mother Sauces with Espagnole Sauce. It's a really versatile sauce to have in your repertoire, and is the perfect base from which to make gravy or sauce to be served with red meat.
Knowing how to make these five basic sauces, and home cook or chef can tackle even advanced recipes, without the need to buy any store bought products.
Espagnole vs Demi-Glace
While Espagnole sauce is sometimes confused with its derivative sauce demi-glace, the two sauces are technically not the same.
Espagnole sauce along with Hollandaise are two of the harder mother sauces to make, and in the case of Espagnole it is simply a matter of planning ahead. This is not a sauce you can whip up on the fly, you really need a day or two to properly make the brown stock and then simmer the Espagnole etc.
Espagnole sauce is very much meant to be a base sauce and is very rarely used as a sauce on its own. This is due to its strong and often bitter flavour which is difficult to pair with many dishes.
Demi-glace on the other hand, is made using Espagnole and is full of beefy flavour, so rich it will coat your mouth and often referred to as black gold in kitchens. It makes the perfect side for any steak and is made using half beef or veal stock and half Espagnole which is then reduced.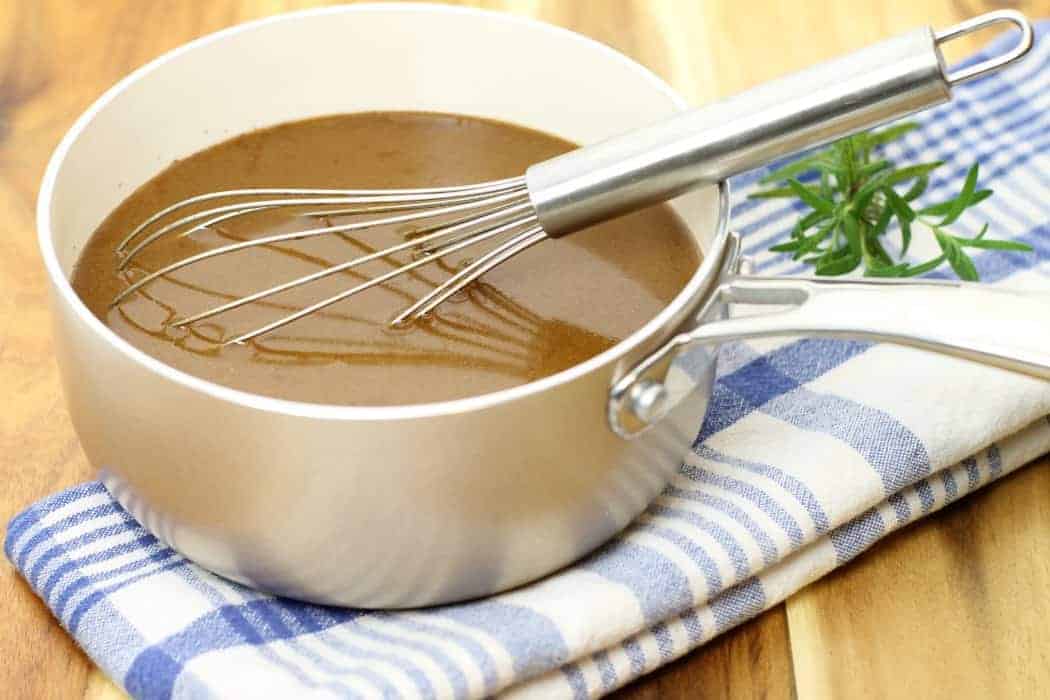 Making Espagnole Sauce At Home
It is a good idea to make a large batch of Espagnole sauce which can then be frozen in cubes and used to make smaller batches of sauce such as a demi-glace at a later date.
Instructions
You will need:
2.5 liters brown(beef) stock
2 cup rough chopped Mirepoix - well caramelized (Mirepoix is a cooking term for a 2:1:1 ratio of diced onion, carrot, and celery)
100 grams clarified butter or other fat
100 grams flour
1 tablespoon tomato paste
1 bay leaf
½ teaspoon black peppercorns
4 sprigs thyme
1 cup redwine ( optional)
Instructions
Begin by roughly chopping all the vegetables in the mirepoix and caramelize them in a pan until they are nice and dark brown. The darker you can get them without actually burning the better. This is best achieved by cooking the vegetables in a pan over medium heat making sure to stir or toss them every so often to avoid any bits from sticking to the pan.
Once you have browned all the veg you can de-glaze the pan with some red wine if you like, though this is optional.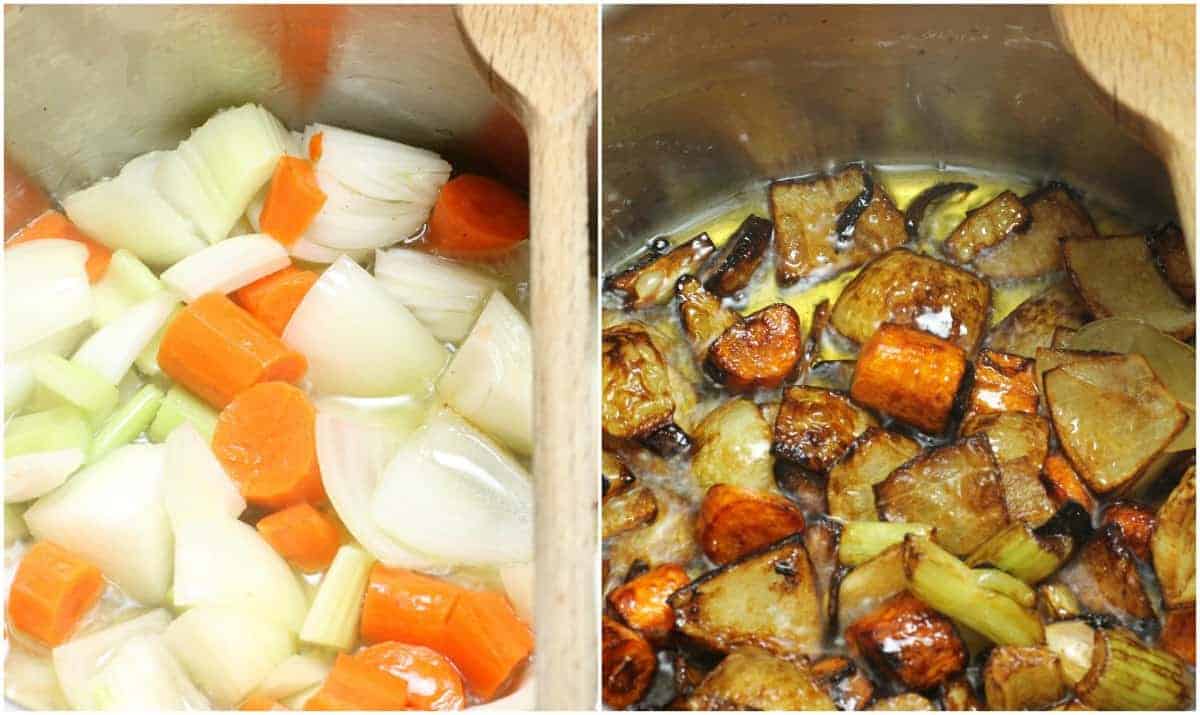 Add the flour to the caramelized veggies and cook it out for a good five minutes. Add your brown stock, Bayleaf, herbs, peppercorn and tomato paste to the pot and mix well.
You may have noticed that by adding the flour you are technically creating a roux in the pan with all the veg mixed in. This ensures that when you add the liquid stock no lumps will form.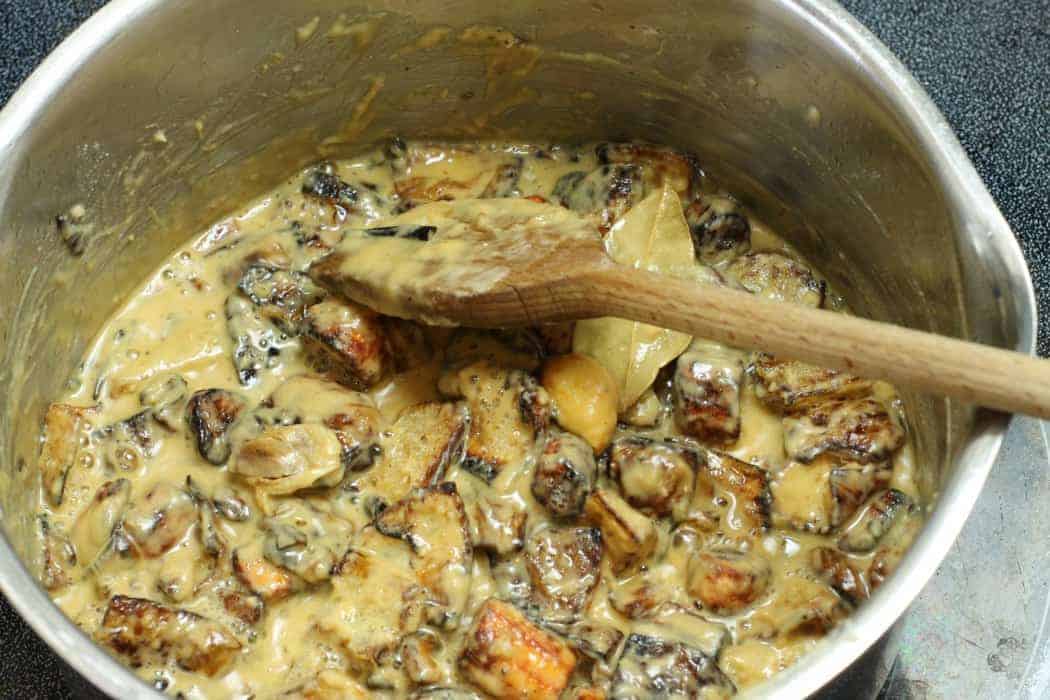 Bring the sauce to a boil and immediately reduce to a simmer. Let the pot simmer for 1.5 hours. Periodically check the sauce and skim off any foam that may float and collect at the top.
Once the Espagnole sauce has simmered for 1.5 hours taste the sauce and make sure it has a good consistency and flavour. While not traditional you may add a little sugar if it is very bitter. Strain the Espagnole and use as a base for gravy, demi-glace, or other rich meat based sauces.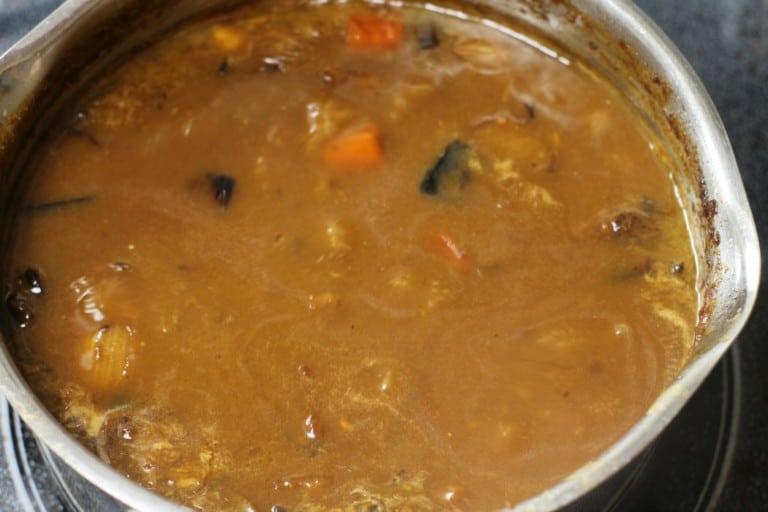 I hope you have enjoyed this series on the five mother sauces which form the basis of all sauces in French cuisine!
The Other Mother Sauces
In case you missed the first four recipes in this series make sure to read up on
Veloute sauce, and
Tried this recipe? Rate the Recipe below, and take a picture and tag me on Facebook & Instagram: @earthfoodandfire . For more from scratch recipes follow me on Instagram & Pinterest
Recipe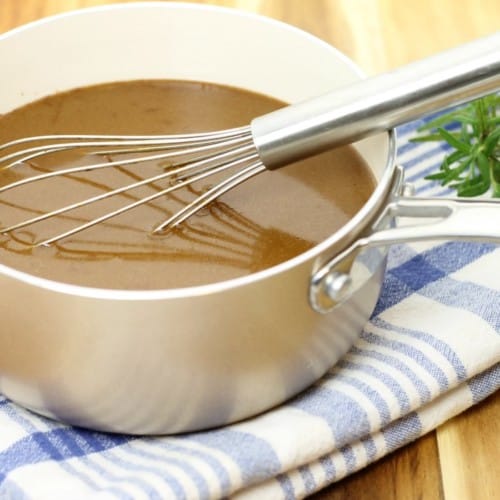 Espagnole Sauce
Espagnole or Brown Sauce is one of the 5 Mother sauces and ideal for use in gravies or other rich meat-based sauces.
Ingredients
2.5

liters

brown beef stock

2

cup

rough chopped Mirepoix - well caramelized

Mirepoix is a cooking term for a 2:1:1 ratio of diced onion, carrot, and celery

100

grams

clarified butter or other fat

100

grams

flour

1

tablespoon

tomato paste

1

bay leaf

½

teaspoon

black peppercorns

4

sprigs thyme

1

cup

redwine

optional
Instructions
-Roughly chop the mirepoix

- Caramelize the vegetables in the butter or other fat until nice and dark brown. Add the peppercorns, bay leaf and herb now.

-Add the flour and cook it until you reach the brown roux stage. It will smell wonderfully toasty!

- Optional: If using red wine, add it to the pot now.

-Pour in the brown stock and stir to properly incorporate the flour mixture and avid any lumps from forming.Add the tomato paste.

-Bring the Espagnole Sauce to a boil, and then reduce and simmer for 1.5 hours.

-Skim off any foam that may rise to the top.

- Once simmered strain the sauce and use as a base in garvy or other sauces to be served with red meat.
Notes
Use the Espagnole as a base sauce to create gravies such as a peppercorn brandy sauce, or a rich mushroom demi-glace. Substitute turkey or chicken stock in this recipe to create the best gravies around!
Nutrition
Nutrition info is auto-generated. This information is an estimate; if you are on a special diet, please use your own calculations.