My mothers German goulash recipe to me is the definition of comfort food. The meat is tender, falls apart with the slightest twist of a fork, with a rich and slightly creamy sauce. It always reminds me of home, and I can never turn down a plate of this hearty meal.
Just to be clear, I'm talking about German (or Hungarian) Goulash, not American Goulash which is very popular in North America as well. From what my wife has told me American Goulash is seasoned ground beef with tomato sauce, cheese, macaroni noodles and baked in a casserole dish. Also a good meal choice, but definitely not the same as the German goulash I grew up with!
Goulash is traditionally a Hungarian dish, and was first popularized by cattle herders. They used to cook diced meat with onions, (and sometimes potatoes) in a large kettle until all the liquid had evaporated. The remaining meat was then dried, and placed in sacks made of cow stomachs, to take on their journey across the plains with them. All you had to do was add some water and you had a rich flavorful meal ready to go. Essentially an early version of a 'Hungry Man Meal'! I find that German goulash is best served with noodles or traditional German spaetzle noodles.
This post contains affiliate links for which I may be compensated if a purchase is made through the links provided. For more information please read my affiliate disclosure.
How Do You Make German Goulash From Scratch?
In this German goulash recipe, I add a few more vegetables then just onions. I like to try and pack in as many vegetable goodies (without ruining the dish) as I can. This is great if you have kids who don't necessarily like vegetables, you can hide them in stews and sauces. In my family, they don't catch it half the time, and when they do, the vegetables are usually so small it hardly makes a difference. While I don't include them in this recipe, some variations also call for bell pepper or turnip.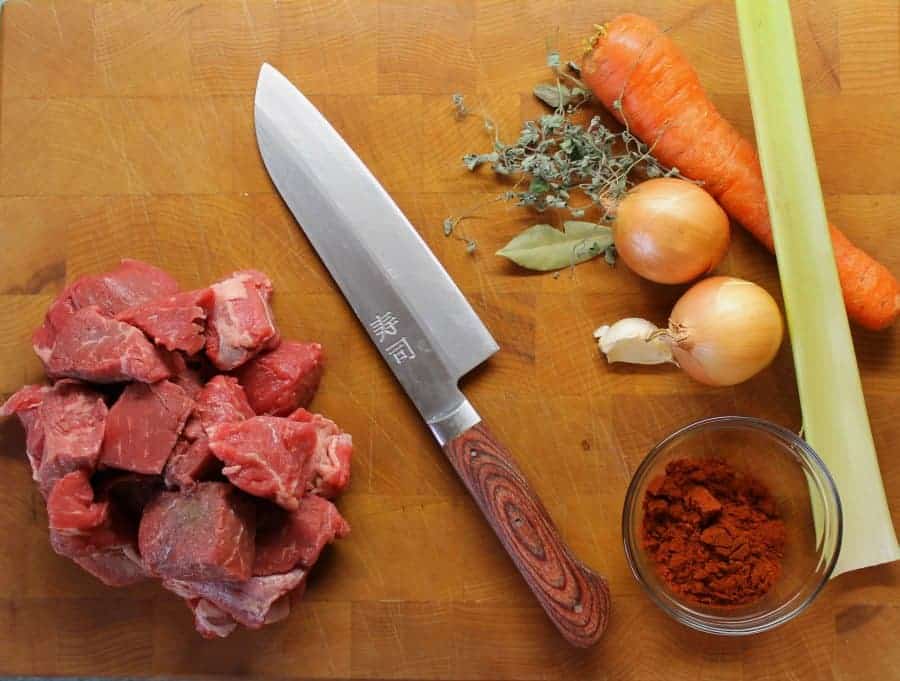 As with all my recipes, it is best to get all your Mise en Place (ingredient prep), together so that you can do all your cooking in one shot. This avoids the possibility of having missed something and having to run out to the store to pick up any missing ingredients.
Of course keeping a stocked pantry with essential herbs and spices will easily cover any 'missing' ingredients! I cut all my vegetables first, in this case the onion, carrot, and celery, and then dice up the beef. If you decide to buy stewing beef that is already pre-diced from the store, you may have to cut it into smaller more bite sized pieces. I find they usually leave it quite large. Keep in mind though, the smaller you do cut the beef, the faster it will cook!
Get together:
1lb Beef Chuck (Stewing Beef)
2 small onions- small diced
1 carrot - small diced
1 celery rib - small diced
1 clove garlic
1 teaspoon salt
1 bayleaf
3 tablespoon Paprika
1 tablespoon Oregano (or marjoram)
½ teaspoon caraway
3 -4 black peppercorns
½ cup redwine
1 liter beef stock - Homemade is best!
3 tablespoon flour
salt to taste
Marinating (Dry Rubbing) The Beef
Take your diced beef and mix it with the salt, paprika, ground oregano (or marjoram) and caraway. Mix this through really well with your hands until all of the beef is thoroughly coated. Place the beef in the fridge to absorb some of these flavors, while you start cutting the onions, carrot, celery, and garlic. Set all the vegetables aside in a bowl and continue with the rest of the recipe.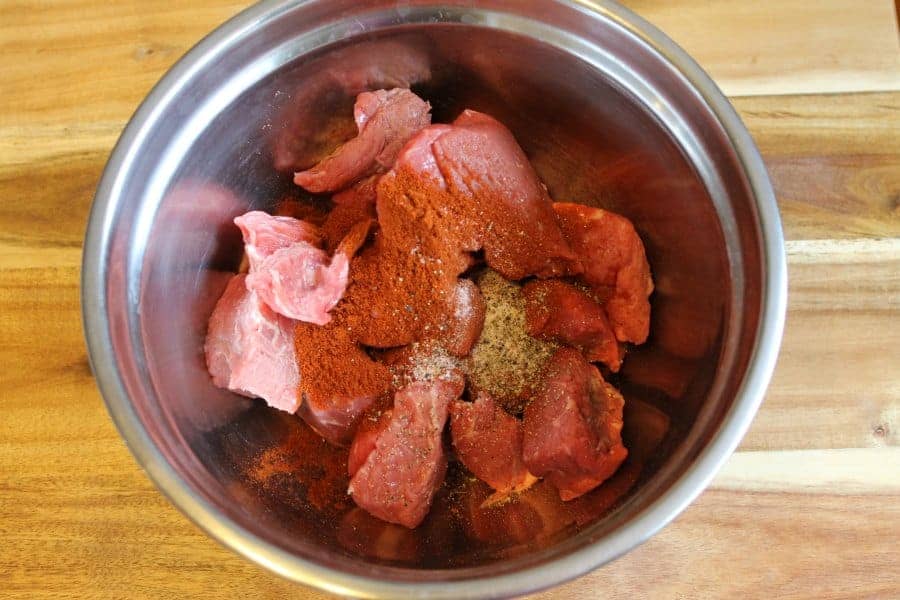 Stewing The Goulash
Heat a pot with a small splash (about 1 tablespoon) of oil or clarified butter. If you do use butter, it's better to use the clarified butter or ghee, since it has a higher smoking point then regular melted butter and won't burn on you as quick.
Once your oil or butter is hot, add your vegetables and turn the heat to a medium. You don't want to caramelize the vegetables here, you only want to "sweat" them. Sweating means to draw out some of the moisture and basically soften them up.
Once the onions, carrots, and celery have turned slightly translucent, add your diced beef that you have dry rubbed with the spices. Again be careful here not to scorch the bottom of the pot. The paprika and other spices have a tendency to stick a little and can burn if you are not careful!
Use a wooden spoon and stir the meat and vegetables, until the meat starts to slightly brown. Once it does, you can add a splash of red wine or water, to de-glaze the bottom of the pan or pot. Add your whole black peppercorns, bay leaf and stock. You want to have just enough liquid to cover the meat by about half an inch. If the 1 liter of stock is not enough, add a splash of water. Turn the heat up slightly and have the goulash come up to a simmer. Know you can sit back and relax (or clean up the kitchen!) while you wait for the goulash to slowly stew.
You don't really want the goulash to boil, just slowly bubble away. If you are doing this in a pot like I did, you can cover the pot with a lid and let the meat simmer that way for about an hour and a half.
Tip: While the goulash is simmering away, you could cook your pasta/ spaetzle, if you plan on eating this for dinner or lunch the same day. - Chef Markus
After the goulash has simmered for about an hour, take a fork and test to see if the beef is tender. The fork should easily pierce the meat, and break apart when you give the fork a slight twist. If the meat is not tender enough, keep simmering for about a half an hour.
You will notice that the liquid has also reduced by about half at this point (in the slow cooker you will have a lot more liquid left at the end (See below for crockpot instructions). You can either thicken the goulash at this point with a little bit of roux, or cornstarch. I prefer using roux, (Learn more about roux here).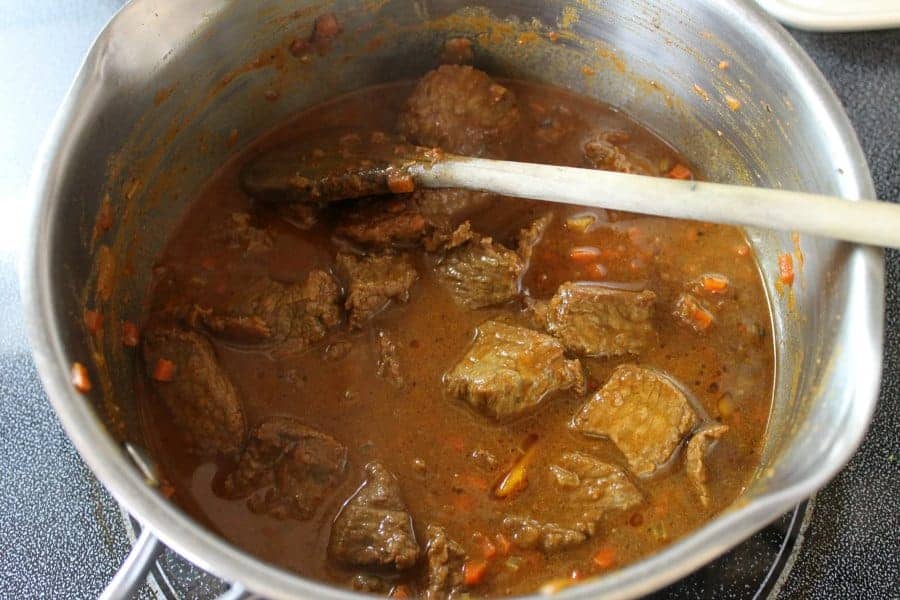 Simply add this to your liquid bit by bit and keep the goulash simmering for it to thicken. For this recipe I used roughly a tablespoon of roux. Roux does not thicken right away like cornstarch does, so let it simmer for about 5 minutes before you decide to add more. If the goulash gets to thick you can add a splash of water to thin it out again.
Can I Cook This German Goulash In A Crockpot?
Alternatively you could use a slow cooker to cook this Authentic German Goulash. Simply cut and prepare the vegetables as above, dry rub the meat with the spices, and add everything to the slow cooker in one shot.
Make sure the liquid just barely covers the beef. Set the Crockpot or other slow-cooker for 6 hours on low. Once the beef is tender, lightly thicken the sauce, using roux or cornstarch.
Once you have reached the desired consistency, you just need to season with a little salt and pepper if you like! Otherwise the German goulash is ready to eat!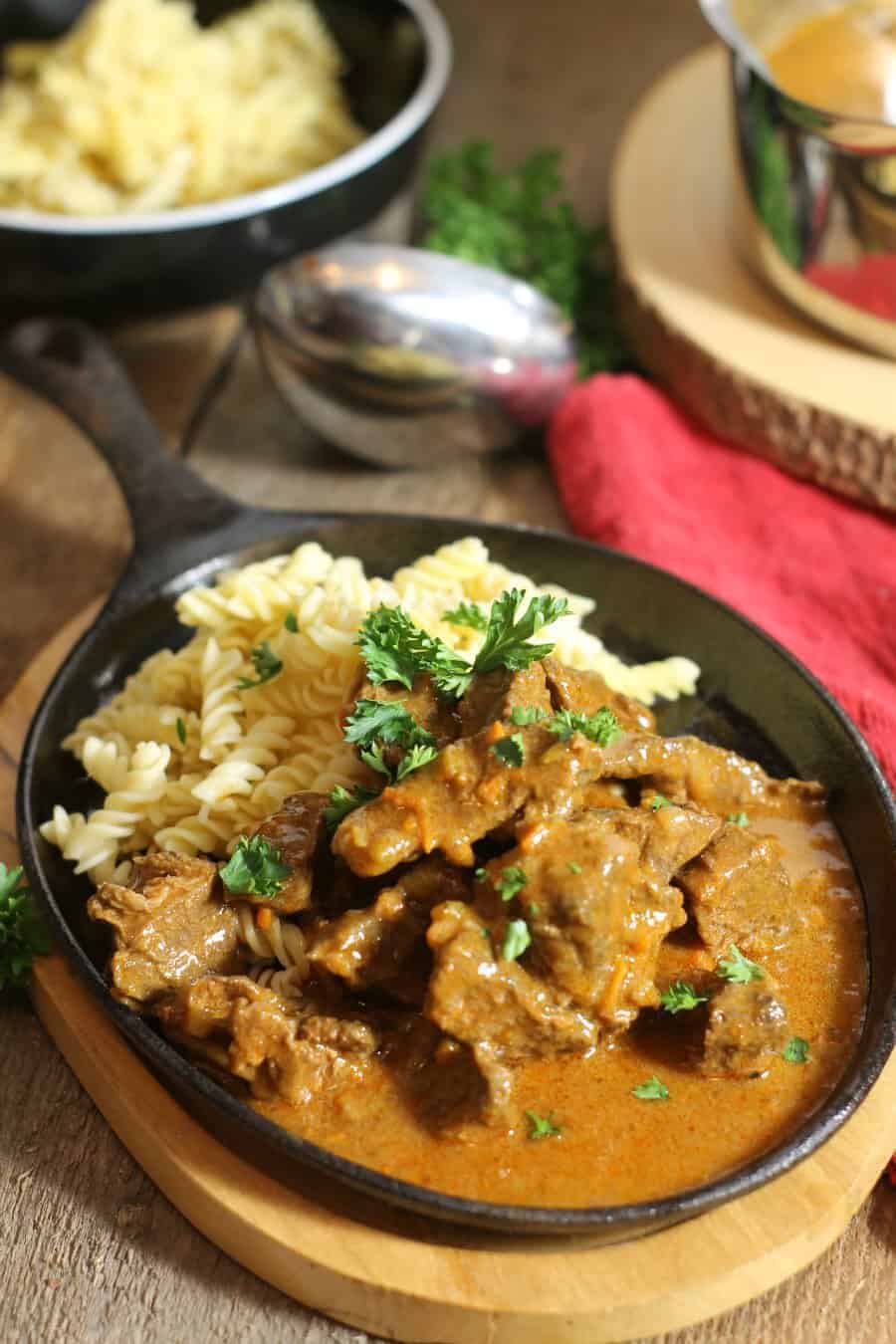 Tried the recipe? Rate the Recipe below, and take a picture and tag me on Facebook & Instagram: @earthfoodandfire . For more from scratch recipes follow me on Instagram & Pinterest
Recipe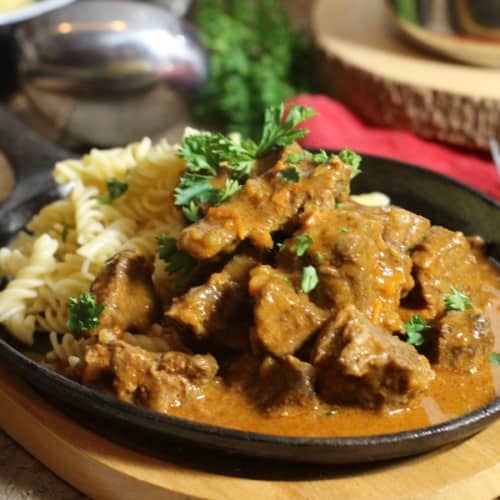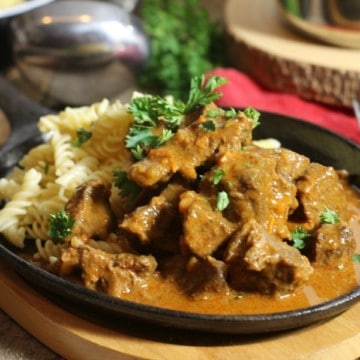 Hearty Homemade German Goulash
A hearty German Goulash recipe that you can set and forget about! A simple dish, the meat is extremely tender and the sauce packed with flavor.
Ingredients
1.1

lb

.5Kg stewing beef chuck

2

small onions - small diced

1

carrot - small diced

1

rib of celery - small diced

1

clove

of garlic - minced

1

bayleaf

1

teaspoon

salt

3

tablespoon

paprika

1

tablespoon

ground oregano or marjoram

½

teaspoon

caraway

3-4

whole black peppercorns

½

cup

redwine

4

cups

beef/veal stock or water

3

tablespoon

flour

salt to taste
Instructions
Cooking German Goulash On the Stovetop
Rub the diced beef, with the paprika, oregano (or marjoram), caraway, salt, and set aside to marinate.

Cut the carrot, celery, and onion into a

small dice

.

Heat a pot or pan on the stove over a medium high heat, and add a splash of oil or clarified butter.

Sweat your vegetables, in the oil until they start to turn translucent, add you spice rubbed beef to the pan, making sure not to burn the spices on the bottom of the pot. Stir regularly.

Add your bay leaf, and peppercorns, to the pot and stir them under. Deglaze the pot with the red wine, and then add your stock. Make sure you have enough liquid in the pot to cover the meat buy about half an inch.

Bring the pot to a boil and then turn down to a simmer. Cover the pot with a lid and let simmer over a medium low heat for about an hour and a half.

After the Goulash has simmered, test the meat with a fork to check that the meat is tender, it should easily break apart.
Slow cooker instructions
Dice your meat and vegetables as above.

Add all spices, meat, and vegetables to the slow cooker and add half the amount of stock and red wine as listed above.

Turn the slow cooker on low for about 6 hours. Thicken liquid as you like with cornstarch or roux to finish. season with a dash of salt and pepper.
Nutrition
Nutrition info is auto-generated. This information is an estimate; if you are on a special diet, please use your own calculations.
This post contains affiliate links for which I may be compensated if a purchase is made through the links provided. For more information please read my affiliate disclosure.