These chicken fajita naan pizzas are flavour-packed, loaded with veggies, and best of all, easy to make. Kids love them! The chicken fajita topping is easily made in one pan, and any leftovers can be stored in the fridge and used to make wraps or tacos another day.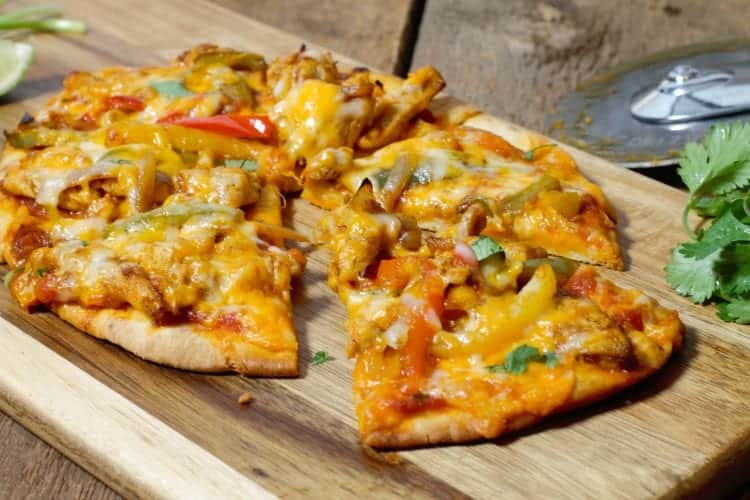 This post contains affiliate links for which we may be compensated if a purchase is made through the links provided. For more information please read our affiliate disclosure.
Why Naan Pizza?
Naan pizzas are awesome simply because you can easily make pizza at home any day of the week, without having to go through the effort of making pizza dough from scratch first. You just need to pick up some naan bread (which freezes great by the way).
They are easily customizable. All you need is a sauce, some toppings and cheese!
They are great for making with kids because they are easy to top, and bake in just 15 minutes.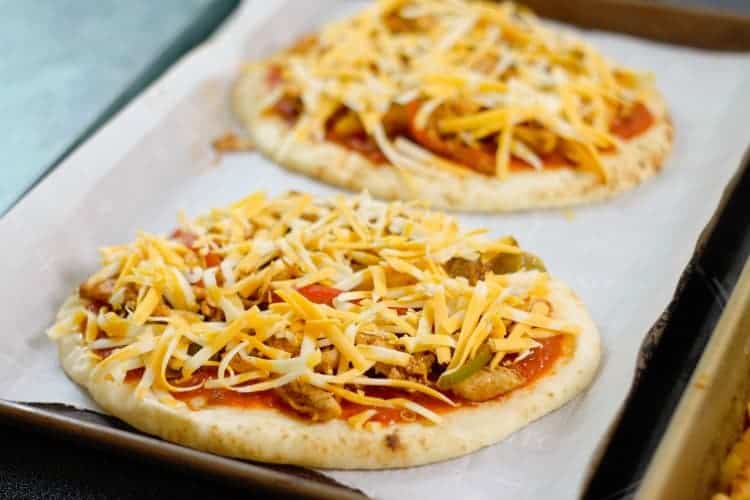 Chicken Fajita Naan Pizza
Naan pizzas are my go-to on nights when I work late and don't have time to cook a big meal. My daughter loves them and I know it's something she will eat. Served with a side salad or some veggie sticks and hummus, it's not a bad supper over all.
Just pepperoni and cheese get boring fast though, which is why I started putting this Mexican twist on them. The chicken fajita topping is made easily enough if you have fajita or taco seasoning in your pantry, and assembling the naan pizzas is a breeze.
Making your own fajita seasoning is super easy too, and is something my daughter loves to help with. You can find my favourite fajita spice recipe here.
For the base sauce of these naan pizzas, you can use any tomato sauce, pizza sauce, or even salsa! Monterey jack cheese is my favourite for this Mexican inspired pizza, but if you can't find any cheddar cheese will do just fine!
Making The Topping For Meal Prep
The easiest way to plan for this meal is to make the chicken fajita topping ahead of time. You could just cook it right before topping the naan pizza's (and I have done so many times), but the mixture is ideal for meal prep, and it's easy to make a big batch for future meals.
The chicken fajita topping will keep in the fridge for 3-4 days making it ideal for use in wraps, served over rice, or added to pasta!
Chefs Tips
In order to make this meal as painless as possible cut your veggies first as the frying pan heats up. This way you can use the same cutting board to then slice the chicken, reducing the number of dishes dirtied.
Making a large batch of fajita seasoning ahead of time will also make cooking the mixture easier.
When slicing the chicken, cut the chicken in half horizontally first (as if butterflying it) then cut it into strips to get thin strips that will cook quickly and be bite-sized.
Once the topping is cooked, you can cool it and save it for later use, or top your naan bread right away!
For an even crispier crust, pre-bake your naan bread for 2-4 minutes before topping with sauce and the chicken fajita mix.
You can make these chicken fajita naan pizzas even tastier by adding garnishes such as chopped green onion, cilantro, sour cream, jalapeno, and lime.
Made the recipe? Comment & Rate it below, then take a picture and tag me on Facebook & Instagram: @earthfoodandfire . For more from scratch recipes follow me on Instagram & Pinterest
Recipe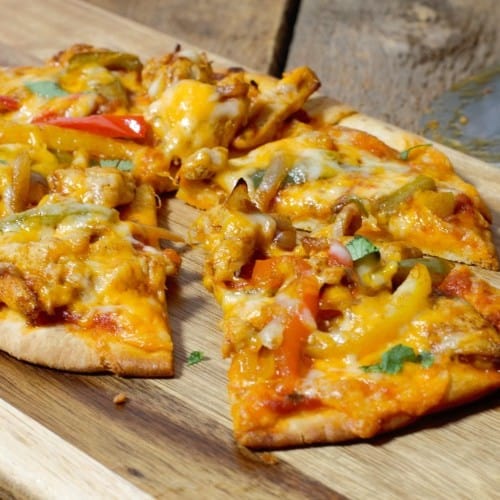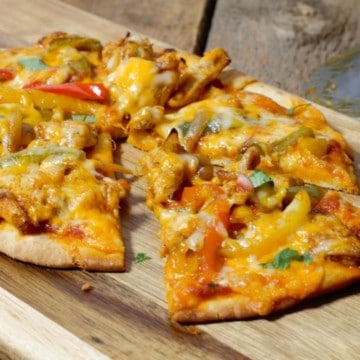 Chicken Fajita Naan Pizza
A Mexican twist on naan pizza, these chicken fajita naan pizzas are sure to keep your meals exciting. They are perfect for meal prep!
Ingredients
4

individual

naan bread

2

cups

tomato sauce, or salsa

2

cups

Monterey Jack

Shredded
Chicken Fajita Topping
2

lb

boneless/skinless chicken breasts

thinly sliced

1

small

red bell pepper

cut julienne

1

small

yellow bell pepper

cut julienne

1

small

green bell pepper

cut julienne

½

whole

red onion

cut julienne

3

tablespoon

fajita seasoning

1

whole

lime

juiced
Instructions
Cooking The Chicken Fajita Topping
Heat a tablespoon of oil in a large frying pan over medium heat and cut the bell peppers and onion into thin julienne strips. Slice the chicken breast, and saute it in the pan until golden brown.

Add the Fajita seasoning to the chicken, followed by the veggies and a splash of water. Cover the pan with a large lid, and cook for 3-4 minutes or until the peppers have started to soften.

Season the topping with freshly squeezed lime juice. Set the topping aside, or cool for later use.
Assembling & Cooking The Naan Pizza
Pre-heat your oven to 375F as you assemble the naan pizzas.

Lay the naan bread out on sheet pans lined with parchment paper or a nonstick silicone liner. Top the naan bread with the tomato sauce or salsa, spreading it out to within a half-inch of the edge. Sprinkle

Add the cooked chicken fajita topping to the naan pizza, making sure to spread it out evenly. The topping can be added directly after cooking or cold if it has been cooked ahead of time.

Shred the cheese on a box grater, and spread it out over the top of the naan pizzas. Bake the Naan Pizzas for about 15 minutes, or until the cheese is fully melted. Remove the naan pizza from the oven, cut and enjoy!
Notes
Optional : You can choose to garnish the chicken fajita naan pizzas with toppings such as chopped green onion, cilantro, sour cream, and lime!
Nutrition
Nutrition info is auto-generated. This information is an estimate; if you are on a special diet, please use your own calculations.