Garlicky, creamy, and perfect for dipping, this recipe for hummus without tahini is probably my all time favorite "snack dip" besides Tzatziki. I love the creaminess, richness and incredible flavor that this simple dish can provide, and it can be made in mere minutes!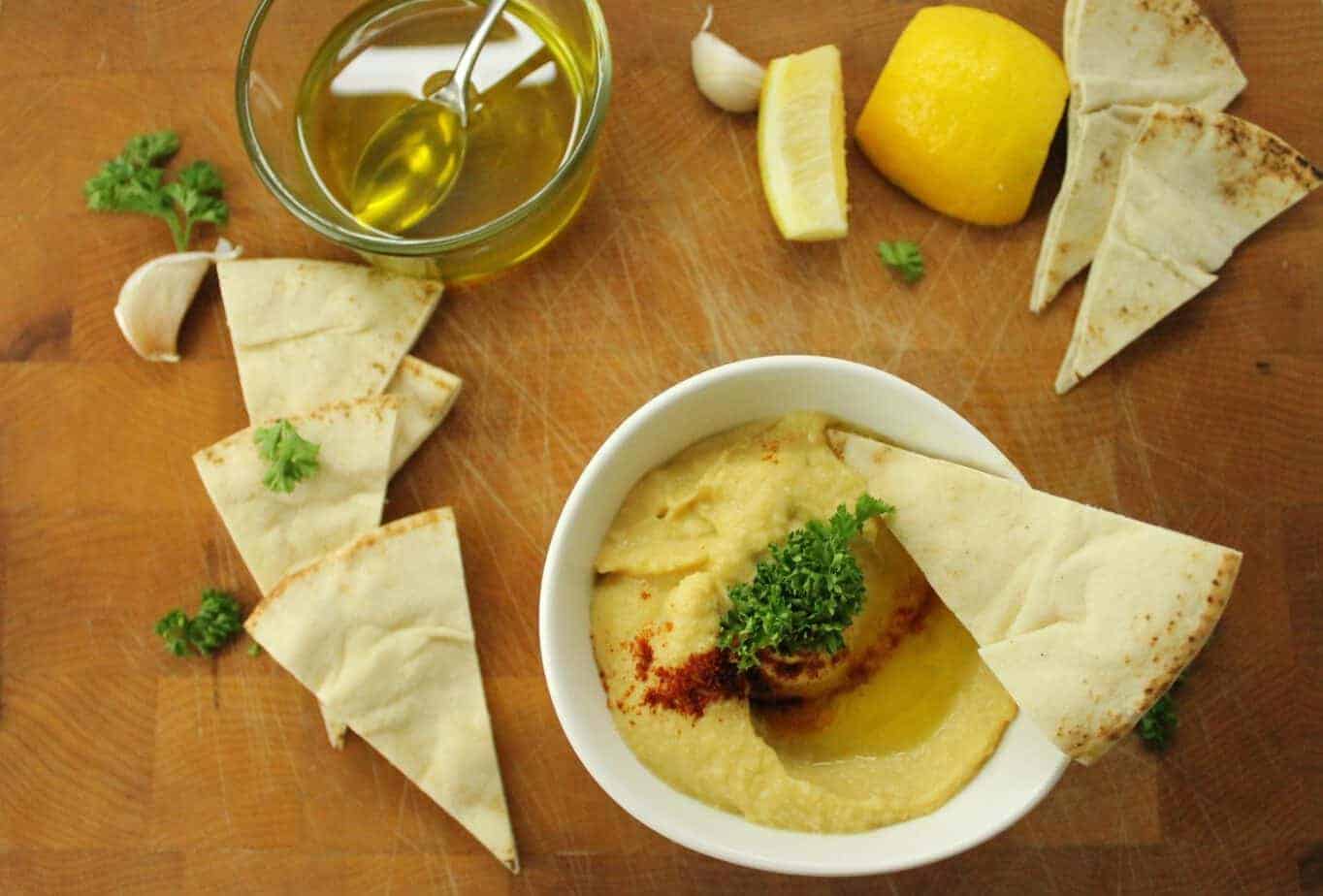 This post contains affiliate links for which I may be compensated if a purchase is made through the links provided. For more information please read my affiliate disclosure.
What Is Hummus?
Traditionally a blend of Chickpeas, (also known as garbanzo beans), garlic, tahini (sesame paste) oil and lemon, Hummus is a spread or dip that can be used in a variety of ways.
Originating in the Middle East, (specifically Egypt and the Levant),hummus is very easy to make, requires only a handful of ingredients, (which can be modified at will), and a blender of some sort!
Hummus is full of fibre, protein, vitamins B6 and C, and minerals such as iron, and zinc, making it a great snack choice for kids and adults alike..
Traditionally served and scooped with pita bread, you can also use it as a spread on flatbread, wraps, and sandwiches, as a dip with pita chips or simply a few veggie sticks. Hummus is a great way to add a healthy protein to your snack line up.
Why You Should Make Your Own Hummus (Instead Of Buying It)
Since hummus is so easy to make at home and freezes really well, I am always surprised when people buy it pre-fab at the store. You can pay five to six dollars for a little less than a cup worth of hummus, or buy a can of chickpeas for about ninety-seven cents. Lemon and garlic cost roughly a dollar or two, and I would hope you already have oil salt and pepper at home!
So for about four dollars you can make roughly triple the amount of hummus that you would buy in a store. Making your own hummus from scratch also has the added bonus of giving you the option to adjust the seasonings, however you like!
Don't like tahini or are allergic to sesame? No problem just leave it out, Love roasted garlic? Simply toss in a few roasted cloves. You could even mix in some spinach and red peppers for an extra health boost. Different spices, herbs, vegetables, and nuts have all been added to hummus over the centuries, so let your imagination run wild!
The only really thing you need to make homemade hummus is a blender or food processor of some kind. I use my Ninja Bullet to make hummus at home, but any similar appliance will do.
Homemade Hummus Without Tahini
For this recipe, I am going to keep things fairly basic, and simply leave out the tahini traditional hummus calls for. I find tahini adds a certain bitterness to the hummus, and my daughter seems to prefer it without!
You will need:
1 540ml can of Garbanzo Beans (Chickpeas)- drained and rinsed
2 cloves of garlic - crushed or minced
1 lemon- juiced
1 cup of oil (I prefer olive oil)
salt and pepper to taste
Since I do not own an electric food processor, I use either my hand crank food processor or my Ninja Bullet to make this hummus without tahini at home.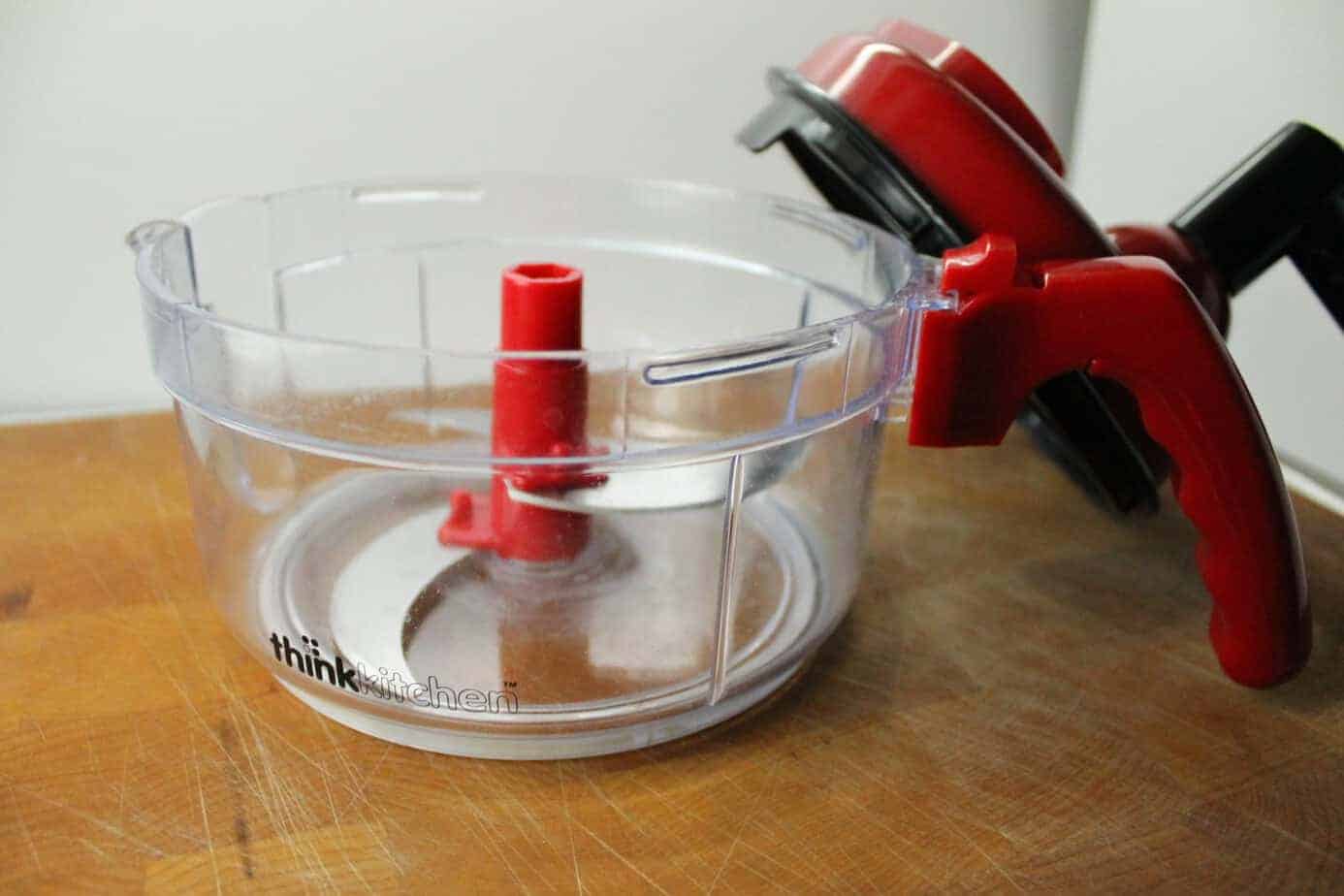 You could make this hummus recipe in a mortar and pestle but you would need to crush all your chickpeas first and then add your oil at the very end. It does take a little longer to do this by hand, and it may not be as creamy and smooth as when made with an appliance.
Instructions
1. Start by draining all the liquid from your chickpeas and rinsing them very well under cold water. You can save the brine for future use (I'll cover this in a future post) or simply toss it. It is just the liquid that the chickpeas were cooked in while they were processed.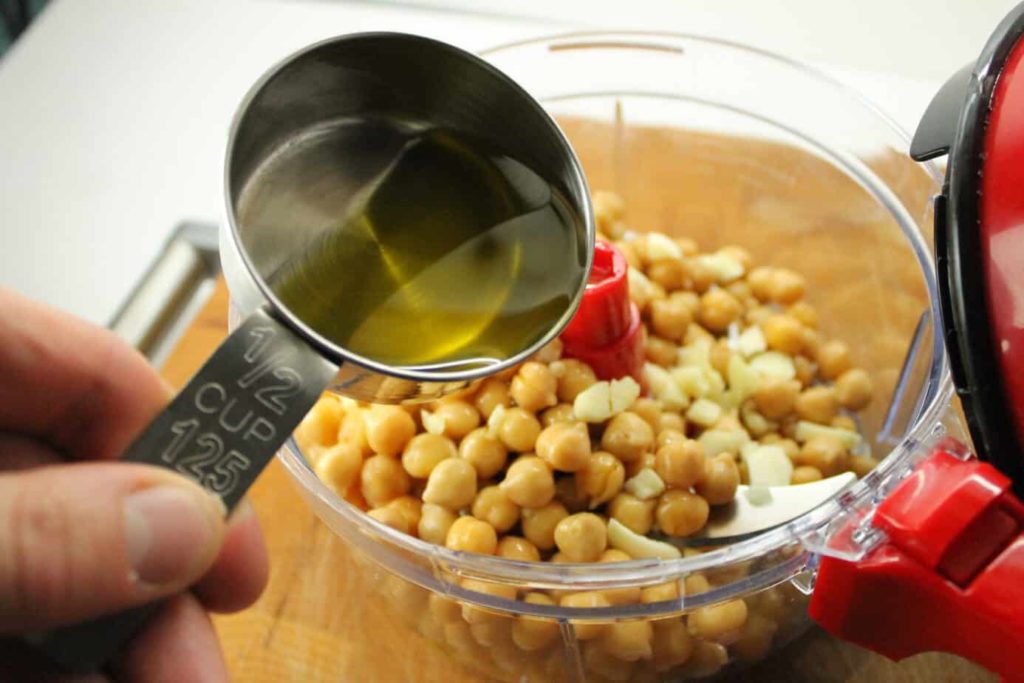 2. Once the Chickpeas are rinsed, add them to your food processor with half the oil, garlic, lemon and salt. Blitz them until the chickpeas are smooth. Once it starts getting a little harder to blitz the paste, add some more of the olive oil to the mix and keep going.
You could leave the paste chunky if you like or go for a completely smooth end product. The hardest part is over! To get the seasonings evenly mixed in I would suggest adding them right to the food processor from the start.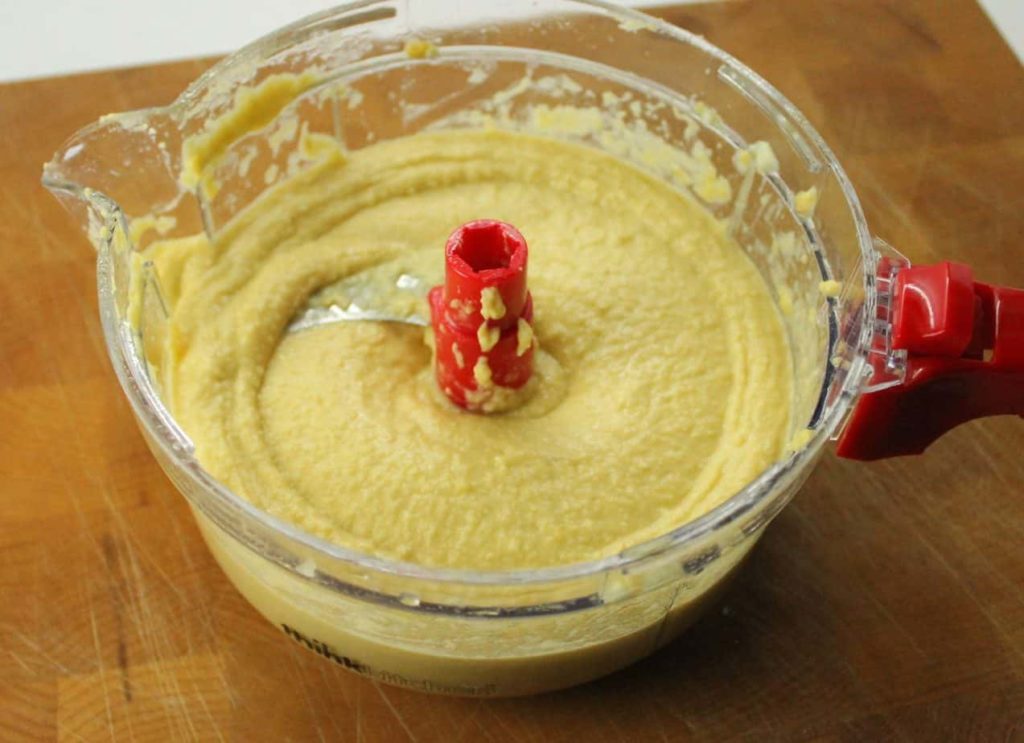 If your hummus is too thick, you can add a splash of water to help thin it out.
At this point you can easily add any other flavorings to the hummus. Roasted red peppers are a popular addition, or try it with some spinach or cumin and coriander! It's simply delicious!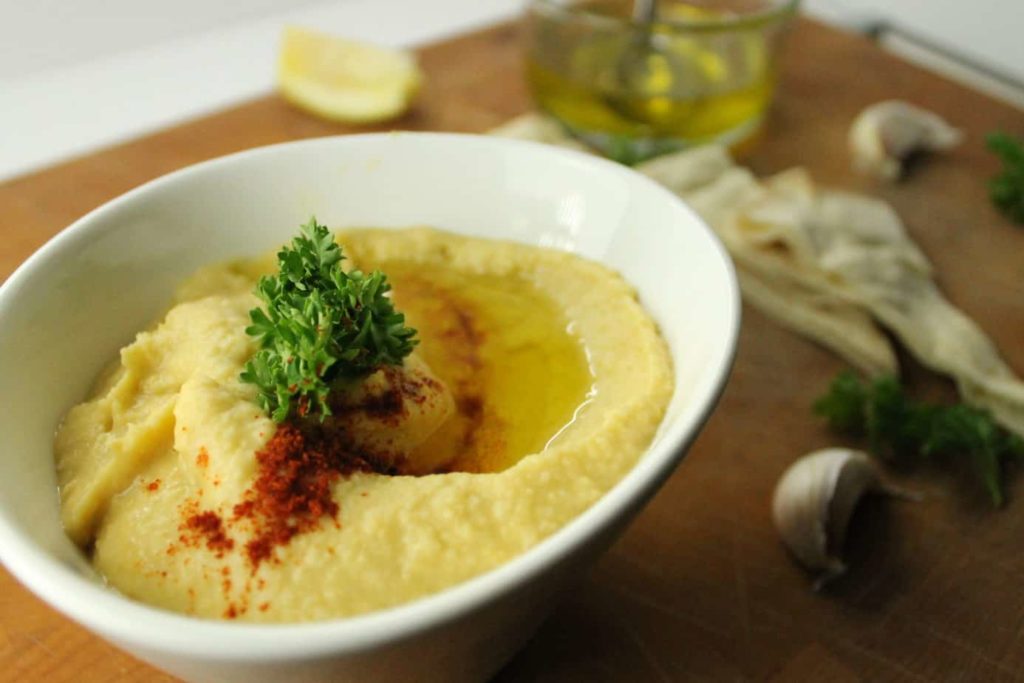 Made the recipe? Comment & Rate it below, then take a picture and tag me on Facebook & Instagram: @earthfoodandfire . For more from scratch recipes follow me on Instagram & Pinterest
Recipe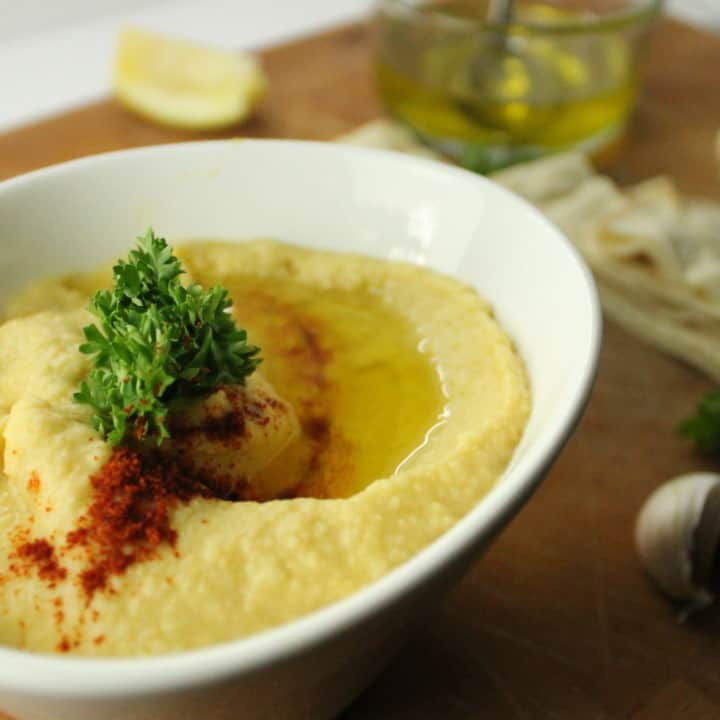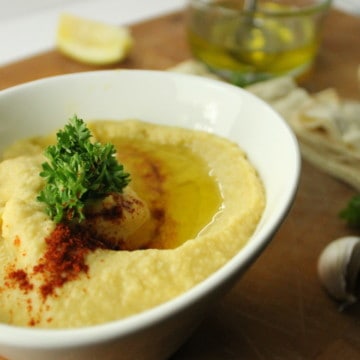 Homemade Hummus Without Tahini
Learn how to make hummus from scratch with this simple 5 ingredient recipe. Easily modified to suit your own tastes & makes a great dip for crudites!!
Equipment
Blender or food processor
Ingredients
1

540 ml can

Chickpeas

drained and rinsed

2

cloves

garlic

crushed or minced

1

whole

lemons

juiced

1

teaspoon

salt

1

cup

olive oil
Instructions
Strain the Chickpeas from the liquid in the can and rinse under cold water.

Add the chickpeas, garlic, lemon juice, salt and half the olive oil to the food processor.

Pulse the mixture until the chickpeas turn into a chunky paste.

Add the rest of the oil and keep pureeing until the hummus becomes smooth.

Season with salt and pepper.

At this point add any other flavourings, such as spinach, roasted red peppers, tahini, roasted garlic, etc.
Nutrition
Nutrition info is auto-generated. This information is an estimate; if you are on a special diet, please use your own calculations.