Salads are one of my all-time favorite things to eat. The reason? They are incredibly easy and fast to make and there is a vast array of flavor combinations available. You have leafy salads like the Ceaser salad, garden salad and spinach salad. Starch-based salads like potato salad and pasta salads. Fruit salads like Waldorf salad or stone fruit and nut salads.
The combinations are endless and pretty well limited only to your own imagination and creativity. You can take this a step further and have the same salad ingredients but with different dressings or vinaigrette's. I think it's why I have always loved making salads and salad dressings like this grapefruit vinaigrette at home. You can pretty well make any dressing you want once you know the basics! Check out these 11 Spring Inspired Salads!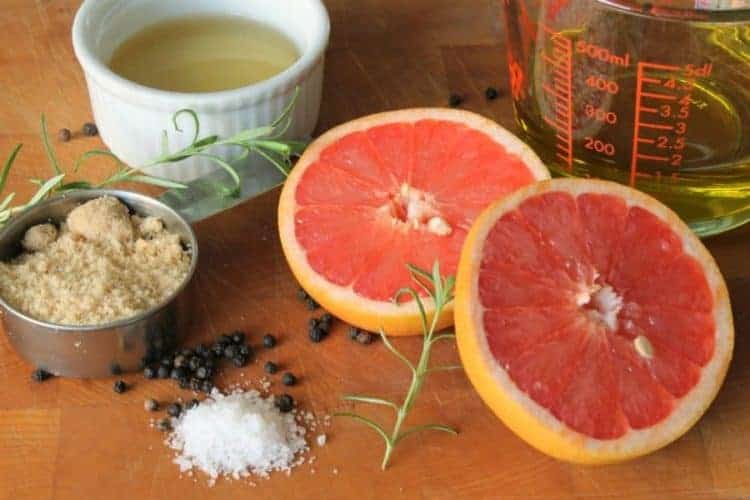 This post contains affiliate links for which I may be compensated if a purchase is made through the links provided. For more information please read my affiliate disclosure.
Making Fresh Grapefruit Vinaigrette At Home
I had an excess of grapefruit in the fridge (because they were on sale of course!) and I didn't want them to go bad. I thought what can I make that will preserve the grapefruit and I can use on a regular basis.
The answer was salad dressing! It's easy to make, full of flavor and surprisingly juicy! You get all the benefits of the grapefruit added to your salad! It's great having a fresh homemade vinaigrette handy especially if you eat a lot of salad as we do in our household.
I usually have two or three homemade dressings kicking around the fridge. Grapefruit is also, believe it or not, seasonal during the winter months, which is when citrus fruits ripen in the warmer climates.
Does it Matter What Type Of Oil & Vinegar You Use?
If you have never made a vinaigrette at home, don't worry they are incredibly easy to make. Even if you don't have a blender or other fancy mixing gear in the house, a simple whisk and bowl will do the trick.
The culinary definition of a vinaigrette is 3 parts oil to 1 part vinegar with various flavorings thrown in. You can use olive, canola, coconut or any other oil you like.
Vinegar used may include regular plain white vinegar, balsamic vinegar, champagne vinegar, apple cider vinegar etc. You can even use lemon or other citrus juice, ( in this case we are using the ruby red grapefruit)! Whatever you have on hand or want to use will generally speaking work out.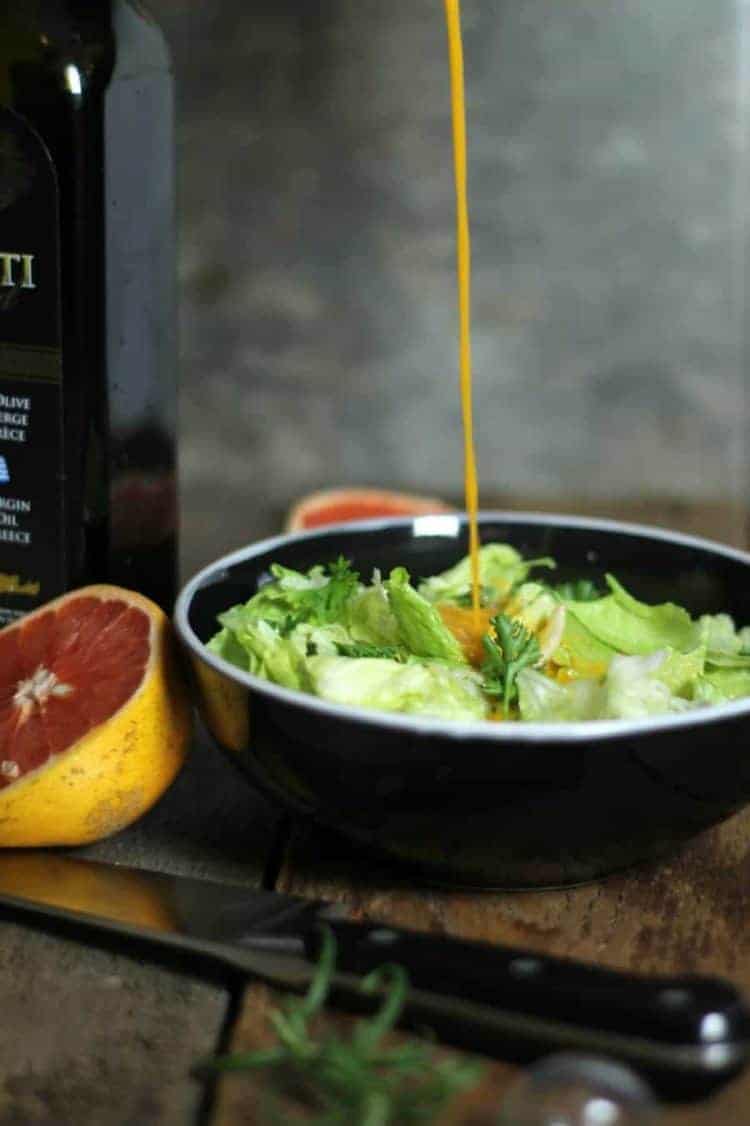 This ratio of 3:1, oil to vinegar, creates what is called a temporary impulsion. Unlike a stable emulsion (take mayonnaise for example) this temporary emulsion will mix together and look uniform especially if blended together in a high powered mixer.
Over time though, the vinegar will 'split'out of the oil, and the two will split into two separate layers. This is ok, it just means you may need to re-whisk or vigorously shake the vinaigrette before using again.
Note: If you decide to use oils such as olive oil or coconut oil for your salad dressing be aware that the oil may solidify if refrigerated. Fear not! The oils will liquefy again at room temperature. - Chef Markus
Can I Make This Dressing By hand, Or Do I Need A Blender/Mixer?
While I used a blender to emulsify the grapefruit vinaigrette and create a smooth dressing, you could also go the old fashioned whisk and bowl route. The resulting vinaigrette will just not be quite as smooth and of mixing the vinaigrette by hand, I would suggest juicing the grapefruit instead of using it whole.
You will need:
1 cup Olive oil (or any other oil of your choosing)
2 Grapefruit - segmented and the juice saved
¼ cup brown sugar
½ clove fresh garlic - minced
1 tablespoon Apple cider vinegar
1 sprig fresh rosemary
1 teaspoon crushed black peppercorns
1 teaspoon salt
Instructions
Start by segmenting the two grapefruits. The simplest way to do this is shown in the photo below: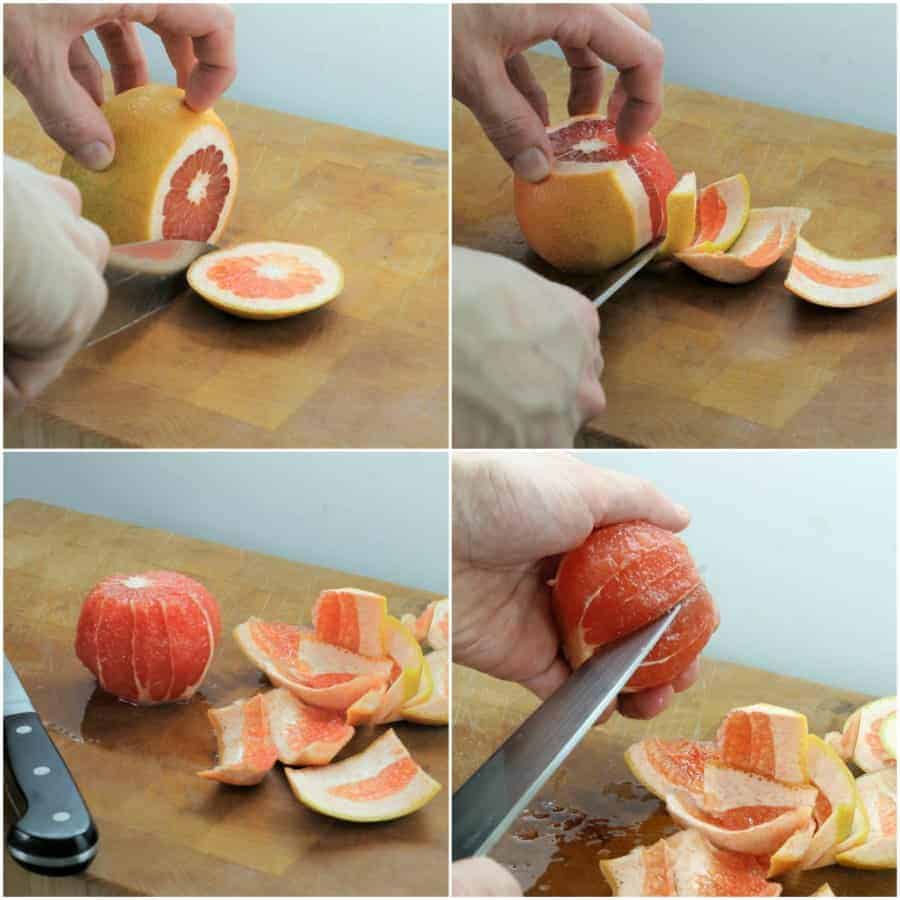 Cut the top and bottom of the grapefruit.
Trim the peel off of the fruit, by following the shape of the grapefruit making sure to only remove the pith.
Once all the peel is removed, remove each segment of grapefruit with your knife.
If mixing the dressing by hand, continue by chopping up the grapefruit segments into small little pieces. Watch out, they are juicy! Save any juice you can and add it to the mixing bowl. Finely mince the garlic and rosemary. Then along with the sugar, apple cider vinegar, grapefruit, pepper, salt and oil whisk the ingredients together in a bowl.
Otherwise toss everything into a blender and blitz until everything is mixed. Slowly pour the oil in as the blender is going or add the oil one-third at a time. This will emulsify the oil with the other ingredients creating a smooth grapefruit vinaigrette.
Season the dressing with salt and pepper. If the grapefruit vinaigrette is still very tart(depending on the grapefruit used), sweeten it with some more brown sugar.
Always make sure to re-season your grapefruit vinaigrette with a little salt and pepper at the end! When first blending all the ingredients in the mixer the grapefruit vinaigrette will be a pale pink color. As it sits, the acid seems to react with the other ingredients and creates this wonderfully intense bright orange color!
If mixing the dressing by hand the color will not be this bright.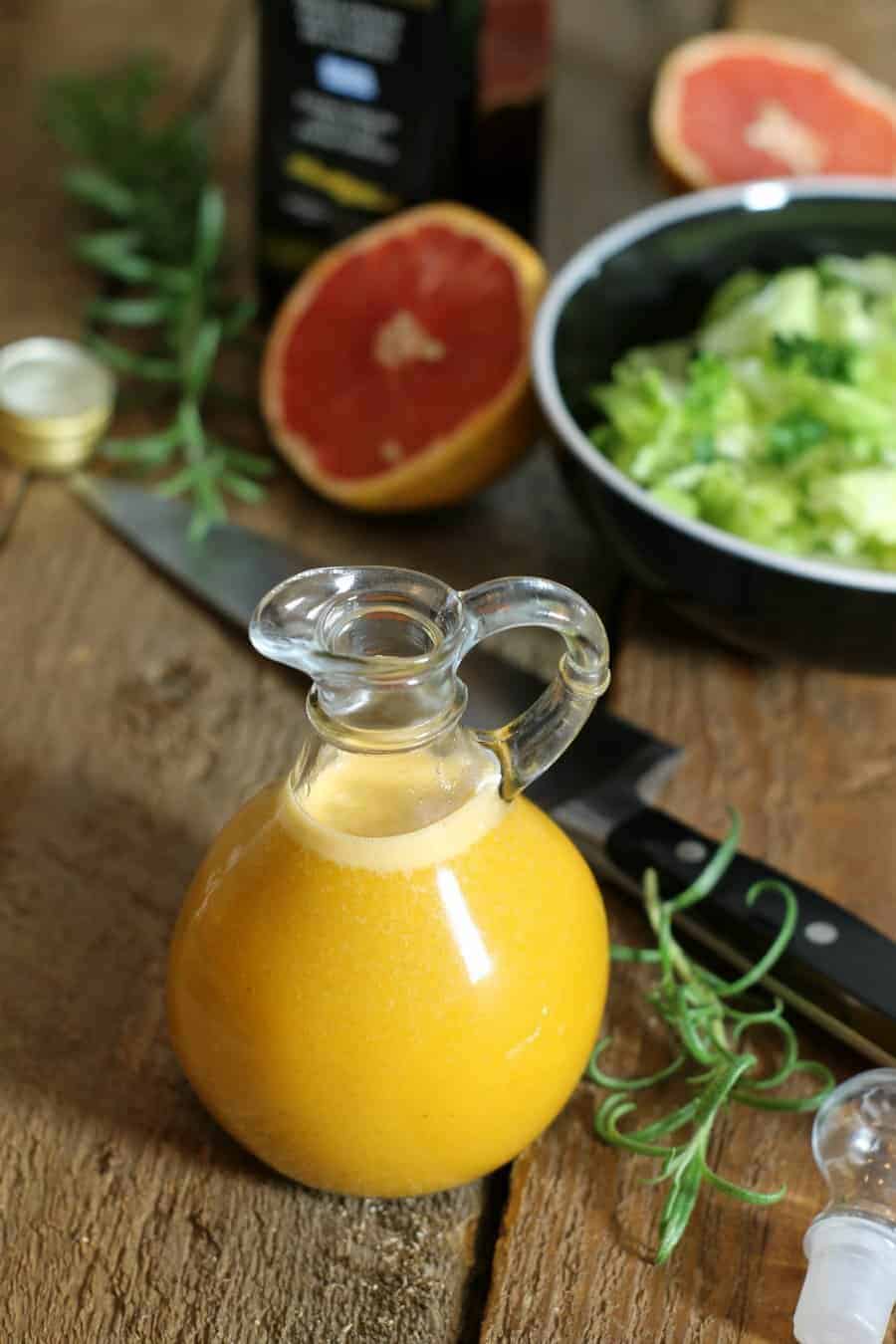 This surprisingly bright orange, grapefruit salad dressing will go great with any leafy salad,(especially spinach salad) and can even be used over a simple pasta salad! Make sure to store your grapefruit vinaigrette in a glass container(such as a mason jar) or bottle if possible.
Due to the high acidity of vinaigrette in general, it is a bad idea to store these kinds of condiments in plastic. The acid will slowly eat at the plastic, leaching chemicals into it. Using glass containers or bottles is the best way to keep homemade dressing for up to 3 weeks!
Tried the recipe? Rate the Recipe below, and take a picture and tag me on Facebook & Instagram: @earthfoodandfire . For more from scratch recipes follow me on Instagram & Pinterest
Looking for more homemade Vinaigrette Recipes!? Try this Creamy Roasted Garlic Salad Dressing. You won't be disappointed!
Recipe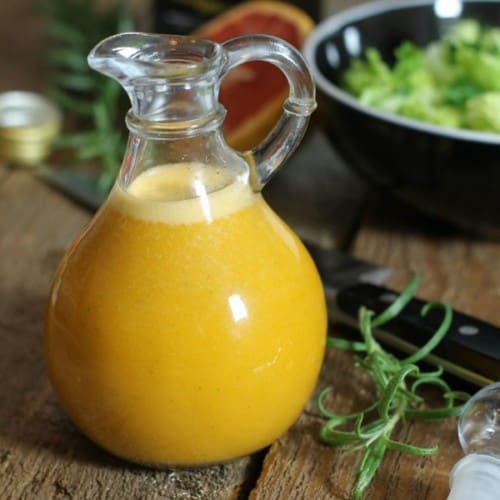 From Scratch Grapefruit Vinaigrette
Learn the basics of making vinaigrette at home. This easy grapefruit vinaigrette packs a fruity punch and is perfect for brightening up any salad!
Ingredients
1

cup

Olive oil

or any other oil of your choosing

2

Grapefruit - segmented and the juice saved

(Only use the Juice if mixing the dressing by hand)

¼

cup

brown sugar

½

clove

fresh garlic - minced

1

tablespoon

Apple cider vinegar

1

sprig fresh rosemary

1

teaspoon

crushed black peppercorns

1

teaspoon

salt
Instructions
Peel and segment the 2 fresh grapefruits. If mixing by hand, juice the fruit and set aside.

Mince the garlic and fresh rosemary and add to the grapefruit.

Mix the salt, pepper and apple cider vinegar and brown sugar in with the fruit, garlic and herb.

Use a blender and blitz until smooth. Alternatively whisk all the ingredients vigorously in a bowl.

Add in the oil and blitz (or whisk) again until the grapefruit dressing becomes thick and creamy.

Re-season the vinaigrette with salt and a little sugar if it is very tart.

Store the grapefruit vinaigrette in a glass container such as a mason jar. The dressing will keep in the fridge for up to 3 weeks.
Notes
If using olive or coconut oil, note that the oil will solidify in the fridge during storage. The oil will liquefy again at room temperature at which point the dressing simply needs to be vigorously mixed.
Nutrition
Nutrition info is auto-generated. This information is an estimate; if you are on a special diet, please use your own calculations.
This post contains affiliate links for which I may be compensated if a purchase is made through the links provided. For more information please read my affiliate disclosure.