Fall is one of my favorite seasons, and with it comes one of my favorite outdoor food related activities...apple picking! I recently read a book on canning, and learned how to make apple butter at home. So this trip to the orchard was the ideal excuse to try out a a homemade apple butter recipe featuring fresh local apples!
We drove out to a local orchard here on PEI, (which was only about 15 minutes from the city), and spent a wonderful afternoon in the fresh air wandering among the various apple trees. We decided to pick Gravenstein Apples, as they are excellent apples to cook with (such as in this apple pie)and they also make a delicious apple cider!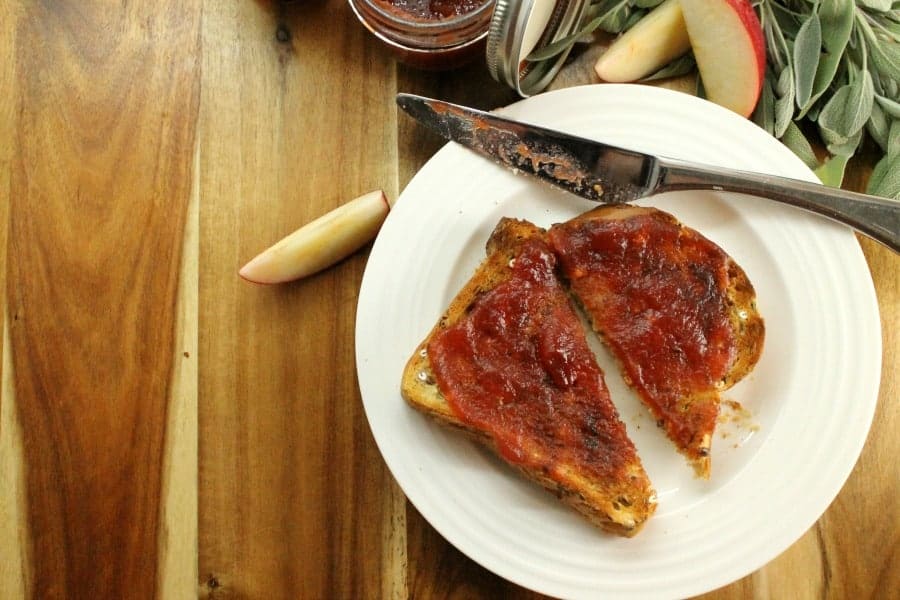 This post contains affiliate links for which I may be compensated if a purchase is made through the links provided. For more information please read my affiliate disclosure.
What Is Apple Butter?
What is Apple Butter, you may be asking yourself? Apple, and Fruit Butters in general, are essentially fruit purees that are cooked very slowly over low heat until they become very thick, almost like a jam, and will spread like butter on bread. They are a great way to preserve fresh fruit for the winter, and provide an intensely flavorful addition to toast, cheese boards, and desserts.
This homemade apple butter is a variation of a recipe from the book, 'Preserve it!', and is basically a jazzed up, thickened apple sauce, turned jam. The apple butter cans very well for storage, and is how I decided to store half of this batch for later in the winter. The other half I will freeze in vacuum sealed bags. Make sure to read up on home canning if you plan on preserving this tasty apple butter recipe!
Making Homemade Apple Butter From Scratch
Before making your own apple butter at home make sure you have:
A large thick bottomed pot or stock pot (8 quart works well)
measuring cups
a strainer
a ladle
and of course the ingredients:
2 lbs cored and roughly chopped apples
2.5 cups water
3 cups brown sugar
1 whole lemon
pinch of cinnamon
Instructions
To make homemade apple butter on the stove, start by washing and chopping your apples. You'll want to use at least 1.8kg or roughly 2 lbs worth as the apples cook down quite a bit. The easiest way to do this is to simply cut the core out of the apple by slicing 4 large chunks of each "side" of the apple. Add these apples, peel and all to a thick bottomed pot with 2.5 cups of water and cover with a lid. Turn the pot on medium low, and let the apples start to cook. Remember slow is good here!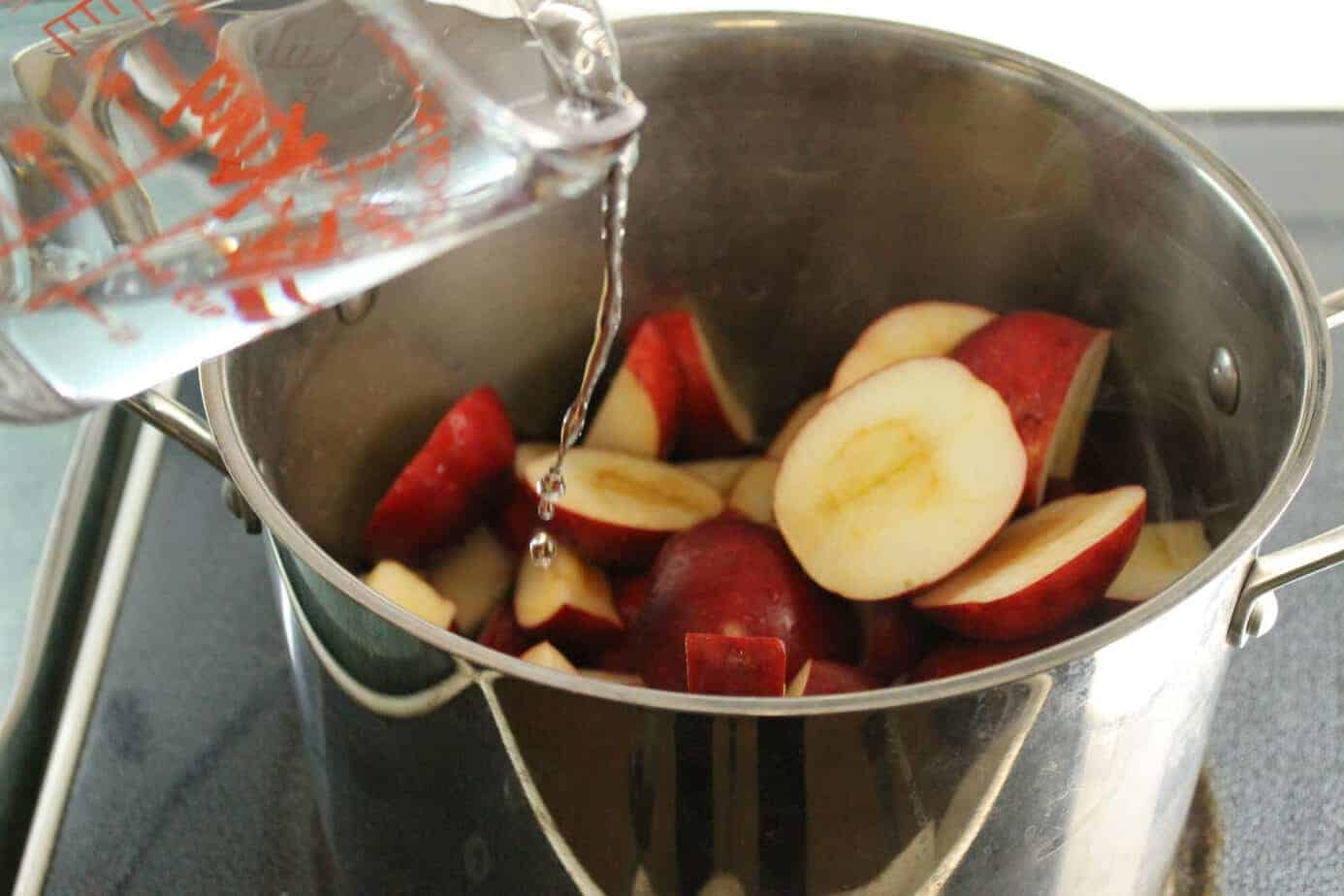 The water helps prevent the apples from scorching and ensures all the apples are cooked soft. Once all the apples are soft, take a mesh strainer and over a bowl or other pot mash the soft apples through the strainer. All the flesh and juice should go through leaving behind the apple skins.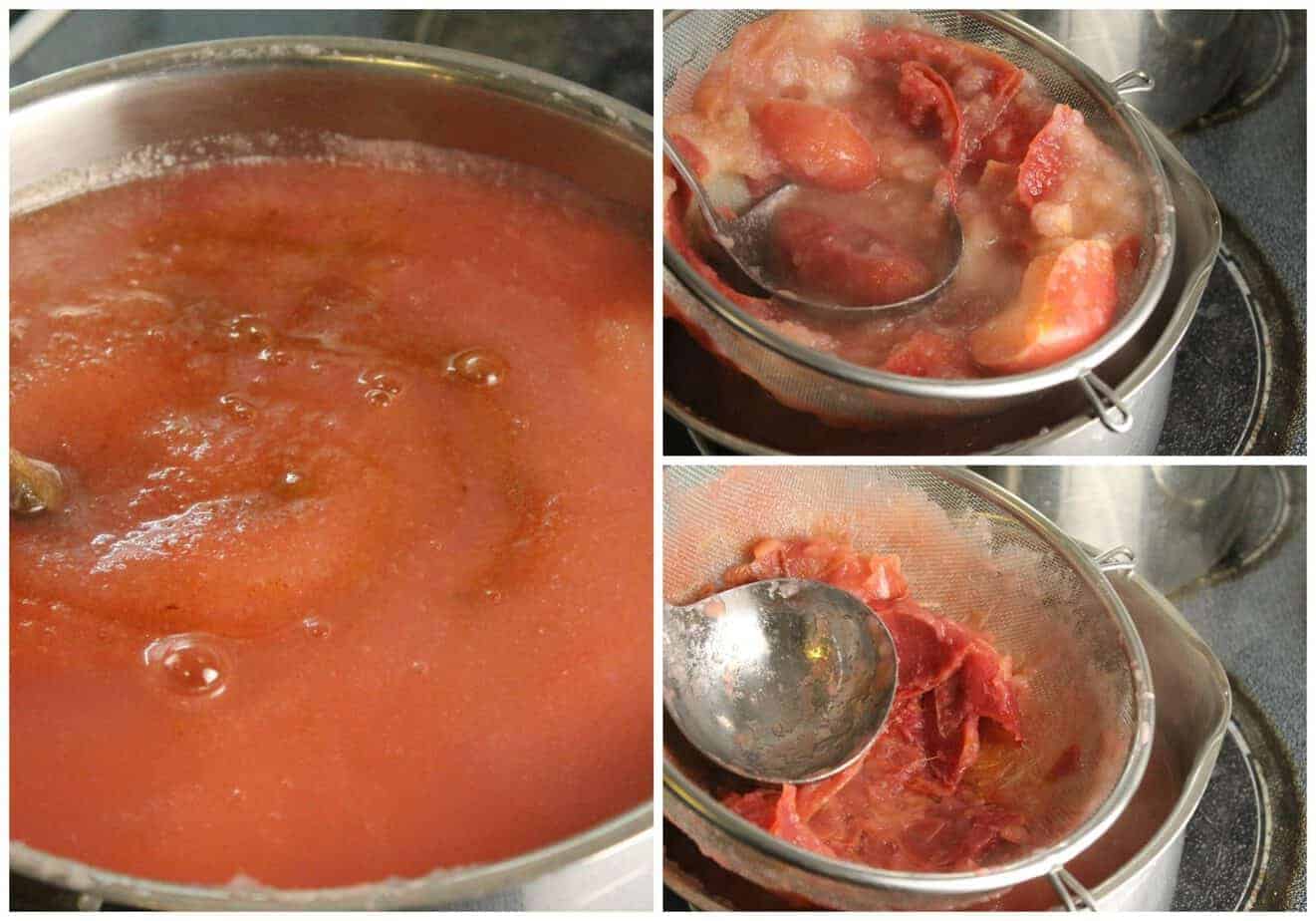 You will end up with a thin "apple puree" that you could bottle and preserve as apple sauce with a few seasonings. To get apple butter though, we will add, 3 cups of brown sugar, a pinch of cinnamon, and the juice of one lemon.
Return the seasoned, puree like apple mixture to a pot and bring the whole mix to a boil, after which you want to turn it down to a slow bubble. Simmer this for at least 2 hours, after which the apple butter will be very thick and almost paste-like. Be careful not to burn it and stir often!
The longer you cook the apple butter the thicker the end product will become. Once the apple butter reached the thickness I wanted, I added two whole sprigs of fresh sage, and let them steep in the apple butter for 15 minutes. This lets the sage flavor infuse wonderfully without becoming too over powering.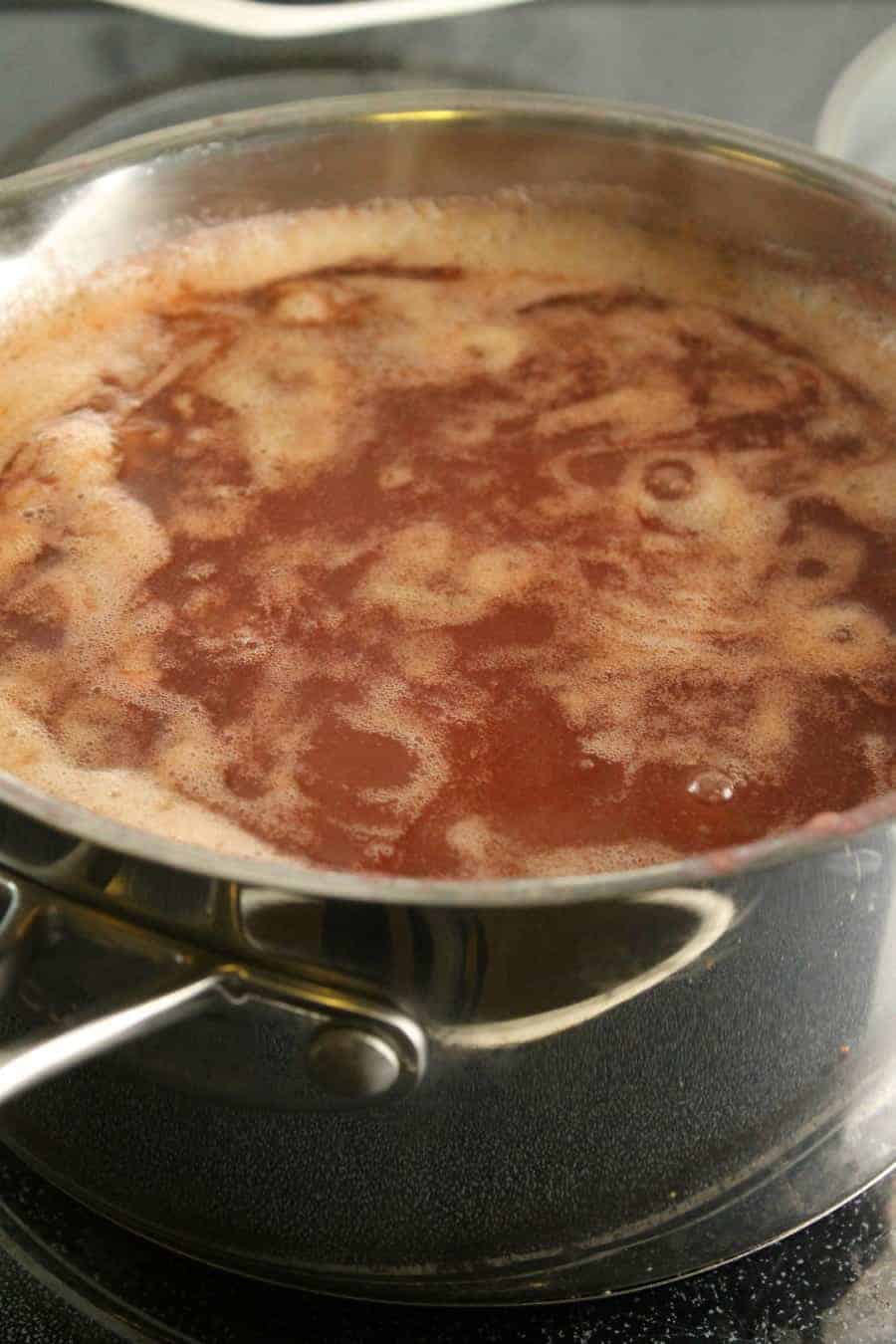 You want to be able to just barely be able to pick out the sage among the apple flavor. I use sage from the garden, and this recipe is a great way of preserving fresh sage!
Canning Your Apple Butter For Long Term Storage
If you plan on canning this from scratch apple butter recipe (as I did with a portion of my batch), there are a few steps to follow.
Heat clean mason jars and lids in a pot of water. Once the apple butter has finished cooking on the stove, portion it into the mason jars leaving about a quarter-inch of space at the top.
Place the snap lids on the jars and barely tighten. Don't jam the lid on bang tight in other words.
Place the filled and sealed jars in the simmering pot of water for at least 5 minutes.
Remove the jars from the simmering water, and cool on the kitchen counter until completely cooled. You should hear all the jar tops 'pop' as they cool. This helps indicate a proper airtight seal.
The canned homemade apple butter should last for at least 3 to 4 months in cold storage such as a basement pantry, or 6+ months if refrigerated.
Have you ever made apple butter?? Comment & let me know what you thought of this recipe below, then take a picture and tag me on Facebook & Instagram: @earthfoodandfire . For more from scratch recipes follow me on Instagram & Pinterest
Recipe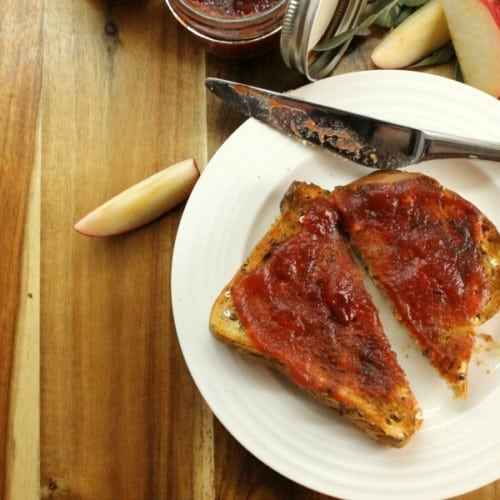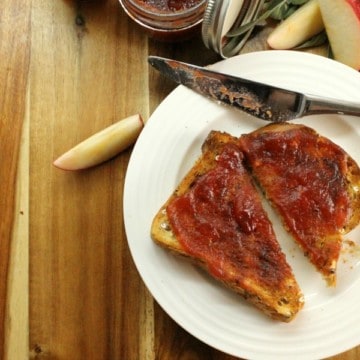 Gravenstine Apple & Sage 'Butter'
Homemade apple butter is a great way to preserve apples if you went apple picking and have to many on hand. A rich, creamy spread, apple butter makes a delicious breakfast treat!
Ingredients
1800

g

Gravenstein apples

3

cups

brown sugar

1

lemon juiced

1

pinch

of cinnamon

2.5

cups

water

2

sprigs fresh sage
Instructions
Rough chop the apples(not peeled) and cook them in a pot with 2.5 cups of water until soft. About 12 minutes

Mash the soft apples through a sieve, straining out the skins and ending up with a smooth puree like product.

Add the lemon juice and spices to the apple puree.

Cook the puree for 2 to 2.5 hours at a simmer over low heat until the mixture is thick and will sit on the back of a spoon.

Turn of the pot and stir in the the 2 sprigs of fresh sage. Let steep for 10- 15 minutes. Remove the sage sprigs before storing.

Can the finished apple butter if desired, or refrigerate in jars. The apple butter may also be frozen for long term storage.
Nutrition
Nutrition info is auto-generated. This information is an estimate; if you are on a special diet, please use your own calculations.
If you have any questions regarding how to make apple butter from scratch, feel free to send me an e-mail, or ask on Facebook! You can also find me on Twitter, Pinterest and Yummly!