Learning how to make roux adds another technique to your cooking skills that allow you to thicken a variety of dishes properly. Béchamel Sauce and Velouté Sauce are two great examples of classic recipes using roux as a thickener.
This post contains affiliate links for which we may be compensated if a purchase is made through the links provided. For more information please read our affiliate disclosure.
What is Roux?
Roux is one of the traditional ways soups, sauces and other dishes where thickened before Cornstarch and Potato starch became popular. Most sauces are thickened using starches of one type or another.
Roux is a mixture of equal parts flour and fat by weight which is then cooked to create white, blonde, or brown roux.
How does roux thicken foods?
Roux thickens any liquid food, because as the starch is dissolved and mixed into your end product, the individual starch granules absorb that liquid and slowly start to swell and thicken as they are heated. The fat in the roux is used to ensure the flour is evenly distributed into the liquid without clumping.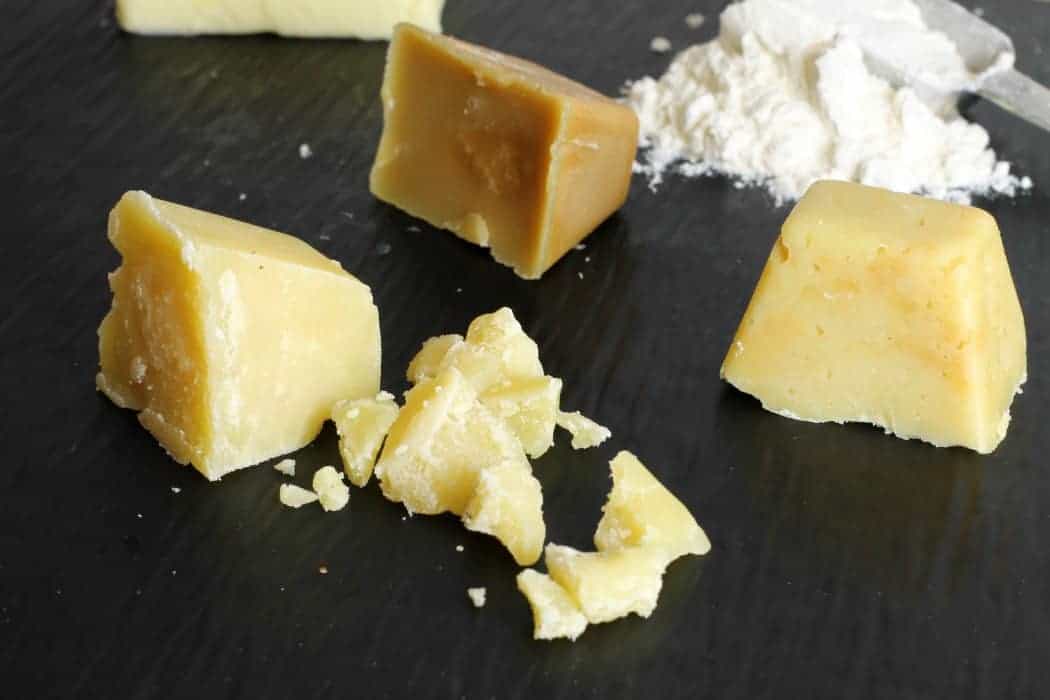 This is why thickening sauces usually requires low and slow heating, so that the granules don't all clump together and get the chance to evenly absorb moisture and thicken. When using thickeners, you want to make sure that your end product is smooth and free of lumps, doesn't have a grainy or floury texture in the mouth, and can easily coat a spoon when it's dipped into the product.
How To Make Roux At Home
Luckily it is incredibly easy to learn how to make a roux and how to properly use it at home. It is important when making roux at home to be aware that the measurements in the recipe are by weight.
This means you have to weigh the flour and the butter to get the proper ratio. If you simply measure out one cup of flour and one cup of butter the ratio will be thrown off and you will end up with a roux that won't properly thicken a sauce.
The basic recipe for a traditional roux is:
1:1 flour to fat by weight
Example: 100grams flour + 100 grams fat = 200 grams roux
How much roux do you need to use?
The amount of roux required depends on how much liquid you are trying to thicken.
Generally speaking the base recipe above of 200 grams roux, will thicken roughly 2 liters of liquid. The type of flour used and how far the roux is cooked will also determine the thickening power of the roux.
Flours that are high in starch such as cake flour will thicken more liquid than a roux made with bread flour four example which has a lower starch content.
CHEFS NOTE: When roux is cooked past the white roux stage, it is important to know that the starch breaks down as it is heated. This means that larger quantities of brown roux then white roux are needed to thicken the same amount of liquid.
So How Do You Make Roux?
To make the roux itself, melt the fat (clarified butter is ideal) in a sauce pan, and then gently whisk in the flour, stirring until a paste is formed.
Cook the roux until it starts to bubble slightly. At this point you have created a white roux.
The roux can be cooked further, to create a blonde roux which has a slight golden color and light nutty flavor, or a brown roux which is deep brown in color and has a strong nutty flavor and smell.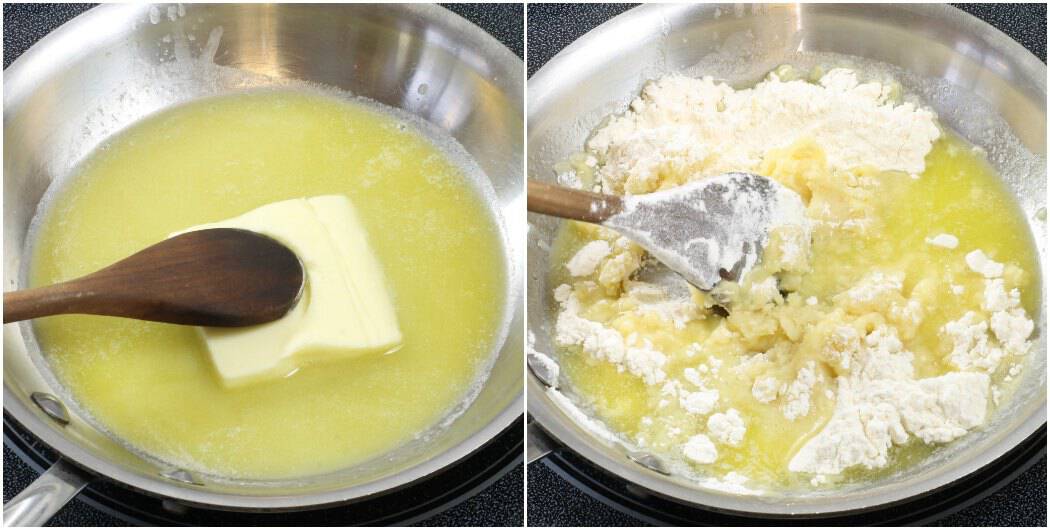 The Different Types Of Roux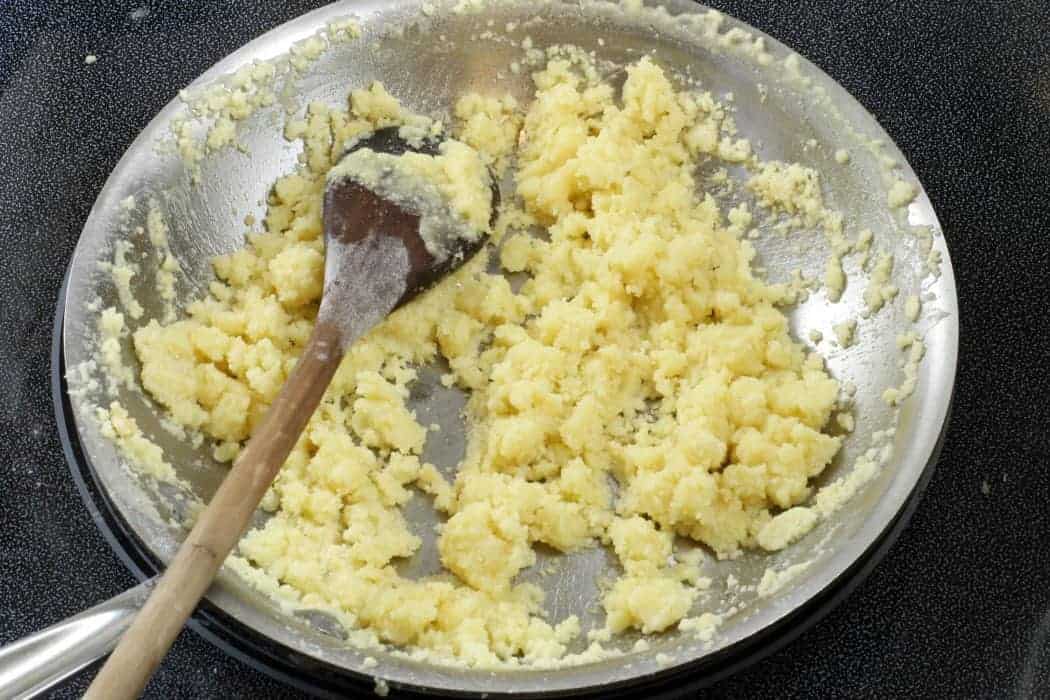 White Roux is usually used when making Bechamel Sauce, and in dishes where no extra colour is desired.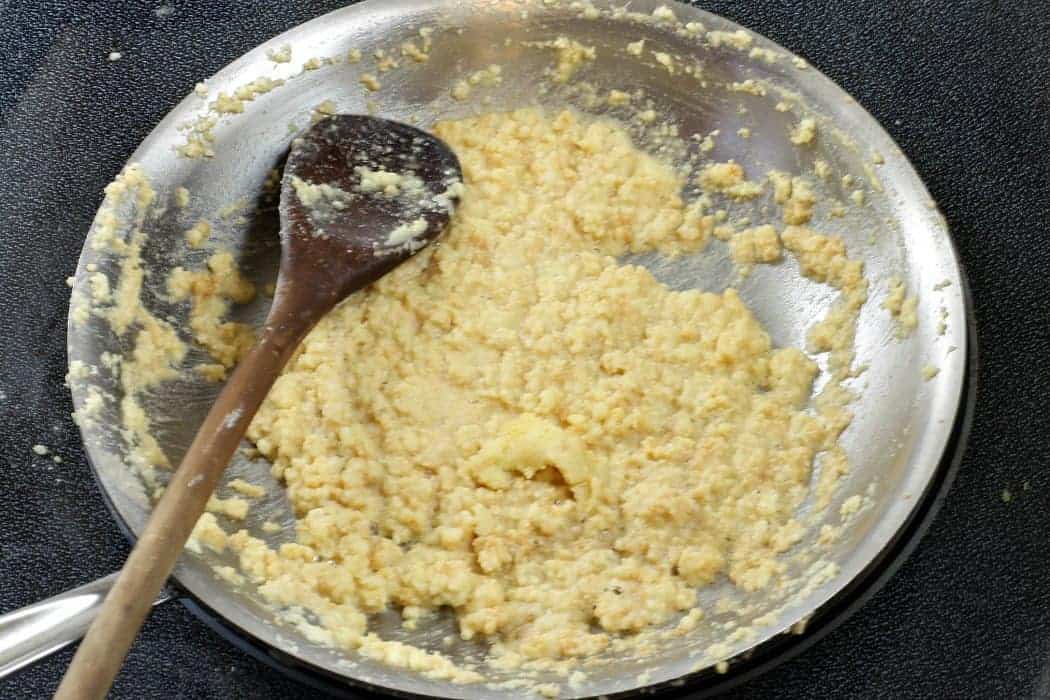 Blonde Roux is used in making Veloute and thickening most cream soups.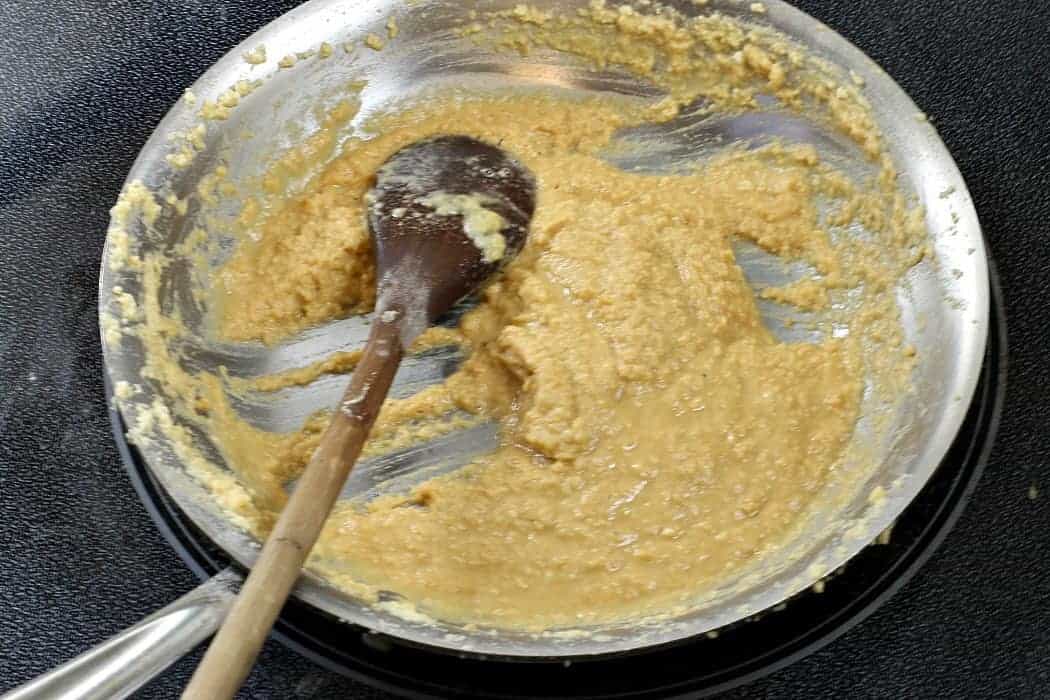 Brown Roux is used to make Espagnole and other dark soups and sauces that can handle its deep flavor and color.
How To Properly Use Roux
Once you have made your roux, it is important to properly use it as well in order to produce, smooth, properly thickened foods.
When adding roux to a food, ensure you always add hot roux to cold liquids, or cold roux to hot liquids. This will prevent the roux from clumping and creating lumps in your end product.
Once added to a liquid, the roux/flour in the end product needs to be cooked out properly for at least 15 minutes to prevent a gritty, starchy taste and to allow the starch granules to fully thicken.
Storing Roux
Roux can be made ahead of time and stored in the fridge or frozen in pre-weighed portions to be used in future. When using frozen roux, make sure to "thaw" the roux to room temperature or crush and crumble it into your liquid while whisking to avoid creating lumps.
Recipe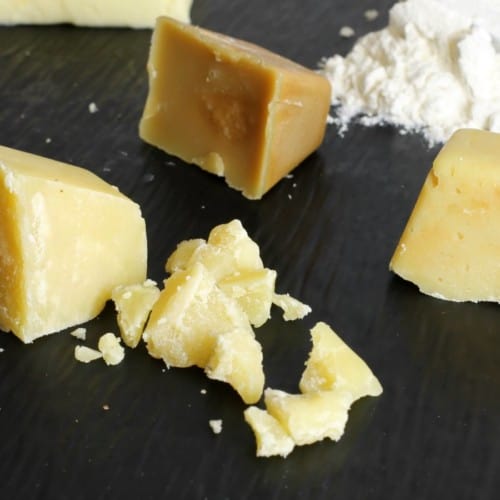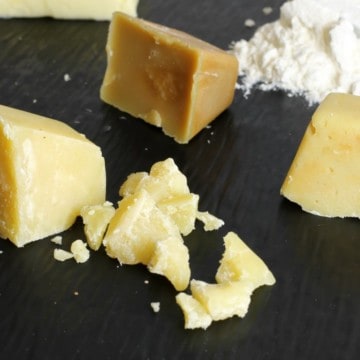 How To Use & Make Roux – An Alternative To Cornstarch
Knowing how to make roux at home allows you to thicken various soups, and sauces. A basic cooking skill taught in all culinary schools which is luckily very easy to master at home!
Ingredients
Ratio
1

:1 flour to fat by weight

100

grams

flour

100

grams

fat
Instructions
Weigh out the flour and fat, making sure you are using equal parts by weight.

Melt the fat in a sauce pot or pan, and then add the weighed out flour to the pan.

Stir using a wooden spoon until the flour is evenly incorporated into the roux.

Cook the roux to the desired consistency.
Nutrition
Nutrition info is auto-generated. This information is an estimate; if you are on a special diet, please use your own calculations.