By definition korma is a curry dish made by searing meat and then simmering it in a broth with spices and yogurt or coconut milk to create a glaze like sauce. This beef korma recipe is one I cooked up using only ingredients already available in my pantry, which makes it an ideal weeknight meal to make!
Korma is a traditional curry dish originating in northern India and Pakistan with roots tracing back all the way to the 16th century. Traditional korma recipes are generally accepted to have been influenced by Turkish, Persian, and Indian Cuisine. In India this dish is not generally made with beef, and lamb, or chicken is more popularly used.
This post contains affiliate links for which I may be compensated if a purchase is made through the links provided. For more information please read my affiliate disclosure.
What Ingredients Go Into A Beef Korma?
Depending on the region the individual recipe comes from, Korma can be made with various spices and ingredients. In the United Kingdom coconut milk is often used as the cream component, and the dish is often garnished with nuts and herbs such as cashews and cilantro. Generally ginger, coconut, cumin, chili and coriander all play an important role in the creation of this dish!
The great things about beef korma is that you can entirely adjust the recipe to your own preferences. Korma recipes can vary in flavor depending on the spices uses, and as such you can add in or leave out certain spices if you dislike them, or simple don't have them on hand. While you could use a pre-mixed curry powder, I recommend creating your own curry spice mixture, and I've included a curry spice mix recipe below!
I would also highly recommend using a homemade chicken stock or beef stock as part of the liquid used to simmer the meat, as the nutrient and flavor rich stock will add an incredible depth of flavor just not possible if you simply use water.
Step-By-Step Beef Korma Instructions
Anyone can make this Korma recipe at home provided you have a few simple recipe on hand. Having a supply of basic spices in your pantry will make things easier as well!. You can create your own curry spice mixture with the spices listed below, or use a generic curry powder. Trust me when I say the Homemade Curry Blend will taste much better though!
2lb beef chuck or stewing beef
½ spanish onion brunoise
4 whole garlic cloves
1 tablespoon fresh chopped ginger
1 28 Fl. oz can Whole Tomatoes
2 cups homemade chicken stock or beef stock
¾ cup coconut milk, (sour cream or yoghurt may be substituted)
2 sprigs fresh basil
Curry Spice Blend:
½ tablespoon Onion Powder
½ teaspoon Garlic Powder
¾ tablespoon Turmeric
1 tablespoon Cumin
1 tablespoon Coriander
½ teaspoon Chili powder
½ teaspoon mustard powder
¼ teaspoon black pepper
Instructions
Start by searing the meat in clarified butter or other oil over medium high heat. Really get a good sear on the meat, making sure to brown it on all sides. While many cooks will tell you this helps keep the meat tender by locking in juices, this is actually false and the benefit to searing meat is the flavor it adds to the dish. You simply can not re-create the rich caramelized flavor seared beef lends to a dish!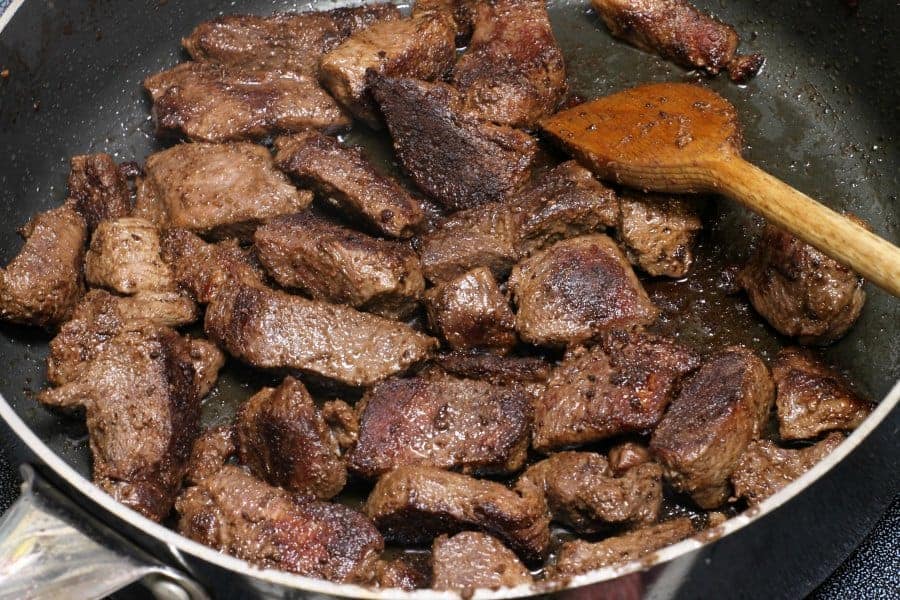 While the meat is searing, brunoise your Spanish onion, and chop your garlic and ginger. These will be the next ingredients to go in the pan, so make sure they are ready to go when the meat is browned all over. If you chop the vegetables quick enough you can also mix up the curry spice blend at this point.
Chefs Tip: If you have the time, mix up a double or triple batch of the spice blend and store it in a glass jar for future use! Make sure to label it so you remember what it can be used for!
Once the meat is properly seared, add the onion, garlic, and ginger to the pan. Turn the heat down to avoid scorching the vegetables, and cook until the onions start to soften. This should take about 3 or 4 minutes. While the curry spice blend does have onion and garlic powder in it, using the fresh version as well will add another lay of flavor to the finished beef korma. Not to mention the onions and garlic are good for you! Add 4 tablespoon of the curry blend to the meat and instantly take the pan of the heat.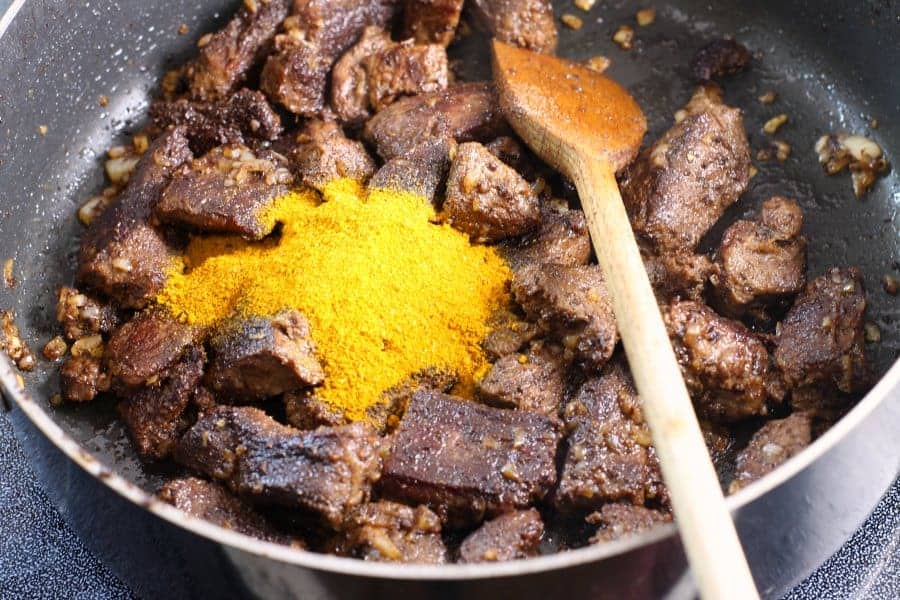 By removing the pan from the heat, you avoid burning the spices which would cause an unpleasant, bitter taste. There should be enough residual heat in the pan that as you mix in the curry spice blend, it will gently toast and intensify in flavor.
Before returning the pan to the heat, add in your one can of plum tomatoes. While not a traditional ingredient, I find that the natural acidity in the tomato helps bring out some of the flavor in the finished beef korma, and as the dish simmers, the actual tomato taste diminishes as it melds with the curry and beef. The end result is a rich flavorful broth.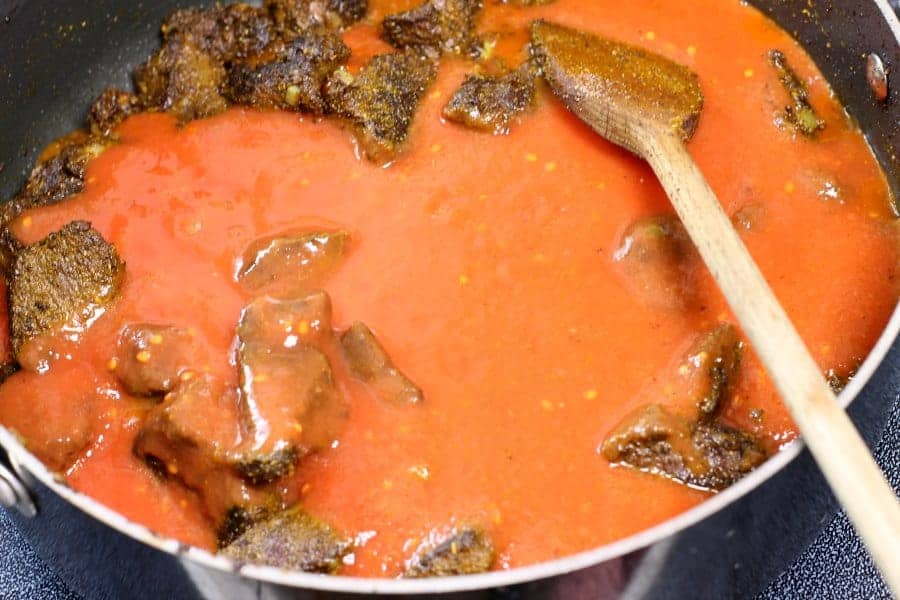 When adding the can of tomato, you can either add the tomatoes whole, or as I do, quickly puree the entire can in a blender. Once the tomato product is in the pan, add your broth, and he fresh basil. Cover the pot or pan with a lid, and let it simmer for at least 45 minutes. I use my trusty Nutri Ninja Blender to create a smoother sauce.
By simmering the meat, you help break down the connective tissue, (called collagen and elastin) present in the beef. If you where to simply add in the sauce, heat the beef korma and serve it right away, the beef would be tough and not very pleasant to eat. Breaking down these connective tissues, helps create tender bits of beef that will easily break apart in your mouth as you chew them.
Note: If using chicken as the protein in this recipe, you will not have to simmer the dish as long as as the chicken does not need to break down to become tender.
You may have noticed that we have not yet added the cream component to the beef korma. Traditionally, the yogurt or coconut milk is added at the beginning and simmered for the duration of the cooking time.
Unless you keep the temperature extremely low though, you run the risk of the fat splitting out and the protein in the yogurt curdling. I avoid this by simply stirring the coconut milk cream or yogurt into the finished dish, creating a creamy sauce at the end.
After simmering the beef korma for forty five minutes, take a fork and try and break up a piece of the beef. If it falls apart the meat is considered 'fork tender' and is ready to go! If it is still tough, simply keep simmering the beef korma on low heat for another fifteen minutes and then check it again.
Your homemade beef korma is almost ready to eat! All that's left is stirring in the cream to create that velvety rich sauce. I used sour cream simply because it was what I had handy in the fridge. You can just as easily use full fat yogurt, or the cream which settles at the top of a can of coconut milk!
Regardless of which product you decide to use, stir it into the simmered beef korma, and re-season with some salt and pepper. The beef korma is delicious served along side basmati rice or with just some pita bread to scoop it up with! Garnish the dish with fresh basil and if you like some nuts.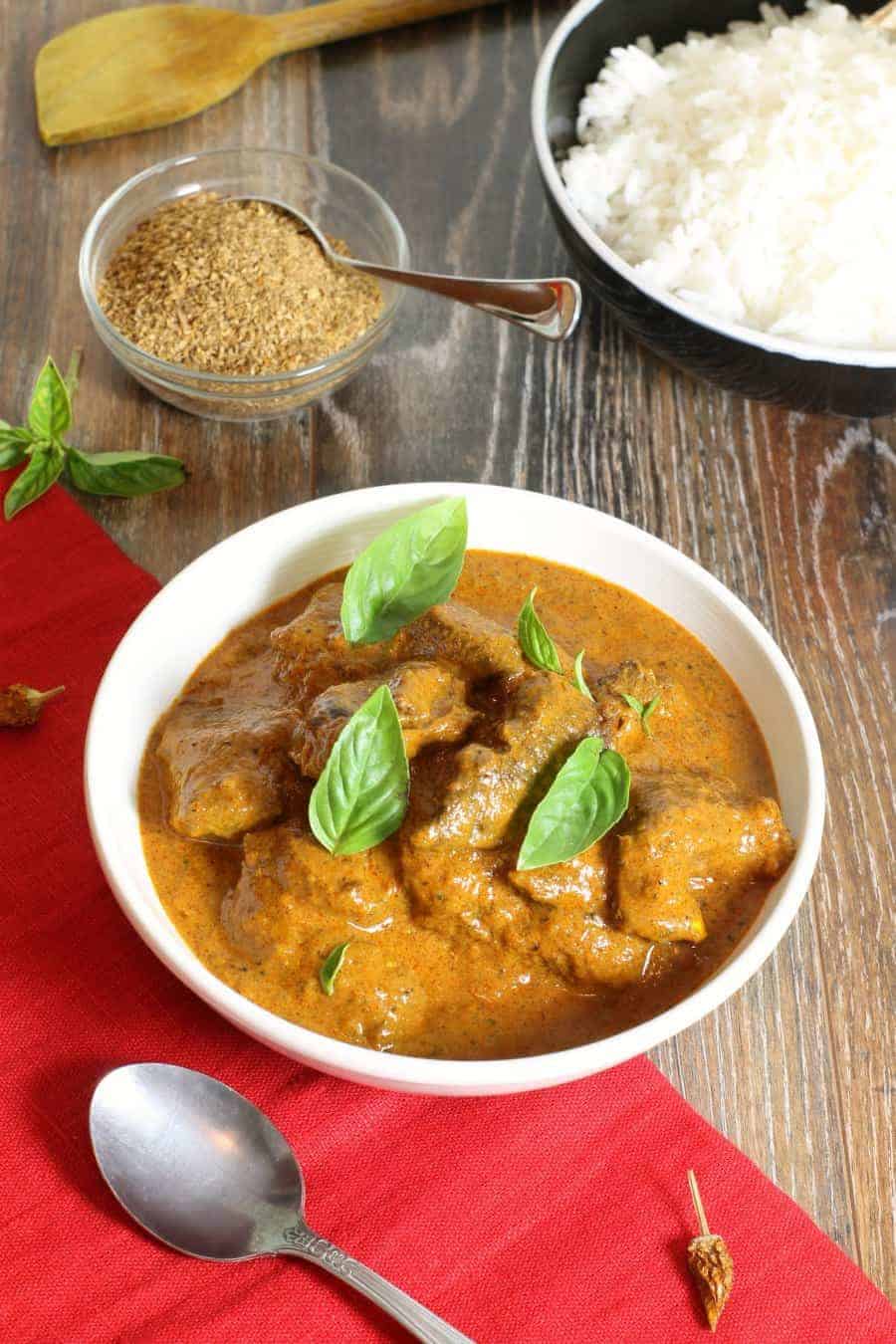 Tried the recipe? Take a picture and tag me on Facebook & Instagram: @earthfoodandfire . For more from scratch recipes follow me on Instagram & Pinterest
Recipe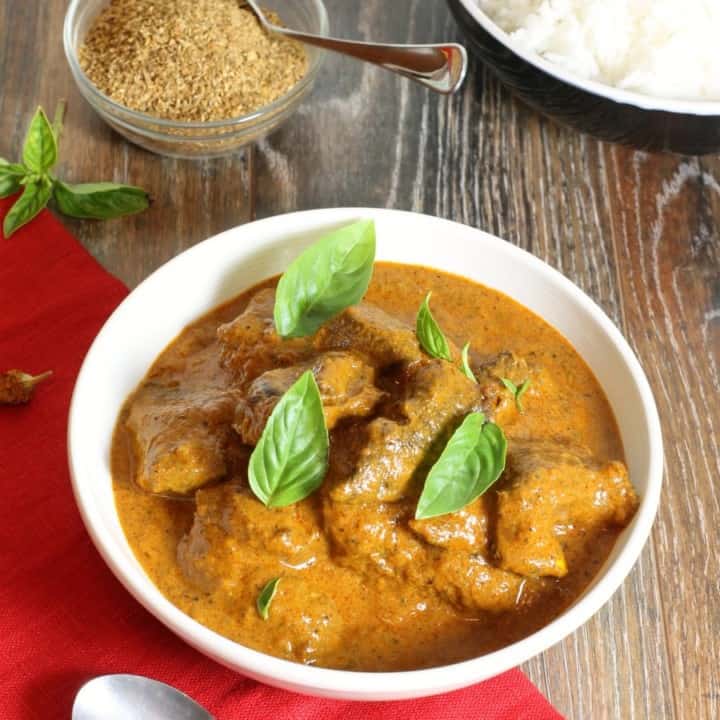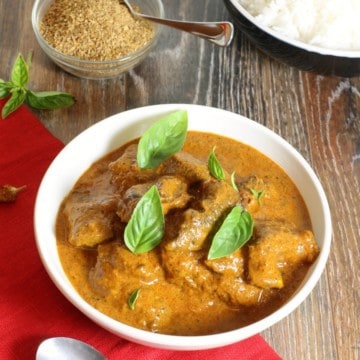 From Scratch Beef Korma Recipe
A popular curry dish with Persian and Indian influences, this homemade beef korma recipe is easy to make with everyday ingredients. Create your own curry blend or use a store bought one to make this simple and flavorful beef korma any day of the week.
Ingredients
2

lb

beef chuck or stewing beef

½

spanish onion brunoise

4

whole garlic cloves

1

tablespoon

fresh chopped ginger

1

28 Fl. oz can Whole Tomatoes

2

cups

homemade chicken stock or beef stock

¾

cup

coconut milk (including cream)

yogurt or sour cream may be substituted

2

sprigs fresh basil
Curry Blend:
½

tablespoon

Onion Powder

½

teaspoon

Garlic Powder

¾

tablespoon

Turmeric

1

tablespoon

Cumin

1

tablespoon

Coriander

½

teaspoon

Chili powder

½

teaspoon

mustard powder

¼

teaspoon

black pepper
Instructions
Sear the beef in a little bit of clarified butter or other oil until golden brown.

As the beef cooks, cut your onion, garlic and ginger.

Add the vegetable to the pan once the meat is seared, and cook for 3 to 4, minutes until soft.

Remove the pan from the heat and stir in the curry spice blend mixture.

Add the 1 can of tomato, broth, and basil to the pan, and return the pan to a low heat setting. Cover the pot and simmer for 45 minutes or until the meat is fork tender.

Once the meat is tender, stir in the yogurt, sour cream or coconut cream, and re-season the beef korma with some salt and pepper.

Serve with basmati rice and pita bread.
Notes
If using chicken instead of beef in this recipe, only simmer the korma for 15 to 20 minutes.
Calories are calculated per serving.
Nutrition
Nutrition info is auto-generated. This information is an estimate; if you are on a special diet, please use your own calculations.
This post contains affiliate links for which I may be compensated if a purchase is made through the links provided. For more information please read my affiliate disclosure.