This smoky potato bacon corn chowder recipe is the ultimate in comfort food. Loaded with healthy veggies, some beer, and bacon, the whole family will love it. If the beer has you worried it's ok, all the alcohol is cooked out before serving, the beer is here for flavor! Enjoy this PEI corn chowder cooked over a fire while camping,(as I have done here), or make it in your kitchen at home, on a cool day.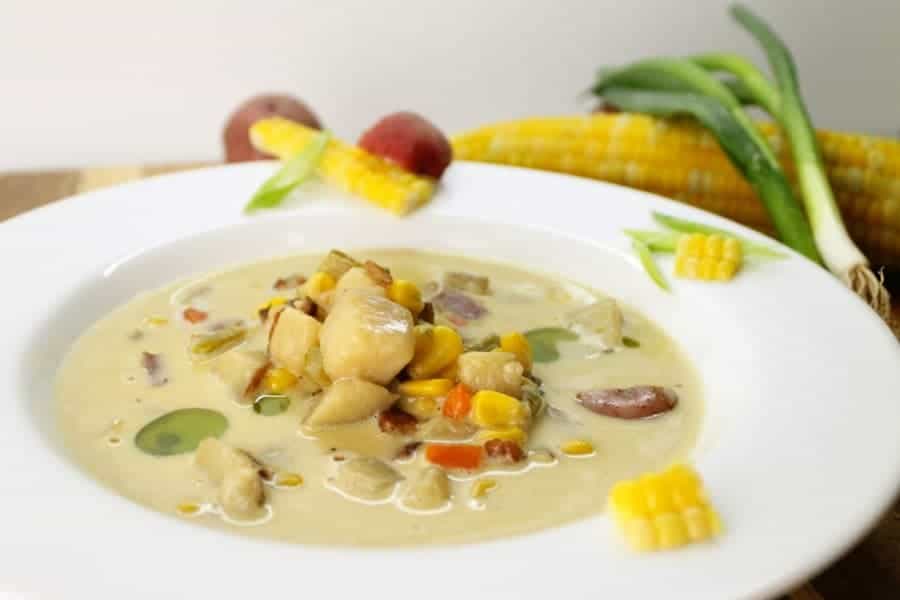 I grew up in Nova Scotia where the quintessential "Indian Summer" in late September - early October always conjure up visions of hearty soups and chowders, and time spent around a campfire in the woods. In Prince Edward Island around this time of year, you will start seeing corn fields come to maturity and the farmers out harvesting straw and hay. What time then to make corn chowder at home!
This post contains affiliate links for which I may be compensated if a purchase is made through the links provided. For more information please read my affiliate disclosure.
Camp Cooking With Cast Iron
While you'll notice in all the pictures that this potato bacon corn chowder is being cooked in a cast iron pot, this is not a requirement! You can easily follow all the same instructions, to cook this PEI corn chowder indoors on a regular stove. I was simply out camping with the family and decided to make this hearty meal for supper!
Cooking with cast iron is easy though, and not something that you should be scared of. If you have an old cast iron pot around, give it a good cleaning, and then take it camping with the family, and fire up a batch of this chowder! It's the perfect meal after a day outdoors!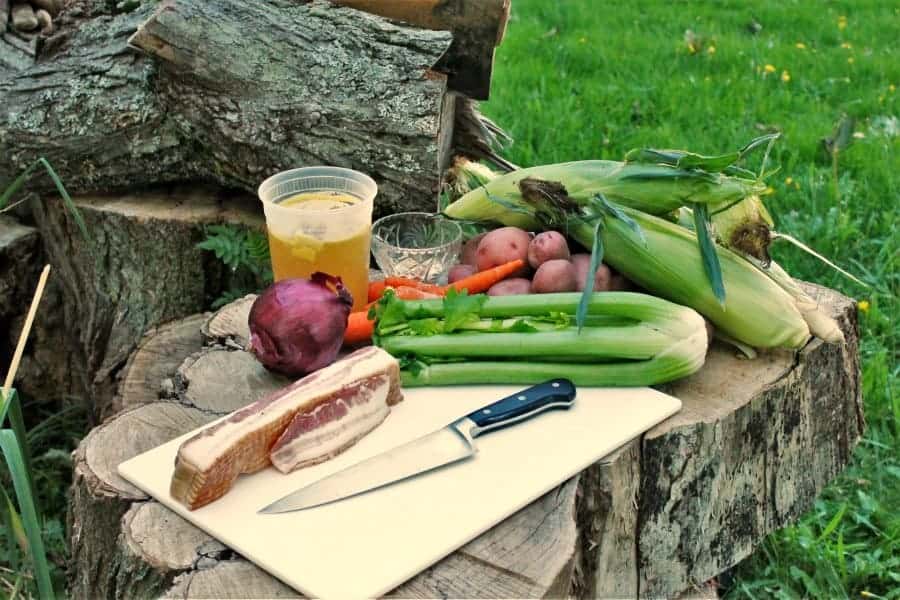 If you do decide to try cooking this super simple chowder outdoors over a campfire fire, kudos to you! It is twice as much fun as cooking on a stove, though there are a few things to keep in mind when doing so.
First off, be sure to follow your local laws regarding backyard fires. You will need to start a fire in a fire pit and get a few decent sized pieces of wood in there to create some nice hot coals which will be what we are actually cooking over. Open flame is too hot for the extended cooking process, but coals create a nice, long burning, and even heat which is ideal for outdoor cooking.
Lacking chopped wood you can use barbecue charcoal in the fire which will ensure you have a nice even base of coals to cook over. The briquettes do a fantastic job of creating heat and holding it in for an extended period of time.
You will also need a cast iron pot or another fireproof cooking container. I use a 12 inch (6 quart ) cast iron camp dutch oven by Lodge Cast Iron Cookware (affiliate link).
These camp ovens make a fantastic multipurpose cook pot while camping. You can use them as a frying pan, kettle, or oven since the lid has a special lip which allows you to place coals on top for all around heating. The only downside to these is that they are fairly heavy, (about 20 pounds) so if you are going on an extended hike maybe bring a smaller cast iron deep sided frying pan instead.
PEI Potato Bacon Corn Chowder
This potato bacon corn chowder is full of fresh corn, potatoes, carrots, onions, and celery. Remember whether you are cooking this recipe in a kettle over the fire while camping or on the stove in your kitchen, the method stays the same!
Ingredients
You'll Need:
4 ears of fresh corn (boiled and the kernals cut off the cob) or 750 grams of frozen whole corn kernels
½ lb of thick sliced bacon
1 red onion small diced
4 stalks of celery medium diced
2 carrots medium diced
3 cups of diced baby red potatoes
3 cloves of garlic
5 sprigs of thyme
2 bay leaves (optional)
1 bottle of your favorite beer
1 liter chicken stock
1 liter 35% cream
Salt
Pepper
Instructions
You begin by rendering out the bacon then adding vegetables and other seasonings. Rendering bacon simply means you are cooking out the fat and crisping it up. This also allows you to avoid using extra oil in the recipe, as you will use the rendered bacon fat to help cook the vegetables later. So just add the chopped bacon to a hot pot and set it on medium heat to render out the fat. Stir it occasionally to prevent scorching.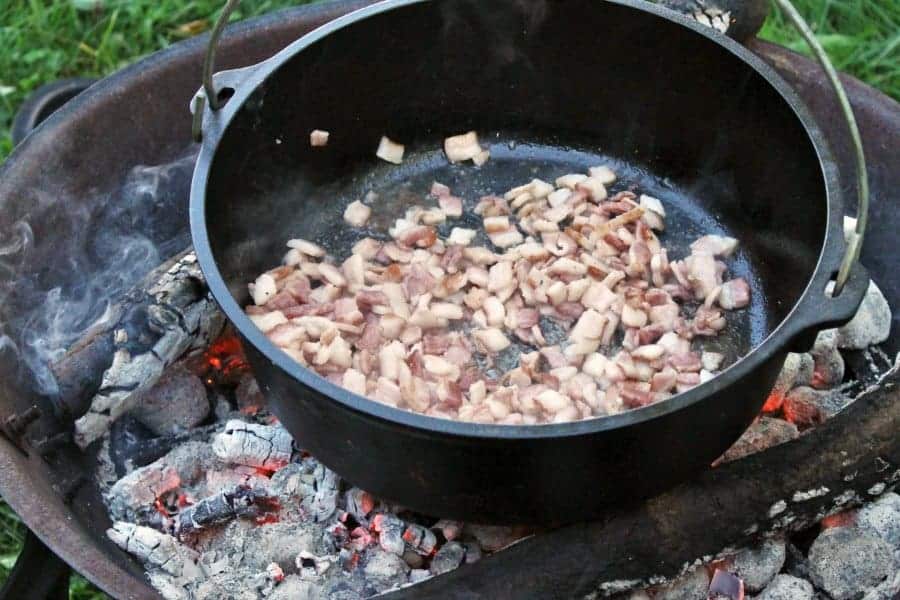 Once you have the bacon cooked, it's time to add the vegetables. Start with the onion, garlic, celery, and carrot. I small diced the vegetables so that they are all roughly the same size and similar in size to the corn kernels. This also helps all the vegetables cook more evenly!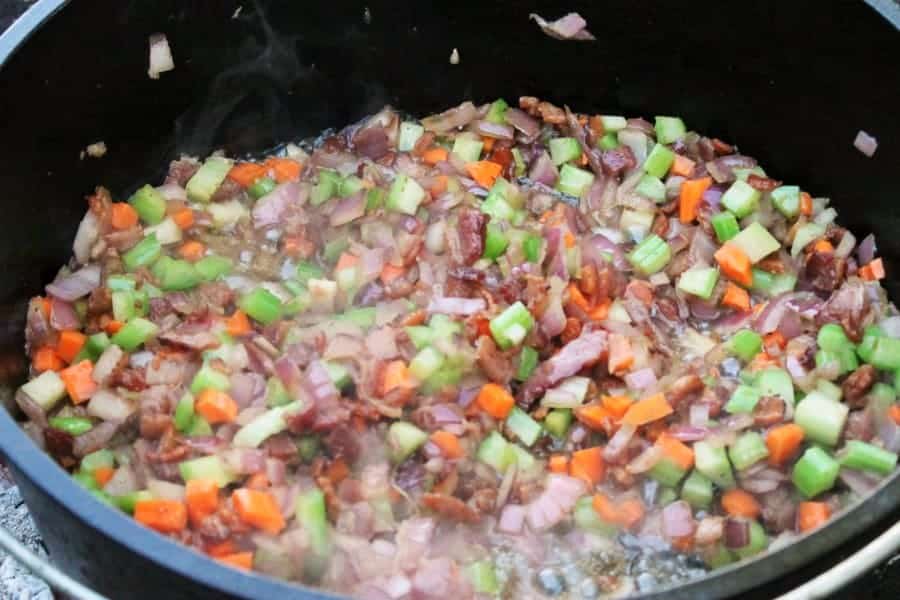 While the vegetables are cooking with the bacon, dice up the potatoes, and cut the corn kernals of the cobs. When the diced vegetables start to soften, its time to add the corn and potatoes! Mix everything together in the pot or kettle, then add your beer, and let it de-glaze the pan.
You may have noticed that some stuff may be starting to stick to the bottom of the pot by now. This is normal, but to prevent these bits from burning as the chowder simmers, we use a liquid to de-glaze the pot. Wine or beer is usually used for this, though you can also use water or chicken stock. Add the liquid and use a spoon to 'scrape' the sticky bits of the bottom. they will add extra flavor to the corn chowder!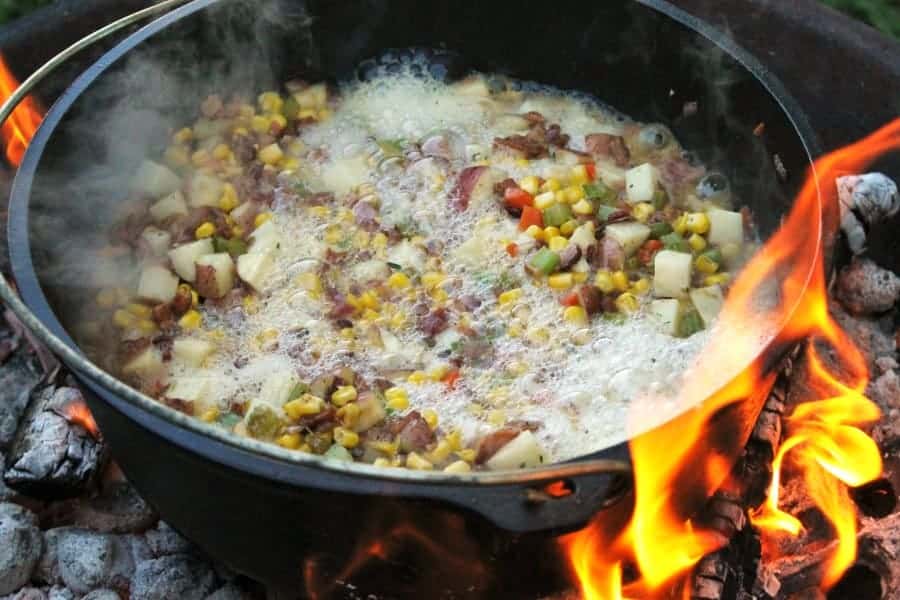 Once you've de-glazed the chowder it's time to add remaining chicken stock, herbs, and the cream, and then let the whole thing simmer away. The potatoes you added will cook in the liquid and the starch will help thicken the chowder. All that's left is seasoning the chowder with salt and freshly cracked pepper!
Ever wonder why the chowders and soups you eat at restaurants taste so fantastic? They use 35% whipping cream, guaranteed! While it may seem weird cooking with 'whipping cream' it will create a deliciously rich chowder! - Chef Markus Mueller
Serve the chowder hot and garnish it with some green chive oil for a professional looking chowder!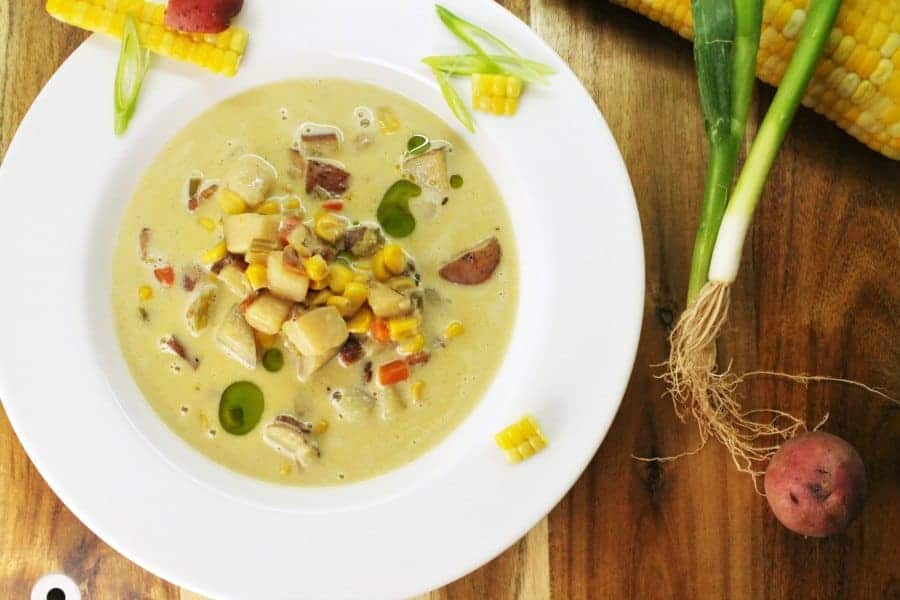 Made the recipe? Comment & Rate it below, then take a picture and tag me on Facebook & Instagram: @earthfoodandfire . For more from scratch recipes follow me on Instagram & Pinterest
Recipe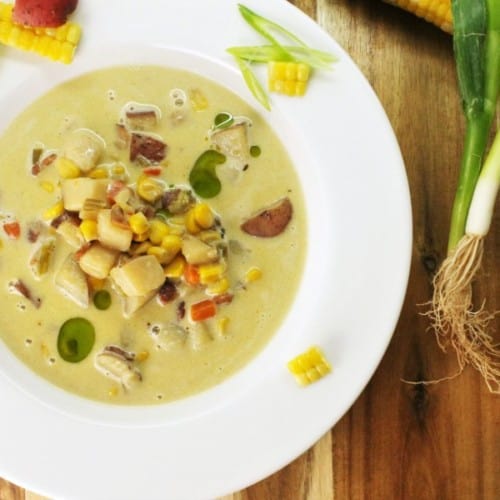 Smoky Potato Bacon Corn Chowder
A delicious and slightly smokey potato bacon corn chowder. Perfectly suited for cooking over a campfire this corn chowder can also be prepared and enjoyed indoors.
Ingredients
4

ears of fresh corn

boiled and cut of the cob or 750 grams of frozen whole corn kernals

½

lb

of thick sliced bacon

1

red onion small diced

4

stalks of celery medium diced

2

carrots medium diced

3

cups

of diced baby red potatoes

3

cloves

of garlic

5

sprigs of thyme

2

bay leaves

optional

1

bottle of your favorite beer

1

liter

chicken stock

1

liter

35% cream

salt

pepper
Instructions
Begin by rendering out the bacon, which will provide you with the grease to saute your vegetables in.

Add the diced onion,garlic, celery and carrot . Stir and let the vegetables cook for 2 minutes.

Dice the potatoes and cut the corn from the cobb as the pot simmers.

Add the potatoes and corn to the pot, when the vegetables are soft.

Deglaze the pot with the beer, and then add your chicken stock, herbs and cream.

Simmer the pot until the potatoes are cooked, the liquid starts to reduce slightly. and the chowder has slightly thickened.

Season with salt and pepper to taste
Nutrition
Nutrition info is auto-generated. This information is an estimate; if you are on a special diet, please use your own calculations.
This post contains affiliate Amazon links for which I may be compensated if a purchase is made through the links provided. For more information please read my affiliate disclosure.