I originally started cooking because I love food. Especially finger foods that you can pick at over the course of an evening. The ideal appetizer or party food in my mind is one that combines various elements of sweet, salty, crispy, and soft all together in one go. What better way to offer such a variety then with a professionally put together meat and cheese tray (also known as a charcuterie platter)?
A popular addition to any holiday party, get together with friends, or even a BBQ, Charcuterie Platters are gaining in popularity due to their extreme versatility and wide range of food options that can please many guests with very little effort. There are so many local craft and artisan producers of cheese and meats available these days, that it is quite simple to put together a fancy looking meat and cheese platter for any size of gathering you may be planning.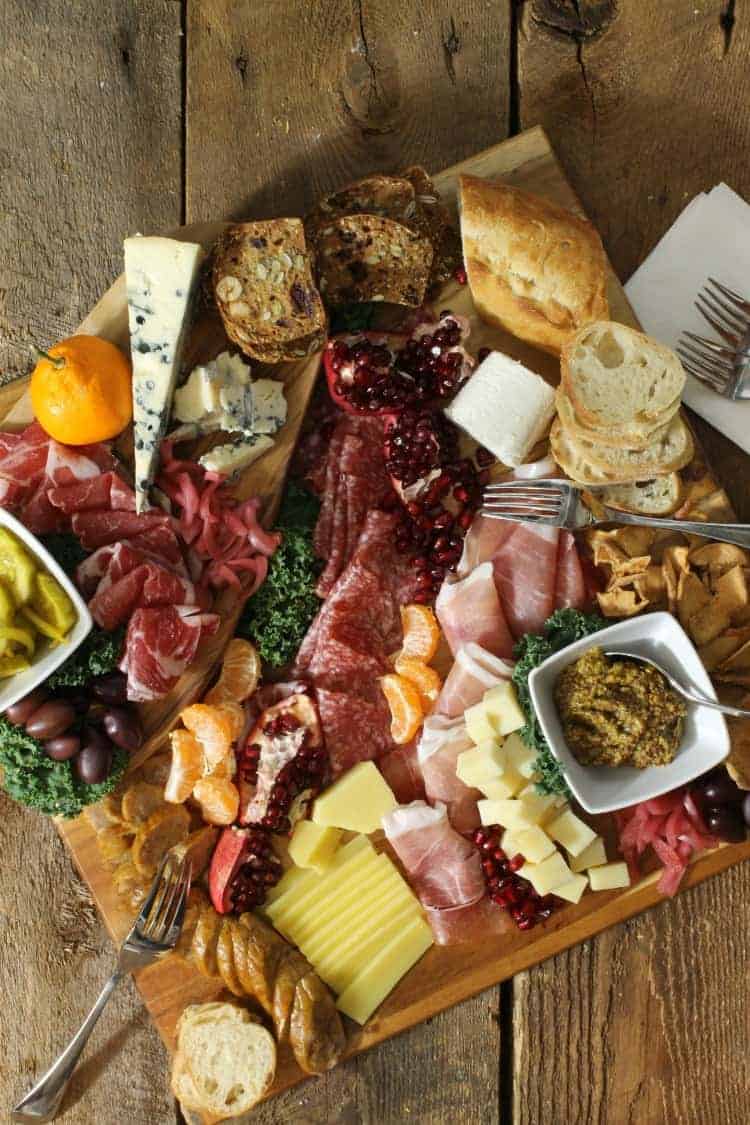 Some of the links in this post lead to affiliate sites through which Earth, Food, and Fire may earn a small commission should you make a purchase. For more info check the Affiliate Disclaimer.
Charcuterie What Is It?
Charcuterie is the classical French branch of cooking that deals exclusively with the preparation, preservation, and presentation of various meats. While butchery is aimed more at processing the raw cuts of meat, charcuterie utilities various methods of cooking, fermentation, and smoking to create cured or smoked meats, sausages, terrines, pates, rillettes, and even some condiments.
In other words a 'charcuterie platter' or 'charcuterie board' is simply a visually appealing platter offering various prepared meats and condiments that are ready to eat and require no further preparation. The perfect party platter!
Building Your Own Charcuterie Board
While building a fancy charcuterie platter may seem like a daunting task, especially if you have never attempted it before, it is actually quite easy if you follow this little guide. I've put together suggestions, and tricks used by professionals to create delicious looking platters anyone would be proud to serve.
Before we dive into the specifics, a question I hear a lot is: How much meat and cheese should I buy for my platter?
That depends entirely on how many guests you are planning to feed. Is the platter meant as just an appetizer or will there be a full meal afterwards? If the platter is meant as only an appetizer, I would suggest planning for at least 2 oz of cheese and 2 oz of meat per person.
If the platter is the only food you will be serving, double that suggestion.
It's better to buy a little more then you think you will need, it can always be used to 're-fill' the platter halfway through the event. - Chef Markus
What kind of meats should go on a charcuterie board?
In the end this will be guided by your own tastes and preferences, but it is a good idea to have a few 'staples' on the platter that most guests will be familiar with. Don't put something on your meat and cheese platters that you don't like eating yourself!
As you'll notice throughout the rest of this guide, I put an emphasis on contrasting textures, colors, and shapes. This makes creating a charcuterie board simple, since there are various elements that are interesting to look at, and everything is not just one shape or color. When ever I pick my meats or cheeses for a platter like this, I always try and use odd numbers,as I find it simply looks better on the tray.
I also try and use even numbers of both meats and cheese to provide enough options for guests to choose from. If I am using three kinds of meat, I'll try and use at least three types of cheese as well to balance out the board.
A few of my favorite meats to use:
Prosciutto - a staple meat that most folks will recognize
Capicola - similar to prosciutto but spicier
Coppa - an Italian dry cured cut of meat from the neck of a pig
Genoa Salami - another staple item, can be either mild or spicy
Cured Sausage - ie:. a smoked pork sausage, chorizo, or other type that can be eaten cold
Pate or Rillette - can be made from duck, pork, chicken and adds texture to the options. Pates are great for spreading onto crackers!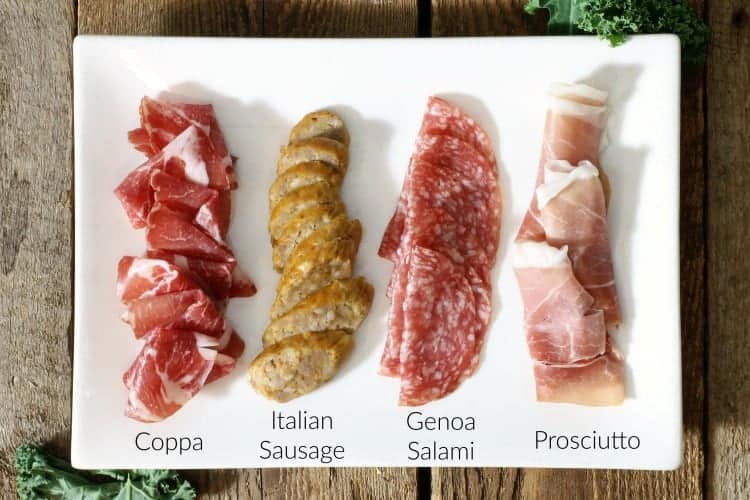 Picking even just three meats from this list will provide you with a range of flavors, textures, and shapes.
Pro Tip: Go above and beyond, and offer not just cured meats, but also smoked seafood or marinated shellfish on your platter for a true feast like experience. Be sure to separate the seafood from the rest by using ramekins, or leaf garnishes to make it clear there is seafood on the tray. - Chef Markus
What kind of cheeses should go on a charcuterie board?
While cheese is not technically considered charcuterie, it is often included in charcuterie boards because it adds texture, shape, and let's face it, meat and cheese go together pretty darn well!
As when you are choosing your meats to include on the platter, you should pick a variety of cheeses that vary in texture (soft or hard cheeses), range from mild, to strong in flavor, and have varying colors.
A few of my favorite cheeses to use include:
A soft cheese such as - Goat Cheese, Brie, Camembert, or Fresh Mozzarella
A smoked cheese such as - Smoked Apple Wood Cheddar or Smoked Gouda
An aged cheese such as - Gruyere or Sharp Cheddar
Optional:
A blue cheese such as - Gorgonzola or Stilton
As you can see this selection of cheeses provides a wide variety of tastes, and textures, and are easily cut or crumbled to have varying shapes.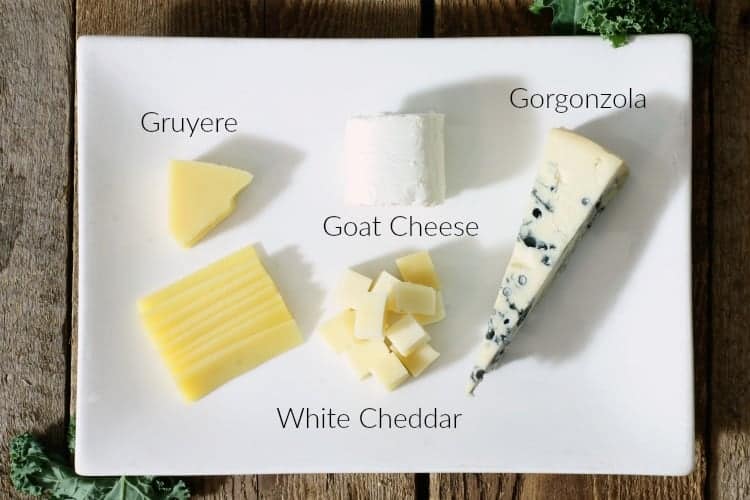 What else should go on a meat and cheese tray?
Besides offering a variety of meats and cheeses, you can easily bulk up and add even more flavor and interest to your platters by adding, crackers and breads, varying condiments, pickled vegetables, marinated vegetables, and fresh fruit.
Crackers & Breads
Various crackers and bread are a great addition to meat and cheese trays and charcuterie platters. You can choose from a variety of artisan crisps, crackers, and chips, to create varied options for your guests. To stand out from the rest, try adding fruit chips to your platter as well!
I like to include at least two kinds of breads, usually a hard chip (such as Leslie Stowe Rain Coast Crisps), and a soft thinly sliced bread (I've used thinly sliced baguette in this post). This gives guests the option to 'build their own canapes' as well as provide a vessel for soft cheeses, and pates to be spread on.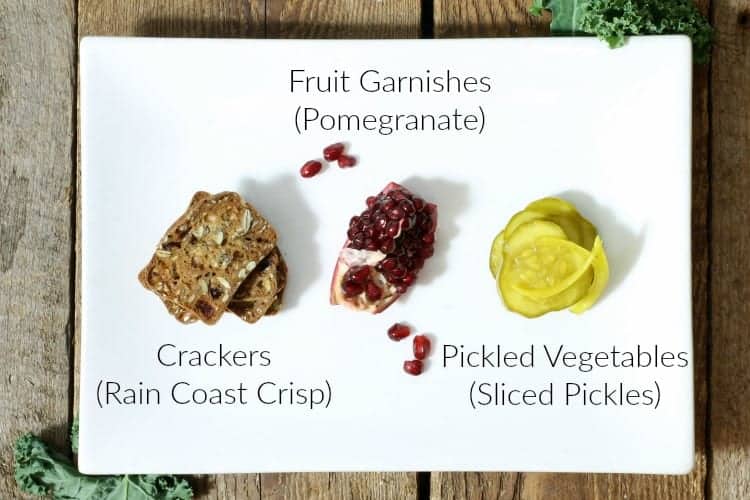 Condiments
Condiments are meant to provide contrast and additional flavor to the charcuterie platter. Mustards, relishes, jams, pestos, and other fruit spreads or jellies can all be used to create various flavor combinations on the platter.
When deciding what to include, think of what meats and cheeses you have chosen. Sharp cheeses are paired well with a sweet fruit jelly, and salt meats are paired well with mustard.
Pickled or Marinated Vegetables
Just as condiments are meant to provide contrast and additional flavor to the platter, so are pickled and marinated vegetables. Refrigerator pickles are a great addition (and you can easily make them yourself!), as are olives, gherkins, pickled onions, an marinated mushrooms.
Try and choose items that can be picked up with a small toothpick or fork and eaten in one bite to make it easier for guests to pick at.
Fresh Fruit
Finally, using fresh fruit to add color and fill empty spaces is an easy win. Think seasonal and choose fruits that are currently available, fresh, and most importantly popular. For this holiday themed meat and cheese tray, I chose mandarin oranges and a freshly cut open pomegranate.
Both fruits add visual interest (pomegranates just look cool!), as well as something fresh and juicy that can cut through the salty-ness and fatty-ness cured meats and cheeses naturally have.
How To Arrange Your Charcuterie Platter
Now that you've chosen all your charcuterie meats, cheeses, condiments, and garnishes, it's time to assemble the platter itself.
I love using wooden boards of various shapes and sizes, because they are beautiful to look at, can be used year round for any occasion, and add a rustic charm people associate with cured meats and cheese. You can also use slate or marble platters for a cleaner more modern look. Pick something you like and will suit the occasion.
How early should you assemble the platter?
If it's the first time you are building a tray such as this, I would leave yourself at least half an hour to forty minutes to make sure you can set everything up the way you like. After a little bit of practice you will notice the process gets easier and you will find your own 'flow'.
I usually set up a charcuterie platter a half hour to an hour before I plan on serving it if it will sit out, otherwise the cheeses will start to sweat and dry out. If building multiple platters, you can assemble them hours in advance as long as you are able to cover the board with a clean cloth and then refrigerate it.
Introduce Height
An issue that a lot of people quickly run into is that, a meat and cheese tray can quickly look flat and one dimensional when everything is put in place.
The easiest way to avoid this is by adding some height to the platter. What I mean by this is adding something that will rise up from the surface. This can be a second smaller platter that is sitting on a small plate to add a 'second level', or it can be something as simple as a large dish or bowl filled with a dip.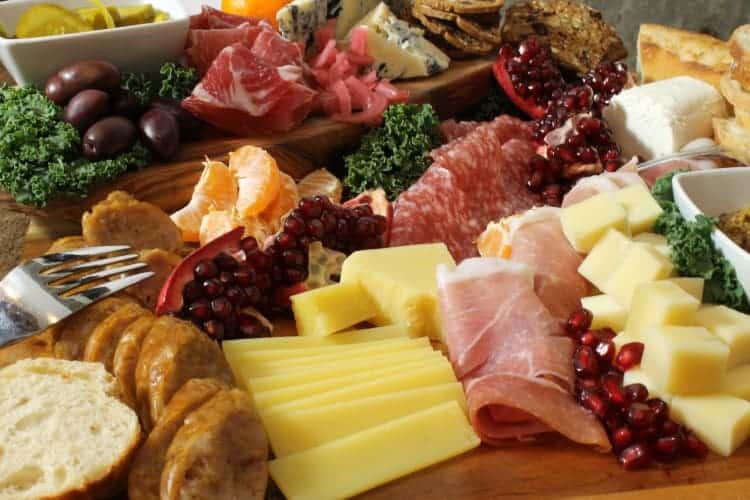 What ever you use to add height, use this as a focal point to showcase a certain item, and then work outward from there.
Another easy way to add height to a charcuterie platter is to add small dishes to hold your condiments, and to fold your meats over instead of simply laying them flat on the platter. This adds height as well as make it look like there is 'more' there, creating the illusion of a bountiful platter.
Where To Put What..
As I mentioned above, adding a second 'level' or other large object is an easy way to create a focal point from where everything else flows. Larger easier to pick up items should be placed in the back of the board, and smaller more finicky items (such as pate or spreads) should go near the front to make them easier to use and get at.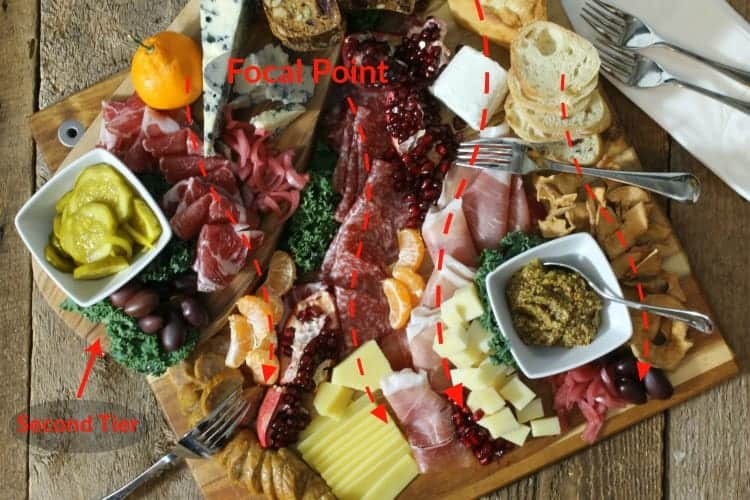 Use fruit garnishes to break up similar colors and add 'pop'.Use both the whole fruit and prepared fruit to add variety and visual interest.
Greens such as micro greens, kale, or even arugula can be used as a filler and to separate meats and cheeses.
Use small dishes and utensils to add areas of interest, that will naturally draw the eye towards them.
The process of assembling a charcuterie platter should be a fun experience, and not a stressful one. I hope that this guide will help you through the process and allow you to create a professional looking charcuterie platter fit for any occasion!
Looking For More Party Food Ideas? Check Out:
Did you find this guide useful and assemble your own meat and cheese tray?? Leave a comment and star rating below, then take a picture and tag me on Facebook & Instagram: @earthfoodandfire. For more from scratch recipes follow me on Instagram & Pinterest