I was first introduced to Middle Eastern food by my father who took me to a little hole in the wall restaurant in Halifax that was literally squeezed into an ally. My father used to work a lot of nights and if we (my brothers or I), happened to be at his work around supper time, sometimes we would get lucky and he would take us somewhere to eat. This particular night he took me to a small Turkish restaurant which I perceived to be very "sketchy".
The entrance was down an alley at the very end, and the restaurant itself ran the length of the building. It was only wide enough to accommodate one isle down its length with tables on either side, of which there couldn't have been more than fifteen. The kitchen was located at the back, so every time a waitress would come out of the kitchen with plates piled high with rice, house salads, kofta kebabs and other delicious smelling meats, you couldn't help but stare eagerly at the food hoping it was destined for your table. The family run restaurant is no longer there, having since moved to a bigger location, and in my opinion, this has unfortunately affected the quality of food.
It is no longer the Mom and Pop home-style Turkish food, I used to love so much. My experiences there though have definitely instilled in me a love of Middle Eastern food and the wide range of delicious flavours their talented cooks can conjure up.
Of all these flavours and dishes, Beef Kofta is probably my favourite. Aromatic, and full of flavour, kofta kebabs always packs a mouthful of delicious meat. Whether its Lamb, Beef, or Chicken, making a kofta kebab recipe at home is very simple. This recipe can easily be thrown together and cooked for a quick filling supper, served with pita bread tzatziki and homemade hummus.
Homemade Grilled Beef Kofta Kebab
To begin you will need your Mise en Place (Prep) first:
2 lb of ground beef or lamb
5 cloves of minced garlic
2 small onions finely minced
1/2 bunch of chives finely chopped
3 tsp ground cumin
1 Tbsp cinnamon
2 Tbsp ground corriander
1 tsp ground allspice
1 tsp ground ginger
1.5 tsp ground black pepper
2.5 teaspoons of salt
3/4 tsp chilli flakes or ground pepper flakes
1 whole egg
24 bamboo or wood skewers
As you can see most of these ingredients are spices, and you could easily combine them in a jar labelled"Kofta Kebab Spice" for even faster meal prep. Mix all your spices, herbs and egg with the ground meat and mix it together with your hands. Really mix it through and make sure that the spices are evenly distributed. Set the meat aside(covered and in the refrigerator to follow safe food practices of course).
Depending on what length your wooden skewers are, cut them into 6 inch lengths. Place them in a bowl of water to absorb some moisture. This will help prevent the skewers from charring and turning to ash if you are cooking the beef kofta skewers over a BBQ or Fire. Preheat your grill or start a fire and let it burn down until the coals are nice and hot, with almost no real "flame"
Shape the ground spiced meat into 2.5-3 inch cigar-shaped rolls, and then insert a skewer into one end until it goes through the length of the "cigar". Don't poke it out the other side though! Brush these skewered kebabs with a little bit of olive or canola oil to prevent the meat from sticking to the cooking grill.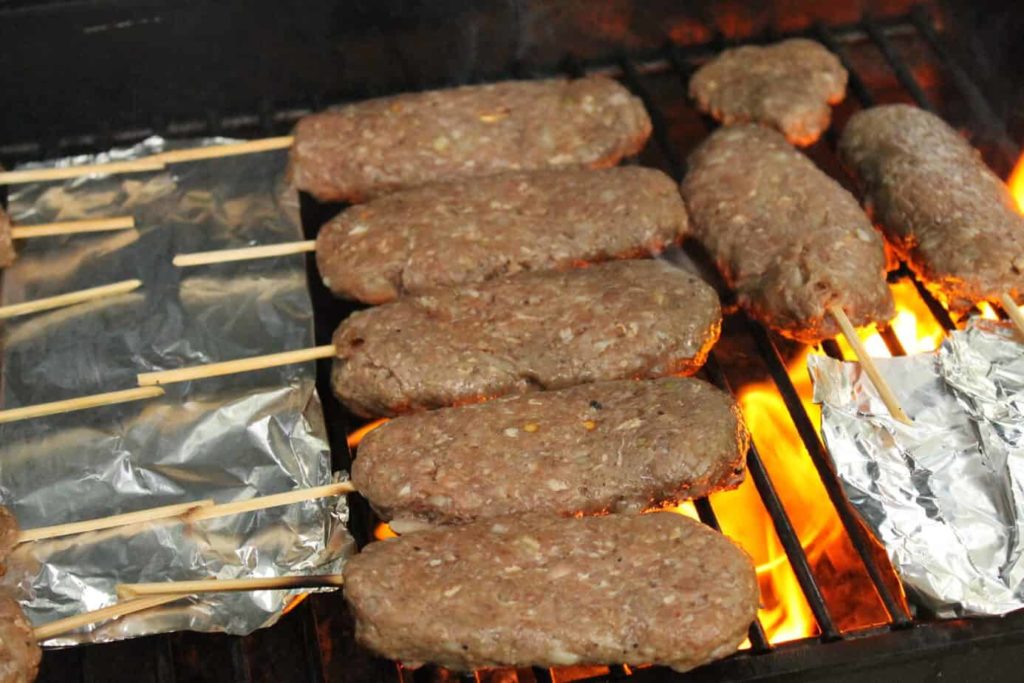 As soon as the grill is nice and hot, you can place the Beef Kofta Kebab right on the grate. You should hear a nice sizzling sound. If the meat starts to drip a little, turn down the heat (over a fire, spread out the coals to cool them down) to prevent the fire or BBQ from flaring up and charring the skewers. Even though you soaked the wooden skewers to prevent them from burning, you can take a sheet of tinfoil and lay it over a section of grill that is not as hot. Over this strip of tinfoil, place the wooden end of the kebab, to help ensure char free handles! Turn the skewers until they are a nice golden brown on both sides. You can use a food thermometer to ensure the internal temperature reaches 165F for a fully cooked skewer. You can also keep a close eye on the meat, and once you see the juices starting to run out clear, the meat is cooked through.
All that's left is enjoying the delicious Kebabs! They make great finger food and are easily stacked on a plate and garnished with some cucumber and parsley! If you liked these kebabs make sure to share them on Pinterest and Yummly! Stay tuned for a new recipe or instructional video next week (I haven't decided which yet!) and to follow Earth, Food and Fire on Facebook  and Instagram for updates on my garden and other projects!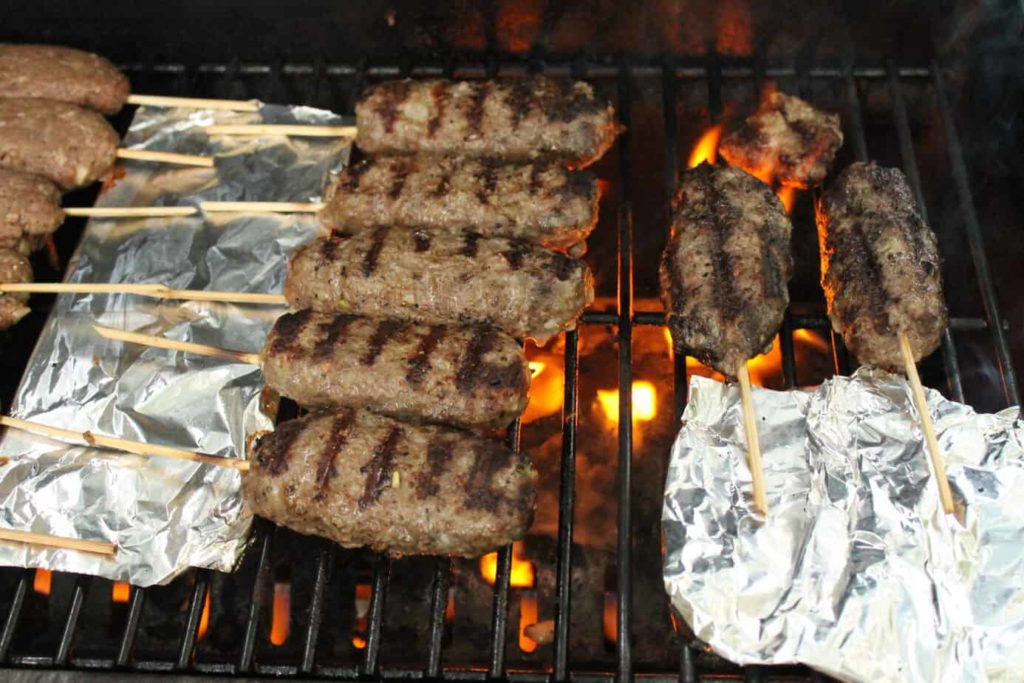 Tried the recipe? Take a picture and tag me on Facebook & Instagram: @earthfoodandfire . For more from scratch recipes follow me on Instagram & Pinterest
Grilled Beef Kofta Kebabs
Aromatic, and full of flavour, kofta always packs a mouthful of delicious meat. Whether its Lamb, Beef, or Chicken, making kofta at home is very simple. This recipe can easily be thrown together and cooked for a quick filling supper, served with pita bread tzatziki and homemade hummus.
Ingredients
2

lb

of ground beef or lamb

5

cloves

of minced garlic

2

small onions finely minced

1/2

bunch of chives finely chopped

3

tsp

ground cumin

1

Tbsp

cinnamon

2

Tbsp

ground corriander

1

tsp

ground allspice

1

tsp

ground ginger

1.5

tsp

ground black pepper

2.5

teaspoons

of salt

3/4

tsp

chili flakes or ground pepper flakes

1

whole egg

24

bamboo or wood skewers
Instructions
Mix the ground beef with the spices, herb and egg.

Let the mix stand covered to marinade and develop a stronger more robust flavor.(optional)

Shape little 3 inch long cigar shaped rolls with the meat, and skewer them with a wooden skewer.

Grill the kebabs over a BBQ or Fire until golden brown and cooked all the way through, about 10 minutes.

Serve the skewers with tzatziki, fresh parsley and cucmbers
© 2016 – 2018, Markus Mueller | Earth, Food, and Fire. All rights reserved. Please contact Earth, Food, and Fire, if you wish to use any media or other content contained on this site.