Chokecherry,(Prunus virginiana) also known as Virginia Bird Cherry or bitter berry, is a type of small shrub like tree native to North America, including Canada and most of the United States.
The small round fruit or berries ripen to a dark red, almost purple color, and have a unique bitter, yet slightly sweet flavor. Chokecherry make excellent jams and jellies, wine, and can even be dried and ground into a flour or turned into fruit leather!
A traditional part of many Native American diets, chokecherries are a key ingredient in pemmican, as well as being used in teas and medicines to treat stomach upset.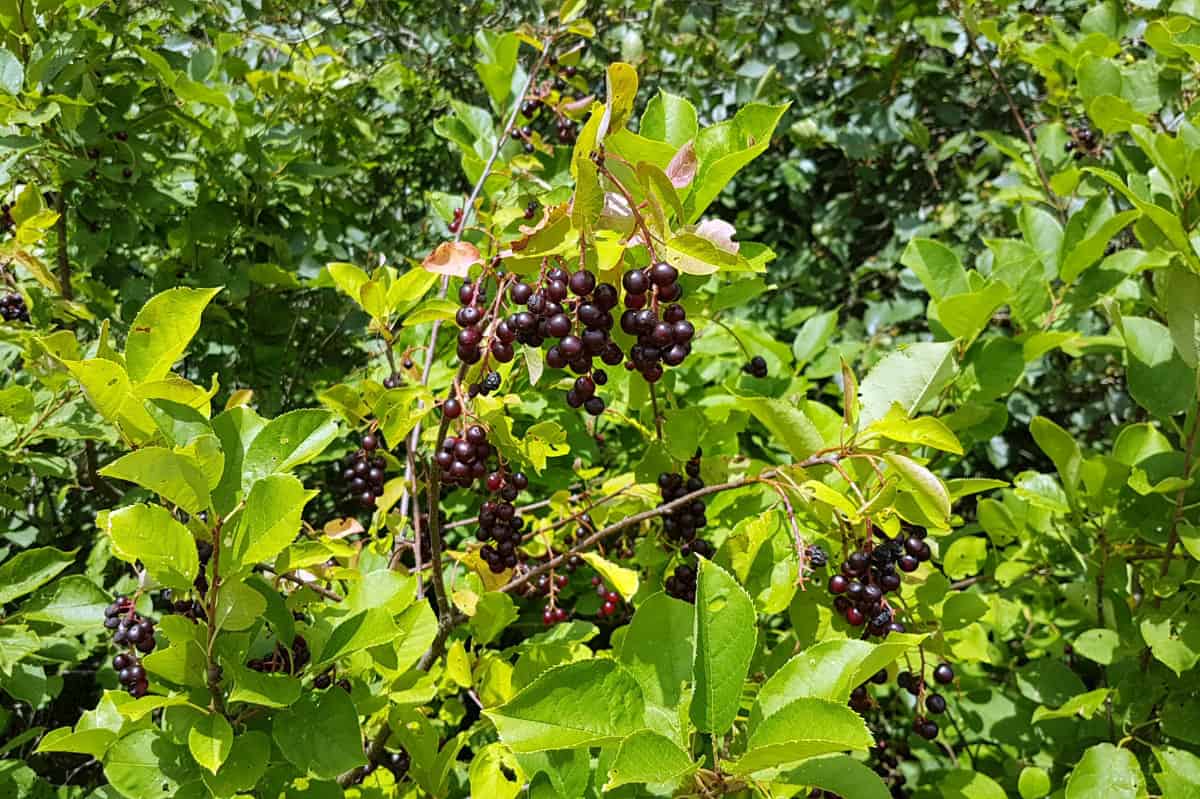 This post contains affiliate links for which we may be compensated if a purchase is made through the links provided. For more information please read our affiliate disclosure.
Are chokecherries poisonous?
Are chokecherries poisonous, and can you eat them raw? While it should be noted that the leaves, bark, and raw seeds of chokecherries do contain a form of cyanide and can potentially be fatal if ingested in large quantities (to both people and livestock), you can eat the flesh of the berries raw. Though be warned, they are quite bitter!
When using in food recipes the berries should be gently crushed(don't crush the seeds though!) and the seeds separated from the pulp before using raw or the berries should be thoroughly cooked to break down the toxin.
Sun drying the berries as was traditionally done to make pemmican can also neutralize the toxin.
Where can you find chokecherries?
Native to most of North America, chokecherries grow alongside country roads and hedgerows, as well as the edges of woods and forests. Chokecherries grow on small shrub like trees that require full sun, so you won't find them deep in the woods.
Depending on your location, chokecherry trees are start to bear fruit in mid July to early August. The bright red fruit are easy to spot and hang in clusters on the trees. Once you start looking for them, you'll start to notice chokecherries everywhere!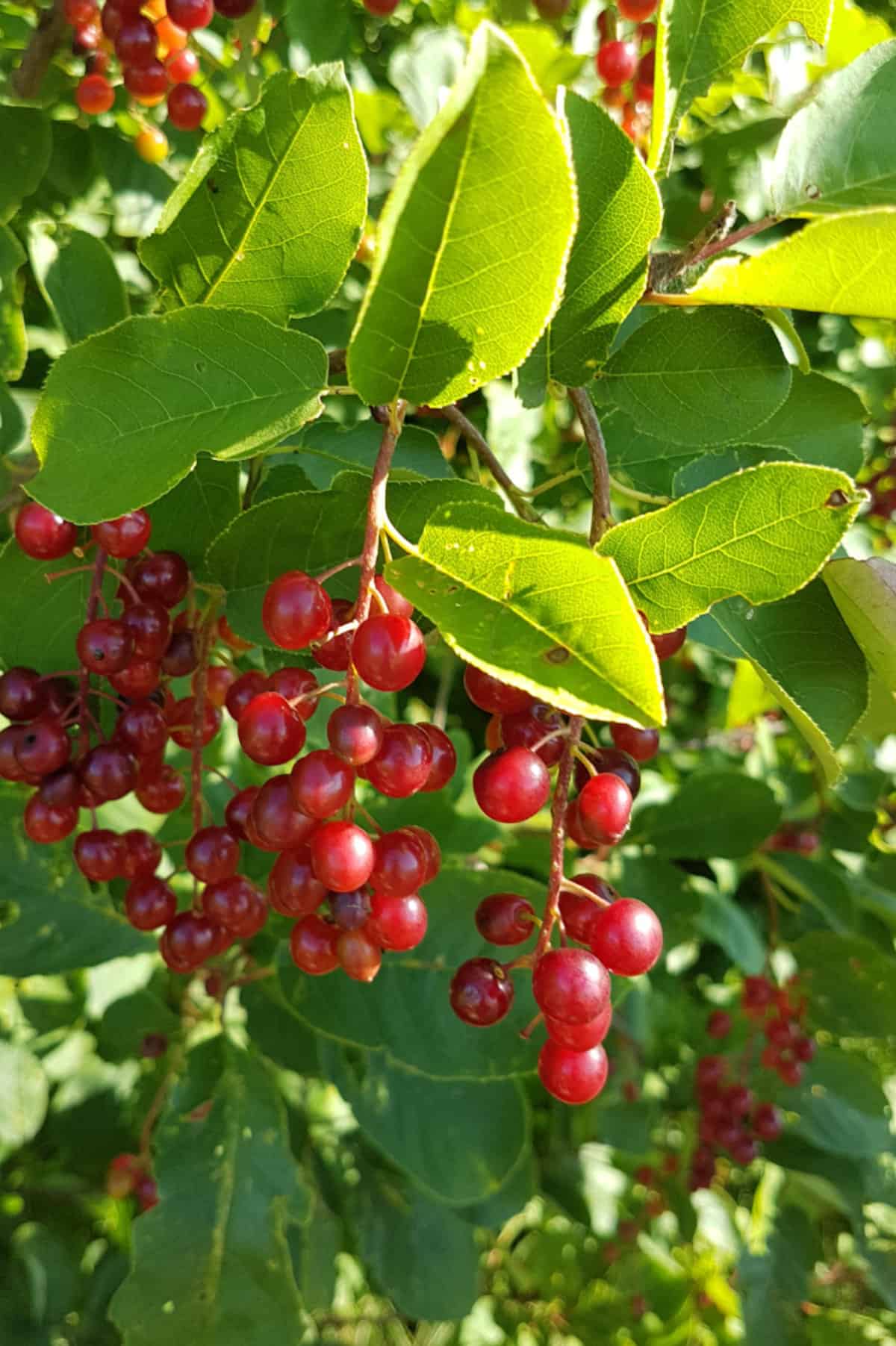 The berries won't be ripe until they turn a dark red, purplish color, so don't pick them yet! Just make a note of their location for future foraging. Keep an eye on the berries though, once the fruit ripen, they are a favorite for birds and raccoons, and will quickly disappear as they are consumed by the local wildlife!
Identifying chokecherries
These shrub like trees grow to a height of about 20 feet when mature, though are often much smaller. They often grow in clusters together, giving the appearance of a shrub or large bush. They have long, oval shaped leaves ending in a point, and range from 2 to 4 inches in length. The edged are slightly serrated the leaves grow directly from the thin branches.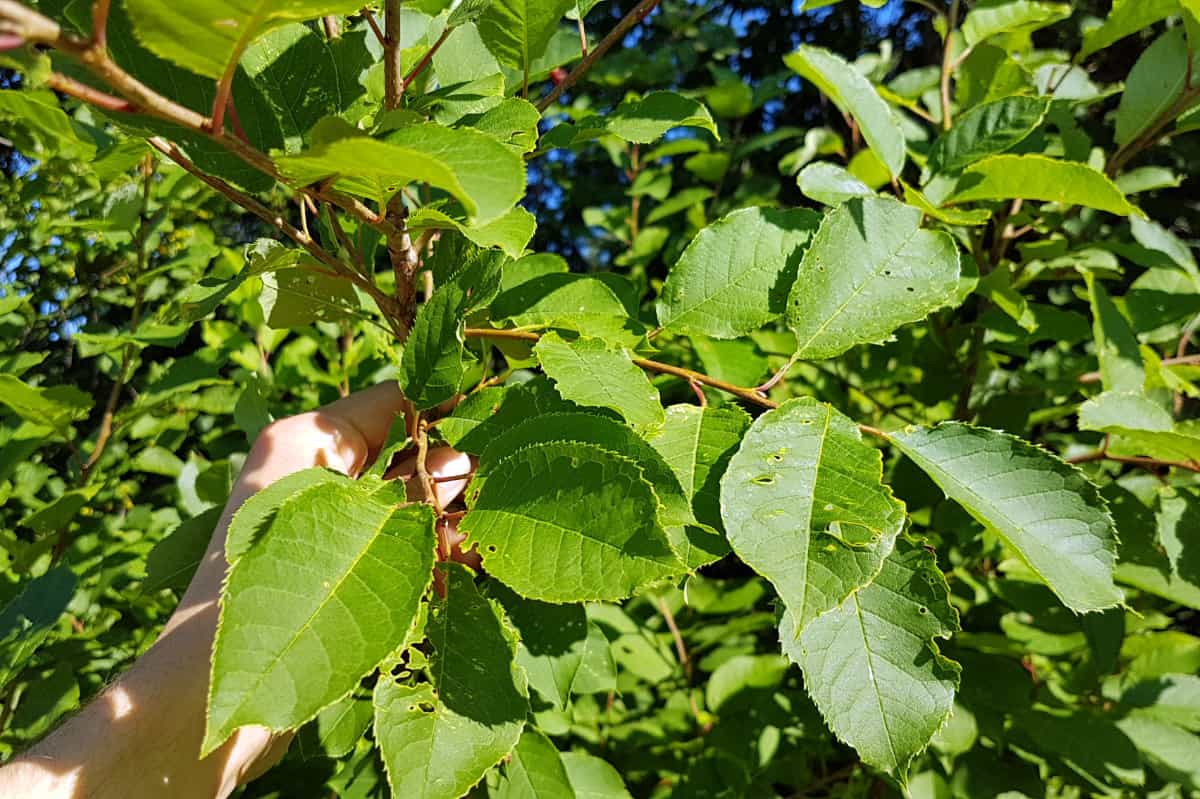 Chokecherry trees should not be confused with common buckthorn which is considered a 'toxic lookalike'. Common buckthorn has lots of long, sharp thorns though, which chokecherries do not have. Common buckthorn berries also don't contain just a single seed(as chokecherries do) but many small seeds.
The chokecherries themselves grow in small easy to pick clusters of fruit, that hang from the branches, and have a single pit or stone in each fruit. These seeds are quite large, and take up about a third to a half of the volume of the fruit. The berries start out bright red, and ripen to a dark purple, sometimes almost black in color.
The bark of chokecherry trees is grey with small dimples, much like other cherry trees, though not as pronounced.
As always when foraging for wild plants and foods, do not consume anything you are not 100% sure of identifying! Always get a second opinion if you are in doubt!
What to do with chokecherries
Now that you have successfully identified and foraged some chokecherries, what do you do with them!?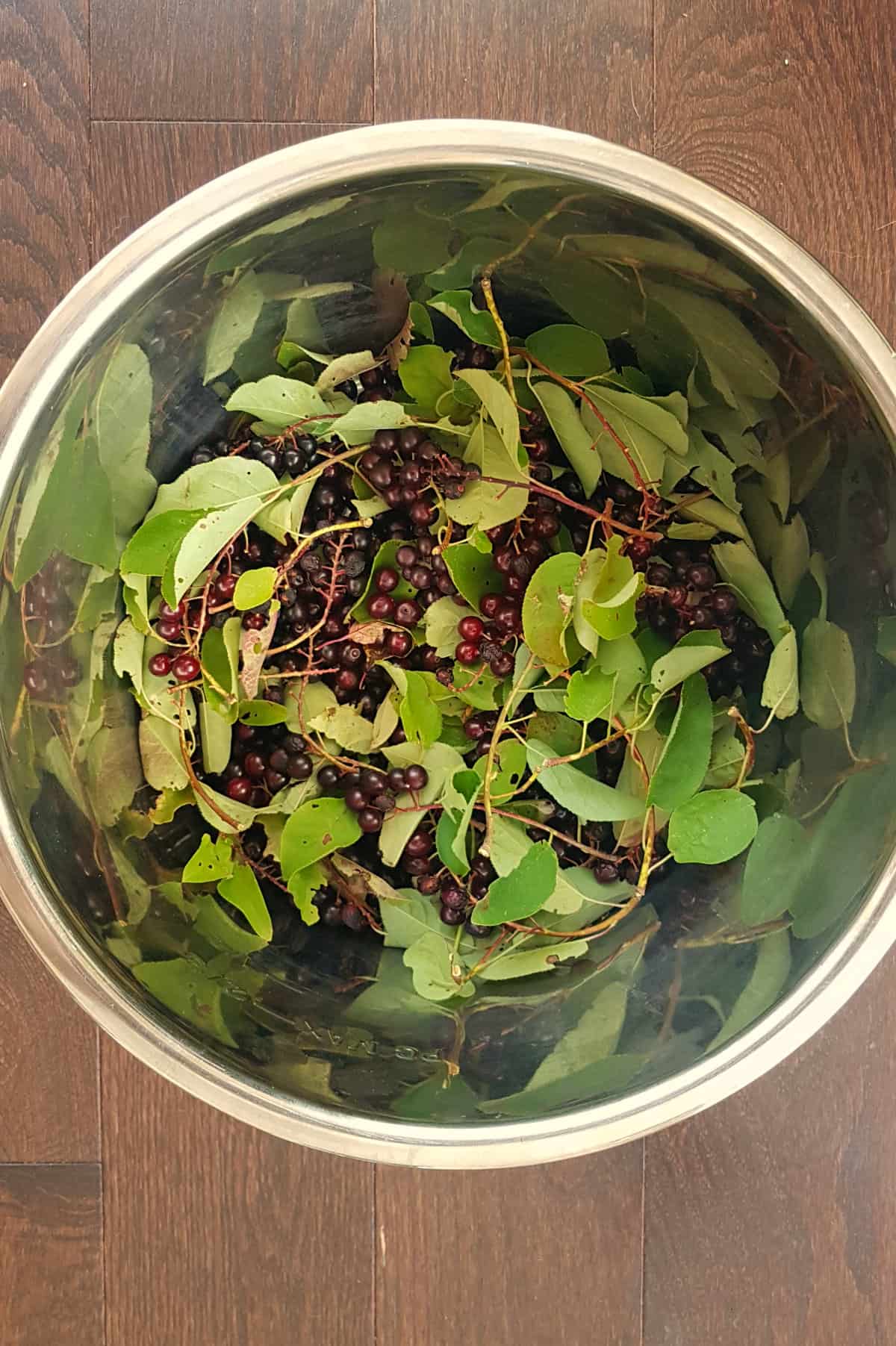 As previously mentioned, ripe chokecherries straight from the tree are still quite bitter, and moist recipes do require a bit of sugar to help mellow this out.
Chokecherries can easily be turned into juice, jelly, jams, and even wine! They can also be crushed and dried to make fruit leather, mixed in with meat to make pemmican, .
Chokecherry Juice
The easiest thing to do with chokecherries is to wash the berries after collecting, and then simmer the berries in just enough water to cover the berries. After about 15 minutes of simmering, the flesh easily falls away from the seed when the mixture is stirred.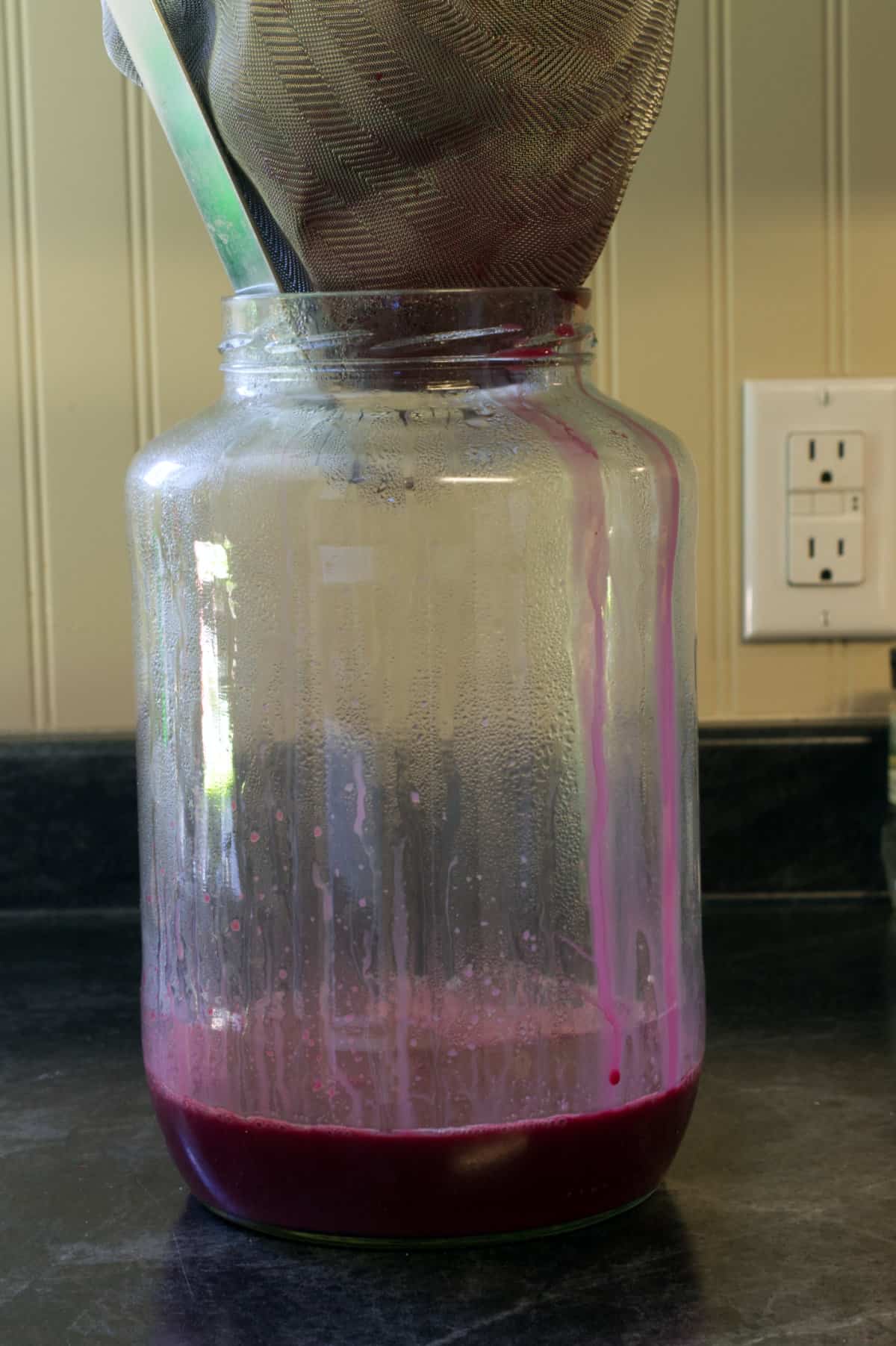 The entire contents of the pot can then be passed through a fine mesh strainer and cheesecloth to separate the pits from the juice. The resulting juice is cloudy and reddish purple in color. Sugar can be added to the juice, or it can be consumed as is.
If you let the juice sit in the fridge for a day or two the juice will clear as any sediment settles out. Sweeten with sugar or honey as desired.
Chokecherry Jam & Jelly
To make chokecherry jam and jellies, the berries are first washed and cooked, much like when making chokecherry juice. As the berries are naturally high in pectin, only some added sugar is needed to help the jam or jelly set in the fridge. If making jam, the pulp is retained along with the liquid while the seeds are discarded. If making jelly, only the juice is strained through a cheesecloth.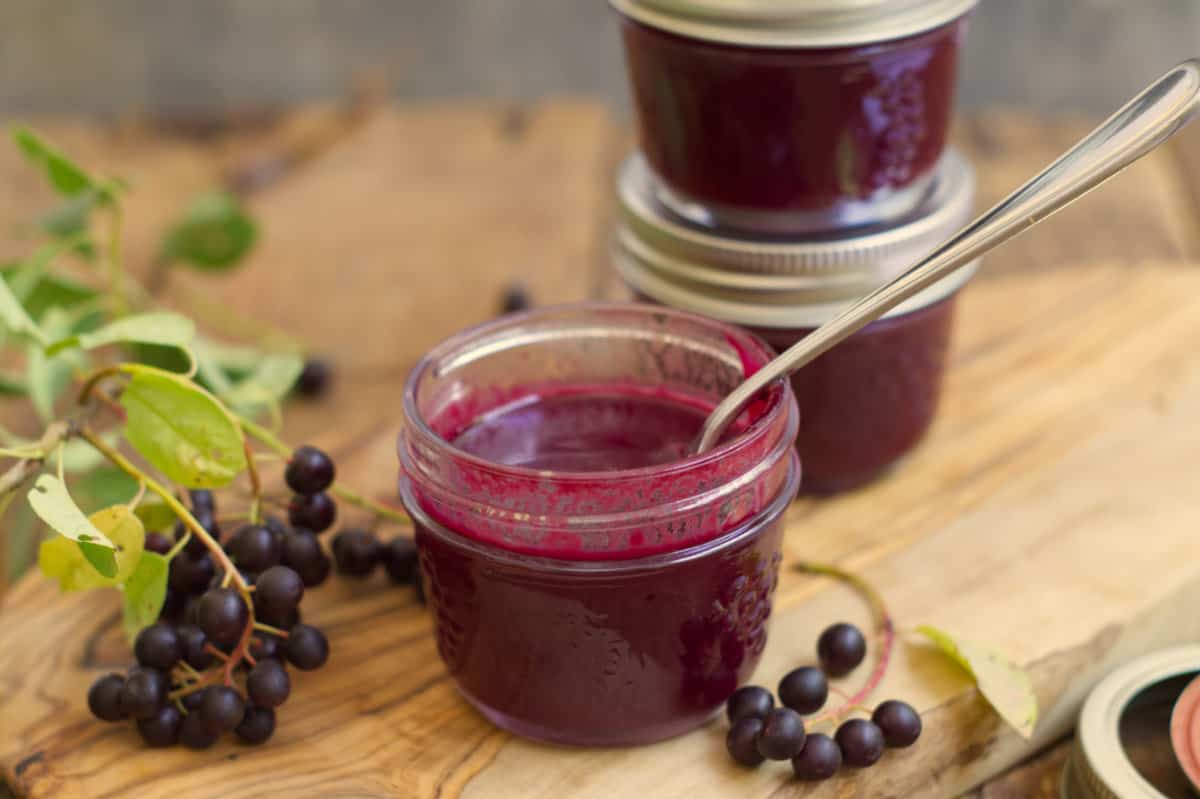 Chokecherry Fruit Leather
To make chokecherry fruit leather, very ripe chokecherries should be collected, washed, and then passed through a mesh food strainer. The seeds are removed and the pulp is then thinly spread out in sheets and dried.
Have you foraged for chokecherries? what are your favorite ways to use them? We'd love to hear your comments below!
As with all our foraging guides, these should not be taken as medical advice. Always consult a local expert if you are unsure of what you are foraging, and only consume wild plants if you are 100% sure of their safety.
Did you find this guide useful?? Comment & Rate it below, then tag me on Facebook & Instagram: @earthfoodandfire . For more DIY gardening tips & from scratch recipes follow me on Instagram & Pinterest