This post contains affiliate links. For more information please read my affiliate disclosure.
Roasting meat is one of my favourite things to do at home when I'm making dinner, it always smells awesome even after just ten minutes in the oven and it is so easy to do! A lot of people I talk to are always sceptical of roasting a larger cut of meat because they aren't sure how long to roast the meat, what type of cut to use and how to season it properly.
So for today's cooking tutorial, I'm going to walk you through slow roasting a 2lb beef outside round, though the same method may be applied to other cuts and types of meat as well. I'll be crusting this roast with garlic, lemon thyme, oregano and Dijon mustard. The herbs I will be using in this recipe are all home grown, which in my opinion makes this roast taste a lot better! After reading todays cooking tutorial you'll be able to roast any cut of meat with confidence, and if you're not sure on a step or what to do next, you can always come back and look it up or ask me in the comments or shoot me an e-mail! To follow along you will need:
1x 2Lb Outside Round Oven Roast
3 Fresh Garlic Cloves
2 Small Onions
3 tablespoon Dijon Mustard
1 tablespoon Finely Chopped Fresh Thyme
3 tablespoon Finely Chopped Fresh Oregano
Ground Coarse Sea Salt and Cracked Black Pepper to taste
So let's jump right in. The first thing you'll want to do (besides going grocery shopping for any missing items of course!) is to get all your ingredients handy. I'm keeping this roast fairly simple with just eight ingredients, but regardless of what flavour combination you want to go with it is important to have everything ready so that you don't have to scarmble for missing ingredients mid-cooking! In a professional kitchen, this is called your Mise en Place,( Mise or MEP for short) and as any chef will tell you, not having your MEP ready to go before you start cooking is a big no-no!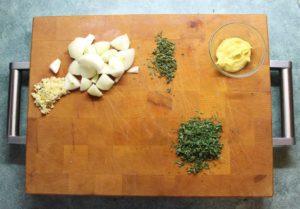 Turn on your oven to 375F to pre-heat while we work. We'll mince the garlic, and herbs for the Dijon crust next, but as you can see I left the onions in a rough chop. The reason for this is that I will be placing the roast ON TOP of the onions while it's in the oven to prevent the meat from scorching on the bottom. This also has the secondary effect of the meat leaking its juices over top of the onions as we are roasting, flavouring the juice which we can use at the end to make a tasty pan jus or gravy.
Once you have all the vegetables and herbs cut up, we can start seasoning the meat. You want to liberally season the roast with salt and pepper (I always use fresh ground coarse sea salt and whole black pepper, I find you simply get a better flavor), then spread the Dijon out over the top of the meat, sprinkle it with the garlic and herbs, and then the best part, rub it all In.!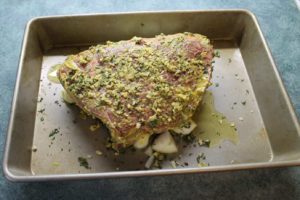 Don't be afraid to get your hands dirty here, you can always wash them later! I find it is important to really rub all the ingredients into the meat to help the crust stick to the meat and evenly spread out all the seasonings.
After you get the whole roast rubbed with the crust, wash your hands with warm soapy and water and pop that baby into the oven!
For a small roast like this, you won't need a very long cooking time. It took us about 1 hour in the oven and 5 minutes of prep time. If you are unsure of how long you should cook a beef roast you can follow this general rule of thumb. For most all beef roasts you want to aim for a cooking time of 30 minutes per pound of meat. This is perfect if you time it with resting, setting a table, getting your family or guests together and then chowing down!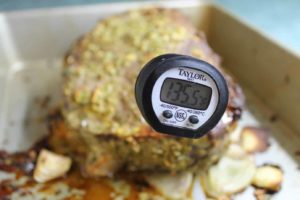 Start the roast at 375F for half an hour. Then drop the temperature to 350F so as to avoid burning the roast. Cook for a roughly another half hour at 350F if you are using a 2lb roast like I am. If your roast is larger you may need to keep it in the oven longer. You can check the Internal Temperature if you like with a properly calibrated digital thermometer to check the done-ness. This roast was sitting at about 135.5F after 1 hour total in the oven. Cook your roast to about 10-15 degrees below your desired end temperature. I am shooting for a nice medium (145F) so I will take the roast out of the oven at 135F to allow for carryover cooking. Just because you take the meat out of the oven doesn't mean the cooking process stops just like that. The residual heat in the meat will "carry over" cook your roast . Letting your meat rest for at least 10 minutes after it comes out of the oven will ensure the temperature stabilizes and that the Roast will not bleed out, loosing all of it's juicy goodness before you get to eat it! Once the roast has had a chance to rest, slice it with a nice sharp knife and serve!
An oven roast like this makes for an awesome and easy meal. Served with some pickles, roasted potatoes, a good quality Dijon mustard (my favourite kind is made by Kuhne
), and some greek salad, this meal will leave you full and satisfied! The leftovers, if there are any, can be refrigerated, and once cold sliced very thinly either by hand or with a meat slicer if you have one. You essentially just made your own preservative-free deli meat! Who doesn't love a good roast beef sandwich for lunch!?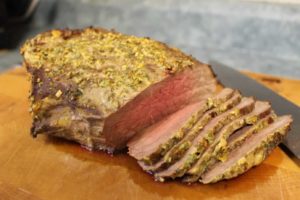 Recipe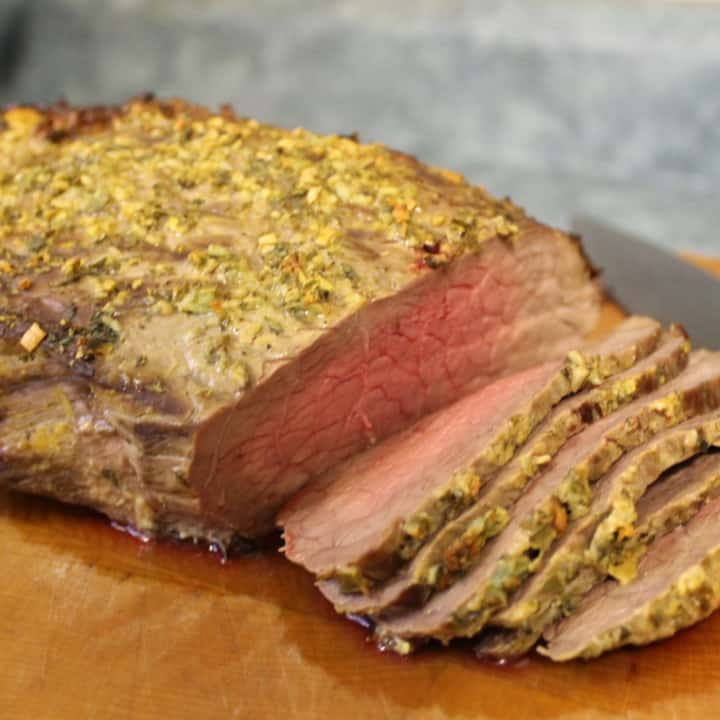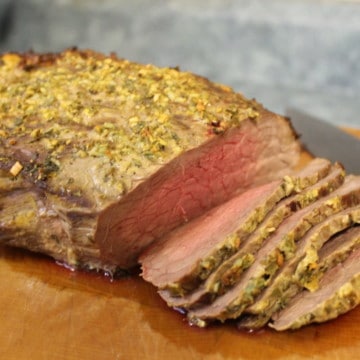 Super Simple Garlic Oregano and Thyme Oven Roast
Oven Roasts are one of my favourite dinner items. They are fairly easy to make at home and any leftovers can be used for sandwiches the next day! Serve this roast with your favorite style of potatoes and a fresh salad!
Ingredients
2

lb

Outside Round Oven Roast

3

whole

Fresh Garlic Cloves

2

whole

Small Onions

3

tablespoon

Dijon Mustard

1

tablespoon

Finely Chopped Fresh Thyme

3

tablespoon

Finely Chopped Fresh Oregano

Ground Coarse Sea Salt and Cracked Black Pepper to taste
Instructions
Pre-heat your oven to 375F.

Rough chop your onions and place in a greased roasting pan.

Finely chop the garlic and herbs. Using paper towel or a clean cloth pat the beef roast dry of any excess blood or juice. Rub the outside of the roast with the Dijon mustard.

Than sprinkle your herbs and garlic on top, and use your hands to spread it around until the whole roast is crusted with the mixture. Liberally season the outside with salt and pepper.

Place the roast on top of the chopped onions in the roasting pan and place in the pre-heated oven.

Roast the Beef for about 20-30 minutes and then drop the temperature to 350F. Roast for another 30 minutes then check the temperature with a food grade thermometer. Roast the Beef for about 30 minutes per 1lb of meat.

Once the desired temperature and done-ness is reached, take the roast out of the oven and allow it to rest for at least 10 minutes before slicing.
Nutrition
Nutrition info is auto-generated. This information is an estimate; if you are on a special diet, please use your own calculations.
This post contains affiliate links for which I may be compensated if a purchase is made through the links provided. For more information please read my affiliate disclosure.