We recently had the opportunity to test out a free Ooni Karu 16 pizza oven. After cooking with the Ooni oven for a little while and creating two recipes ourself,(try out our cranberry brie pull apart bread or wood fired meatball pizza yourself!), we wanted to do a full review of this popular pizza oven to help you decide: "Is it worth buying an Ooni Oven?".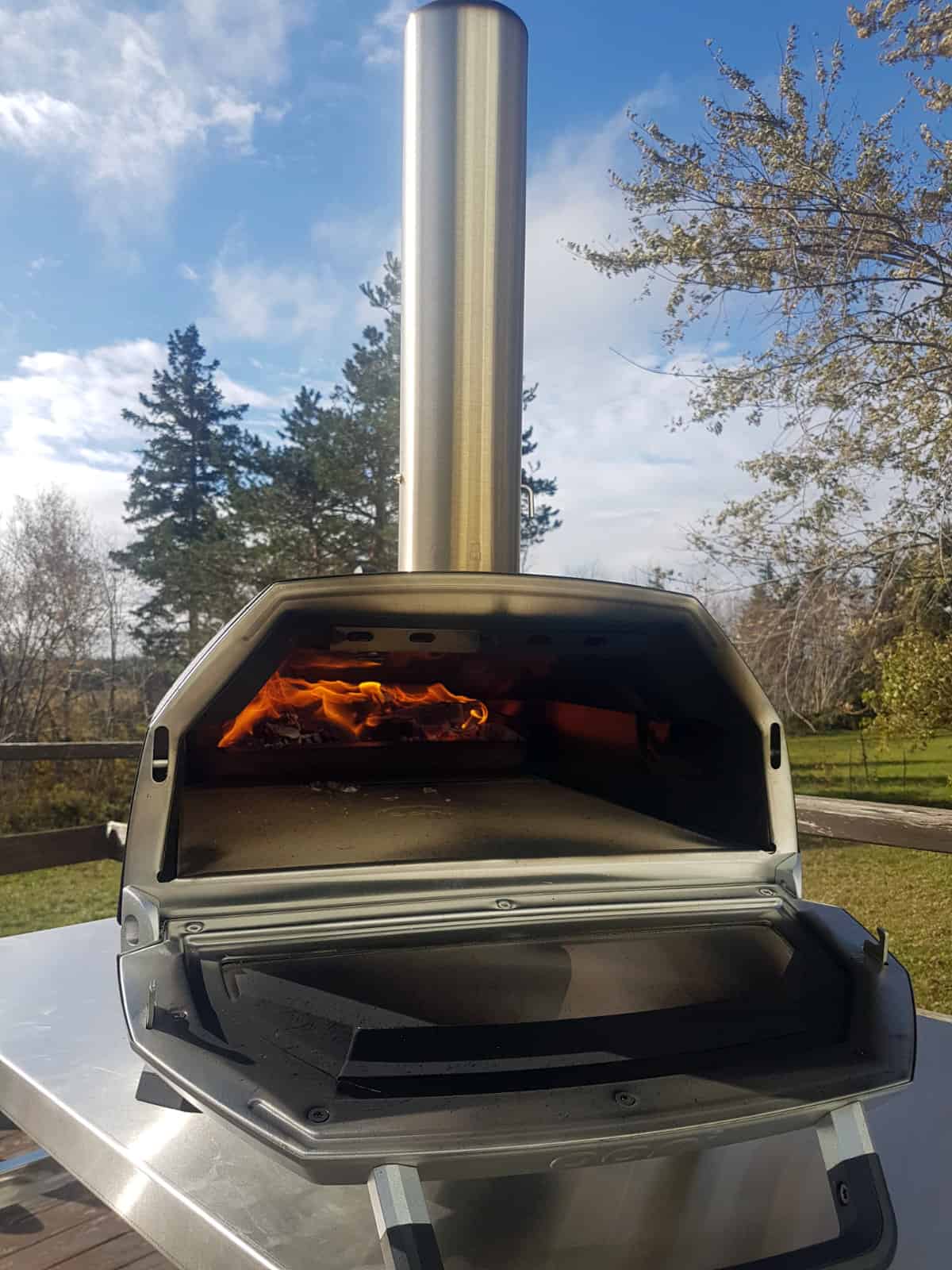 Read on to find out what we thought!
This post contains affiliate links for which we may be compensated if a purchase is made through the links provided. For more information please read our affiliate disclosure.
Jump to:
Overview
What is an Ooni oven? Ooni's outdoor pizza ovens allow you to cook Neapolitan style pizza in under 60 seconds right in your own backyard. With a range of tabletop models available Ooni has been in business since 2012, and sells these heavy duty, outdoor cooking appliances world wide.
While billed as a pizza oven, Ooni pizza ovens are surprisingly versatile, allowing you to cook much more then just pizza. You can bake, grill, roast, and of course cook pizza all in one appliance.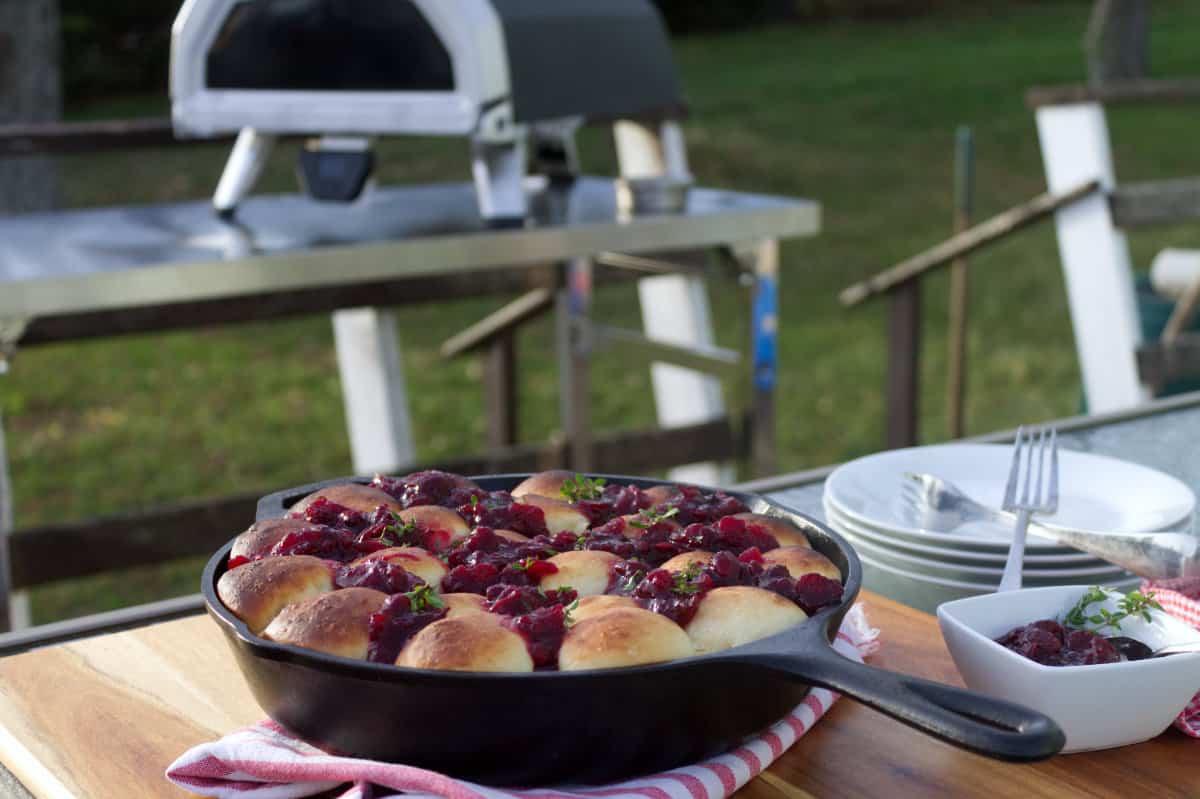 With a price range of $499 - $1099 for just the oven, Ooni pizza ovens are no small investment. The ovens are very solidly built though, with high quality materials and will last a very long time if properly cared for.
For those seeking to create a unique outdoor cooking experience to share with friends or family, and one that's easier to clean up,( and more versatile!) then a regular BBQ we would strongly encourage considering an Ooni oven.
Ooni Pizza Oven Models
Ooni offers a range of pizza ovens with the main difference between them being the size of pizza they accommodate, as well as the fuel source you are able to use.
*The size differences in the models refers to the size of pizza you are able to cook in the oven.
Accessories
Ooni offers a variety of accessories that make cooking with the Ooni Pizza ovens easier, and also expands the possibilities of what you can cook in the oven.
Assembly & Set Up
When our Ooni Karu 16" arrived at the door I was surprised at the size of the box. While I was under no impression that the Ooni pizza ovens were small by any means, it was very solidly packed in a large square box that required the delivery man to use a cart to get it to our door!
That said the pizza oven was very efficiently packed using bio-degradable packing material, with very little empty space in the box. Everything was nicely tetris-ed into the box! Overall the unboxed Ooni Karu 16 measures 33 x 32 x 20″ (50 x 81.5 x 83.7 cm) and weighs a hefty 62.6 lbs (28.4 kg).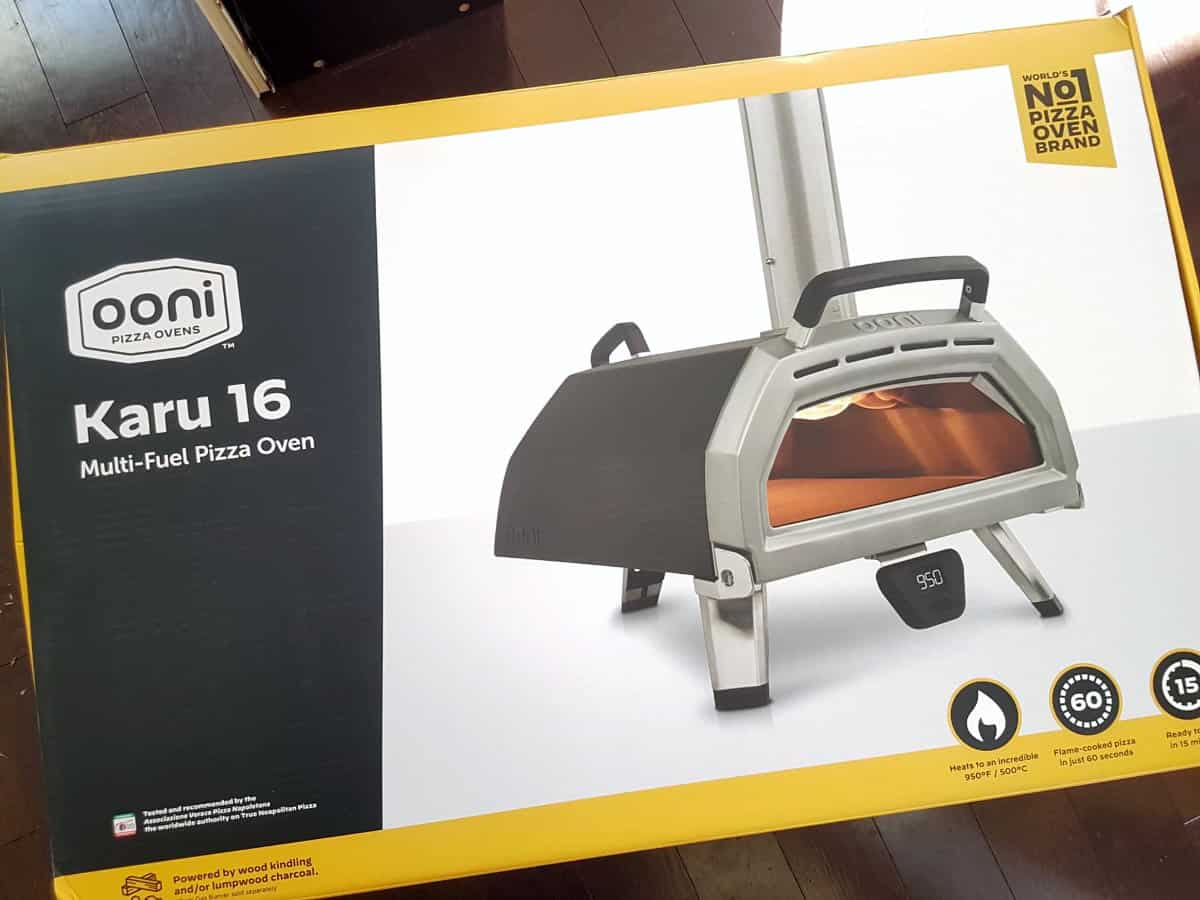 Assembling the Ooni Karu was very easy. Following the easy to follow step-by-step instructions only took about 15 minutes. The hardest part was screwing the thermometer display to the bottom of the oven!
To set up the Ooni oven outdoors and make cooking with it easier, we would strongly recommend purchasing a separate stainless steel table, or the large modular table offered by Ooni. The pizza oven itself is quite heavy, and gets extremely hot during cooking, making it unsuitable to be placed on glass, or lightweight patio tables.
You MUST use this oven outdoors. It can not be operated in a garage or other enclosed space.
Using The Ooni Pizza Oven
Using the Ooni Karu 16 was honestly a breeze. After initially heating the oven at full blast to burn of any manufacturing residues as is instructed in the manual, I opted to use firewood for my first run as I couldn't wait to try cooking with fire on my porch! The oven lit very quickly and did heat up to full temp in about 15 minutes, just as advertised.
I didn't have the infrared thermometer so I ball-parked the pizza stone temperature for my first run. I would highly recommend using the infrared thermometer to gage the stone temperature as my first pizza cooked almost too quickly!
With the oven door open though, the heat did drop, and the subsequent pizzas that went into the oven cooked up beautifully. Using the pizza peel to turn the pizza wasn't hard at all to get used to and we quickly got the hang of cooking wood fired pizza at home!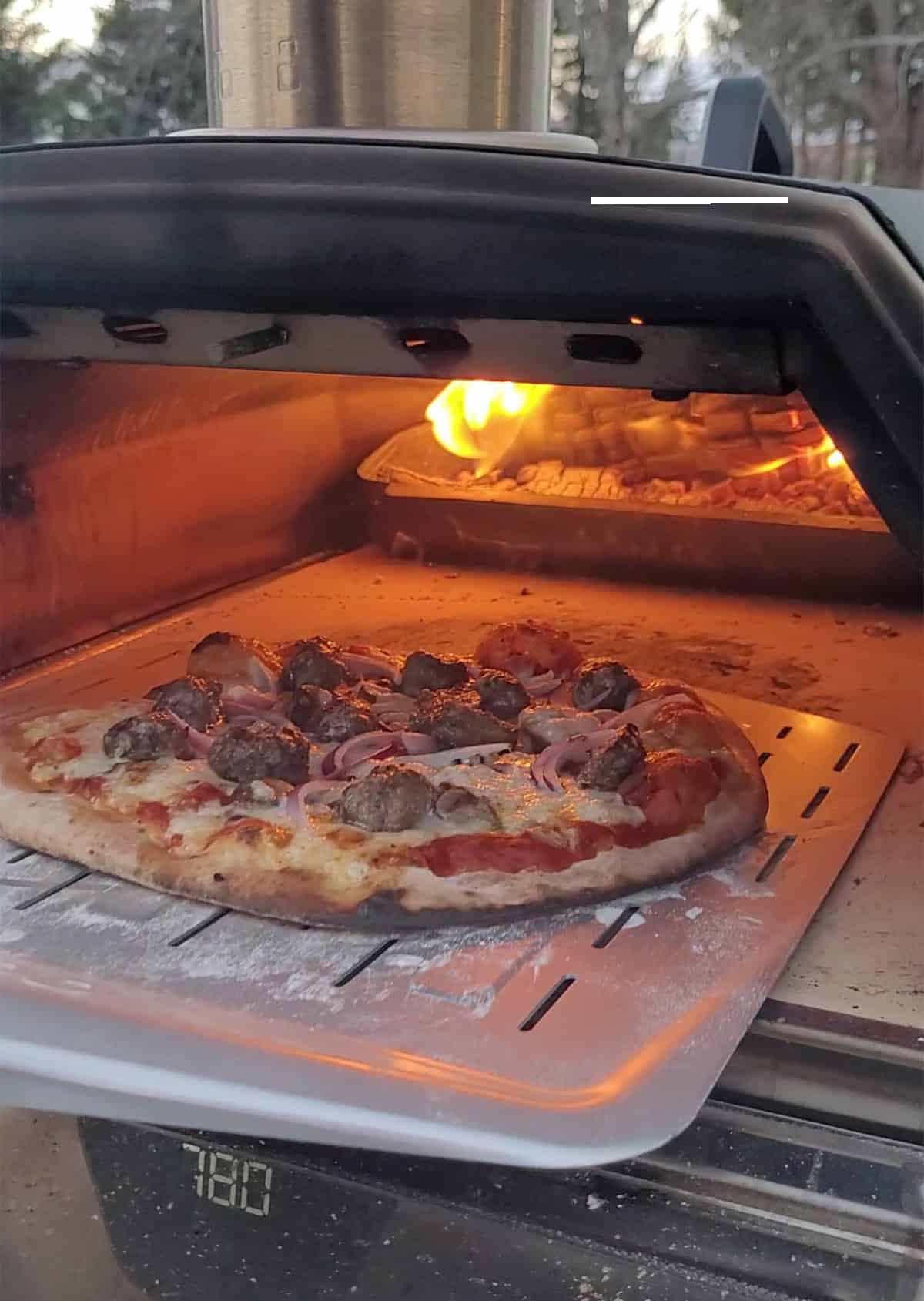 We found it easier to keep the temperature a little lower then the suggested 950F and simply cook the pizza a little longer (about 2 to 3 minutes instead of the 60 seconds) to ensure even cooking and less burnt crust!
The included manual offers tips and tricks as well as an app to help new users get started, which we thought was very helpful, and we referred to it often during the first use to help regulate the temperature, fire pizza's easily, and get ideas for future recipes we wanted to try!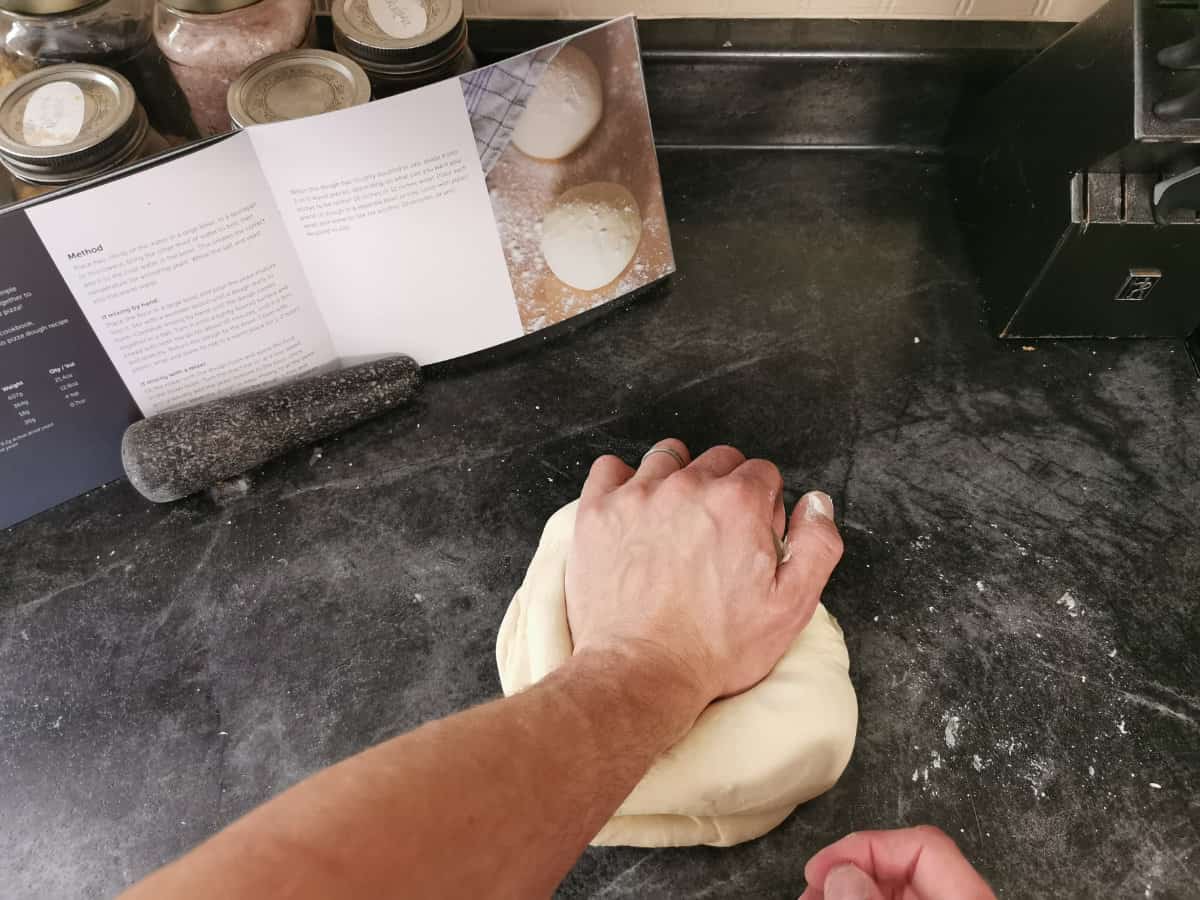 Our biggest tip would be to be very organized and have all your food prep done before starting the cooking process! You don't want to be running around looking for things while you are cooking!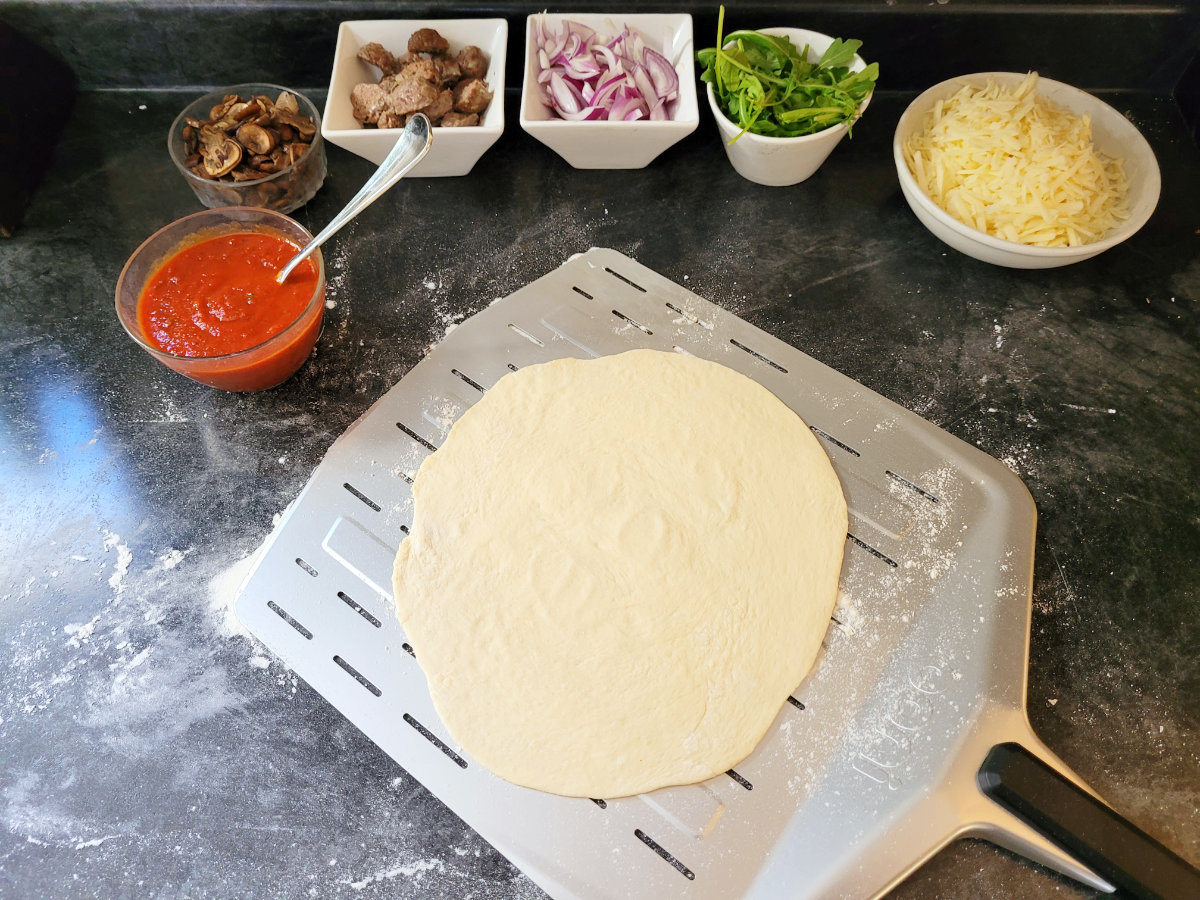 Clean Up & Storage
Clean Up
Once you are finished cooking with the Ooni oven, you simply let the fire go out, or turn of the gas to the oven. In our wood fired oven, we closed the door and let the fire burn out on it's own.
It took about two hours for the Ooni to completely cool down to the point we could safely move it. Virtually no ash was left though which was a nice surprise and made cleaning out the fuel box very easy.
We where a little worried about the pizza stone being dirty from cooking on it, but a quick check in the manual, instructed us to turn the pizza stone over which would allow the dirt to burn off during the next cooking session. We tested it out and sure enough after our second time cooking in the oven, the baking stone bottom (Which we had flipped) was completely burned off, and looked almost brand new!
Storage
For storage, the Ooni manual states the pizza oven is quite happy to live outdoors just like a BBQ during most of the year, but to store the oven indoors during extreme weather conditions to protect both the oven and the pizza stone from damage.
Since we live in Atlantic Canada with very harsh winters, we will be storing our Ooni oven indoors in the basement during the Winter months. We do plan on investing in an Ooni cover to store the Ooni oven outdoors on our deck from Spring to Fall.
Where To Buy An Ooni Oven
Ooni pizza ovens are available for purchase through their official website as well as through Amazon. The prices are very similar, though the official Ooni website does offer bundles that include some of the basic accessories, allowing you to save some money. Make sure to check out both for possible seasonal sales!
Is It Right For You?
If you enjoy cooking outdoors, creating delicious meals while cooking with fire, or simply want to wow your friends and family with an unforgettable hands on cooking experience then this is the oven for you!
Do you have an Ooni Pizza Oven at home? Let us know what you think in the comments below!