These days it can be difficult to go grocery shopping without falling prey to the countless snacks and finger foods lining the isles. This can make it hard to cut out or reduce processed foods, especially when those cool ranch Doritos are currently on sale! While giving in once in a blue-moon, and treating yourself to a bag of processed junk is not the end of the world, what if I told you there was an easy and healthier way to satisfy your chip craving!?
Baked homemade pita chips are the go-to 'chip' in our house when a craving for something crunchy and salty hits. These healthy oven baked chips also double as a great after school snack when served with some crudités!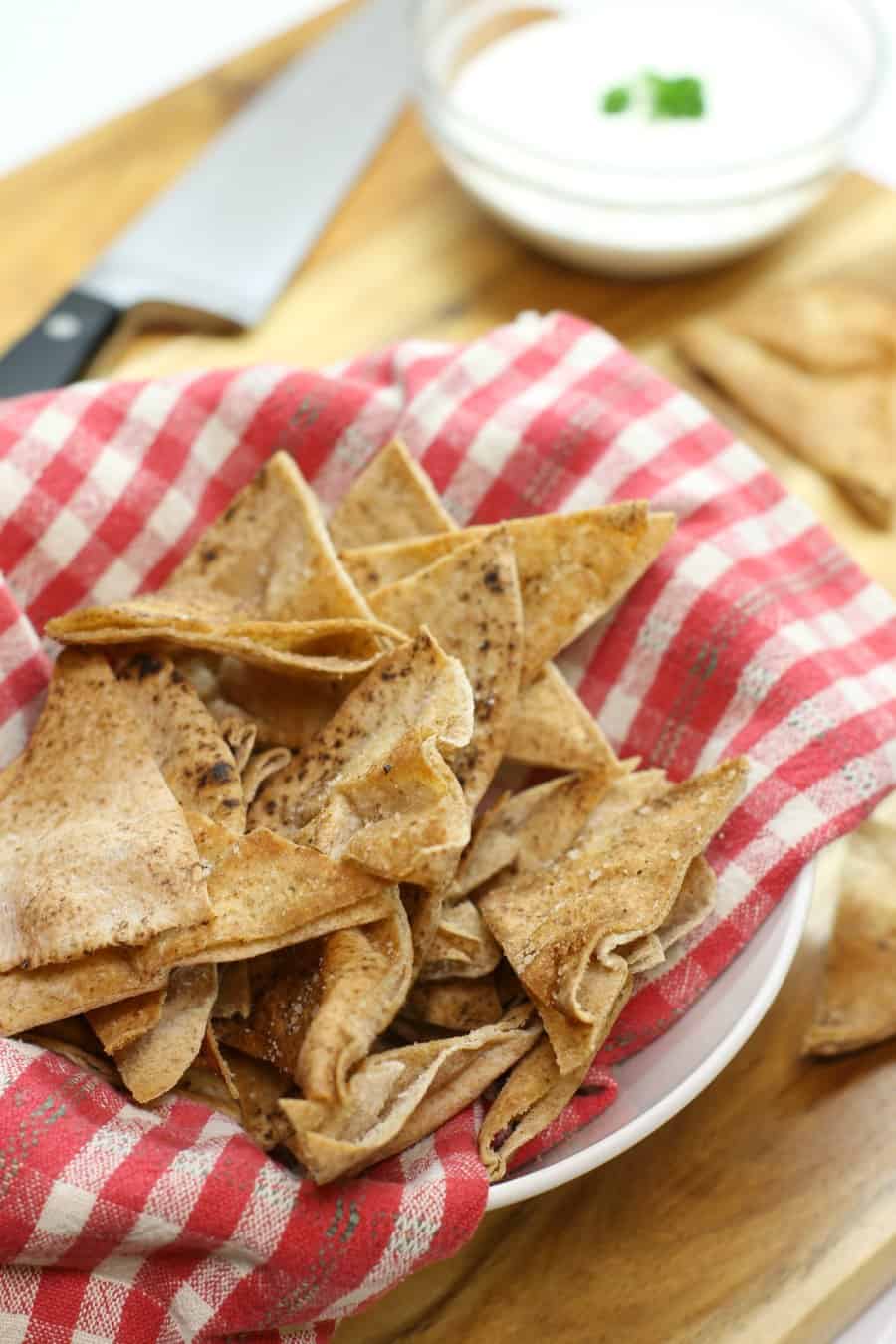 The great thing about these healthy pita chips is that the flavoring is entirely up to you! As long as you keep a basic list of spices in your kitchen pantry, you can re-create almost all of the 'store bought' flavors yourself.
Looking for something even heartier as a snack? Dip your oven baked pita chips in some garlic hummus,or a homemade tomato salsa! Pita chips and hummus are a personal favorite of mine!
Homemade Pita Chips - From Scratch
If you want to make these baked homemade pita chips as healthy as possible, consider making your own pita bread from scratch at home!
Otherwise simply buy a bag or two of pita bread (whole wheat or white is fine, its just a taste preference) at the store. The pita can be frozen in bulk, (before being turned into chips) for use in other recipes. I add grilled pita bread brushed with garlic butter as a side to lasagna to cut out the carb heavy white bread.
After you've chosen your pita bread, simply cut it into wedges using a sharp chefs knife. It's easiest to cut into ⅛ths but you could easily cut strips or large squares depending on your mood!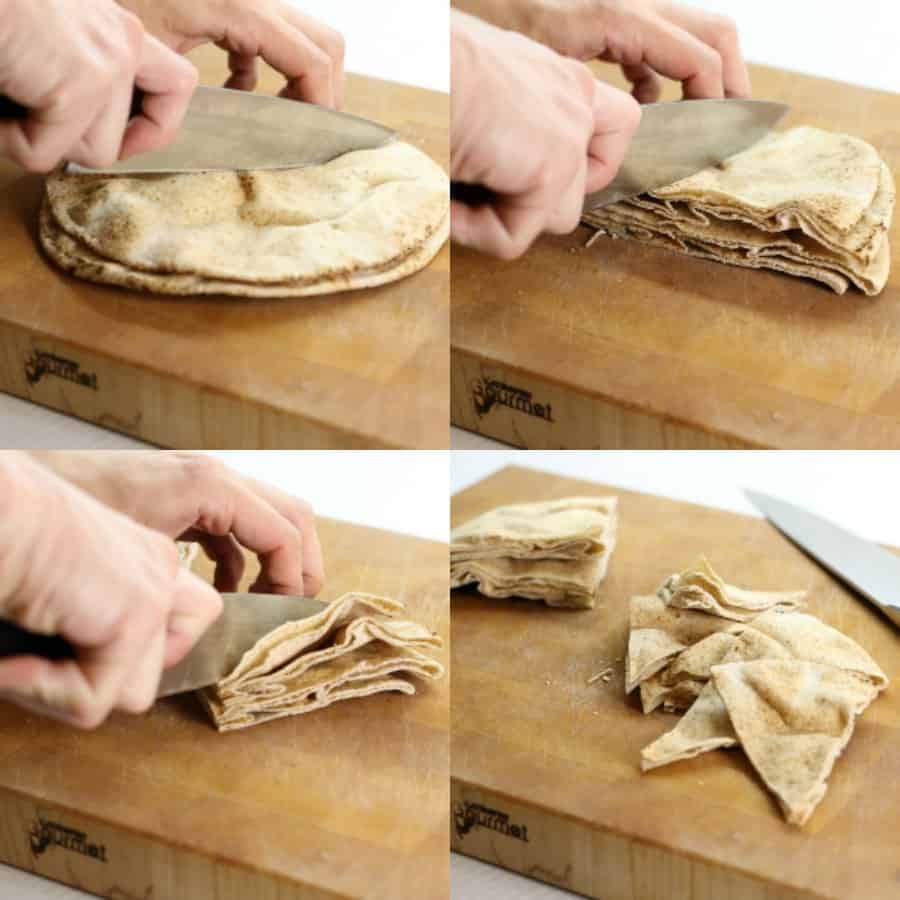 Pre-heat your oven to 375F and if using butter( olive or coconut oil may also be used) melt it now. Clarified butter is ideal for making these homemade pita chips, as it adds a hint of flavor besides any other seasonings you might choose..
Lay the cut pita chips on a parchment or Silpat(affiliate) lined sheet pan and brush both sides with the butter or oil.
This is where the fun begins! At this point in your snack prep you can decide if you want flavoured chips, or plain baked pita chips.
Homemade Pita Chip Seasonings
If you plan on eating these homemade pita chips without a dip or salsa of some kind, you can use one of the following seasoning mixes to spice up this easy homemade snack.
Simple sprinkle the spice mix of your choice on the cut up and greased pita chips. The fat will help the seasoning stick to the baked chips and also help crisp them up.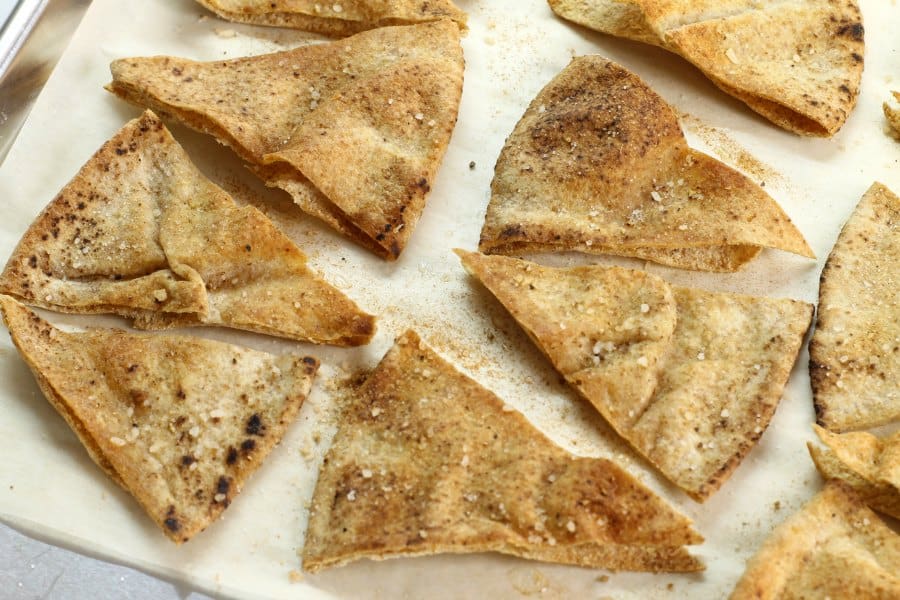 BBQ Seasoning
Mix:
2 tablespoon Smoked paprika or regular paprika
½ tablespoon Garlic powder
1 tablespoon Onion powder
1 teaspoon Allspice
½ teaspoon Black pepper
Salt
1 teaspoon Brown sugar
Ranch Seasoning
Mix:
1 tablespoon Onion Powder
1 tablespoon Garlic Powder
2 tablespoon Dried chopped chives
½ tablespoon Dried Dill
½ tablespoon Buttermilk Powder (optional)
Salt
White pepper
Cajun Seasoning
Mix:
1.5 tablespoon Paprika
1 tablespoon Garlic Powder
2 teaspoon Onion Powder
2 teaspoon Cayenne
1 teaspoon Black Pepper
Salt
Sprinkle the seasoning mix on the pita chips and place in a pre-heated 350F oven for 10 minutes.
Once the baked pita chips start to darken, take them out, and let them cool! They are now ready to eat. Serve them to your kids as a healthy after school snack with hummus and vegetable sticks, or indulge in them yourself, with a creamy tzatziki dip or salsa!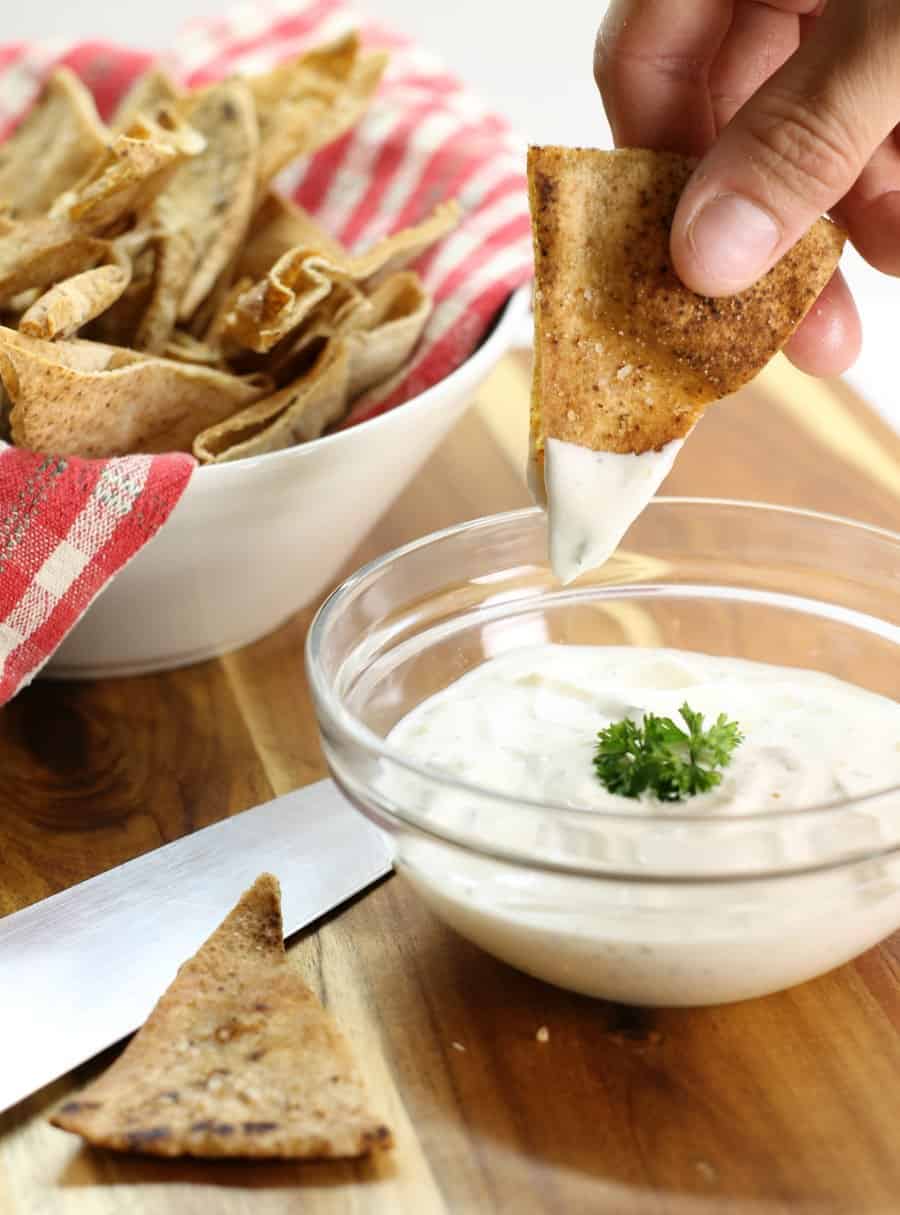 Recipe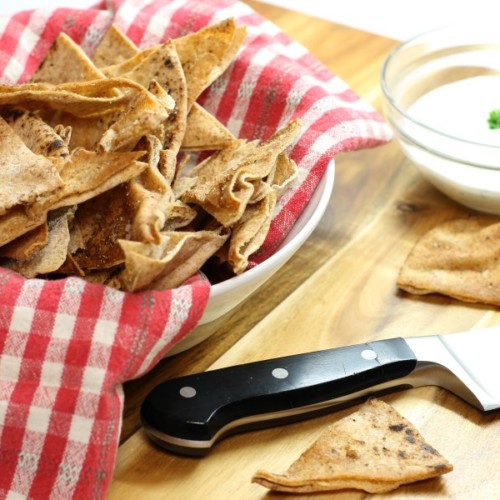 Easy Homemade Pita Chips
Homemade pita chips are an easy and healthy snack great for after school or simply when a chip craving hits. Serve with hummus or homemade salsa!
Ingredients
Home Made Pita Chips
1

package of whole wheat or white pita bread

2

tablespoon

Clarified Butter or oil

seasoning
BBQ Seasoning
Mix:

2

tablespoon

Smoked paprika or regular paprika

½

tablespoon

Garlic powder

1

tablespoon

Onion powder

1

teaspoon

Allspice

½

teaspoon

Black pepper

Salt

1

teaspoon

Brown sugar
Ranch Seasoning
Mix:

1

tablespoon

Onion Powder

1

tablespoon

Garlic Powder

2

tablespoon

Dried chopped chives

½

tablespoon

Dried Dill

½

tablespoon

Buttermilk Powder

optional

Salt

White pepper
Cajun Seasoning
Mix:

1.5

tablespoon

Paprika

1

tablespoon

Garlic Powder

2

teaspoon

Onion Powder

2

teaspoon

Cayenne

1

teaspoon

Black Pepper

½

teaspoon

dried thyme

salt
Instructions
Pre-heat your oven to 350F

Cut the pita bread into ⅛th wedges or any shape chip you like

Lay out the cut up pita bread on a parchment or silpat lined sheetpan. Brush the pita bread with the clarified butter or oil.

Sprinkle your seasoning of choice over the chips.

Bake the homemade pita chips at 350F for 10 minutes or until they start to brown.

Remove from the oven and let cool before serving.

Store in an airtight container for up to 1 week.
Notes
Customize the flavoring of these homemade oven baked pita chips by creating your own spice mix or using one of the mixes listed above!
Calories listed are for a full recipe and not per serving
Nutrition
Nutrition info is auto-generated. This information is an estimate; if you are on a special diet, please use your own calculations.
Some of the links in this post lead to affiliate sites through which Earth, Food, and Fire may earn a small commission (at no increased cost to you) should you make a purchase. This allows us to stay online and keep creating awesome content! For more info check the Affiliate Disclaimer. All advice, and opinions are based on observations in my own garden.