I have yet to meet someone who doesn't like my grilled chicken burgers. Juicy, tender, and infused with a sweet and spicy marinade, these burgers make the perfect weeknight meal or summer BBQ food.
Easily put together in about 20 minutes, the only prep that is really needed is marinating the chicken, (though this is optional), and of course cutting the topping for your chicken burgers.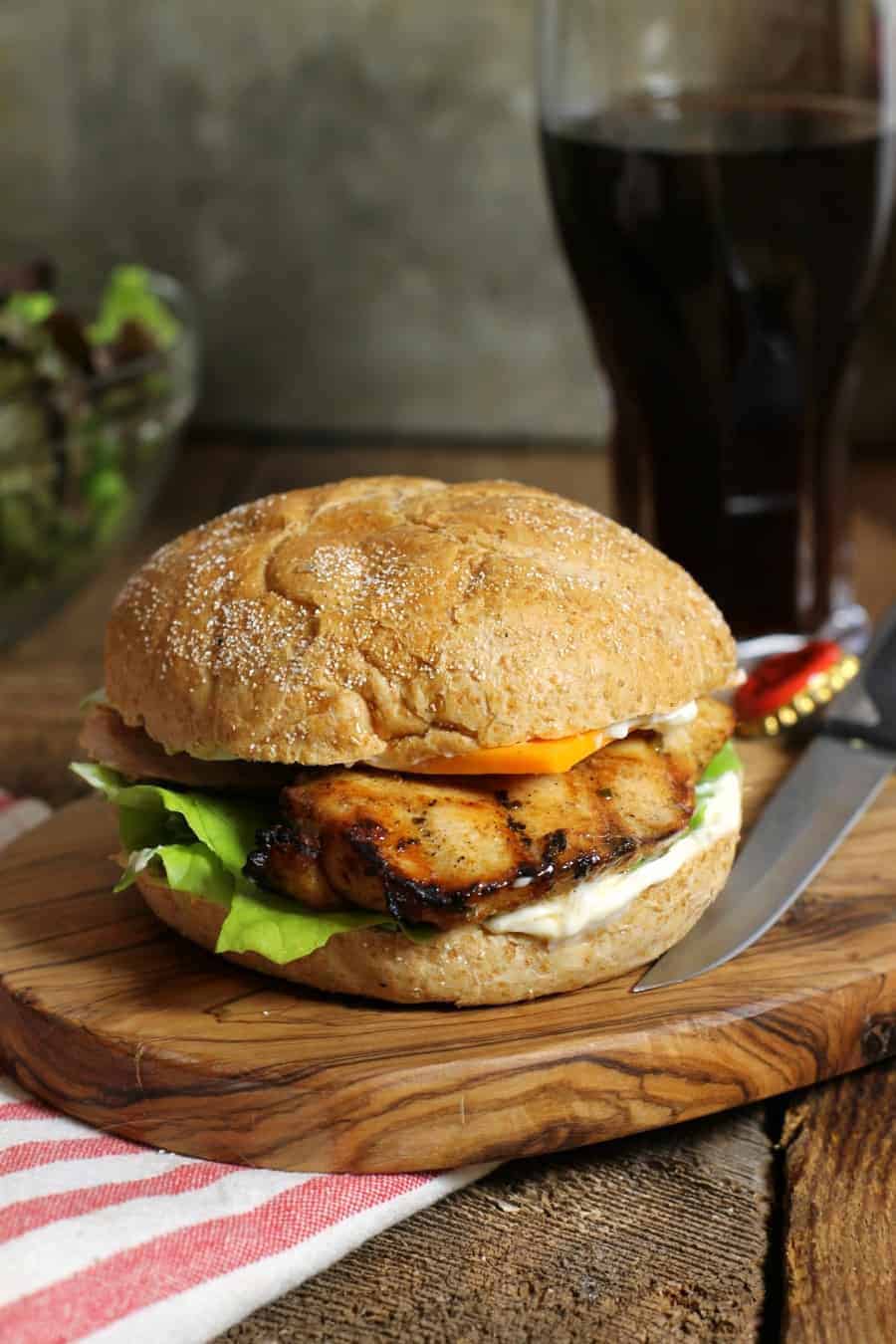 This post contains affiliate links for which I may be compensated if a purchase is made through the links provided. For more information please read my affiliate disclosure.
Tender, Juicy, Grilled Chicken.....Everytime.
What's the secret behind these grilled chicken burgers? It's all about the marinade.
Most people will buy chicken breasts, season them with some salt and pepper, and then slap them on a BBQ or cast iron grill to cook.The problem with this way of cooking/grilling chicken is that most of the seasoning is on the outside of the chicken.
You can also cook these chicken burgers in a pan and pan-sear them if you don't have a BBQ or other grill. - Chef Markus Mueller
While this may seem fine and dandy, you will actually loose most of that seasoning during the cooking process. The end result: none of the flavor ends up in the meat. You'll also end up loosing a bunch of moisture as the chicken cooks (which is normal to an extent), and it will shrink up resulting in a dry rubbery piece of meat.
By marinating the chicken breasts before grilling them, you infuse the meat with various flavors, help tenderize the meat, and ensure juicy grilled chicken every time.
How Does A Marinade Work?
I'm going to get a little science-y here so bare with me:
Marinades work through osmosis. Essentially a marinade is made up of oil, water, acid, salt and various other seasonings. The chicken meat is made up of hundreds of little cells which all contain an amount of water. When the meat is placed in a marinade which has a higher salt concentration then the chicken meat cells do, these meat cells try to equalize the water/ salt concentration by absorbing the liquid.
The water and salt: The water and salt act as the driving force for the marinade. The chicken meat absorbs the water and salt through osmosis, and during that process brings with it all the other flavor goodies.
The acid: Acid has the unique effect of breaking down meat the longer it sits in it. In a marinade, vinegar or citrus juice, help break down the muscle fibers, making the meat more tender once cooked.
The oil, the oil is used to properly coat the meat with all the seasonings and make sure all parts of the meat are in contact with the marinade. It also has the bonus of pre-greasing your pan or grill when cooking, and will prevent the meat from sticking to the cooking surface. Using flavored oils such as herb infused oil can help season your chicken!
Seasonings: The seasonings in a marinade can vary depending on your tastes, and what you are cooking. Spices, herbs, crushed garlic, sliced onion, and even condiments such as mustard, BBQ sauce, and molasses can be used to season a marinade.
My Grilled Chicken Marinade
To make this chicken burger marinade at home you'll need:
1 cup oil
1 lemon cut in half and juiced
2 tablespoon water
1 garlic clove crushed
1 tablespoon smoked paprika
1 teaspoon ground chipotle
1.5 teaspoon ground garlic
2 teaspoon onion powder
½ cup brown sugar
Salt
Pepper
You'll also need some chicken breasts to marinade of course, so don't forget to pick up 2 chicken breasts. You'll also need actual burger stuff! That means buns, lettuce, tomato, cheese, and mayo! All things most people already have on hand, which makes these grilled chicken breast burgers the perfect weeknight meal!
Mix the marinade ingredients together in a large bowl, and then season this chicken burger marinade with salt and pepper. As long as the chicken has not been in the marinade you can still taste it. This marinade is easily multiplied if you need to marinade a larger amount of chicken, but since I usually cook for two people, this is the amount I made!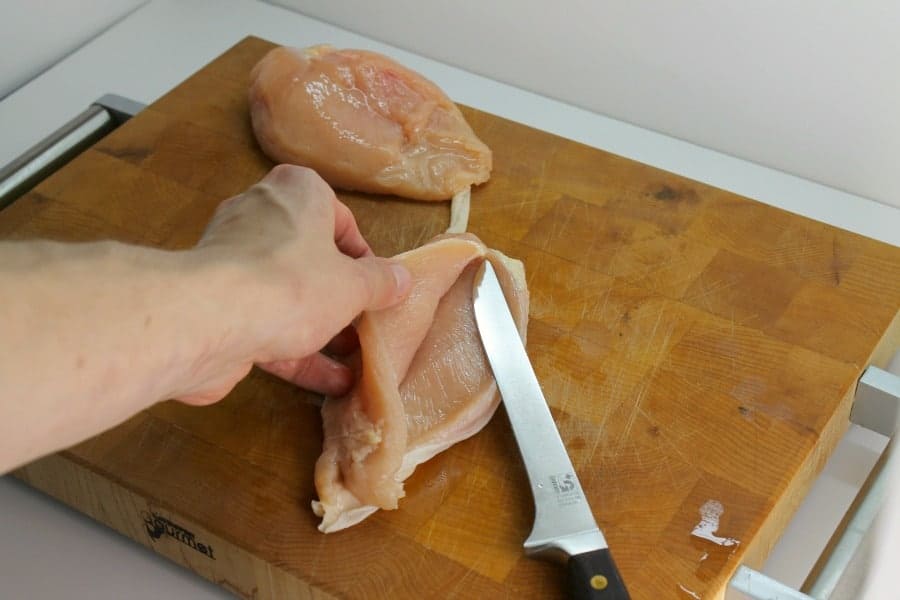 Next, take your raw chicken breasts and cut them in half. By slicing the chicken in half horizontally, more of the meats surface is exposed to the marinade , shortening the time it needs to sit to just 15 minutes. It also create a thinner "chicken patty" which is easier to eat in a burger bun.
Cutting the chicken breast in half also allows you to get 4 grilled chicken burgers out of just 2 chicken breasts!
Once the marinade is seasoned, and the chicken cut, submerge the chicken in the marinade. Chill the marinating chicken in the fridge for at least 15 minutes to give the marinade a chance to do it's magic.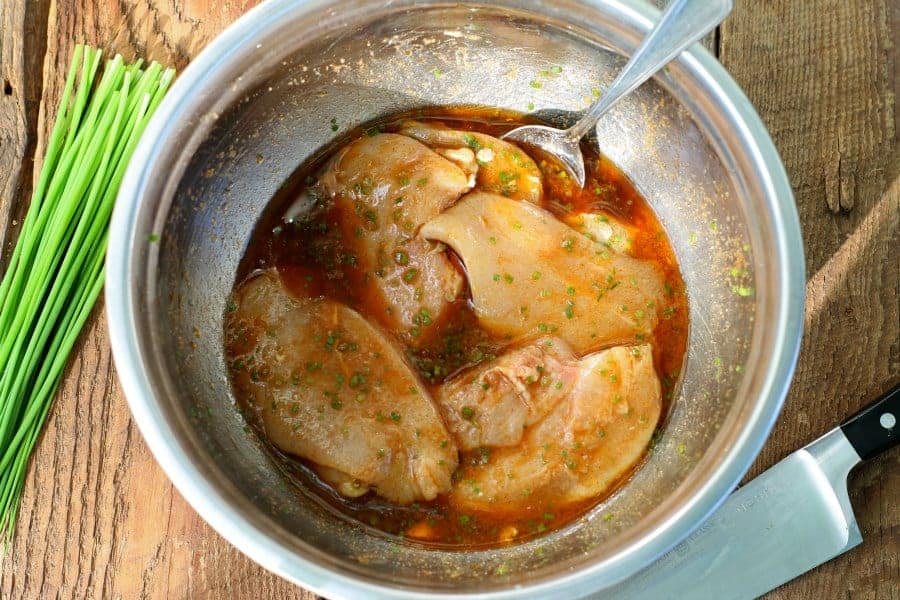 As the chicken marinates, you can get your burger buns, and various toppings ready. Make sure the grill is turned on, and maybe even put together a quick cucumber salad or kale slaw!
After the chicken breasts have marinated in the fridge, take them out and using tongs or a fork place the chicken breasts on a clean plate. This allows excess marinade to drip of the chicken meat before going on the grill. If you where to just slap the chicken on the grill right out of the marinade, it would start dripping all over the place and cause the BBQ or grill to flare up and possibly cause burnt flavors in your grilled chicken breasts. Not something we want!
How Long Does It Take To Grill Chicken Burgers?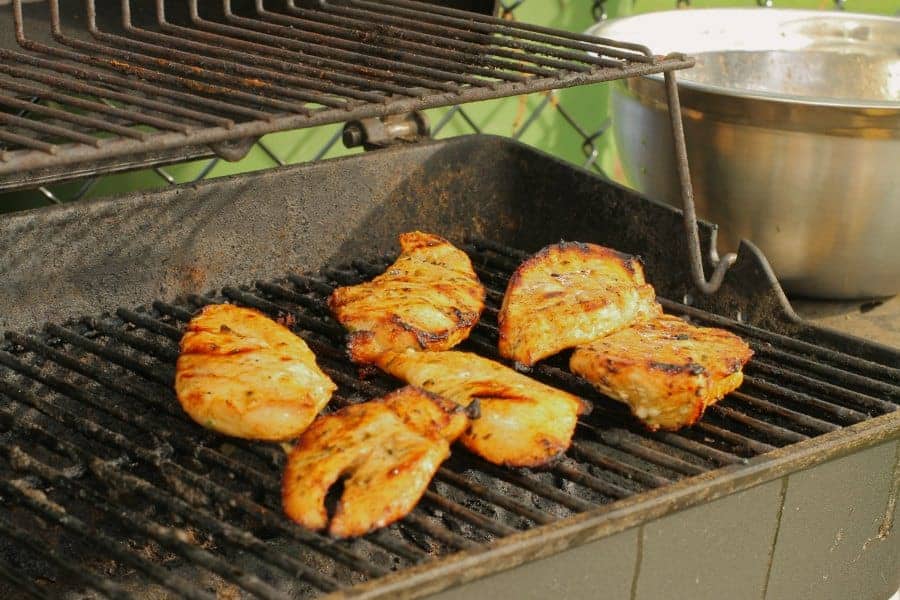 Once the grill is hot and ready to cook on, grill the marinated chicken over high heat for six to eight minutes on each side. The chicken should have nice grill marks on each side . You can use food thermometer (affiliate link) to check the internal temperature of the chicken to make sure it reaches an internal temperature of 165F. This helps to prevent food poisoning and serving raw chicken!
Once the marinated chicken breasts are fully cooked, serve them right away! Assemble your burgers with your favorite toppings, ( I am a sucker for keeping it simple....mayo,lettuce, tomato, and cheese!) and pass them around! Guaranteed, you'll be asking for seconds!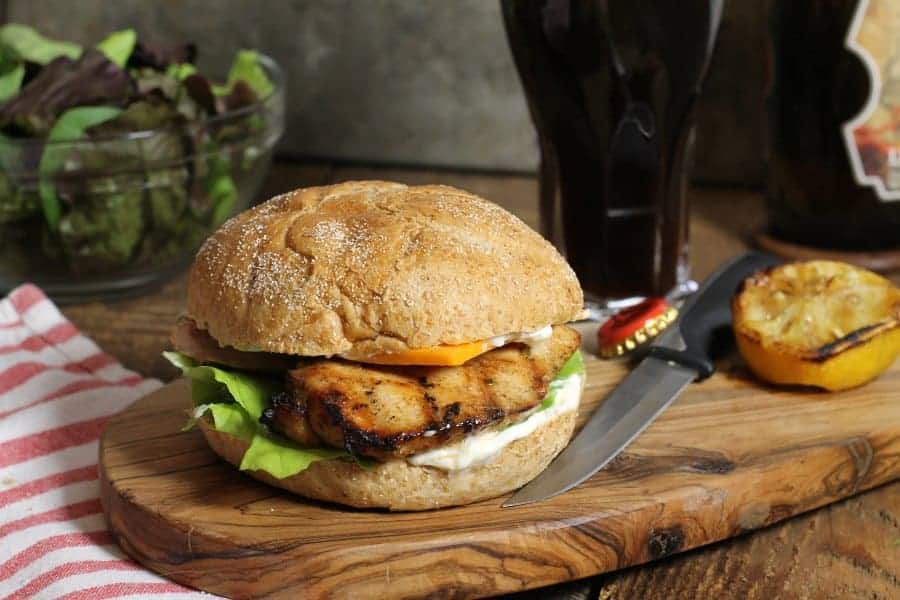 Have you these grilled chicken burgers at home?? Comment & Rate the recipe below, then take a picture and tag me on Facebook & Instagram: @earthfoodandfire . For more from scratch recipes follow me on Instagram & Pinterest
Recipe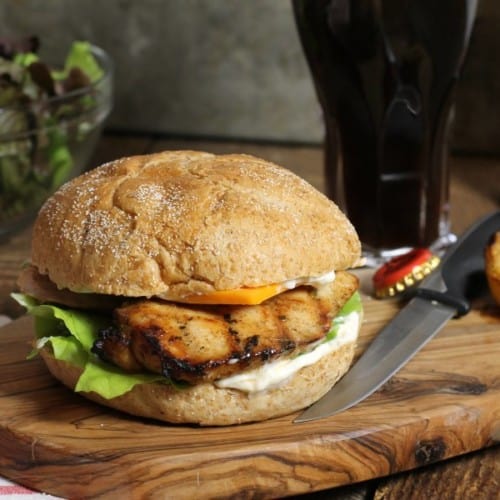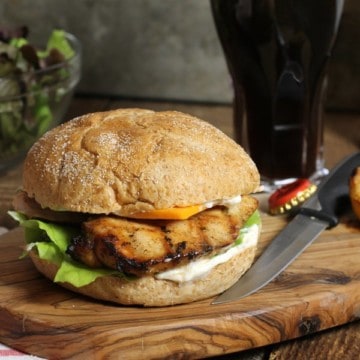 Marinated Grilled Chicken Burgers
These marinated grilled chicken burgers are juicy, tender, and full of flavor. Perfect for a weeknight summer meal or BBQ
Ingredients
Chicken Marinade
1

cup

oil

1

whole

lemon

cut in half & juiced

2

tablespoon

water

1

whole

garlic clove

crushed

1

tablespoon

smoked paprika

1

teaspoon

ground chipotle powder

1.5

teaspoon

ground garlic

2

teaspoon

onion powder

½

cup

brown sugar

1

tablespoon

Salt

Pepper
Grilled Chicken Burger Toppings
4

Hamburger Buns

2

6-8 oz

Chicken Breasts

Mayo

4

slices

Cheddar Cheese

1

whole

Tomato

Sliced

Fresh Lettuce Leaves
Instructions
Grilled Chicken Marinade
In a large metal bowl, mix together all the marinade ingredients and season with salt and pepper. Taste the marinade before adding the chicken to see if it needs more salt or vinegar. You want to be able to just barely taste both.
Preparing The Burger Toppings & Marinating The Chicken Breasts
Take the 2 raw chicken breasts and slice them in half horizontally.

Place the sliced chicken in the marinade, making sure it is fully submerged. Refrigerate the marinating chicken breasts for 15 minutes.

Prepare your burger toppings by slicing the tomato, washing the lettuce, cutting the cheese, and making sure your burger buns are ready to go.

Pre-heat your BBQ or Cast Iron Grill and make sure it is HOT!
Grilling The Marinated Chicken
Once the chicken breasts have marinated, take them out of the bowl, and place them on a plate to drip off.

Place the chicken breasts on the hot grill and cook on each side for 6 to 8 minutes. The grilled chicken breast should have nice grill marks on it before flipping so make sure to peek under first and letting it cook longer if they are not ready.

Once the chicken has fully cooked, assemble your grilled chicken burgers and serve immediately.
Nutrition
Nutrition info is auto-generated. This information is an estimate; if you are on a special diet, please use your own calculations.