This recipe for German Cucumber Salad is one which was passed down to me from my mother, who got the recipe from her mother etc. German Cumber Salad or Gurkensalat as its known in Germany, is very easy to make and is often served along side roasted meats or simply on its own. It makes a great lunch paired with a hearty sandwich and is a great addition to pot-lucks and other family gatherings!
Cucumbers are a great vegetable to eat, and have on hand as a kitchen staple. Kids generally love them, and they are full of health benefits. Vitamin A, B, and C are all present in cucumbers and since these vegetables are made up of up to 95% water, they are great way to keep hydrated and flush out toxins from your kidneys. Our family eats cucumbers daily!
While multiple variations of cucumber salad do exist, I will only focus on this one recipe today!
If you're looking for more healthy and easy to prepare salad recipes, try my shredded beet salad with apple!
My Mothers German Cucumber Salad
Since cucumbers are fairly easy to grow at home, this Gurkensalat recipe is a great way to use up excess cucumbers from the garden. Besides the cucumbers you will only need three other ingredients making this an easy salad recipe to put together with very little notice.
Before you begin make sure you have:
1 large cucumbers
¾ teaspoon salt
2 tablespoon chopped dill or chives
1 tablespoon oil
2 tablespoon white wine vinegar. (You could also substitute with this Homemade Chive Blossom Vinegar!)
1 tablespoon water
Instructions
Traditionally the cucumbers would have been peeled for this salad recipe, but I love the contrast the dark green rind adds to the salad.
Wash the cucumbers and then very thinly slice them whole. If your knife skills are up to par, you could do this by hand, but for most home cooks I would suggest using a vegetable slicer such as this mandolin.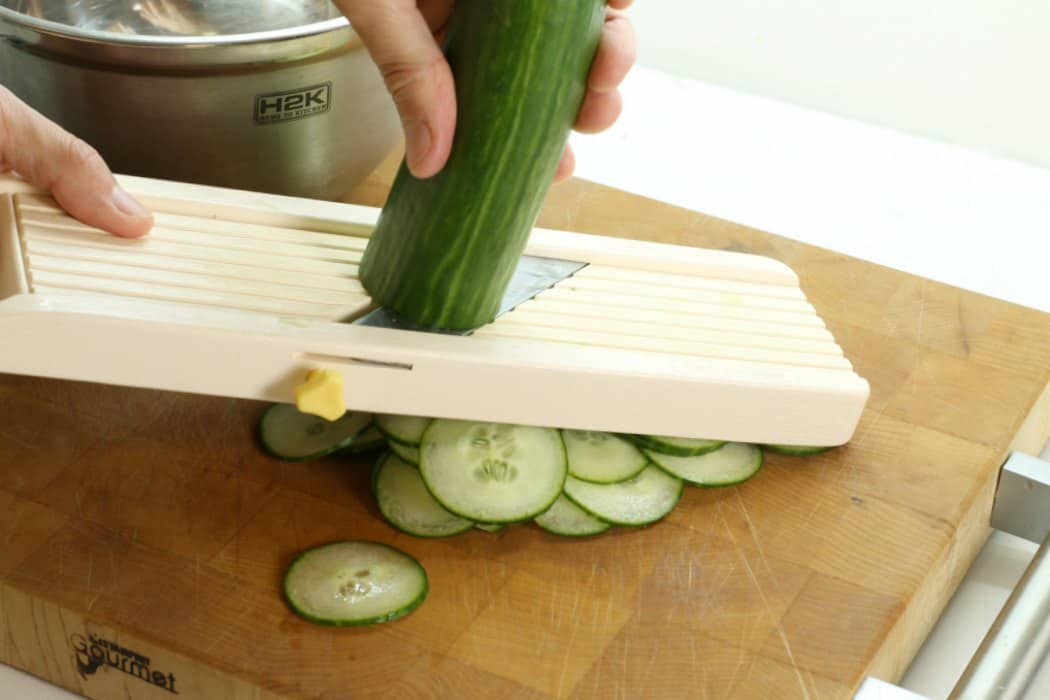 If you have never heard of a mandolin slicer,(affiliate) it is essentially a very sharp hand held slicer which is capable of slicing various vegetables from 3mm to 20mm thick. Most mandolins also come with various blade attachments which allow you to cut julienne and batonette style cuts.
If you need to add this valuable tool to your kitchen arsenal I highly recommend a Benriner Japanese Mandolin (affiliate) over cheaper grocery store brands. The blade is removable which allows it to be sharpened, and is the mandolin most trusted by professional chefs. Once you have it you'll wonder how you ever did without!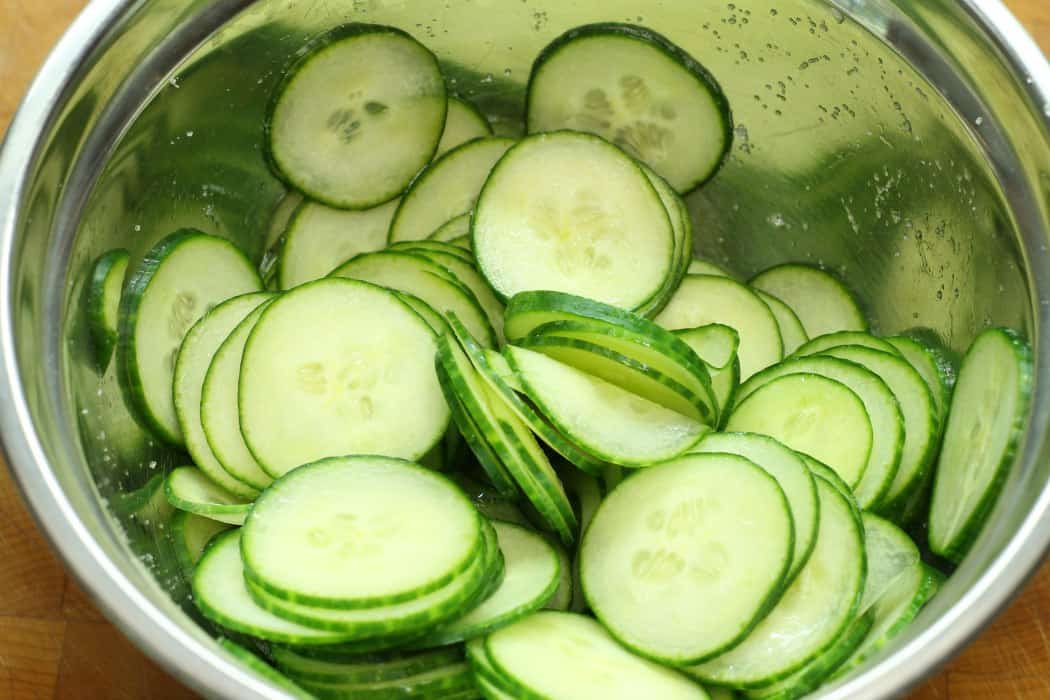 Once the cucumbers are sliced place the slices in a bowl and gently mix in ¾ teaspoon of sea salt. Cover the bowl and let it sit for 5 to 10 minutes to draw out the natural water present in cucumbers.
As the cucumber slices sit, prepare the dressing by mixing the oil, vinegar and herbs together.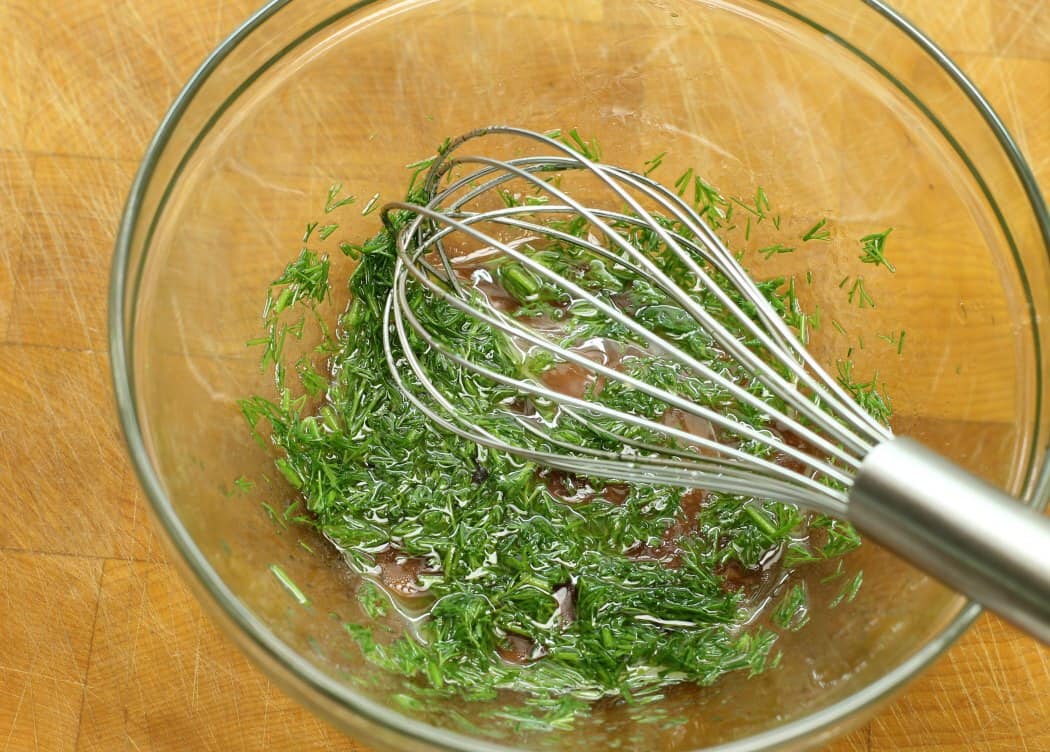 Going back to the cucumber slices, drain of the water and gently press the cucumber slices to squeeze out any extra moisture.
Don't squish the slices to mush though! By removing the excess water you prevent it from leeching into the dressing and watering it down.
Mix the cucumber slices and the dressing and season to taste with salt and white pepper if you have it!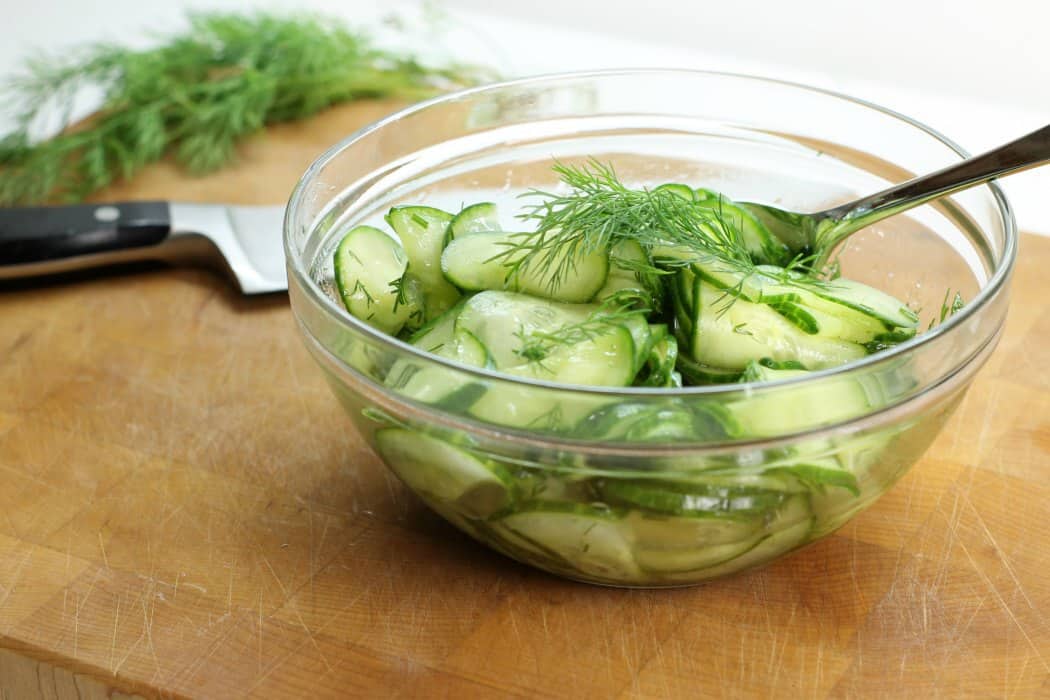 That's it! Isn't it a simple recipe? It is perfect for a hot day, if you're only looking for a light meal, or simply something refreshing to snack on! The simple flavors of the cucumber and dill, paired with the vinegar, make this almost like a quick pickled salad! I hope you enjoy it as much as my family does!
Tried the recipe? Take a picture and tag me on Facebook & Instagram: @earthfoodandfire . For more from scratch recipes follow me on Instagram & Pinterest
Recipe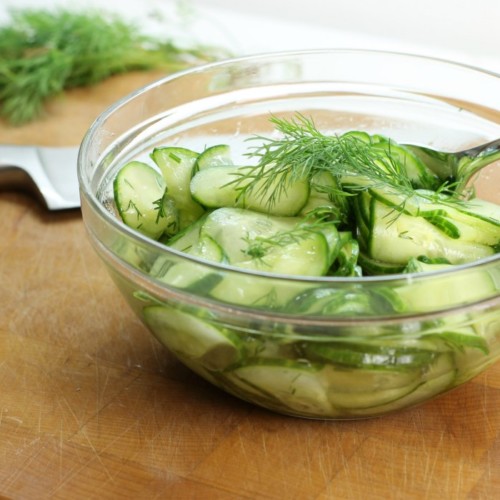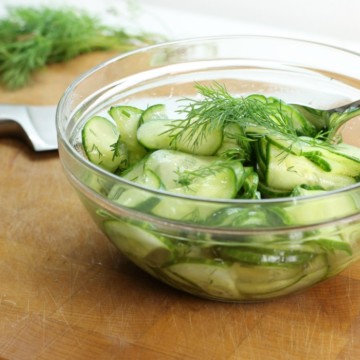 German Cucumber Salad – Gurken Salat
A quick and refreshing German Cucumber Salad recipe, featuring only 4 ingredients! Perfect with a light lunch or served alongside roasted meats!
Ingredients
1

large cucumbers

¾

teaspoon

salt

2

tablespoon

chopped dill or chives

1

tablespoon

oil

2

tablespoon

white wine vinegar.

You could also substitute with this Homemade Chive Blossom Vinegar!

1

tablespoon

water
Instructions
Wash and slice the cucumber very thinly, using either a mandolin slicer, or a chefs knife.

Mix ¾ teaspoon of salt in with the cucumber slices, to draw out the water.

Let the cucumber slices sit for 5 to 10 minutes as you mix the remaining ingredients to create the dressing.

Strain the salty cucmber water from the slices, and mix the sliced cucumbers into the dressing.

Season with a little white pepper, and some more herbs if you prefer a stronger dill flavor!

Chill the German Cucumber salad for up to 2 days in the fridge. After this the cucumber starts to break down and go mushy, so make small batches!
Notes
You can try this salad with a "creamy" dressing by adding 4 tablespoon sour cream to the dressing
Nutrition
Nutrition info is auto-generated. This information is an estimate; if you are on a special diet, please use your own calculations.
Some of the links in this post lead to affiliate sites through which Earth, Food, and Fire may earn a small commission (at no increased cost to you) should you make a purchase. This allows us to stay online and keep creating awesome content! For more info check the Affiliate Disclaimer. All advice, and opinions are based on observations in my own garden.