The Christmas holidays are one of my favorites of the year. Between spending time with family and friends, cooking/baking good food, and decorating our homes, there are a few things that everyone associates with family traditions and Christmas in general. For me, it's the baking of various Christmas cookies that my mother and father always made during the holidays. Which is why over the past few weeks I have been doing this series on holiday baking. If you missed any of the previous recipes, you can find the Hazelnut Meringue cookie recipe here, and a super easy Nanaimo Bar recipe here.
Last week I focused on a Canadian Christmas tradition, this week I wanted to return to my German heritage and share with you these Vanillekipferl cookies.  They are a shortbread like cookie common throughout Austria, Germany, Switzerland and Hungary. Simply made with almonds, flour, butter and vanilla sugar, these cookies are very easy to prepare. Vanillekipferl Cookies are most commonly made during the advent season and are what I associate them with the most. My mother would usually bake two or three batches of cookies before Christmas and these were always part of the selection. Since one batch of this recipe makes about 50 cookies, you don't have to worry about running out anytime soon.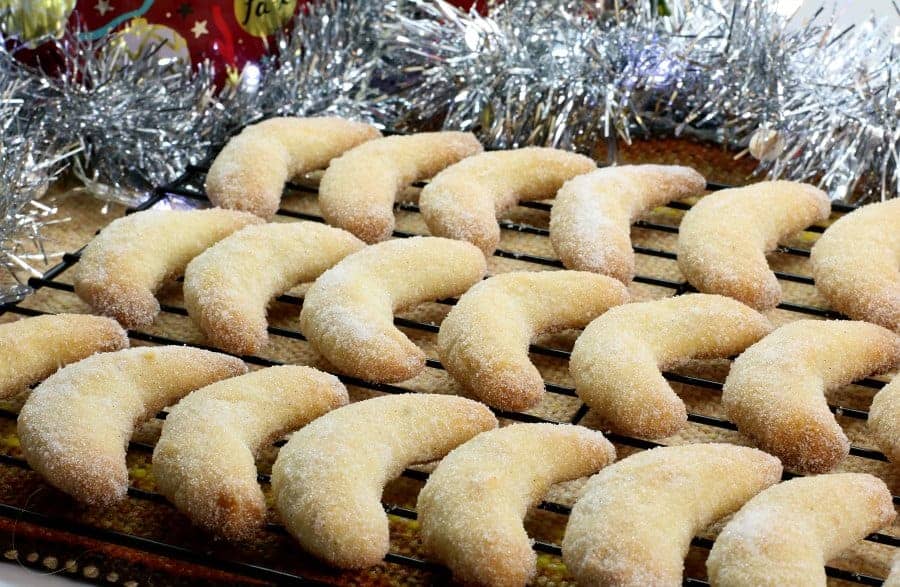 This post contains affiliate links for which I may be compensated if a purchase is made through the links provided. For more information please read my affiliate disclosure.
Traditional German Vanillekipferl Cookies
To start you'll need:
-125 grams ground almonds
-250 grams flour (I used all purpose flour)
-100 grams of white sugar
-200 grams cold butter
-1 cup vanilla sugar (This can be made by placing a cut vanilla bean in a mason jar filled with sugar. The sugar will take on the vanilla flavour overnight)
What I love about cookies recipes is, that for the most part they are dead simple. No elaborate instructions or skill set needed, and these delicious little vanillekipferl cookies are no different.
Begin by pre-heating your oven to 400F. Mix the ground almonds, flour and sugar in a bowl until everything is nicely mixed. If you can't find ground almonds in the store, you can use sliced or whole almonds and grind them in a food processor. I used my handy Nutri Ninja Blender(affiliate link), which it seems is getting a lot of varied use lately! From smoothies at breakfast to grinding almonds for cookies. This one shot blender can do it all. (I've even made my garlic hummus in it!) Back to the cookies though. Once you have all the dry ingredients mixed, dice up the cold butter and using your hands, break it up in the flour mixture until it starts getting crumbly. Keep mixing in the butter until the dough start sticking together and you can form a round ball with it.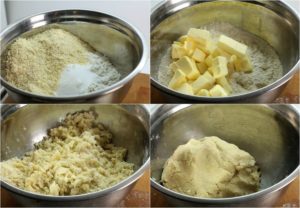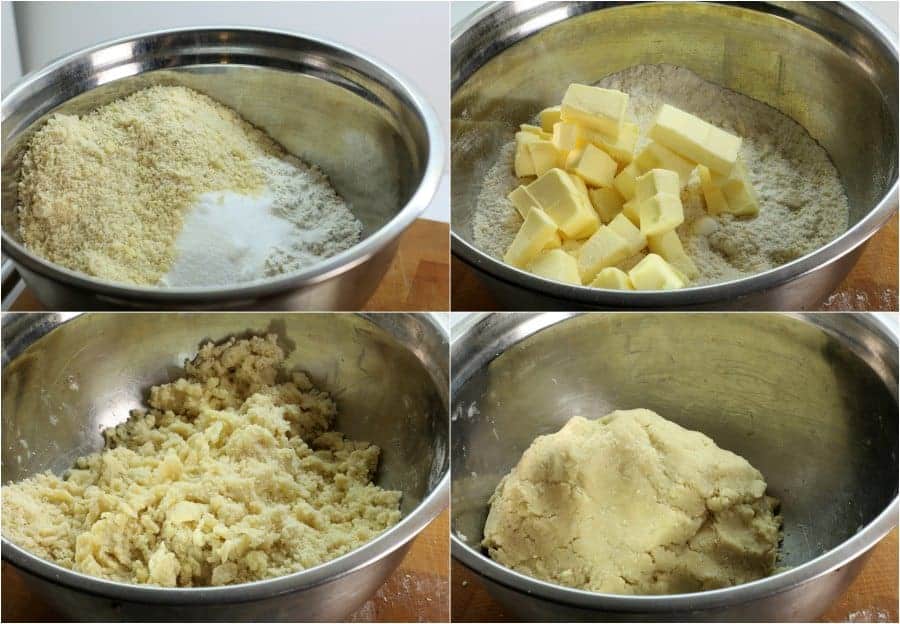 It's similar to making a pie dough or short crust, but instead of leaving the butter flaky, you keep mixing until it's evenly incorporated.
Now the fun begins!
Take the ball of dough, and using the palms of your hand, roll out a 4 cm thick log. If the dough crumbles and doesn't want to roll out, knead it a little with your hands to get it to hold together. If the dough starts sticking on the cutting board or counter while rolling, dust the surface with a little flour.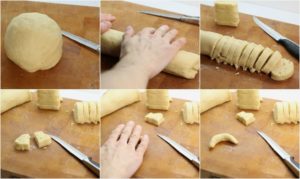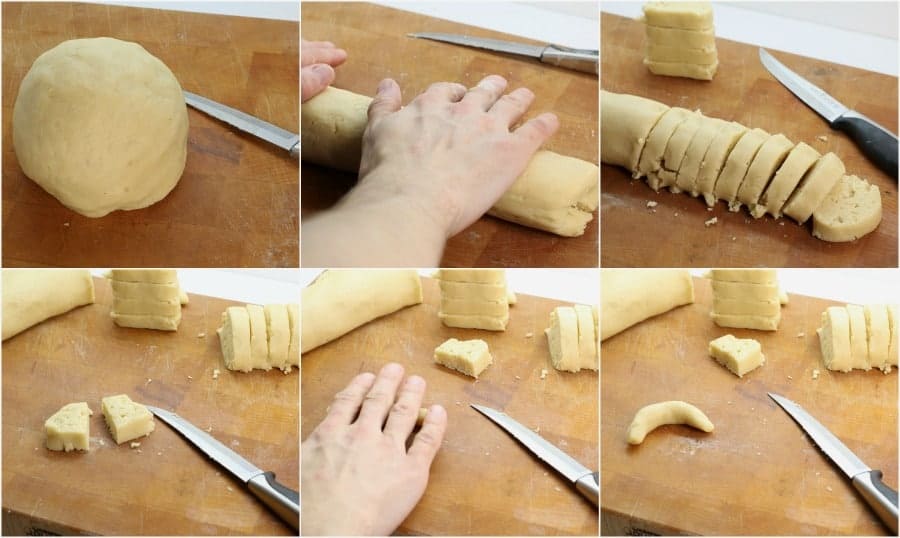 Butter a cookie sheet or line it with parchment paper and then cut the 4cm thick log into 1cm thick slices. Set these off to the side.  Take the 1cm slices of dough and cut them in half to create evenly sized pieces of dough. Again using the palm of your hand roll out each individual piece until you have a little sausage shaped roll about the length of your index finger or 6cm. Curve this into a crescent shape and place on the cookie sheet.
Evenly space out the vanillekipferl cookies on the cookie sheet, and place them in the oven to bake at 400F for about 8 to 10 minutes. The actual time may vary slightly depending on your oven.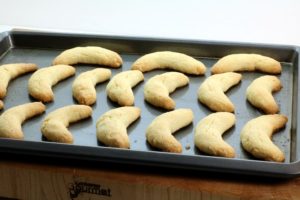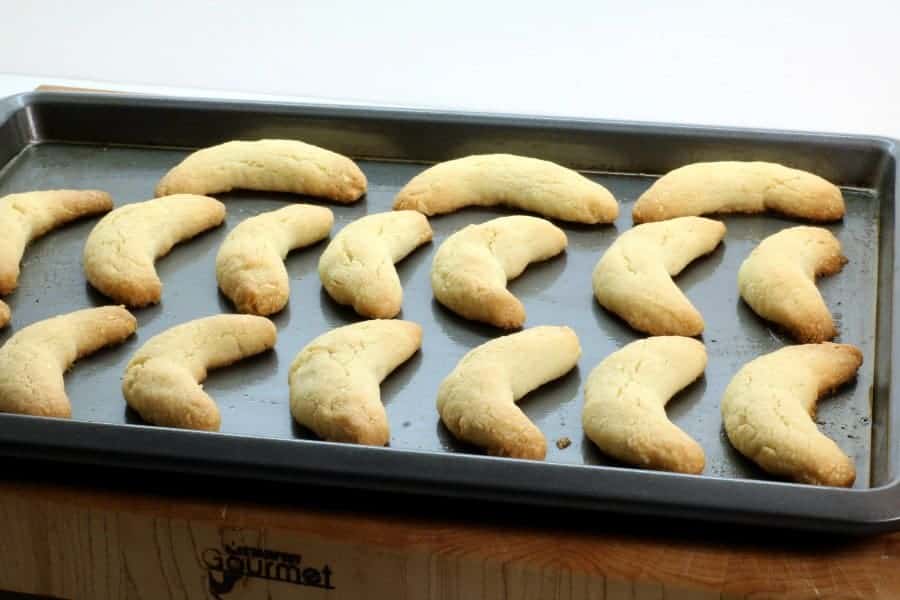 Once the cookies come out of the oven they may still be a little soft and prone to breaking. Leave them for about 60 seconds and then, while still hot, toss the cookies in a bowl with the vanilla sugar. Since the cookies are still hot they sugar will stick to the vanillekipferl creating a wonderfully sweet coating. Cool the cookies on a wire rack and then store them in a sealed cookie jar or tin. The vanillekipferl cookies will keep for 1 to 2 weeks before starting to go stale.
Christmas baking doesn't have to be hard or complicated. It should be something that can be enjoyed by the whole family. Kids love rolling out dough especially when they can eat it raw! That makes this recipe perfect to whip up on the weekend. The Hazelnut Meringue cookies I made a few weeks ago are also very quick and easy with just four ingredients and will help cut down your holiday stress.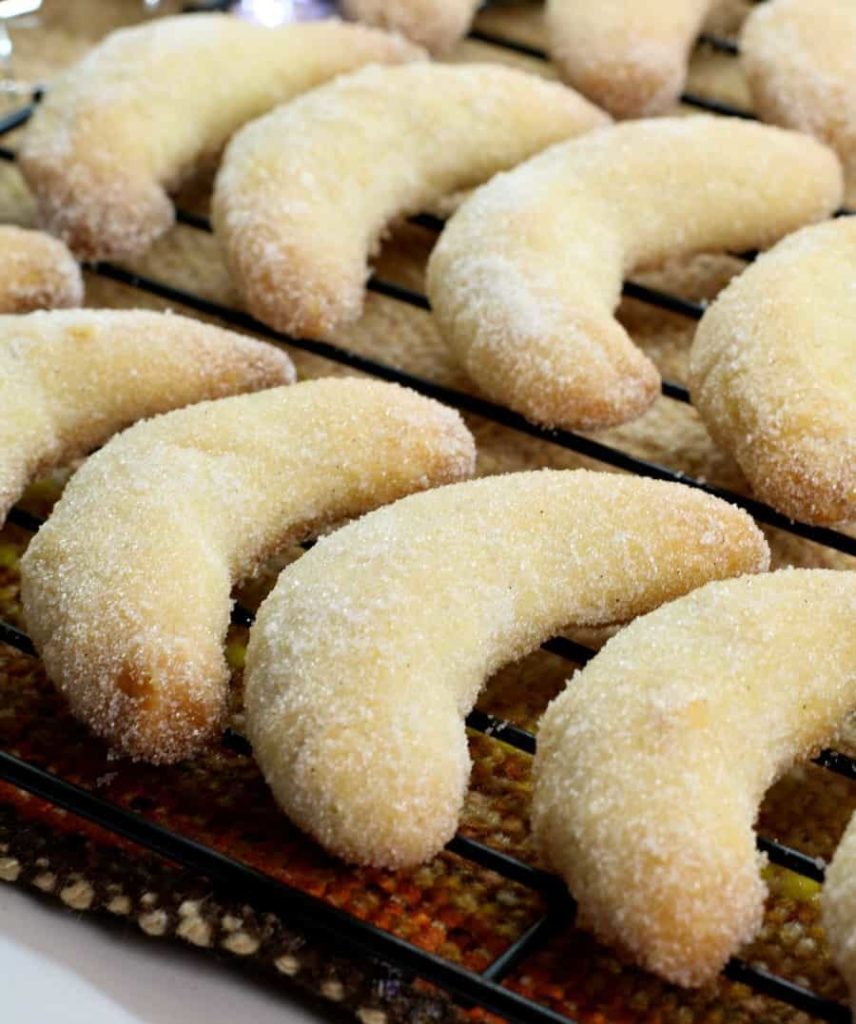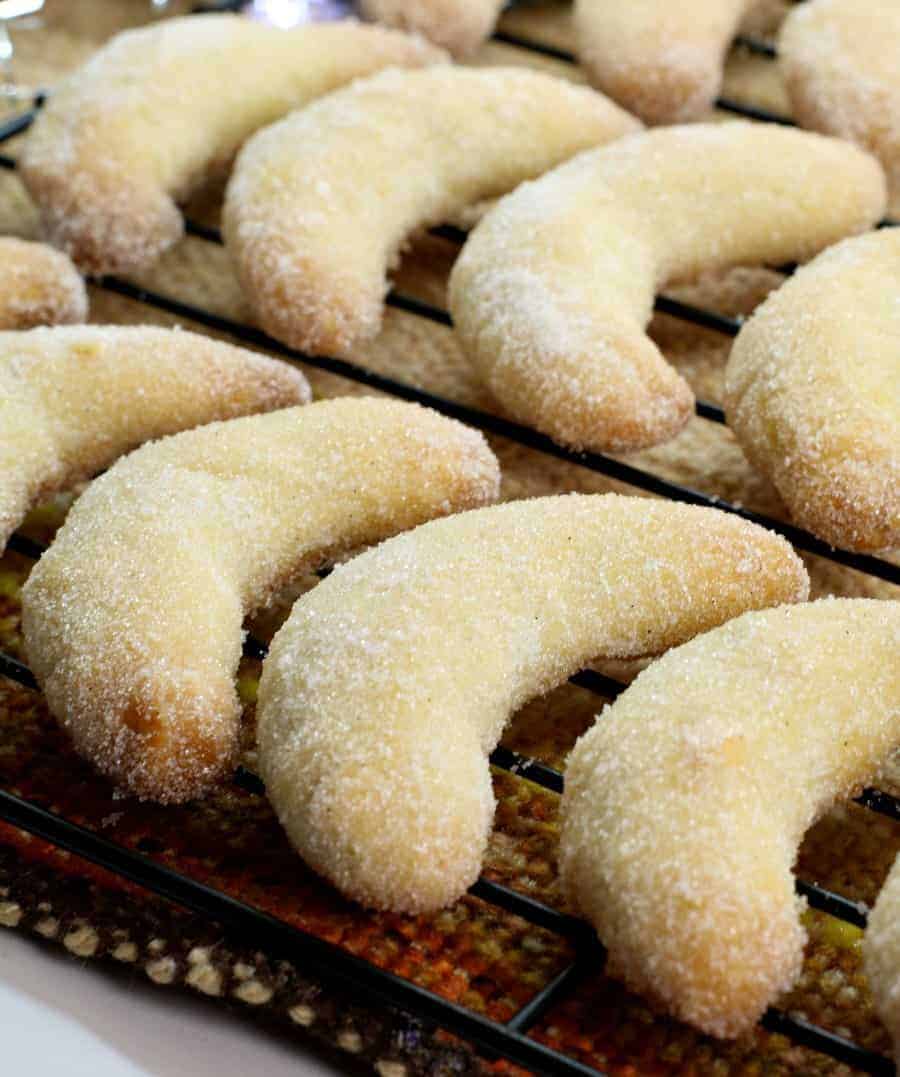 Tried the recipe? Take a picture and tag me on Facebook & Instagram: @earthfoodandfire . For more from scratch recipes follow me on Instagram & Pinterest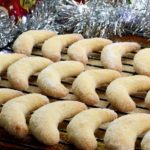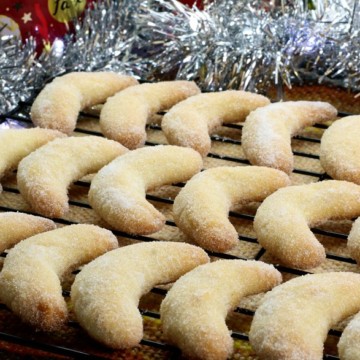 Vanillekipferl – Almond Crescents
A light shortbread like almond and vanilla cookie, perfect during the holidays. So easy to make and can be shaped however you like! #vanillekipferl #christmascookies #cookies #germanbaking
Ingredients
125

grams

ground almonds

250

grams

flour

100

grams

of white sugar

200

grams

cold butter

1

cup

vanilla sugar
Instructions
Pre-heat your oven to 400F and butter a cookie sheet.

In a bowl mix together the flour, sugar and ground almonds.

Dice the butter and using your hands mix the butter into the flour and almond mix.

Keep mixing the butter in by crumbling it with your hands until the dough starts to stick together and you can form a ball without it falling apart. At this point you can knead the dough a little to get it to stay together better.

roll out the dough into a 4cm thick log using your hands. Cut this log into 1cm thick slices and set the slices aside.

Take a slice of the dough cut it in half and roll each half into a little sausage shape. Curve each mini roll into a half moon shape to make the cookies.

Place the individual crescent shaped cookies on the greased cookie sheet and bake for 8 to 10 minutes at 400F until the vanillekipferl cookies start to brown.

The cookies may still be slightly soft when removing from the oven. Let cool for 60 seconds and then toss the still warm cookies in the 1 cup of vanilla sugar.

Cool on a wire rack.
This post contains affiliate links for which I may be compensated if a purchase is made through the links provided. For more information please read my affiliate disclosure.
© 2016 – 2018, Markus Mueller | Earth, Food, and Fire. All rights reserved. Please contact Earth, Food, and Fire, if you wish to use any media or other content contained on this site.