Vanillekipferl (German vanilla crescent cookies), are a shortbread like cookie common throughout Austria, Germany, Switzerland and Hungary. Made with just almonds, flour, butter and vanilla sugar, these cookies are very easy to prepare. In Germany, vanillekipferl cookies are most commonly made during the advent season and are ideal for cookie exchanges.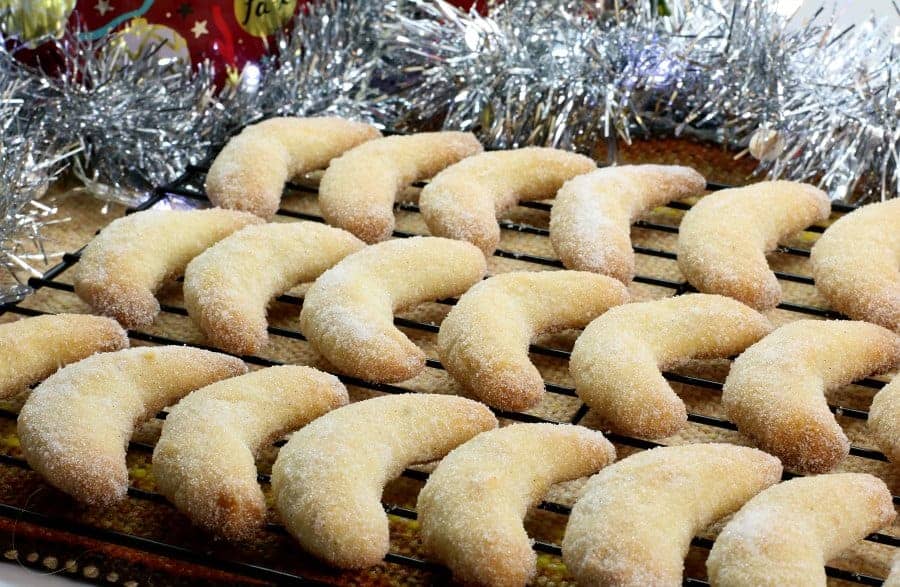 The holidays are one of my favorite times of the year. Between spending time with family and friends, cooking and baking good food, and decorating our homes, family traditions are what really make this time of year special.
My favorite family tradition was baking Christmas cookies. Which is why I started this series on my favorite holiday cookies and sweets. So make sure to try my Hazelnut Meringue cookies, traditional shortbread cookies, as well as these Canadian Nanaimo Bars!
This post contains affiliate links for which I may be compensated if a purchase is made through the links provided. For more information please read my affiliate disclosure.
Traditional German Vanillekipferl Cookie Recipe
You'll notice the recipe is all in grams, this is intentional, because for some reason, the vanillekipferl just don't turn out when the ingredients are measured by volume. For best results make sure to weigh everything!
Ingredients
To start you'll need:
125 grams ground almonds
250 grams all purpose flour
100 grams of white sugar
200 grams cold butter
1 cup vanilla sugar in a large bowl (this will be used to coat the cookies once they are baked)
Vanilla Sugar can be made by placing a cut vanilla bean in a mason jar filled with sugar. Do this the night (or a few days) before, and the sugar will be wonderfully vanilla scented! - Chef Markus
What I love about cookies recipes is, that for the most part they are dead simple. No elaborate instructions or skill set needed, and these delicious little vanillekipferl cookies are no different.
Method
1. Begin by pre-heating your oven to 400F.
2. Mix the ground almonds, flour, and sugar in a bowl until everything is nicely mixed. If you can't find ground almonds in the store, you can use sliced or whole almonds and grind them in a food processor. I used my handy Nutri Ninja Blender(affiliate link) to do this.
3. Once you have all the dry ingredients mixed, dice up the cold butter. Using your hands, break it up in the flour mixture until it starts getting crumbly, just like if you where making pie dough at home. Keep mixing in the butter until the dough starts sticking together and you can form a round ball with it.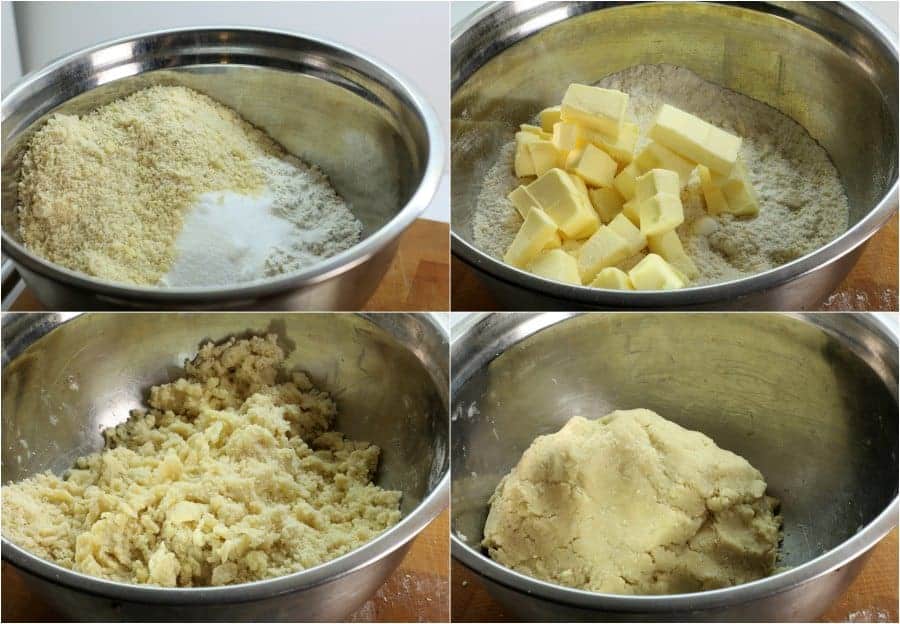 Now the real fun begins!
4. Take the ball of dough, and using the palms of your hand, roll out a 4 cm thick log. If the dough crumbles and doesn't want to roll out, knead it a little with your hands to get it to hold together. If the dough starts sticking on the cutting board or counter while rolling, dust the surface with a little flour.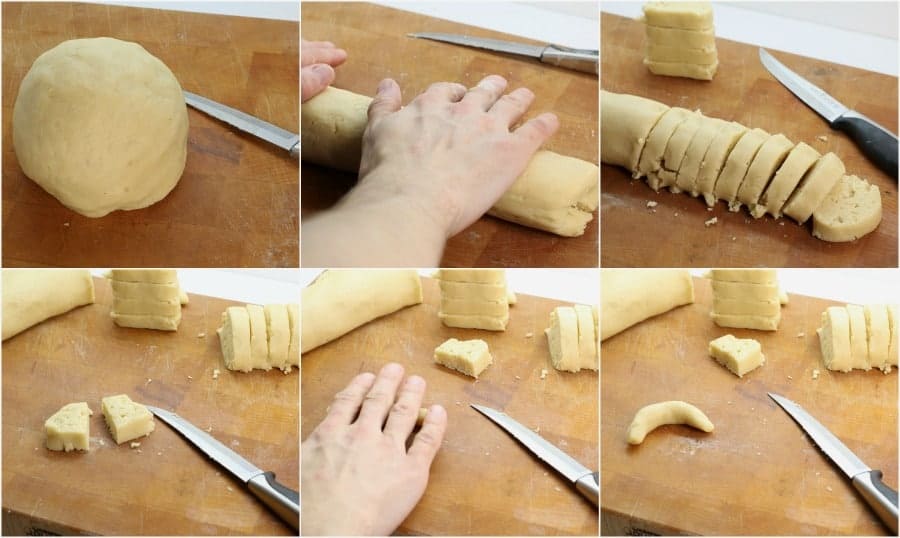 5. Butter a cookie sheet or line it with parchment paper. Continue by cutting the 4cm thick log into 1cm thick slices. Set these off to the side. Take the 1cm thick slices of dough and cut them in half to create evenly sized sections.
6. Using the palm of your hand roll out each individual piece until you have a little sausage shaped roll about the length of your index finger or 6cm. Curve this into a crescent shape and place on the cookie sheet.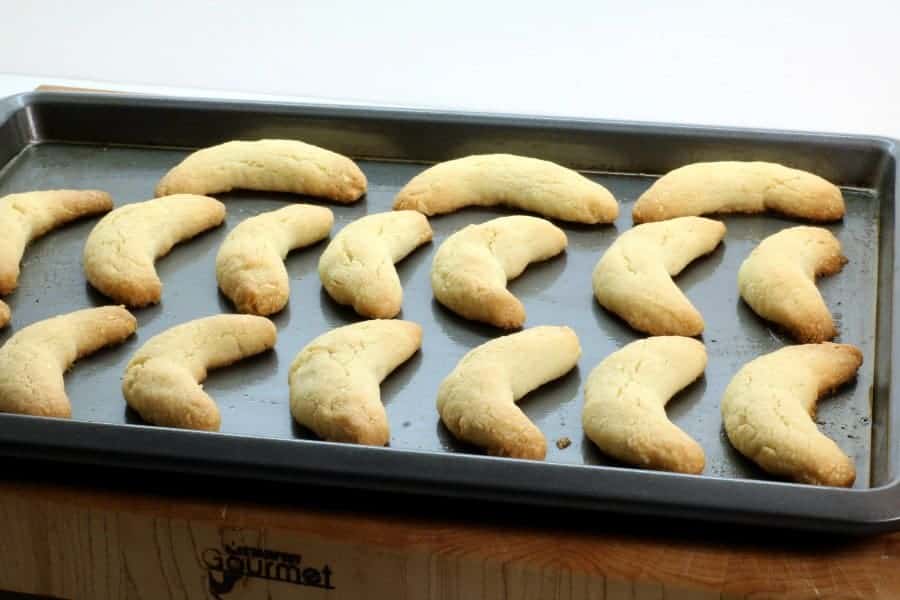 7. Evenly space out the vanillekipferl cookies on the cookie sheet. Once the tray is full, place them in the oven to bake at 400F for about 8 to 10 minutes. The actual time may vary slightly depending on your oven.
8. Once the cookies come out of the oven they may still be a little soft and prone to breaking. Leave them for about 60 seconds and then, while still hot, toss the cookies in a bowl with the vanilla sugar. Since the cookies are still hot they sugar will stick to the vanillekipferl creating a wonderfully sweet coating.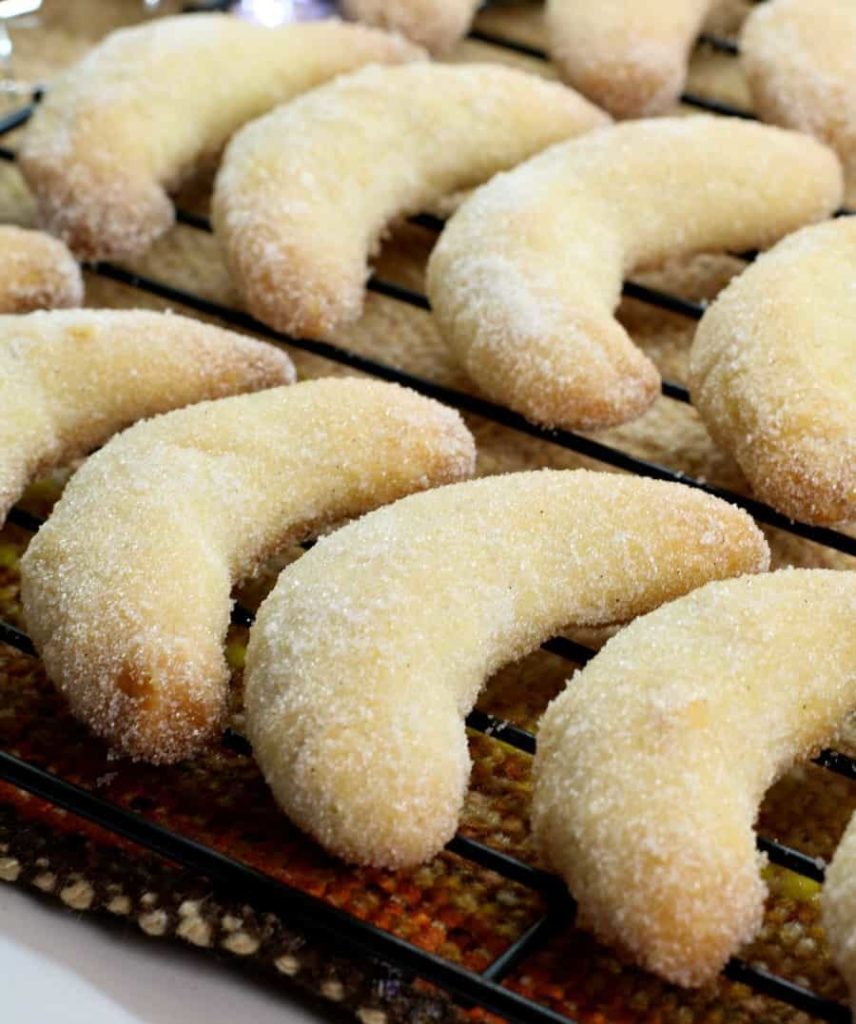 Cool the cookies on a wire rack and then store them in a sealed cookie jar or tin. The vanillekipferl cookies will keep for 1 to 2 weeks before starting to go stale.
Have you tried this vanillekipferl cookie recipe? Take a picture and tag me on Facebook & Instagram: @earthfoodandfire . For more from scratch recipes follow me on Instagram & Pinterest
Recipe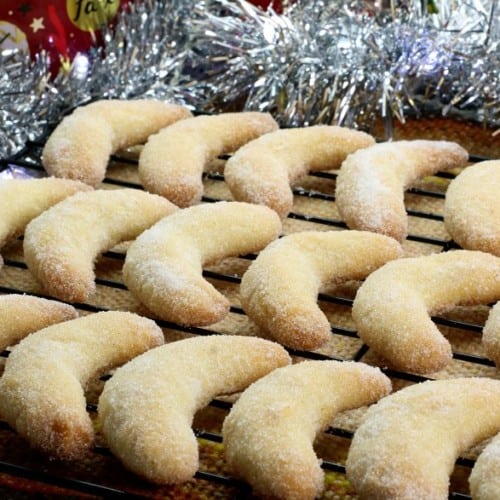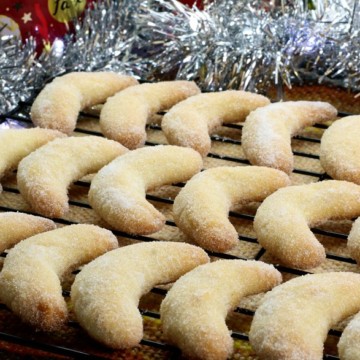 Vanillekipferl (German Almond Crescent Cookies)
A light shortbread like almond and vanilla cookie, perfect during the holidays. A traditional German christmas cookie, vanillekipferl are perfect for cookie exchanges!
Ingredients
For The Cookie Dough
125

grams

ground almonds

250

grams

flour

100

grams

of white sugar

200

grams

cold butter
To Coat The Cookies After Baking
Instructions
Pre-heat your oven to 400F, and butter a cookie sheet or line one with parchment paper.

In a bowl mix together the flour, sugar, and ground almonds. Dice the butter and using your hands mix the cold butter into the flour and almond mix.

Keep mixing the butter in by crumbling it with your hands until the dough starts to stick together and forms a ball.

Roll out the dough into a 4 cm thick log using your hands.( If the dough is very crumbly knead it a little longer). Cut this log into 1cm thick slices and set the slices aside.

Take a slice of the dough and cut it in half again. Roll each half into a little sausage shape. Curve each mini roll into a half moon shape to make the individual cookies.

Place the individual vanillekipferl cookies on the greased cookie sheet and bake for 8 to 10 minutes at 400F until the vanillekipferl cookies start to brown ever so slightly.

The cookies may still be slightly soft when removing from the oven. Let cool for 60 seconds and then toss the still warm cookies in the 1 cup of vanilla sugar.

Cool on a wire rack.
Nutrition
Nutrition info is auto-generated. This information is an estimate; if you are on a special diet, please use your own calculations.
This post contains affiliate links for which I may be compensated if a purchase is made through the links provided. For more information please read my affiliate disclosure.