This blog post & recipe is a sponsored partnership with Egg Farmers of Canada. We received monetary compensation for this recipe. Find more information in our Affiliate Disclosure. All opinions are our own.
Making cookies with the family has always been a Christmas tradition for me, but the holiday season can be a hectic one. Trying to wrangle kids, pets, as well as making sure all the usual holiday tasks are checked off the to-do list isn't an easy task.
It's why we wanted to partner with Egg Farmers of Canada for their #RecipesThatGive program. We wanted to create a recipe that was easy to re-create at home, use readily available ingredients, and would give families the time to make meaningful memories together over the holidays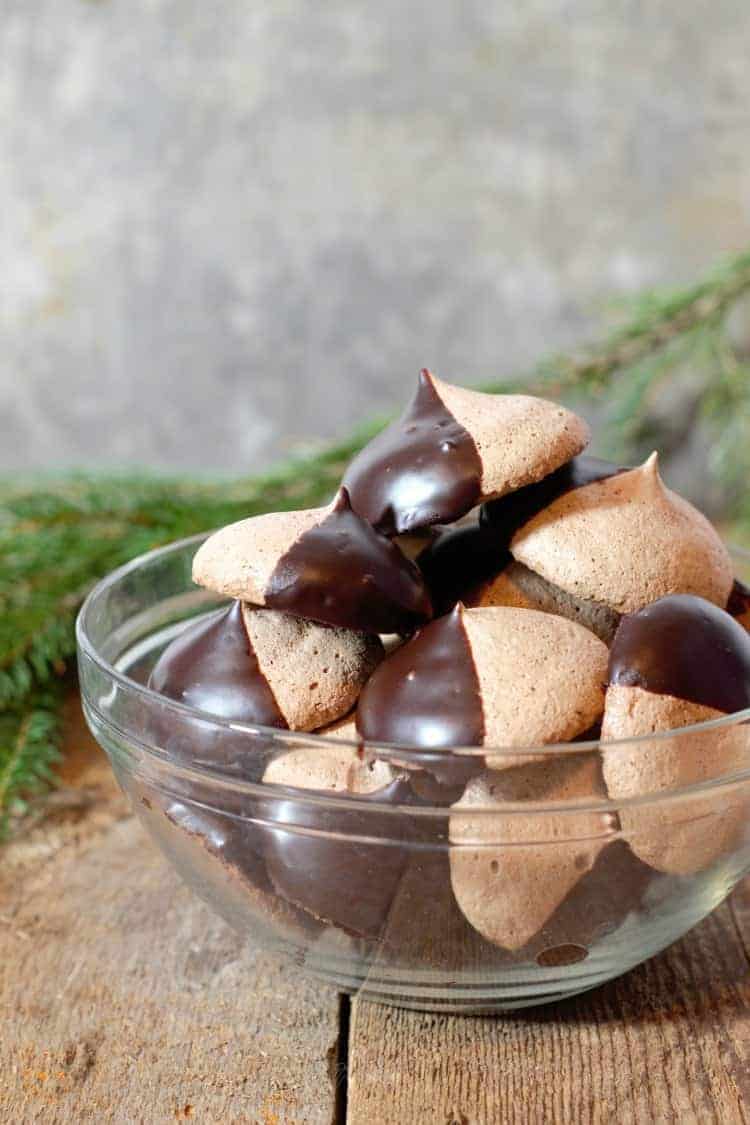 Whether you are baking Christmas cookies for fun with the kids, for a family gathering, a community event, or perhaps as a donation, these easy chocolate meringue cookies will quickly become a go-to holiday recipe.
Giving Back To The Community
What's the Holiday season without family and friends? Community is such an important part of our lives and one that is easily forgotten about. We all have good intentions, but it's not always easy to set aside time to do something nice for others.
We might not realize it but Egg Farmers of Canada have been an important part of our communities from coast to coast. They have been long-time supporters and partners of Food Banks Canada, delivering fresh, nutritious eggs to food banks across the country.
In fact, Egg Farmers of Canada and Food Banks Canada have been partners for more than two decades, and egg farmers donate more than 1.4 million eggs to their local food banks every year!? That's a lot of eggs!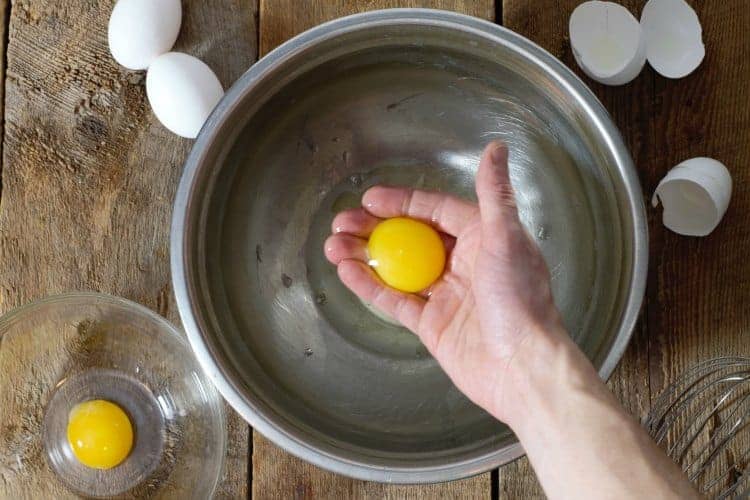 Tips For Making Chocolate Meringue Cookies
This recipe for chocolate meringue cookies uses just 5 common household ingredients (the main ingredient being eggs of course!), making them quick and easy to whip up. Perfect as a gift for your neighbours or as a donation to a Christmas bake sale!
If you've never made meringue and are worried it's too difficult, don't fret. Making meringue is actually quite easy, and is made even easier by using a handheld beater, or stand mixer.
The secret is whipping the egg whites until 'stiff peaks form'. The peaks need to be quite stiff here and stand up on their own to ensure a well-shaped meringue. Soft peaks result in a soupy mixture that doesn't bake well.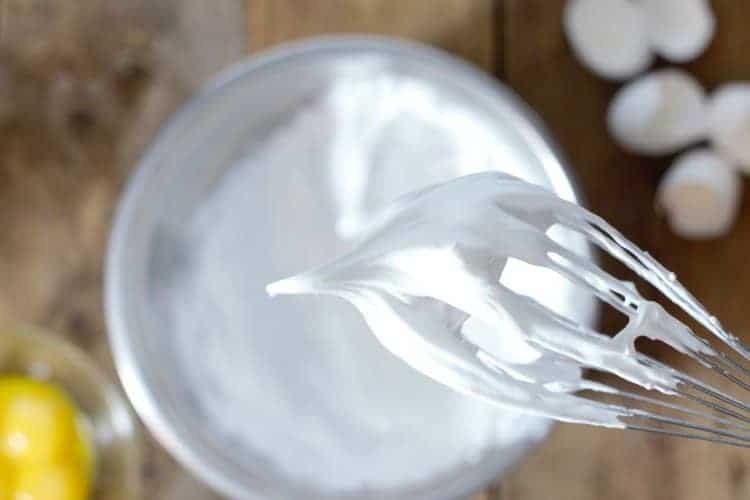 What is a meringue?
A meringue is essentially a fluffy baked good made by whipping egg whites together with sugar. Once baked, meringues should be crispy on the outside and soft and marshmallowy on the inside.
Traditionally meringues (such as this blueberry pavlova), are baked and then garnished with various fresh fruits, berries, sauces and served as a dessert.
Soft vs crispy meringues.
These chocolate meringue cookies are made just like a traditional French meringue but are quite a bit smaller....more cookie-sized! This makes the meringue cookies a little denser and not as fluffy as a true baked meringue dessert. This is because the meringue dries out a lot quicker due to its smaller size.
In order to keep the meringue as fluffy as possible though, it is important to sift the dry ingredients and carefully fold them into the meringue. Never stir!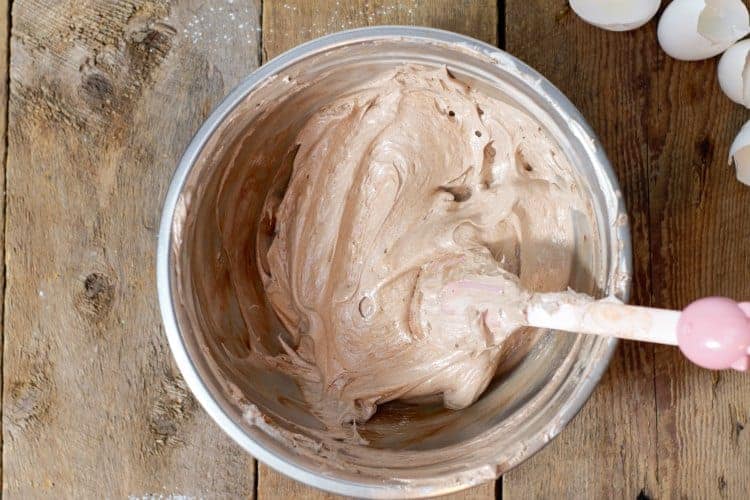 If you want a softer, more chewy cookie, simply reduce the baking time below by 10 minutes.
Forming the cookies.
You have a few options when it comes to forming these chocolate meringue cookies.
You can pipe the chocolate meringue cookies onto sheet pans as I have done, or you can simply plop dollops of the meringue onto the pan.
If you decide to pipe the meringue you can use various different tips to make numerous designs! I opted for a simple round piping tip in the pictures below.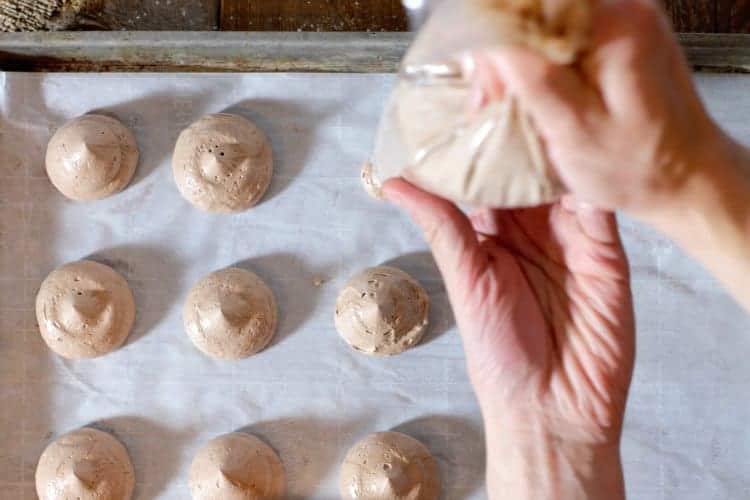 Regardless of if you pipe or spoon the meringue mixture, try and keep the cookies between 1.5 and 2 inches in diameter. This makes them easy to eat as well as uniform in size which is important when baking meringues.
Coating the cookies with chocolate.
Once cooled, the chocolate meringue cookies are dipped in melted chocolate to make them extra chocolaty! You can easily skip this step, but it's not that much work, (especially if you melt the chocolate while the cookies bake), and is well worth the effort!
You can use any chocolate here, (I used dark chocolate chips), but generally the higher quality the chocolate, the better the chocolate will 'set' on the dipped cookies.
If you accidentally seize your chocolate when melting it, have no fear, you can still fix the chocolate and use it to dip your cookies!
Once the chocolate meringue cookies are dipped in chocolate, lay them on the sheet pan you used to bake them and refrigerate for 5 minutes. This is to help set the chocolate before storing them.
Don't leave them in too long though as they will go soggy as the meringue absorbs the moisture in the fridge.
Storing your chocolate meringue cookies.
Meringues (of any kind) naturally despise moisture. If they are stored before they are fully cooled, uncovered in the fridge, or in a humid room, the cookies will go soft and gummy.
As such, it is best to enjoy the cookies the day after they are baked for optimal texture. They will keep for 3 or 4 days if stored in an airtight container at room temperature.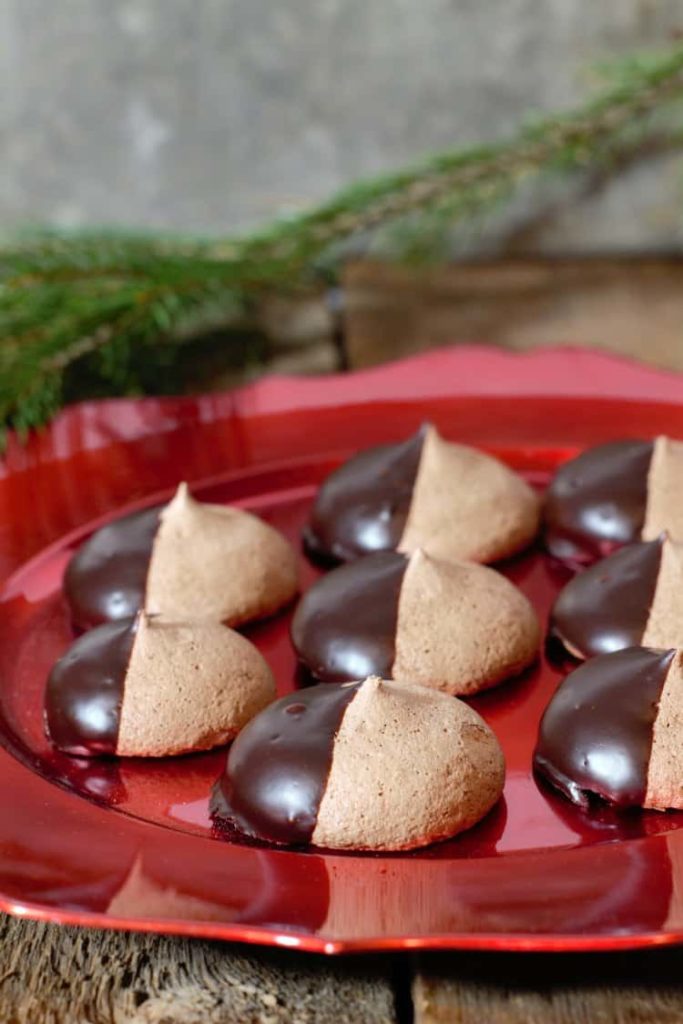 Made the recipe? If you did we encourage you to rate and comment the recipe below, then inspire others to give back by sharing their simple and delicious #RecipesThatGive on social media and donating food, funds or time to their local food bank. Don't forget to tag us on social media @earthfoodandfire as well!
Looking For More Cookie Recipes? Try These!
Recipe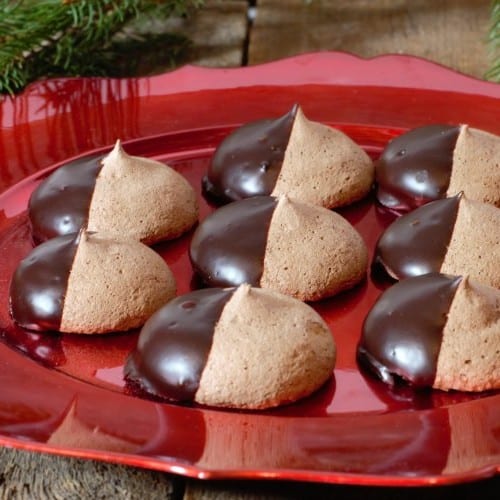 Chocolate Meringue Cookies
A simple chocolate meringue cookie dipped in dark chocolate, these cookies are a great addition to any holiday sweet tray.
Ingredients
4

whole

eggs

yolks seperated

1

cup

granulated sugar

½

cup

cocoa powder

1

tablespoon

cornstarch

1

cup

dark chocolate chips
Instructions
Pre-heat your oven to 250F. Separate the egg whites from the yolks, making sure no yolk gets in the egg whites. Add the cup of sugar to the egg whites and whip by hand or in a stand mixer until stiff peaks form. This is important! Make sure the whipped egg white peaks are stiff and stand up on their own.

Sift the cocoa powder and cornstarch to remove any lumps. Add the sifted ingredients to the meringue, and gently fold it in, making sure not to deflate or stir the meringue.

Line a cookie sheet with parchment paper or a silicone sheet, then pipe or dollop the chocolate meringue mixture onto the baking sheet. Keep the cookies 1.5 to 2 inches in diameter.

Bake the chocolate meringue cookies for 45 minutes for chewy cookies, or 1 hour for crispier cookies. Once the baking time is up, turn the oven off, and let the cookies sit in the oven for 10 minutes. This helps prevent the cookies from cracking. Remove the cookies from the oven and cool on a wire rack until completely cooled.

As the cookies cool, melt the dark chocolate chips in a microwave or over a double boiler until liquid. Dip half of the cooled chocolate meringue cookies in the melted chocolate and return to the baking sheet to set.

Store the dipped chocolate meringue cookies in a flat airtight container for 3-4 days. The cookies are best served as soon as possible as they absorb moisture from the air the longer they sit.
Nutrition
Nutrition info is auto-generated. This information is an estimate; if you are on a special diet, please use your own calculations.